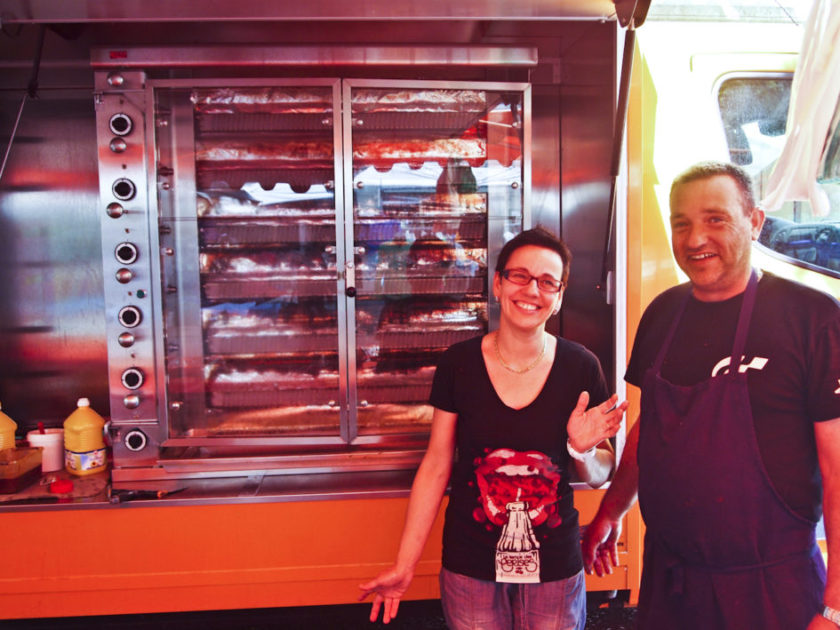 Twenty years ago, my husband, daughter, and I rolled into Marseille on the high-speed train from Paris.  If I recall correctly, the Aix-en-Provence TGV station had not yet been built. We rented a car and drove to Aix-en-Provence, where we would spend several nights before moving to Lourmarin, the small village at the base of the Luberon Mountains.  Peter Mayle country.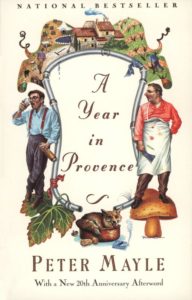 Peter Mayle, the British-born advertising executive and author of children's books turned internationally-renowned author of books set in Provence, entitled the book that propelled him to fame, "A Year in Provence," but as others have pointed out, a more apt title would have been "A Year in the Luberon."
I had (finally) read the book and we were about to explore the landscape he described so vividly in that book, by then already translated into at least a couple dozen languages and by then so wildly popular that Mayle and wife Jennie had fled to Long Island, New York to escape the hordes of tourists trying to catch of glimpse of him or to at least get a feeling for the lifestyle he had so brilliantly recounted (e.g., by swimming in his pool).
The book was published in 1989 and by 1993 (or so), the Mayles had moved from Ménerbes to Amagansett in the Hamptons.  They stayed for about four years before returning to Provence and, in fact, to Lourmarin where they lived until very recently when they relocated a few kilometers to the neighboring village of Vaugines.  In 1996, when we arrived in Provence, the Mayles were still in the Hamptons.
Lourmarin, at the time we were headed there for our first visit, was a village of around 2000 people, with a handsome château, a few cafés, one Michelin-starred restaurant, an alluring skyline, and a mayor dedicated to keeping the village real.  It was not listed in most tourist books and warranted barely a paragraph in others.  Although it had attracted artists and writers for over the last century—most notably Albert Camus and Henri Bosco—it was not the magnet for tourists that it is today.
Little did I know, when we drove the 40 kilometers northwest to Lourmarin, that this little village would become such a big part of our lives.  Little did I know that twenty years later I would have written hundreds of passages about this unassuming village, created an interactive map of the nearby markets, given presentations to various groups on the subject, bought and sold several village properties in it, and led groups of tourists to vacation in it.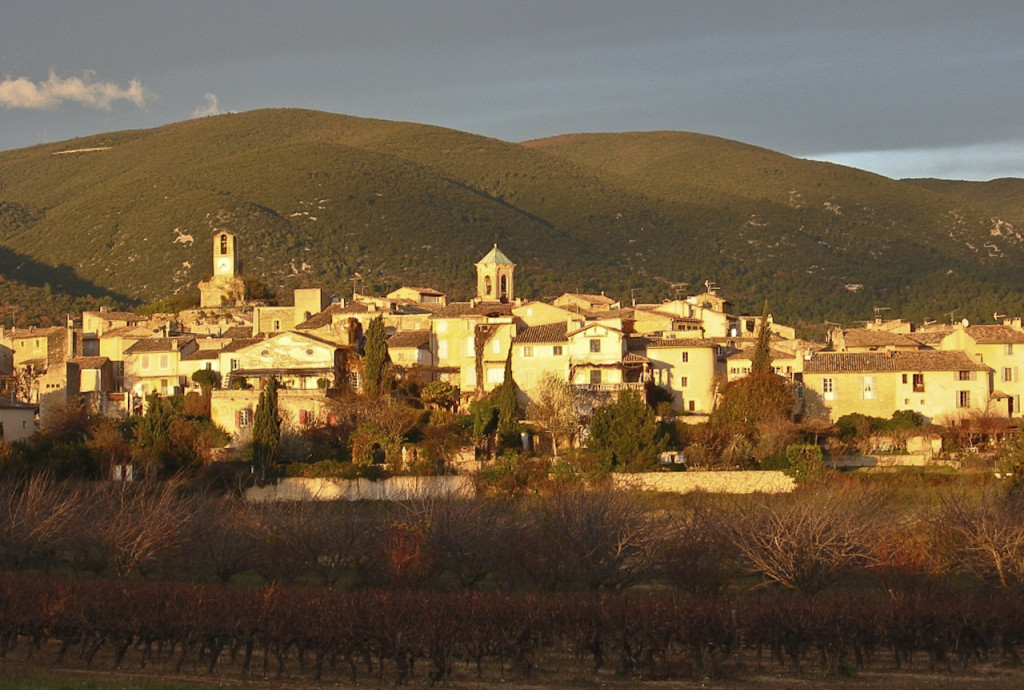 We didn't know what to expect that March afternoon back in the mid-1990s. In fact, so unsure was I on this venture that my husband and I had agreed that if we didn't like the village, we would return to Aix.
 As long-time readers of The Modern Trobadors know, to say "we liked it" is an understatement of enormous proportion.  We loved it. We have returned every year—remarkable behavior for a family intent on exploring the world before we launched our daughter—and even lived for a short time in Lourmarin where our daughter attended elementary school.
The village oozes with charm.  Not the kind you find in Disneyland's "It's a Small World," but the real-life sort that is created by hard-working people who love their village and take pride in the way it presents itself. The narrow winding streets that wrapped around a fortress in the 11th century are now lined with tiny shops, galleries, cafés, inviting restaurants and punctuated with small doors painted various shades of blue and green or simply polished and adorned with impressive knockers. The remains of the fortress are now hard to find.  Fountains anchor the streets and flower boxes provide splashes of color. A château, built in the 15th century and expanded in the 16th century, stands sentinel at the edge of the village adjacent to a large meadow where donkeys occasionally can be seen grazing on the grass.  Next to the meadow is a regulation-size soccer field and boules courts.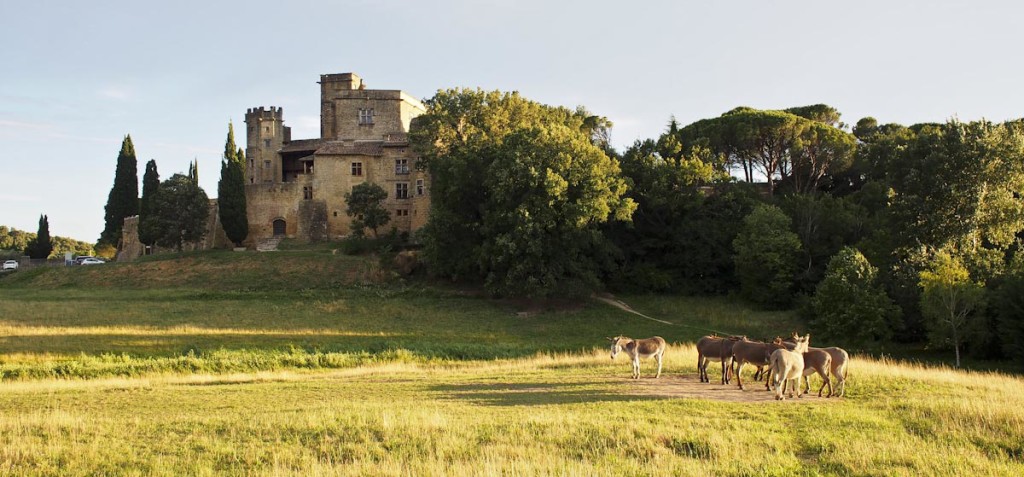 Plane trees line the road that divides the center of the village from the Château, meadow, soccer field, and boules courts. And a weekly market sets up on that road every Friday, spilling into the narrow lanes that lead to the heart of the village and, for the past decade or so, up the staircase into a large relatively new place. It is considered by most folks to be the best market in the area.  I would wholeheartedly agree.
Almost every Friday morning, when I am in this part of Provence, I can be found strolling through the market, toting my basket (purchased at the market) and filling it with a few of my favorite things. The rotisserie chicken is usually a must, along with a few cheeses, artisanal breads, jams, spreads of artichoke, eggplant, or garlic, olives and tapenade, fruits and vegetables, and some freshly cut flowers.  If I'm shopping for gifts to take home, I'll need another basket (and probably another person).  It's very easy to spend the entire morning, taking in the palette of Provençal colors, the layers of enticing aromas, and the engaging nature of most of the vendors. Sometimes I just have to pinch myself.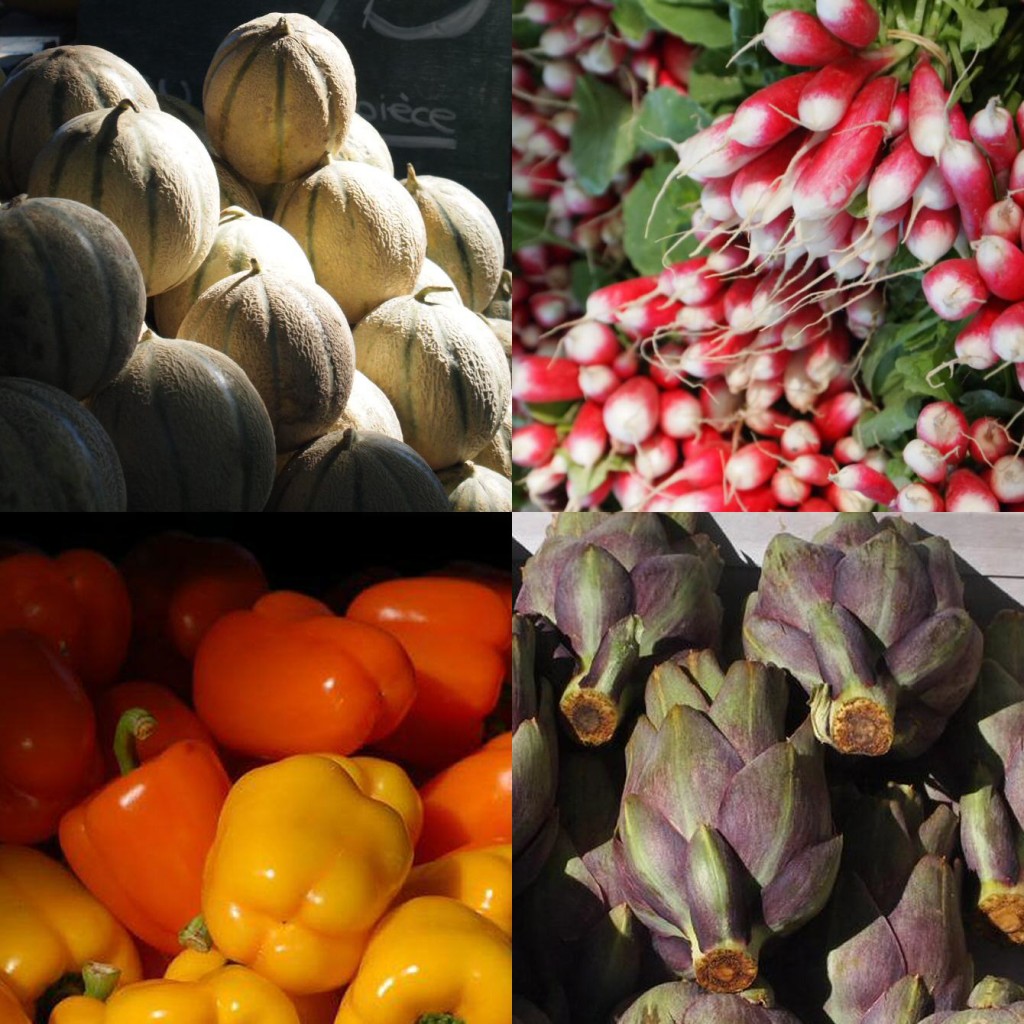 I write "almost every Friday" because occasionally I venture into other nearby villages that also host Friday markets. Some exceptional.  Eygalières, about 30 minutes due west of Lourmarin, has a lovely market—not as large as Lourmarin but filled with interesting products and a really nice vibe. Carpentras hosts a larger market than Lourmarin which, during truffle season, is especially inviting (get there early for that seasonal delicacy).  Nearby Bonnieux also has a very good market, much smaller, than the aforementioned favorites but the produce is particularly good and the Cedar Forest is on the way from Lourmarin, making a picnic of market goodies a likely possibility. Pertuis has a very large market that, of the Friday markets I have visited, offers, by far, the largest selection of practical items. (I bought a suitcase there one year.)
In this area of Provence, there is more than one market for each day of the week throughout the year.  And, according to Mayle, if one has a car and is so inclined, it is possible to find a different market on each day of the year, year-round.  I've not confirmed this but it is exactly the kind of challenge I would relish.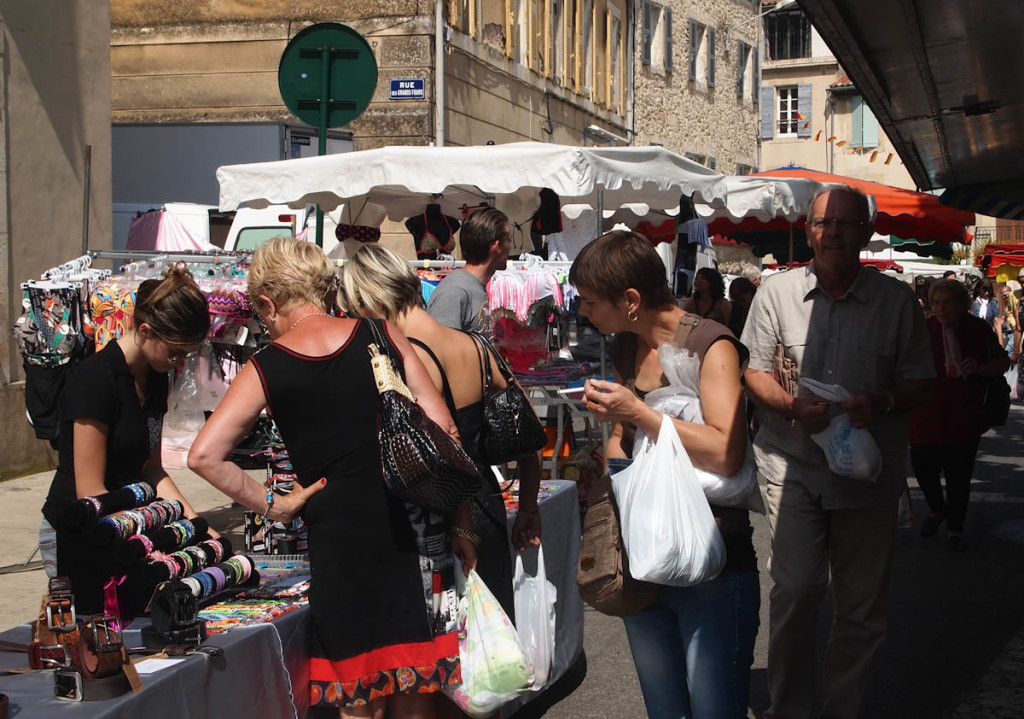 Markets, for the people who live in Provence, are not just about filling one's basket.  They are truly social events.  People connect with friends and neighbors on market days and establish new relationships with vendors that can last for years.  We are friendly with many of the vendors we met when we first arrived.  We've watched their children grow up as they have watched our daughter grow older.
Most of the market vendors are professionals who take great pride in what they do.  It is their life's work and they do it well so they have a following of customers that implicitly trusts the authenticity and quality of the product they are purchasing. Many of these vendors are families who will pass their stall—and its location in a given market—on to their children, the ones we've watched grow into adults.
The best markets—like Lourmarin—have limited places and are hard to break into.  Last summer when I was in the Tuesday market in Cotignac (an excellent market I will write about soon) I chatted with a charcuterie vendor who, when he found out I was from Lourmarin, told me he wanted very much to get into the market in Lourmarin and asked me if I could help him.  Perhaps I knew the mayor, he said.
The traditional weekly market—the markets I have mentioned above—require vendors to rise in the wee hours of the morning in order to load the van and arrive  at the designated village to be set up for business as early as 8:00. They close around lunchtime. One needs only a modicum of imagination to realize that being a vendor is not an easy job.  The hours alone would deter most people.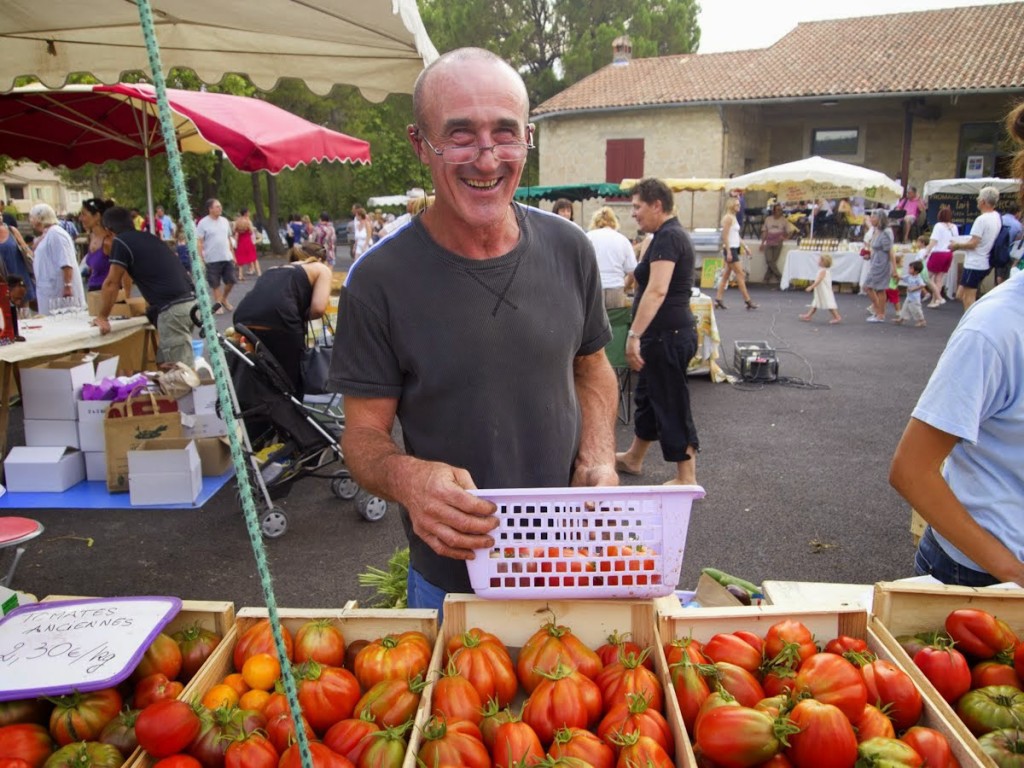 There are also markets that focus exclusively on produce—called marchés paysans—that are becoming increasingly popular and often take place in the evening.  The farmers or producers themselves sell their own produce and products, making for a bountiful selection of fresh seasonal fruits and vegetables, freshly picked flowers, fresh cheeses, and freshly made gourmet delights.  When the marché paysan takes place in the evening, the fruits and vegetables might have just been picked that day. Such is the case Tuesday evenings, May through October, in Lourmarin where you will also find a wine bar, a fish monger with the fresh catch of the day from Marseille, cooking demonstrations by local chefs, and lots of interesting conversation and conviviality.
On Saturdays, you will likely find me in Apt, one of the largest and oldest markets in the area.  I love this market.  The Apt market has been part of the Saturday morning landscape of this city since 1523 when King René granted permission for it.  It's not a pretty market, some would say, but I like its salt-of-the-earth personality.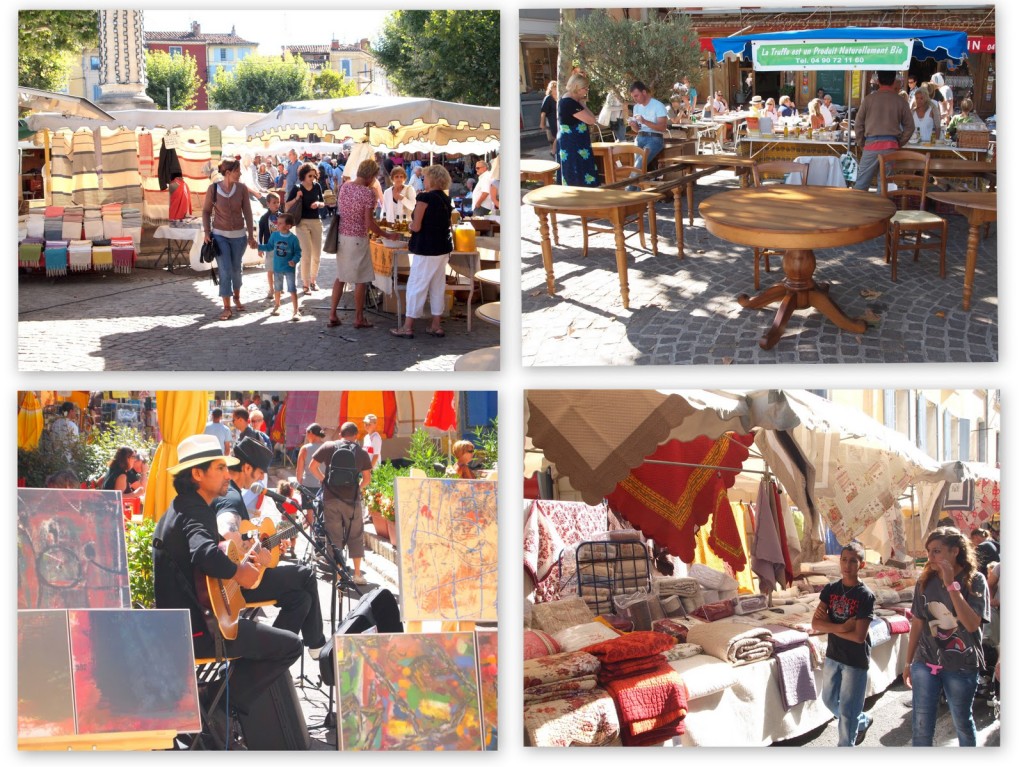 If it's Sunday, it must be L'Isle-sur-la-Sorgue, a sprawling market that, as good friend George McQuilken who traveled regularly to this area for years once told me, "Everything in the world is sold there!" Indeed.    It is a cornucopia of the usual fruits, vegetables, meats, cheeses, specialty foods, flowers, linens, ceramics, clothing, jewelry, gadgets galore and, ahhh, so much more. My favorite stall is a fastidiously kept one, run by a jolly fellow who only sells salmon and ham.  I've never asked him how that combination came to be his trademark—both are so exemplary that one doesn't dare question the arrangement.
This market is most famous for its antiques and collectibles.  While generally on the trés cher side, I have been known to cart home a few irrestible treasures. Solid brass candlestick holders, a set of eight 2002 FIFA World Cup Soccer Coca-Cola glasses, and two wrought iron wine-bottle carriers have been some of the more challenging items to lug home.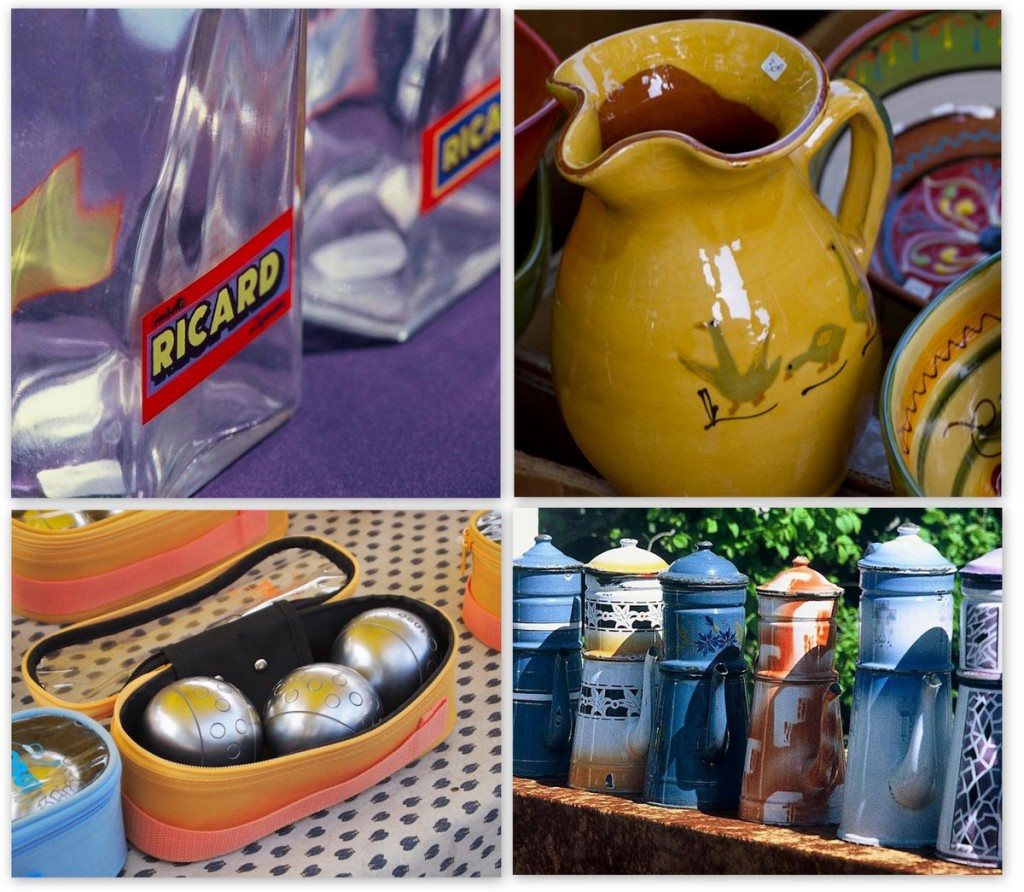 Not far from L'Isle-Sur-la-Sorgue, and on the way if driving from Lourmarin, is Coustellet, the tiny village with the massive bouchon (French word for "cork" and metaphor for "traffic jam") due to its very popular marché paysan.  If you haven't had your fill at L'Isle-Sur-la-Sorgue, this market is definitely worth of a stop.
Ansouis, a very small village with the huge château, hosts an itsy-bitsy market on Sunday mornings. The village is a short lovely drive or bicycle ride from Lourmarin. My favorite rotisserie vendor (the same one in Lourmarin, Cucuron, and Lauris) is there and a minimal selection of produce and cheeses is there so one can cobble together a decent lunch in one easy stop.  The locally famous "Tarte du Luberon à la Confiture" is sold here and goes very well with a little espresso (sold from the same truck).
On Mondays, if I need to go to a market, I go to Cadenet, another infinitely practical market.  If I am in the mood for an adventure and a terrific market, we head northeast to Forcalquier for a fantastic market and a different slice of geography and culture.  If you like pastis and absinthe, the Henri Bardouin boutique and distillery is located in Forcalquier (and open for une petite dégustation!).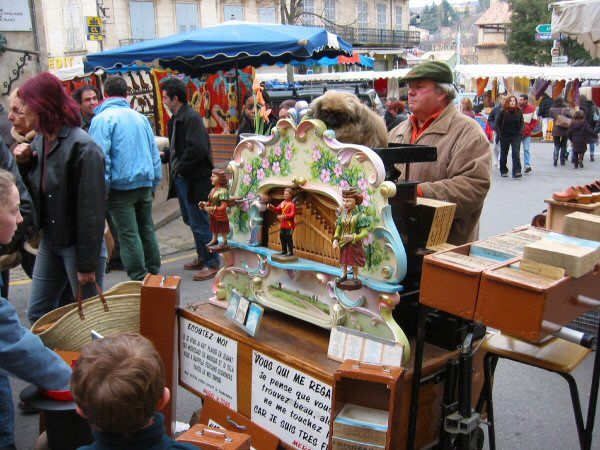 Tuesdays almost always find me in Cucuron, just 8 kilometers east of Lourmarin. One of the most picturesque market venues, it has been the subject of many photographs and the backdrop of several films, including Ridley Scott's A Good Year, based on the Peter Mayle novel of the same name. Even I don't need a thing from the market—has this ever been the case?—I will go to have a café crème and revel in the engaging view of colorful vendors and their wares as they chat with customers.  One must get there early in the summer, as everyone has the same idea, leaving few empty tables on the other side of the étang (French word for pond). It's a relatively small market with good quality products—some of my favorite vendors are here. Pick up some of Cucuron's famous olive oil while you are there!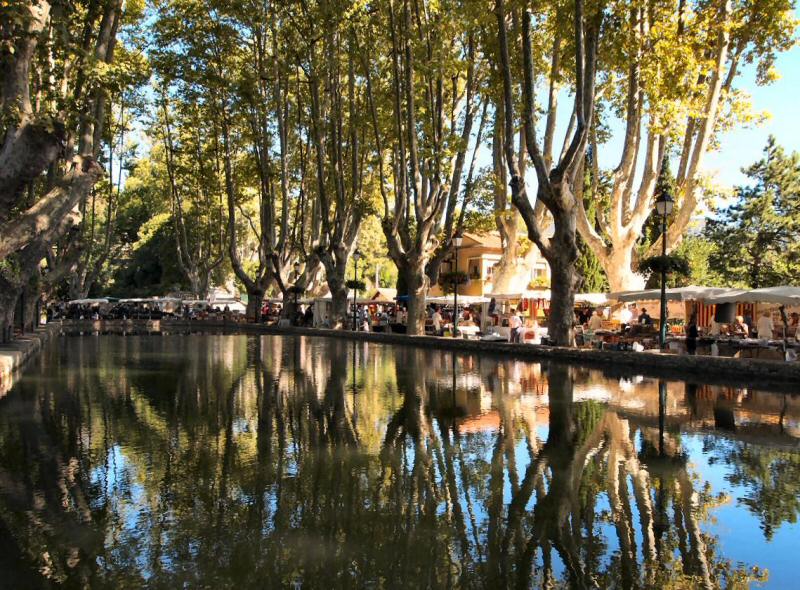 A little farther east, in La Tour d'Aigues, another market unfolds on Tuesday mornings.  With the remains of a Renaissance Château as the backdrop, this relatively small market is worth the drive occasionally for a change of pace from Cucuron.
Also on Tuesdays are three other wonderful markets.  (Oh, the stress of all the choices!) The very chic Gordes has a very chic market, well worth the 30-minute drive north from Lourmarin.  Don't go for basic staples or mundane necessities like socks but for gastronomic goodies and fancy linens.  The small but upscale market wraps around the base of the austere medieval château, providing vivid colors and a lively spirit that is immediately engaging. The market has rolled into town since 1774. Many scenes from A Good Year were filmed in Gordes.
Farther north, about a 60-minute drive from Lourmarin is Vaison-la-Romaine, where yet another terrific market sets up on Tuesday mornings. Very large, this market carries the full range of high quality culinary goodies to ultra-practical items.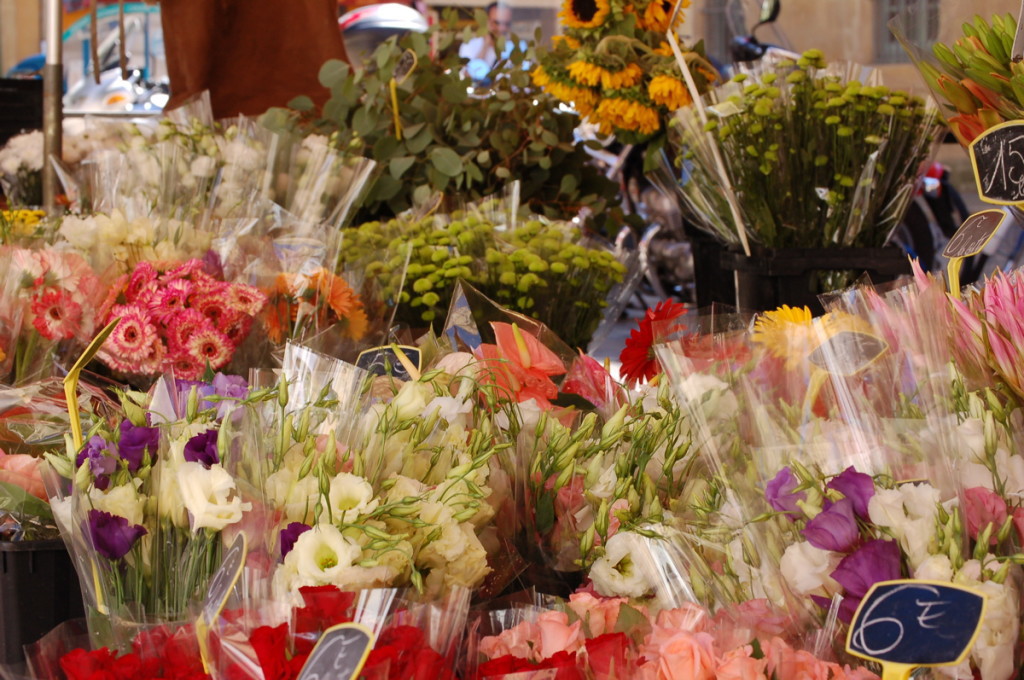 Still on Tuesday, Aix-en-Provence hosts a drop-dead gorgeous market on this day as well as Thursdays and Saturdays.  The flower market is a photographer's nirvana and the produce is a gourmand's bliss. It is a sheer delight to navigate the narrow cobblestone lanes and places that comprise this market.  Of course, Aix itself has a smorgasbord of cafés, restaurants, museums, and sites to take in, too (not to mention its renowned cultural arts events and festivals).
After such a large number of exceptional markets on Tuesdays, there is no lull on Wednesdays.  Saint-Rémy-de-Provence is filled with myriad stalls offering everything from beautiful linens and fabrics to the usual soaps and sachets in one area and fresh vegetables and fruits in another area. In between, I've found some some very fashionable linen clothes.  And, one couldn't possibly visit Saint-Rémy without stopping at Joël Durand's chocolate shop for a box of his world-famous L'Alphabet des Saveurs.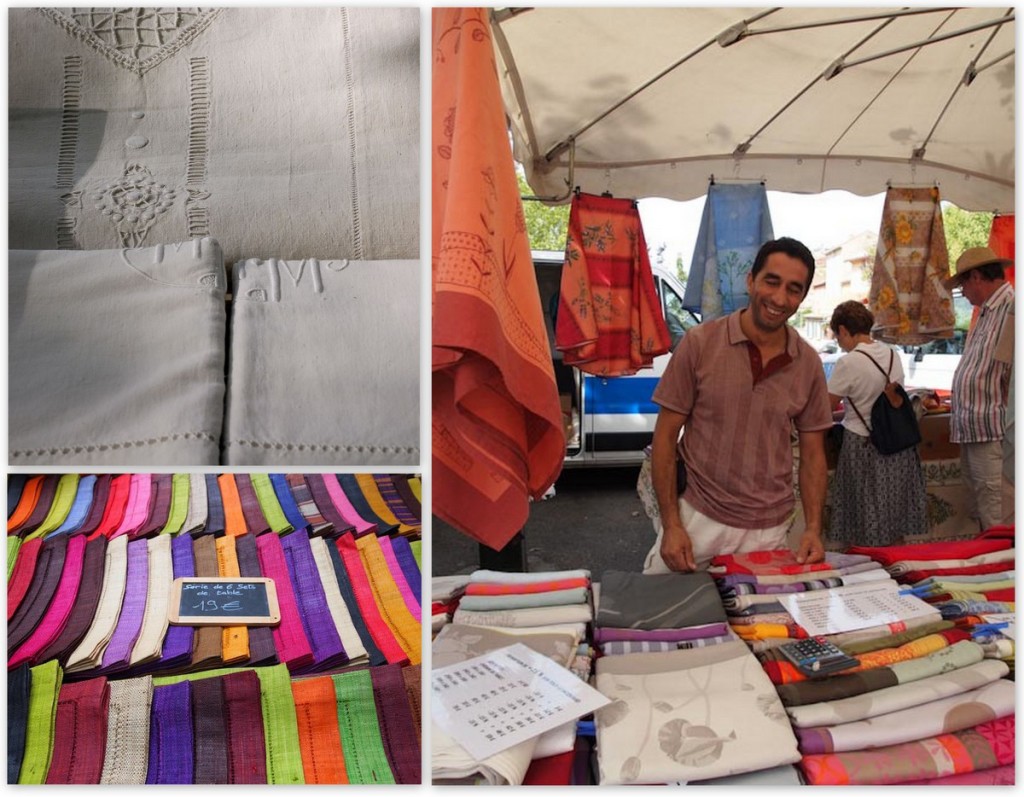 For unadulterated charm, visit Roussillon's market on Wednesday mornings.  One of the oldest markets, it dates back to 1567.  It is a tiny but lovely market.  I wouldn't drive from Lourmarin to Roussillon just to visit the market, but if Rousillon is on your list of places to visit—which it surely should be—go on market day for extra fun!
Thursday could take you back to Aix-en-Provence for the market.  Although there are plenty of other markets to choose from, as the market map reveals, I am drawn to Aix's market on Thursdays (rather than Tuesdays and Saturdays).
And back to Friday and Lourmarin.  With markets, the days do go 'round and 'round, as they have for hundreds of years. We have spent many a vacation, whiling away the days around the market schedule. The combinations are endless.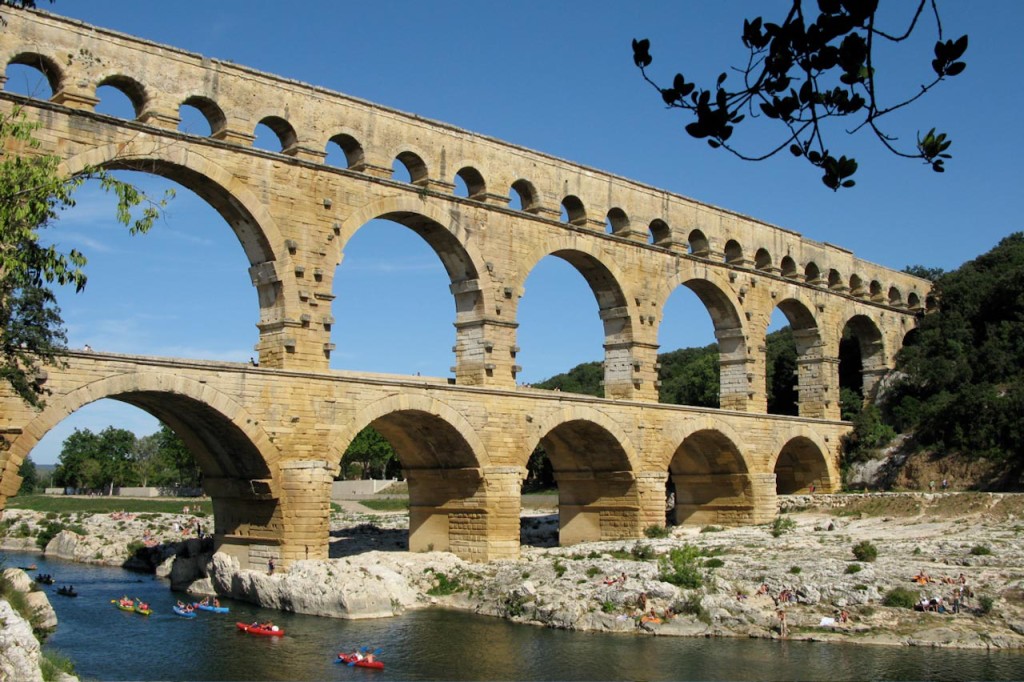 It's Saturday—let's go for a drive to Uzès for the market and take a picnic to the Pont-du-Gard, that magnificent Roman aqueduct.  Maybe we'll stop to enjoy the scent wafting in the air from a field of lavender along side the road.
It's Tuesday—let's go to market in Vaison-la-Romaine and see one of France's largest archaeological sites, the ancient Roman city of the same name—15 hectares (37 acres) of ruins of mostly private dwellings (some with gorgeous tiling), left in place so that one can imagine walking home from the theater (still standing, in part) over 2000 years ago. Just toss your baskets and an ice chest in the car! Maybe we'll have to stop for some sheep crossing the road, carefully herded by a couple of dogs and a man.  (I've never seen a woman.)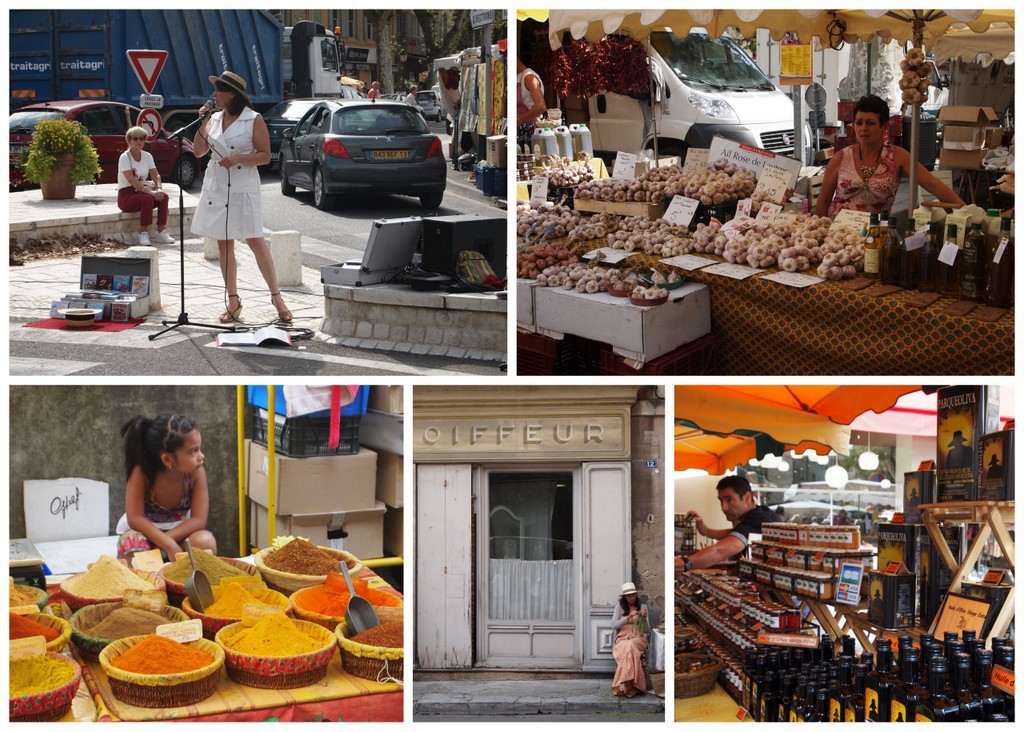 It's Wednesday—let's go to market in Saint-Rémy, have lunch in one of our favorite restaurants, Le Bistrot du Paradou, and then stop at Domaine des Terres Blanches to taste a little wine and pick up a few bottles. Maybe we'll stop to admire a patch of sunflowers, swaying in the breeze.
It's Friday—let's just see how the day unfolds after we poke around the Lourmarin market, picking up lunch—a rotisserie chicken with roasted potatoes, lettuce and tasty firm tomatoes for salad, some olives, a little bread, a little cheese, some wine and voila! Set the table in the courtyard and chill the rosé.
So much of being in this part of Provence is about moving in sync with your environs, finding your rhythm, grounding yourself, and watching days unfold in truly magical ways.  It's such a luxury.  Lourmarin is the perfect base for exploring Provence and visiting markets is a great way to start.
Twenty years later, we're still vacationing in Provence, rolling into the Aix TGV station or landing in Marseille.  We drive directly to Lourmarin, at the base of the Luberon, not far from Peter Mayle's house.  My market map is never far from reach.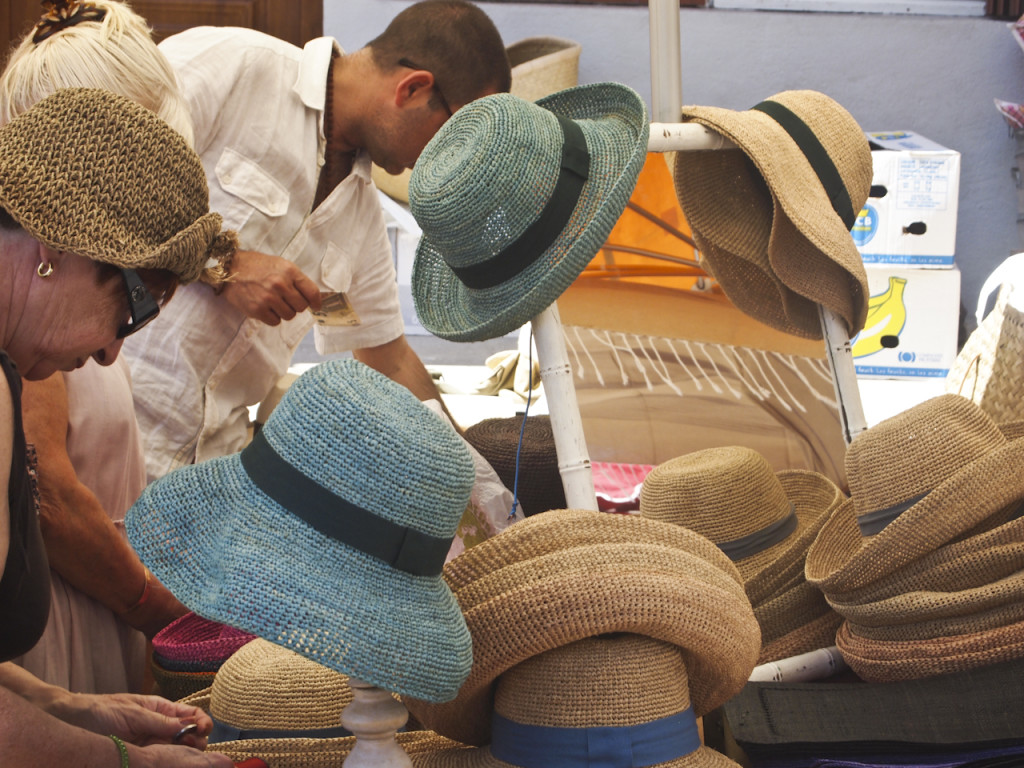 Notes:
You may be interested in reading more articles about the Provence Markets by following this link: https://www.themoderntrobadors.com/category/markets/
To see the map of markets in and around the Luberon region, follow this link: https://www.themoderntrobadors.com/market-days-in-provence-monday/
If you would like to know more about our Provence tours, during which we offer visits to the markets in Gordes, Lourmarin, and Cucuron, please visit: https://www.themoderntrobadors.com/our-provence-tours/