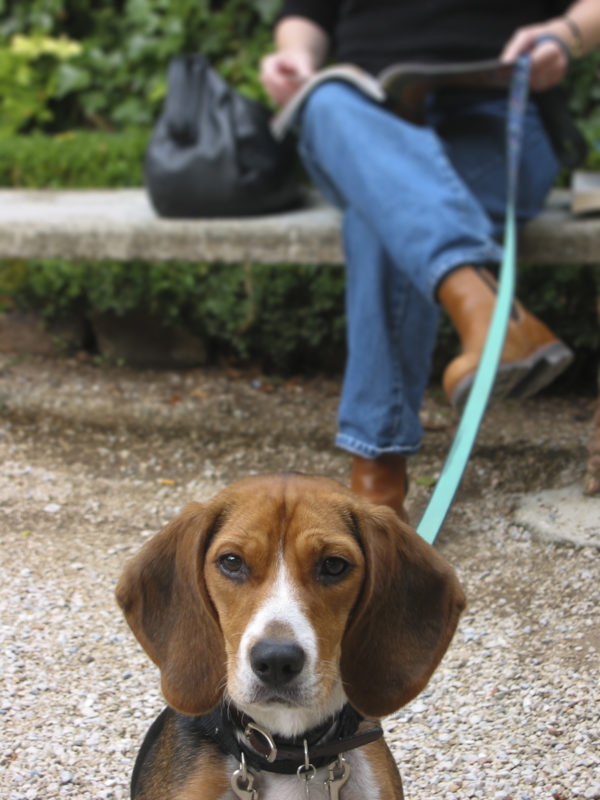 What is a Modern Trobador if not one who detects the scent of a story and, with nose to the ground, follows it through to the end?  Like a dog with a bone, you might say.  That was our Pal, our 15-year-old ever-faithful beagle who was with us on our sojourn to Lourmarin fourteen years ago and who has sat at my feet as I have written almost every story since the inception of this blog in 2008.  She passed away today, I report with immense sadness.
Pal was an exceptional dog who touched the lives of many people.  Pal, I think, was very proud of her huge portfolio of tricks, many involving soccer balls, including catching one with her front paws, while standing on her hind legs…a trick she would only do for Alex, whose dog she really was.  She will be greatly missed but I am consoled by the image of her running unfettered through open fields in pursuit of a soccer ball until only the white tip of her tail can be seen.

In honor of our beloved dog Pal, I am re-posting a story I wrote about her three years ago.
A DOG'S REFLECTIONS ON PROVENCE
by Susan Manfull
July 14, 2013
I had a village house in Lourmarin, at the foot of the Luberon Mountains.
Okay, I took some liberties with Karen Blixen's opening sentence of her famous book, "Out of Africa." My apologies, but like the young Ms. Blixen who moved from Denmark to Kenya, I, a beagle just barely past my first birthday, made a major move from the United States to France. Like Ms. Blixen, I left a piece of my heart in another country and, like Ms. Blixen, my view of life was forever altered. For different reasons, of course.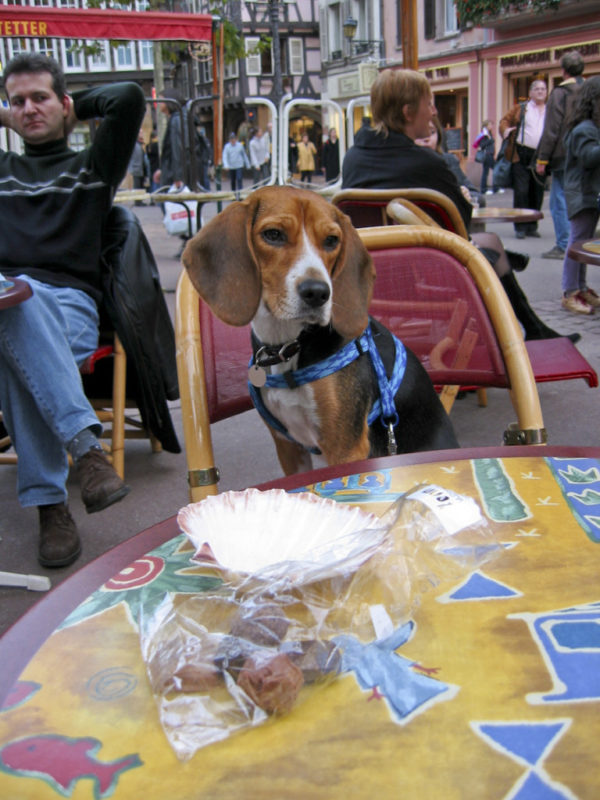 I am confident the indelible impressions that would eventually re-shape Ms Blixen's views of life did not take form under the table in fancy restaurants. For me, the silver service I routinely received under the privacy of a canopy of white linen—and occasionally above the table on my own chair–set expectations for a lifestyle that would never again be met, once I returned home.
I am also certain that, of the five senses, it was not Ms. Blixen's sense of smell that was most affected by her sojourn in that African country. For me, a beagle, a hound breed notoriously tethered to their sensitive noses, my olfactory sense was endowed with gastronomic expectations in France that also, sadly, would never again be fulfilled on this side of the Atlantic.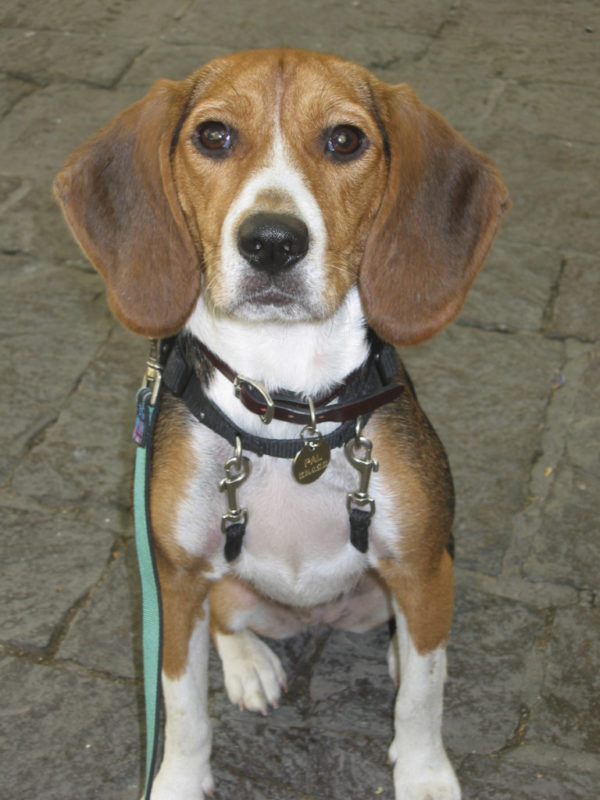 I'll acknowledge that Ms Blixen's experiences were more significant on a world scale than mine but, on a canine scale, my days in Provence were pretty weighty. Lately, I've found myself thinking about that time in my life. Maybe it was my recent surgery—under the knife for nearly two hours—or maybe it was my mistress graduating from college last month—I've known her since she was just a few days past ten, when she picked me out from a litter of six. I don't know what the impetus is for this trip down memory lane and this minor bout of melancholy, but I am going along with it. Because, really, who doesn't like to reminisce about living the good life in Provence?
About a year after I arrived in my family home, we had an opportunity to take a sojourn in France. It's a long story how it all happened, but there we were, one evening after dinner, Provence map spread out on the dining room table, planning our trip to the picturesque village of Lourmarin (at the foot of the Luberon Mountains, as you might have guessed). The family had been there many times.
In 2002, there were 8.8 million pet dogs in France, more pet dogs than any other Western European country. I would move that number one-dog closer to nine million that year. The journey would require a succession of shots, my first very own photo identification card, and reams of paperwork from my vet (none of which a single person—other than family—ever even glanced at).
I woke up in Aix-en-Provence where I finally found some grass and a fitting place to relieve myself. Whew! (At Charles de Gaulle, I was forced to piddle on the marble floor although no one seemed to mind except for my owner and me.)
I saw dogs resting, sleeping, waiting, playing, shopping, and seemingly conversing in cafés. Some were attached to leashes and others were completely leash-less. I was going to like this village.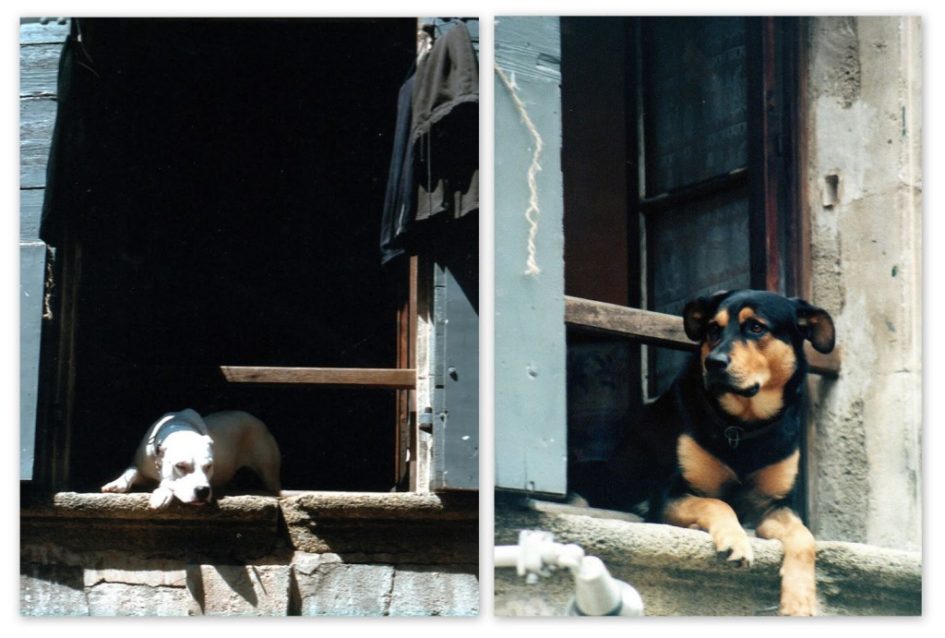 I could hardly wait to see my mistress, who attended the local school until 4:00 p.m. In the meantime, I had my first experience with a French café. It was amazing to be able to sit right next to my family. The restaurant even served me a bowl of water under the table and my family shared a few morsels of food. Later, I quenched my heretofore insatiable thirst by drinking from every fountain I saw–a dog could never go thirsty in a village in Provence.
When the time rolled around to meet my mistress, we all walked over to the school (just like we used to do at home until the big "no dogs allowed" sign showed up on the direct pathway to school). My mistress was thrilled to find me waiting for her and I was immediately surrounded by a gaggle of children wishing to meet me, hug me, squeeze me, pat me on the head, stroke my soft fur (and my ego) and generally adore an American beagle.
After the hug fest, we went to soccer practice and then to our new home-away-from home. I slept soundly that night, knowing that we were all together. (Okay, Bilbo, who was too old to travel in the belly of an airplane, wasn't with us, but he was very happy with Wendy and Mb on the farm in central New Hampshire.)
And that's the way most days unfolded in the beguiling village of Lourmarin. I walked my mistress to and from school, and, in between, the parents and I went to markets, tourist sites, and on long walks. On Wednesdays and Saturdays, we went to soccer practice.
On weekends (when there was no soccer) and on holidays, we took excursions other parts of France.
On the other hand, it was evident most French folks do dote on their dogs. This woman and her pampered pooch were frequent shoppers at the Cucuron market for many years.
My sojourn in Provence was nearly twelve years ago. The time has flown by since those unhurried days in the village house in Lourmarin, at the foot of the Luberon Mountains. Aside from dear Bilbo's death, its passage has been marked primarily by the important events in my mistress's life: soccer play-offs, squash tournaments and crew races; piano recitals; a broken wrist; a broken arm; two appearances on Don Imus' MSNBC show; every birthday party; graduation from middle school; graduation from high school; graduation from University; and, most recently, moving into her own apartment to start her career. I wonder how I will mark my time now. I wonder how I shall define myself.
I will find new ways to structure my days and mark the passage of time. I walk every day. My birthday is next month and I am going to stay all night with my mistress the following month. As for defining myself, after all my years as my mistress's pet, I am confident I will still play that role but it won't be my dominant role. I am also a pal to many people and the only canine companion to one very stubborn Glen of Imaal Terrier. I am a fast runner, a skillful performer of several impressive tricks. I am brilliant and adorable. I am content. I am an American Beagle who lived in Provence.