About our Tours

Announcing dates for our June 2017 tours! Book Now!



Sunday, June 18 to Saturday, June 24, 2017 – Private Tour
Sunday, September 10 to Saturday, September 16, 2017 – Limited Availability
For more information and availability, please email us at Susan@TheModernTrobadors.com or
call us at 603-430-8694
Come explore Provence with us. We are intimately familiar with Provence through our travels to this wonderful corner of the world for nearly 20 years. We owned two homes in the charming village of Lourmarin, where we lived and our daughter attended the local school. Susan writes two blogs about Provence and Towny is an avid photographer eager to share his favorite photography locations. We have regularly traveled to France for over 40 years and, as is very apparent in the blogs, are passionate about this country, especially Provence.
We will share our favorite places with you—local markets, hill top villages, renowned wine châteaux where the world's best rosés are produced, castles built in the Middle Ages, and some of the best preserved Roman architecture in Europe. Enjoy Provençal cuisine—lunch in a Michelin-star restaurant on one day, in the Luberon Mountains on another, and along the Mediterranean (perhaps overlooking the Calanques) on another day. See where Cezanne and van Gogh painted. There will be short excursions dedicated to out-of-the way places to capture wonderful photographs of both iconic and out-of-the-ordinary scenes—in June, there may be glorious fields of blooming lavender and, if we are lucky, maybe the sunflowers will open, too, and, in September, we may see harvesting in the vineyards!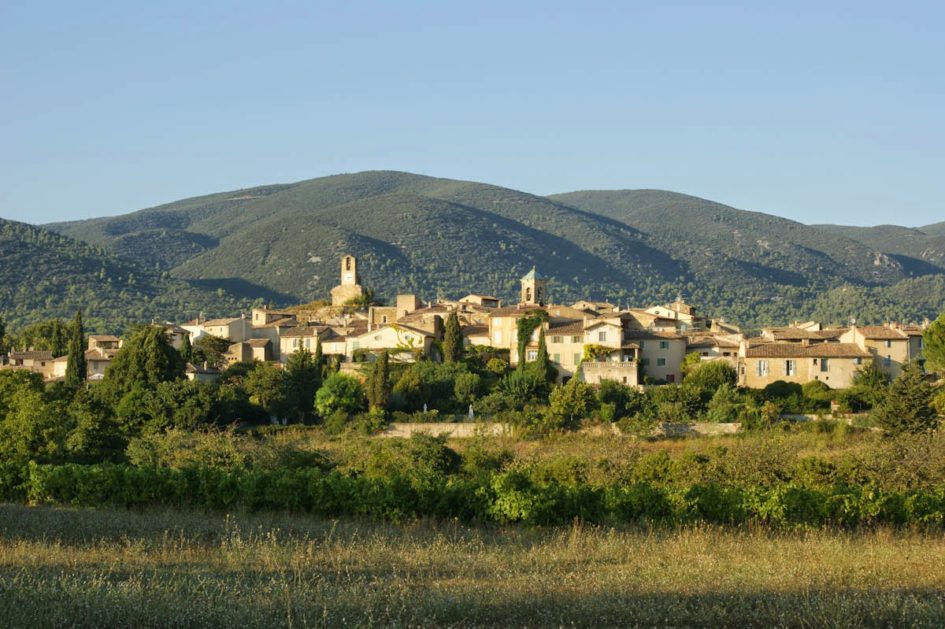 Lourmarin, where you will be staying, is a quintessential Provençal village, often referred to as "the cultural capital" of the Luberon Regional Natural Park. It is the stomping grounds of Peter Mayle and, generations earlier, other literary giants like Albert Camus and Henri Bosco walked the same narrow lanes. Today, artists' galleries, boutiques, and cafés line the streets but the small village, deemed one of the "Most Beautiful in France," has retained its strong local character (and characters).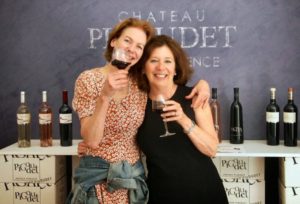 Part of the joie de vivre in Provence is the relaxed lifestyle. We offer options each day to enable your experience to unfold at a pace that allows you to savor it. There are no big buses or large groups trailing behind your hosts. On the contrary, we will be a small group that blends in with the local people (easily, because many are our friends). Our group will stay in a gorgeous home with beautiful grounds, an irresistible pool, ample space for privacy, and lovely walks nearby, including the short walk to Lourmarin.
We are thrilled to report that Patti Thornton will be accompanying us again. She has made many trips with her family to visit us in Provence and has traveled around the globe–solo and with Rotary as an active volunteer supporting teams delivering medical care and provisions to Mexico, Costa Rica and South Africa. Patti works behind the scenes to ensure that things run smoothly and she assists us in making sure everyone is comfortable.
Our Philosophy about Traveling in Provence
There are places in this world that touch one's heart and leave an indelible impression. Provence, for us, is one of those places. There is much to see and do in this beautiful area of France but, for us, the greatest single draw to la belle Provence is the measured pace of life. When I put my feet down in the Luberon, the corner of Provence we know best, I feel myself begin to settle, to slow down, to nestle into the bosom of Mother Earth, and to fall under her beguiling spell.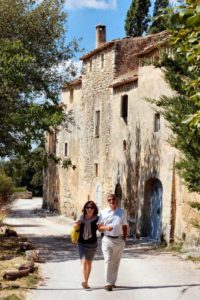 To be sure, there is a long list of places to see and things to do in Provence and, after countless trips over two decades, we have not exhausted the possibilities (as hard as we've tried!). On this tour, we will take in many of the sights that define Provence, but we will endeavor to do so at a tempo that matches the slower pace of Provence.
We have hosted many groups of friends to this area, especially during our sojourn in Lourmarin, and chief among our goals has always been that our friends really experience Provence, not just "look at" the sights and "check off" the excursions. That is our goal for those who choose to travel with us on our tours.
We have put together an enticing array of options—a feast for the senses—from which you can create your days; we have chosen a beautiful setting; and we will provide lots of guidance to encourage you to get to know Provence and savor your experiences. We want Provence to leave an indelible impression in your life.
"Try and see your next journey as more than an itinerary, to see it rather as the 'slow accretion of details.' The truth of a journey is there in the strange new voices, the alluring spices in the market you never knew existed, the thrilling moment when your longing is finally fulfilled."

Phil Cousineau, The Art of Pilgrimage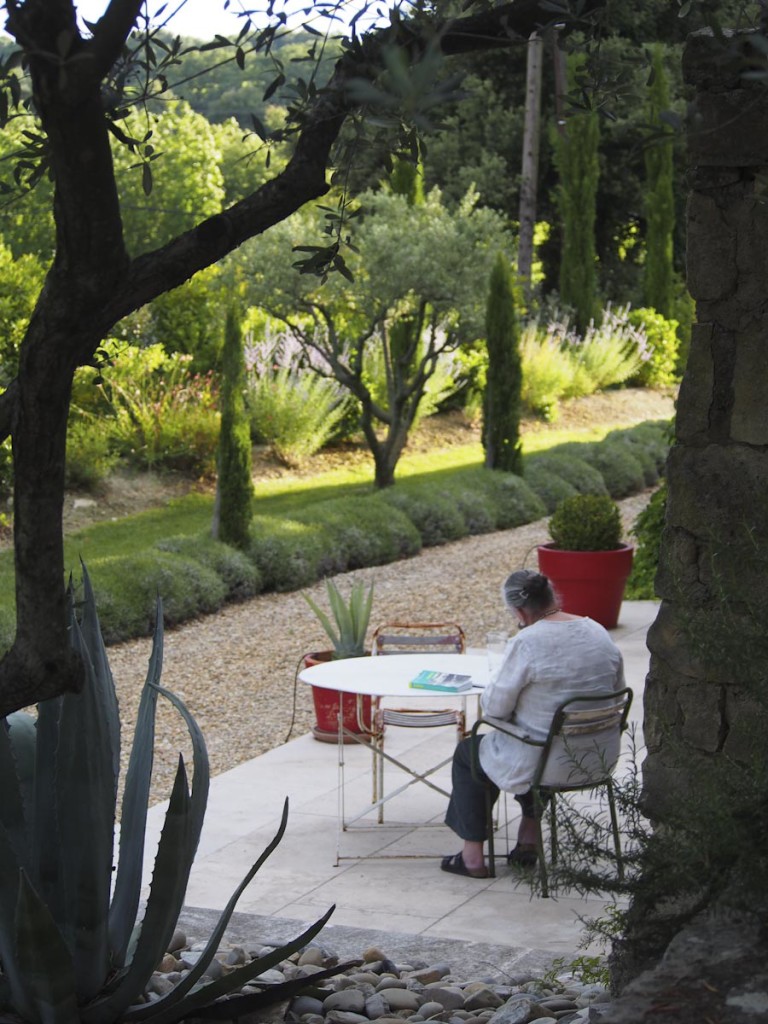 Highlights of What We May See and Do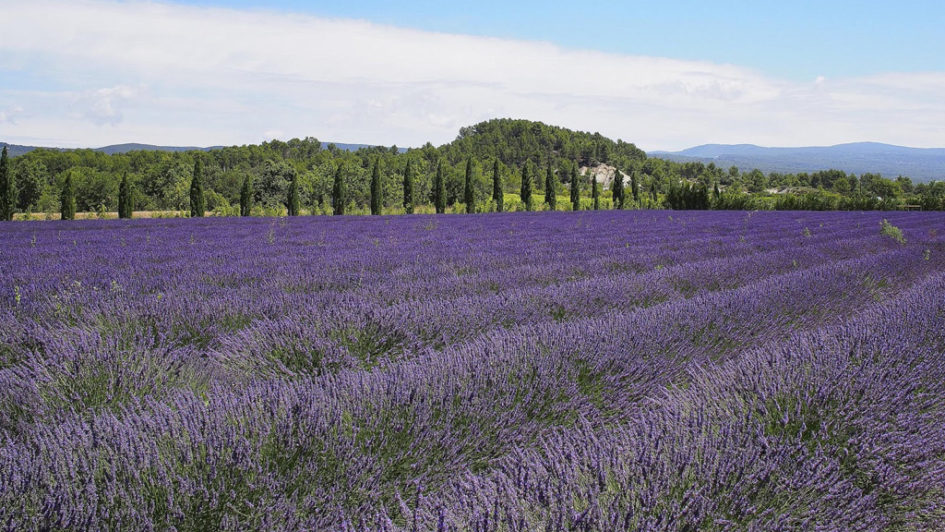 Excursions to the villages of the Luberon, including Vaugines, Cucuron, Ansouis, Bonnieux, Lacoste, Ménerbes, Buoux, Sivergues, Saignon, Gordes, and Roussillon
Excursions beyond the Luberon, including Aix-en-Provence, Saint-Remy-de-Provence, Les Baux, and into the department of the Var
Markets in Aix-en-Provence, Cucuron, Gordes, and Lourmarin
Exclusive visits to top wine châteaux in the Provence Wine Region and the Southern Rhône Valley Region
A truffle hunt (June tour)
A grape stomp (September tour)
Dine in a Michelin star restaurant, in one of Peter Mayle's favorite restaurants in the Luberon Mountain, or a popular restaurant with locals overlooking the Calanques (in the Mediterranean)
Lunch at a Chateau during the vendange (September tour)
Cooking demonstrations
Wine tastings of the best wines in Provence–this is where the world's best rosés are produced and some outstanding whites and reds, too!
Pastis and Absinthe tasting
Olive oil tasting
Lavender fields (June tour)
The Nationale Fête de la Musique—the World Music Festival—taking place throughout France, including Lourmarin (June 19 week)
Photography excursions
A game of boules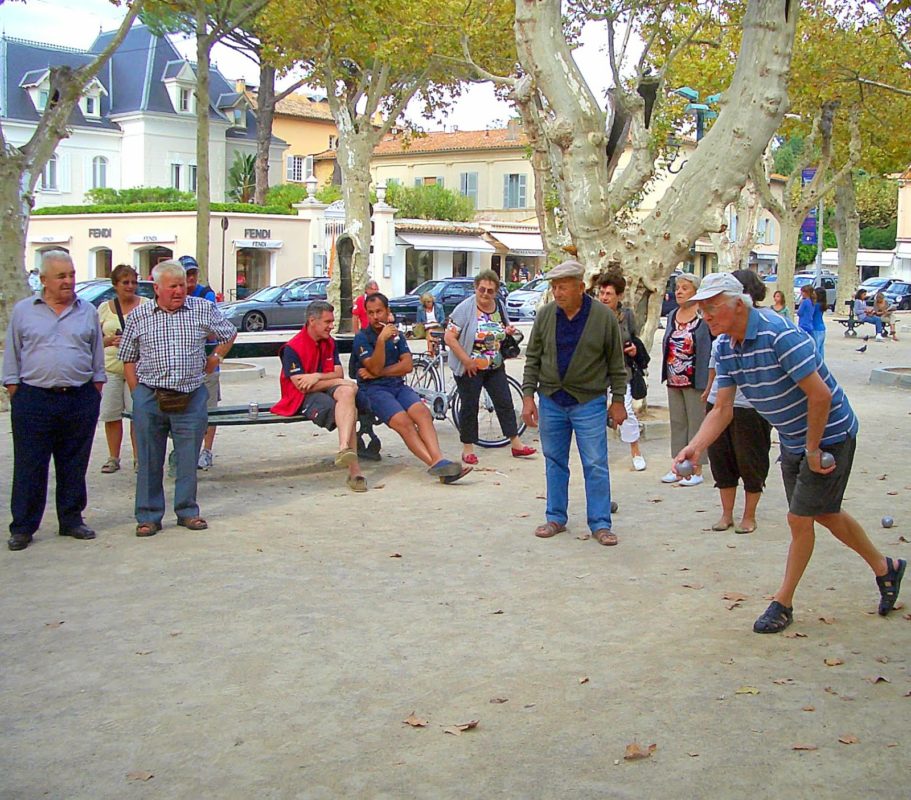 The Setting for this Tour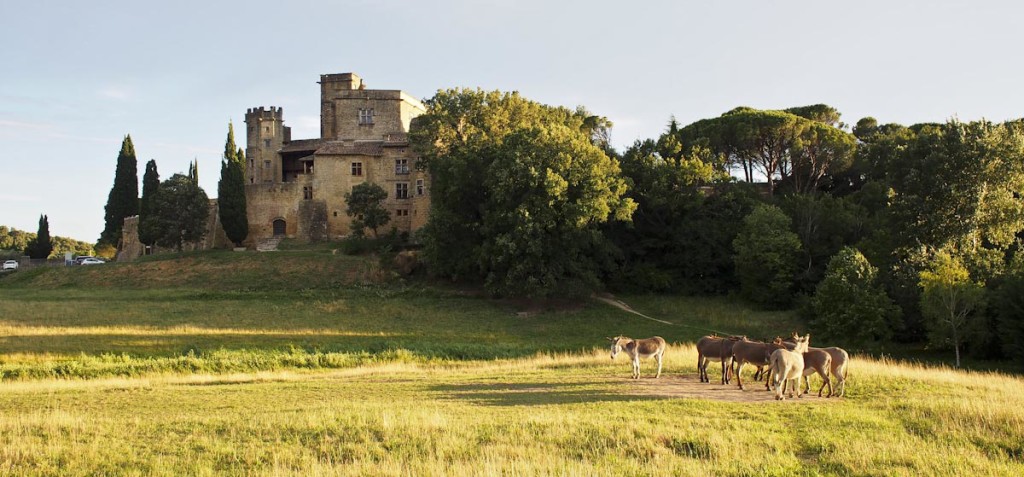 This recently restored luxury villa, sitting behind the Château of Lourmarin, is less than a 5-minute walk from the beautiful village of Lourmarin. It is furnished in an appealing contemporary style with many works of modern art from the owner's private collection. The bedrooms are air-conditioned and each of the 5 bedrooms and studio apartment is equipped with an individual safe, mini-fridge, and Nespresso coffee machine. (Twin beds can be brought in to replace the queen-sized beds.) There is also a large gorgeous pool. Plenty of space for privacy and for convivial gatherings.

Sample Itinerary for Our Proposed Week for You in Provence (June week in shown)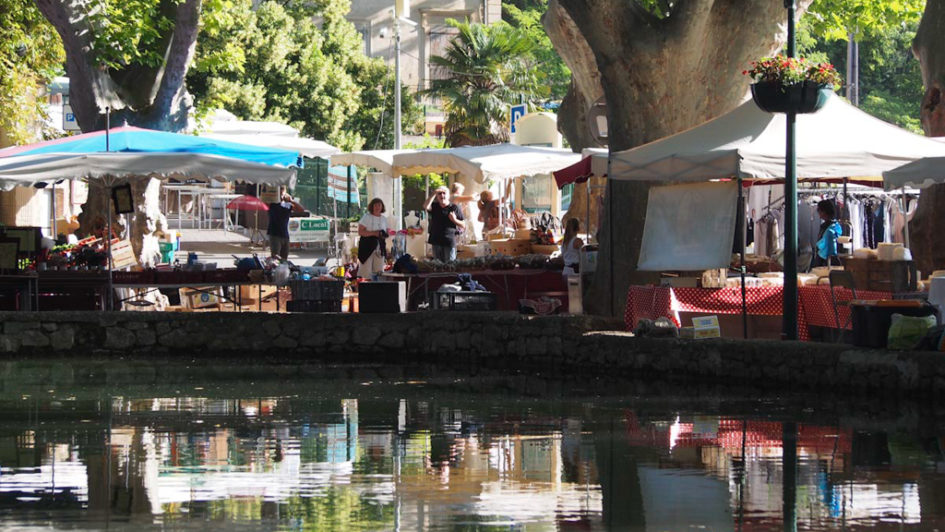 This is a tentative June itinerary, open to change based on weather, new ideas, and the tempo of our travels, but it gives you an idea of the terrific week that lies in store for you. A tentative September itinerary to come soon.
Sunday
We pick you up at one of the pre-arranged points (e.g., the Aix-en-Provence TGV station or the Marseille Provence Airport) and return to the villa in Lourmarin. There will be time to unpack and
unwind—even take a walk, a swim, or a snooze—before we walk to the village for a short tour and introduction to some of the shop keepers and gallery owners. We will gather in the evening for l'apéro and dinner in the villa.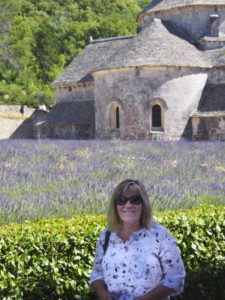 Monday – We will begin the day with a short ride to Cabrières d'Aigues, home of the Domaine de Vaudois, where we will meet Claude Aurouze, whose son now oversees the wine and olive oil production of the family's property. Aurouze's wife is a direct descendant of the Vaudois, a Christian sect that, in the 15th century, moved to the religiously tolerant Luberon and, several generations later, their peaceful existence was torn asunder in a misguided effort to protect the Catholic Church. Claude will tell you about the tumultuous history of Protestantism in Provence as we taste his wine and sample his olive oil in the 17th century vaulted rooms of this winery.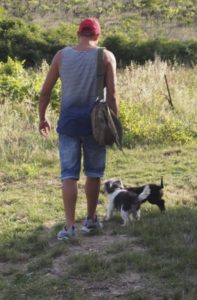 Some of our group may opt to spend the morning at the villa, perhaps visiting Lourmarin, taking a long walk, or sitting in the sun. Still others may want to accompany me to a local market to select what will make up our lunch. We will all meet at the villa for lunch.
Later, we will take a tour of some of the Luberon hilltop villages, probably stopping at one of the châteaux to taste a little Côtes du Luberon wine. From there we will go to the Abbaye de Sénanque where the rows of lavender (June tours only) are said to create the most photographed scene in Provence. Dinner at the villa.
Tuesday – The day will commence with an early morning optional photography excursion to the Cucuron Market. Then, around 9:30, we will leave to see two of "The Prettiest Villages in France. First, we will go to the lovely, upscale market in Gordes, a picturesque hill-top village where much of Ridley Scott's "A Good Year" (based on the popular Peter Mayle novel by the same name) was filmed. Roussillon, renowned for its red cliffs of ochre, is our next stop. Lunch will be in Roussillon or Buoux before returning to the villa.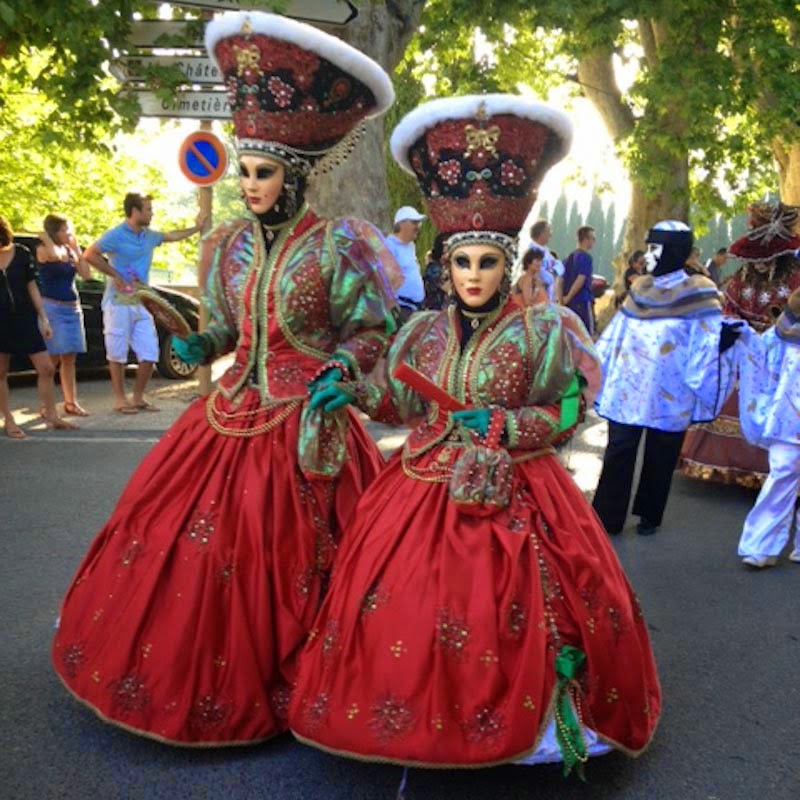 The Lourmarin Farmers' Market begins around 5:30 p.m. Dinner on your own. We can make recommendations for one of the wonderful restaurants or simple cafés in Lourmarin or consider picking up your own dinner at the Farmers' Market to enjoy at the villa.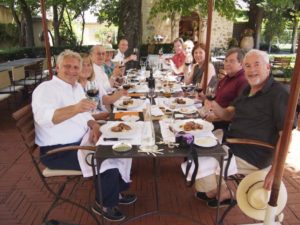 Travelers opting for the week of June 19 will be able to hear some music and enjoy the festivities of the Nationale Fête de la Musique (the World Music Festival). The center of the village is blocked off and the local cafés move their tables and chairs into the main street. Last year, the evening kicked off with a parade of Venitian carnival characters and culminated with music in three separate areas in this tiny village.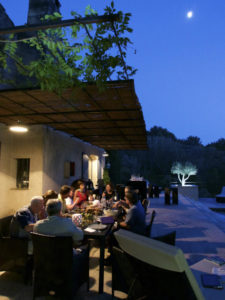 Wednesday – There is a lot packed into this day. We are going to the Var, the home of the world-famous Provence Rosé. Called the "Green" Var, this area is known for its luscious forests and gorgeous coastline, as well its rosé, said to set the "gold standard" for the world's rosé. There we will sample rosé (and red and white) wines and have at least one cellar tour at some of the top châteaux in the Provence Wine Region. We will have lunch at a very special Michelin-star restaurant. There will be a light dinner at the villa.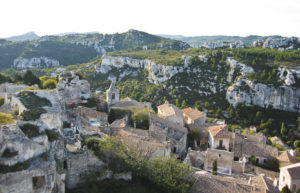 Thursday – We will head west today to Les Baux. Les Baux-de-Provence, a medieval village perched on a spur of Les Alpilles, was home to an 11th-century citadel with a commanding view of the patchworked land once fiercely defended by the Lords of Baux. In ruins now, the fortress still has a wealth of archeological remains to explore from dungeons to towers. At the base of the village are the quarries that supplied to limestone for the village, its fortress, and, earlier, for the Romans to build much of what is Arles. Now, these vast caverns are the site of Carrières de Lumières (Quarries of Light) where a multi-media show about Marc Chagall is currently underway. A very popular art show, it is also fascinating to walk around inside the vast caverns that were dug out over the course of nearly 2000 years. This area is also famous for its olive oil and chocolates (Joel Durand's original shop, filled with his renowned squares of culinary bliss, is in the center of Saint-Rémy.) The psychiatric hospital, Saint-Paul-de-Mausole, where Vincent van Gogh sought treatment shortly after mutilating his ear, is still a working facility for the treatment of women (and nearby) and is open to visit some of the areas where van Gogh painted (and was treated). How the day unfolds exactly remains to be seen, but there are several possibilities in addition to Les Baux.
Friday – Lourmarin's Friday market is considered the finest in the Luberon and we agree. That's where you will find most of the group on this morning. You can stroll down to the market leisurely, as you please. Lunch is on your own in Lourmarin, where the village is abuzz with activity. Lunch at one of the cafés—we love Café Gaby—along rue Henri de Savornin affords terrific people-watching opportunities and very good café food.
We have planned a relaxing afternoon, envisioning that you might spend time shopping in the village, visiting the galleries, touring the château, playing boules, sitting by the pool, or going for a long walk. There will be an optional short excursion to areas that we might not have seen yet and an optional photography excursion.
In the early evening, we will visit a truffle farm where you will go on a hunt for these delicacies, have a tour of this bucolic organic farm, and sample some summer truffles. Dinner and toasts on our last night at the villa.
Saturday – After breakfast, it will be time to part ways. We hope your hearts will be filled with the spirit of Provence and that Provence will have left an indelible impression in your life, as it has in the lives of so many others before us. We will drop each of you off at the pre-arranged location (probably Aix-en-Provence TGV or Marseille Provence Airport) so that you can continue your adventures, whether they take you home or on to other parts of the continent.

Prices and Tour Details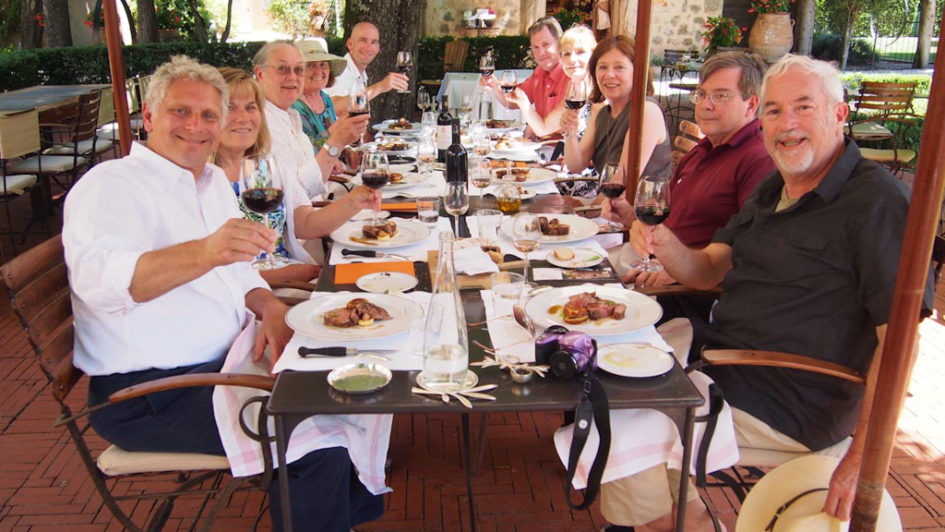 Prices for 2017
Six nights, six breakfasts, four lunches, five dinners, wine tastings, all admissions and gratuities, local transportation (including pick-up and drop-off at pre-determined locations), camaraderie, travel guidance, lots of personal attention, and much more. It all begins Sunday evening with l'apéro, a stroll through the village, and and dinner at the villa.
Group limited to 8 people
All Dates
Lourmarin Guest House
Double Occupancy
Single Occupancy
Studio apartment
$3,775 per person
NA
En Suite BR & WC
$3,525 per person
$5,175 per person
En Suite BR, Shared WC
$3,275 per person
$3,695 per person
Shared BR, Shared WC
$2,945 per person
$3,245 per person
Our group will have a maximum of 8 people. For more information and availability, please email us at Susan@TheModernTrobadors.com or call us at 603-430-8694.
Deposit and Payments
A $1000.00 deposit (per person) is required to secure your reservation, payable within one week of your booking. We request full payment by April 1 for the June Tour and by June 1, 2017 for the September Tour. We accept checks (drawn on US bank accounts), PayPal, all major credit cards, and wire transfers.
Cancellation Fees
June Tour
Cancellations before April 1:

$250 per person
Cancellations before April 18: 25% of the full price
Cancellations on or before May 18:

50% of the full price
Cancellations after May 18: 100% of the full price
September Tour
Cancellations before June 1: $250 per person
Cancellations before June 10: 25% of the full price
Cancellations on or before July 10: 50% of the full price
Cancellations after July 10: 100% of the full price
We are responsible for:
Accommodation for 6 nights in a beautiful villa, just outside the center of the village of Lourmarin. (No hotel hopping.)
Almost all meals—6 breakfasts, 4 lunches, 5 dinners—and selected wines and apéritifs
Transportation—all local transportation during the tour and pick-up (before 3:00 p.m.) and drop-off (before 2:00 p.m.) at predetermined times and locations (e.g., Aix-en-Provence TGV or Marseille Airport) at the beginning and conclusion of tour.
All admissions, local taxes, and gratuities
Travel advice and support (prior to and during the tour)
You are responsible for:
Airfare and any other transportation before the pre-determined pick-up and after the drop-off locations
Transportation costs to Lourmarin after 3:00 p.m. on arrival day or to airport/train station after 2:00 p.m. on departure day
One lunch, one dinner, and any beverages not already included/provided
Personal expenses (like laundry, phone service, and any food/beverages you choose to buy and keep in the communal refrigerator)
Personal excursions separate from those included in the tour Any incidental expenses incurred as a result of booking or canceling
Personal Travel insurance (we strongly recommend you purchase this)
Unsolicited Advice:
We recommend that all travelers consult their doctors regarding vaccinations and medications before any overseas travel.
We strongly recommend that you purchase travel insurance. We recommend that you visit InsureMyTrip
We encourage arriving in France at least a day or two in advance so that you can adjust to "jet lag" from time changes and sleep disruption and in case there are any travel delays. Paris, Nice, Avignon, and Aix-en-Provence are just a few of the wonderful places to visit before our rendezvous.
Make sure to pack your camera, sketch book, and walking shoes.
Be prepared for rain. (It does happen…even in Sunny Provence!)

Why Choose This Tour?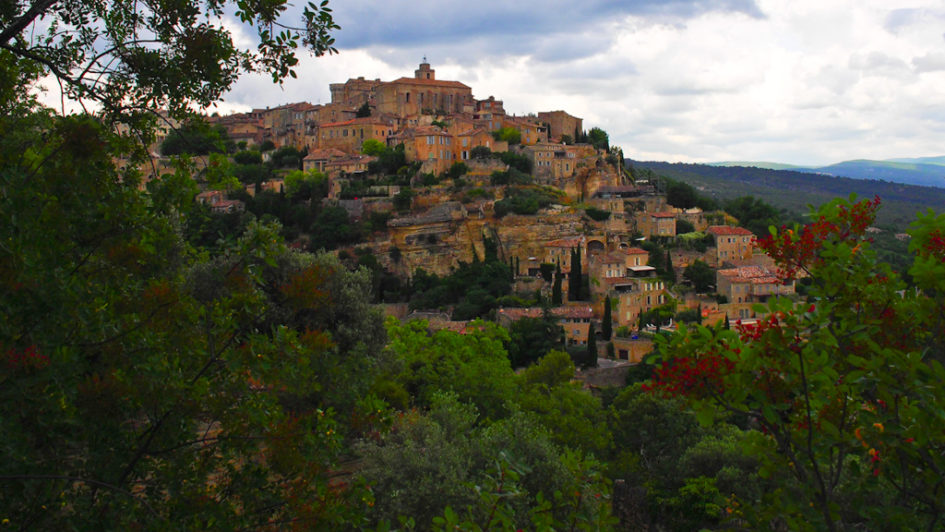 We know this part of Provence intimately. Through nearly two decades of travel and over 150 blog posts written about Provence, we know this area. You can lean back and relax with all the details of the week handled for you by knowledgeable and competent organizers, one of whom speaks fluent French.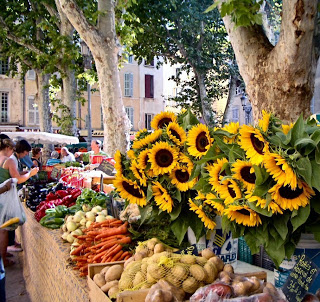 We know the wines of Provence and have visited many of the top wine châteaux, tasting their wines, meeting the proprietors and wine makers, and learning about each of the appellations. Susan has written about some of these experiences in ProvenceWineZine.com and TheModernTrobadors.com.
You will be treated to some of the region's best wines and cuisine.
We will cover much of what is quintessentially Provence at the measured pace for which Provence is renown.
We have organized several small group visits to France with friends and welcomed many more visitors to Lourmarin (for whom we have planned their itineraries) and have just returned from leading our first tour, which was a resounding success (see testimonials below).
Currently, a euro costs $1.09 compared to the $1.30 and higher that it has cost for over 10 years!
June tours will be at the start of lavender season! September tours are quiet and, in many areas, the harvest season.
Testimonials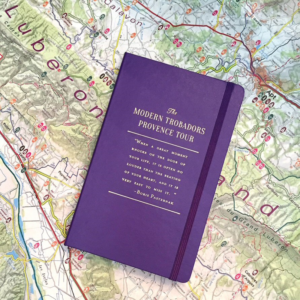 It was for me a perfect introduction to the region. HD
I am not much of a tour group person, nor a group person in general, so the limited smallness was perfect for me, and I think that most of the people in the group were attracted by that feature as well, which is why we probably all got on so well together. HD
I had a great time and continue to realize how much I saw and enjoyed as the time passes and I have the time to catch my breath and ruminate about our time together. I particularly enjoyed being with the both of you and also with meeting your other guests. They were the kind of people who were interesting in each of their own rights and with whom it would be nice to stay in touch. DT
Our hosts allowed us to come the afternoon of the day before the tour
actually started, enabling us to settle in, explore the village on our
own, and to begin to get to know one another. I believe this may have
been key to the conversation flowing easily at our first dinner together
on the evening of the official start date of our tour. And, the
conversation continued throughout the evenings to come! PT
Another appeal of your trip was it was flexible, allowing people to come or go as they wished, participate or not, as well as leaving us to our own devices once we reached a destination allowing us the time to wander, explore, spend time in a church, shop, sit in a cafe, be busy or not as the spirit moved us. The respectfulness of us, and for us, as individuals was one of the many reasons this trip was so successful. HD
There was thoughtful personalized attention to details which I so appreciated and considered to be unsurpassed by any other type of group tour in which I have participated. PT
Providing the little blank notebook was a brilliant idea….For someone completely new to Provence and to paying specific attention to wines, it was a great help. We saw so much and had the opportunity to learn so much that I never would have been able to wrap my head around all the information, let alone keep it straight in my head….In addition, your website gives a continuous and library-like-way of learning more about what I saw, what it meant and what I want to know more about and to go and see…. DT
It was fantastic, an experience of a lifetime. BQ
It was amazing. JP
Now, would you please organize a tour to Tuscany? JP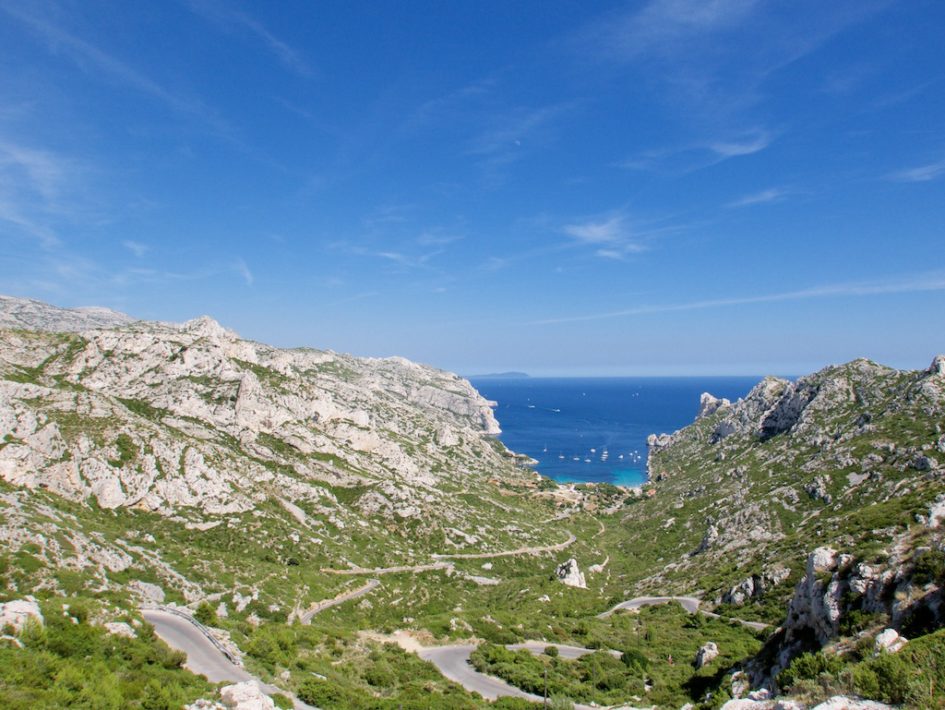 About Us and Our Connection to Provence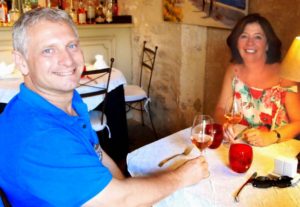 Having inherited a deep love for France from our respective families—Towny being the product of Foreign Service parents who lived in Paris in the 50s, and Susan being the eldest grandchild of a man who, with his beloved wife, traveled frequently to Paris and spent the last half of his long life studying everything French—we have traveled widely and often in that country.
It should have been a short leap of faith that Provence would be included among our travels and that we would be passionate about this region, arguably France's most popular.
But, we must confess that we were reluctant travelers to Provence. We had prided ourselves on seeking out rather off-beat places—not necessarily exotic locations, but those more likely to be found along roads "less traveled by," those that were "grassy and wanted wear." That was not the road to Provence.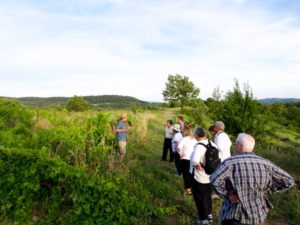 For well over a decade before we arrived, tourists, particularly after reading Peter Mayle's widely acclaimed A Year in Provence, had been flocking to the area like a stampede of sangliers.
We did not want to be counted be among the trendy travelers who base their itineraries around the Travel section of The New York Times. But, clearly, articles about the region were popping up everywhere.
It was certainly not that Provence was undiscovered. Artists and writers have been drawn to the slow pace of life, rugged beauty, and stunning light for well over a hundred years: Van Gogh, Cézanne, Matisse, Chagall, Zola, Hemingway, and Fitzgerald, to name a few. The Papacy chose to take up residency in Avignon during the 14th century.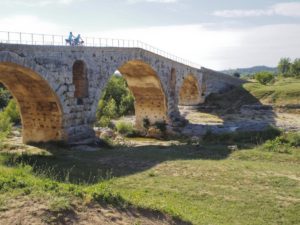 And even earlier, the Romans extended their empire to this area (which they called Provincia), building several of the most important Roman settlements outside of Italy and leaving behind what has become some of the best preserved Roman architecture in the world. This was indeed a popular destination long before Mr. Mayle penned his warm-hearted and humorous novel about his sojourn in Provence.
So, by the time an opportunity for a trip to Provence surfaced in 1998, we had shed our reluctance and in fact seized the opportunity. We were enchanted immediately by everything our predecessors found so infinitely appealing: The incredible, incomparable, and truly glorious lighting highlights a natural beauty that is unique and as diverse as anything we have ever had the good fortune to see; architecture spanning over two thousand years, carvings, paintings, and other remains from prehistoric settlements as old as a million years; and a pace of life that is all about how life should be lived.
We discovered Lourmarin on that first visit. The village, dominated by its Renaissance Château and 17th century clock tower, lies in the midst of groves of olive trees, fields of sunflowers, wild lavender and rosemary, and vineyards galore, many of which make up the increasingly impressive Côtes du Luberon appellation.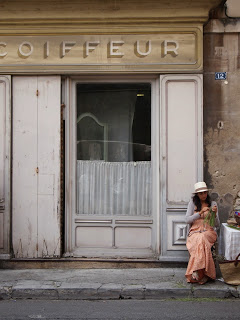 The people who inhabit the village – amiable and yet not above some of the most colorful conflicts we have ever been privy to – immediately captured our hearts. Against this exquisite bucolic backdrop, Lourmarin has a cultural-arts community that rivals any in the area; it has been called the cultural capital of the Luberon. There are several nationally acclaimed restaurants, among other fine eating establishments, many galleries, and charming shops. Peter Mayle and his wife made Lourmarin their home when they returned to Provence from Long Island. What more could one want?
We have returned every year (and more) since then, including a six month stay in 2002 and have made wonderful friends, some of whom have come to visit us in New England.
We kept wondering when our passion for Lourmarin and Provence would wane and we have finally given up anticipating it. The allure is magical.
Our love affair with this area of the world began late, almost twenty years ago, and we have been making up for it ever since—we were reluctant travelers, yes, but not reluctant lovers. We love to share our favorite corner of the world with others.