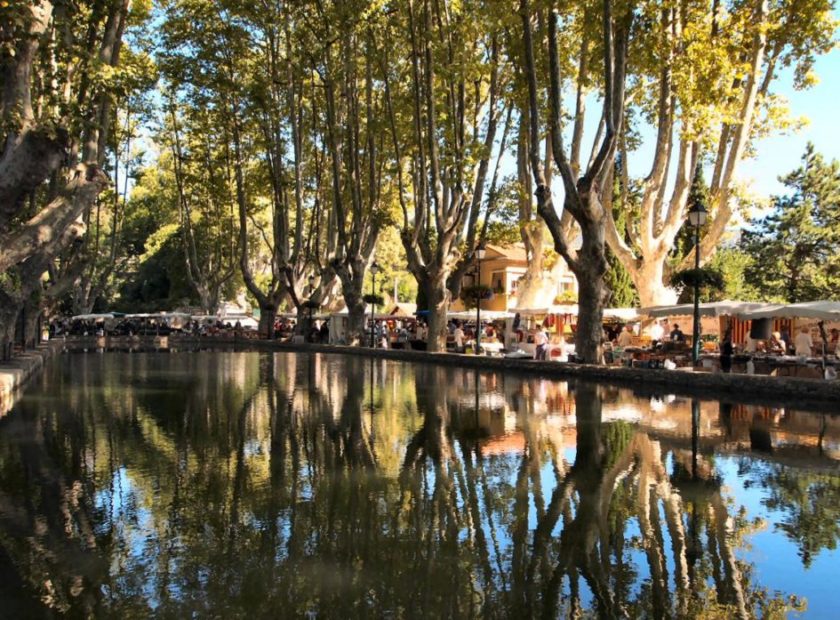 This post is the second in a series that will feature each of the ten markets that The Modern Trobadors always visit when in Provence. The markets were selected primarily on the basis of the quality of the offerings of the vendors and the ambiance of the venue although practicality was also considered to some extent (e.g., distance from our home in Lourmarin, market options on that day of the week, convenience of parking, etc.). Bottom line is that these are the markets we visit when we are in Provence. Again and again…and again.
Cucuron, population hovering around 2,000, swells to capacity every Tuesday morning during the summer months. It is Market Day and despite competing markets in several nearby villages and cities people flock to this tiny village every Tuesday morning. We are among those who love this market.
Cucuron is just 7 km (about 4 miles) from Lourmarin, where
La Bonbonnière
, our apartment is located. We have ridden our bicycles there and our long-time friend and frequent visitor, Patti, prefers to walk there. (Although, without a car, there is a limit on how much one can purchase and carry back….definitely something to think about!)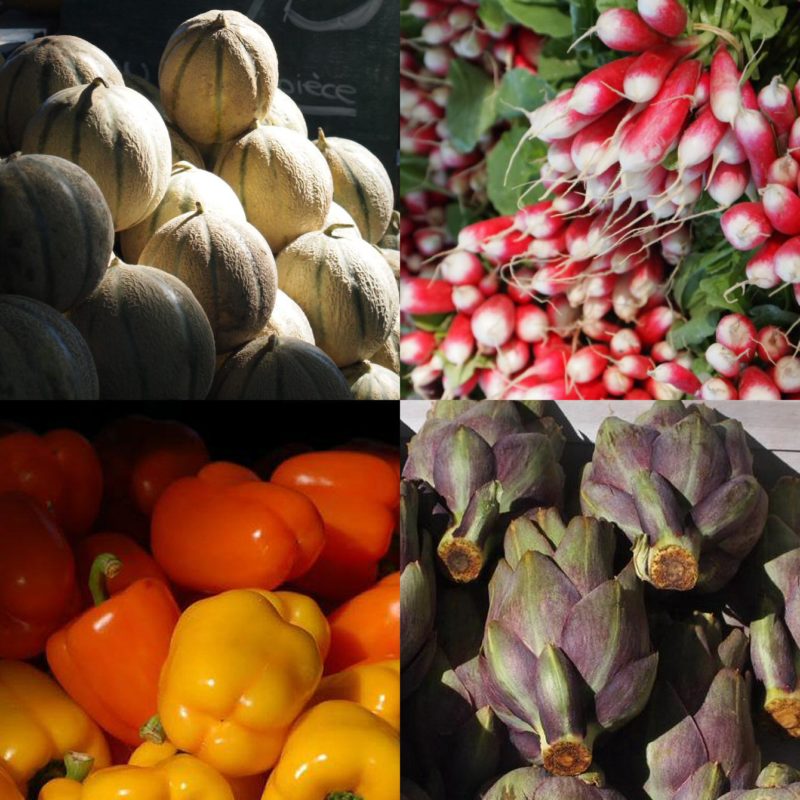 The market is known for its particularly beautiful venue. Vendors set up around three sides of a lovely stone pool, Bassin de l'Etang, which is spring-fed and dates back to the Middle Ages. Dotting the rim of the Olympic-size pool are gigantic plane trees, providing a shady canapé that offers welcome relief from the warm summer sun to those visiting the market and to those sipping their favorite beverage at the cafés that line the fourth side.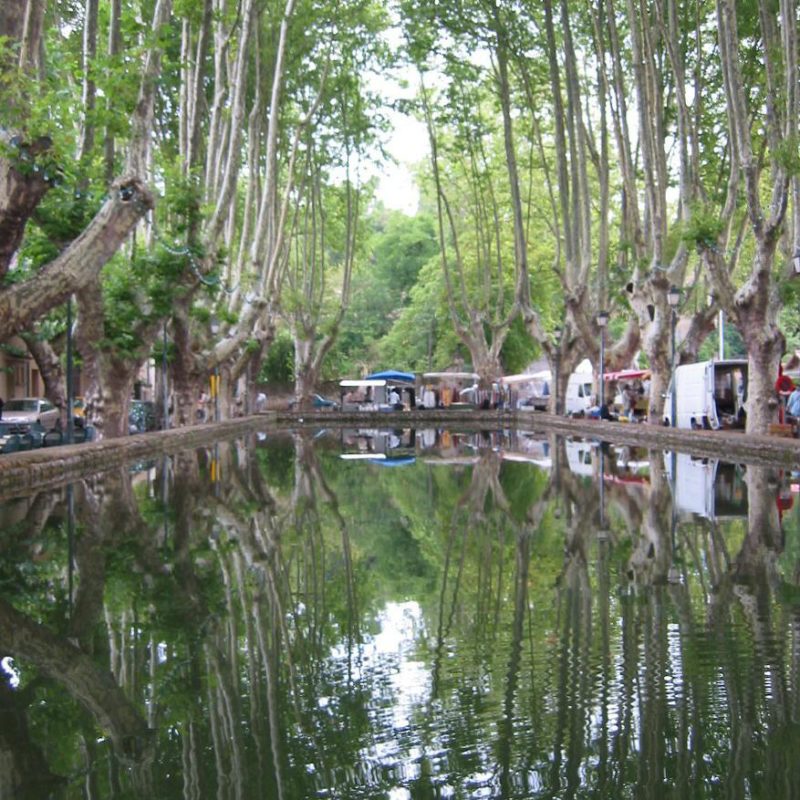 It is a relatively small market, especially in months other than summer, but the vendors are some of the best in the Luberon.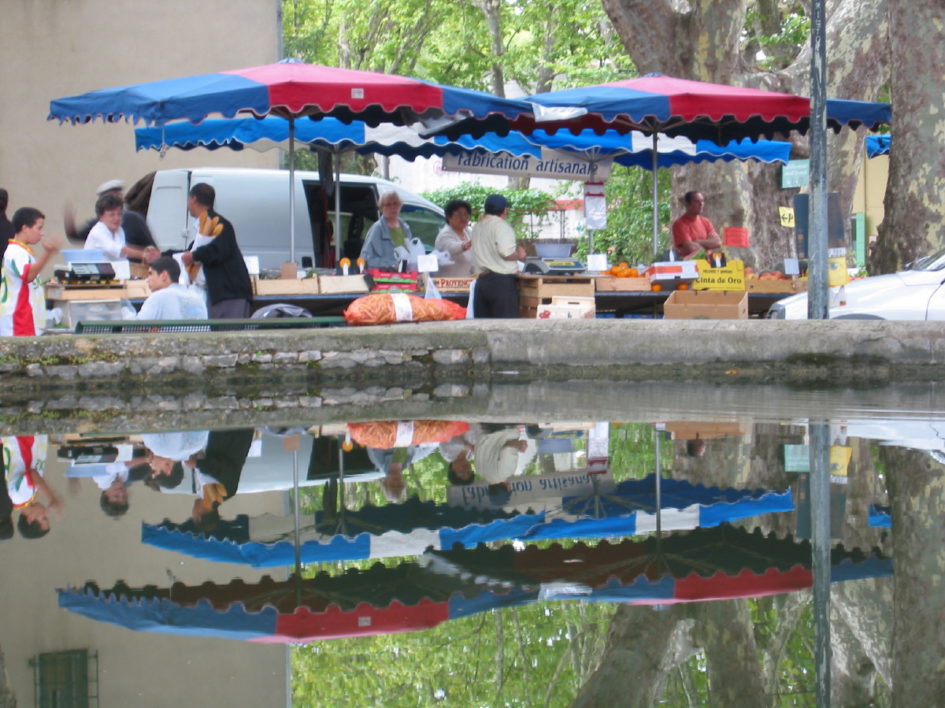 Like the
Lourmarin Market
, one of our first stops is at our favorite rotisserie where we ask them to please save one of their succulent chickens and lots of potatoes for us. We'll pick it up on the way out!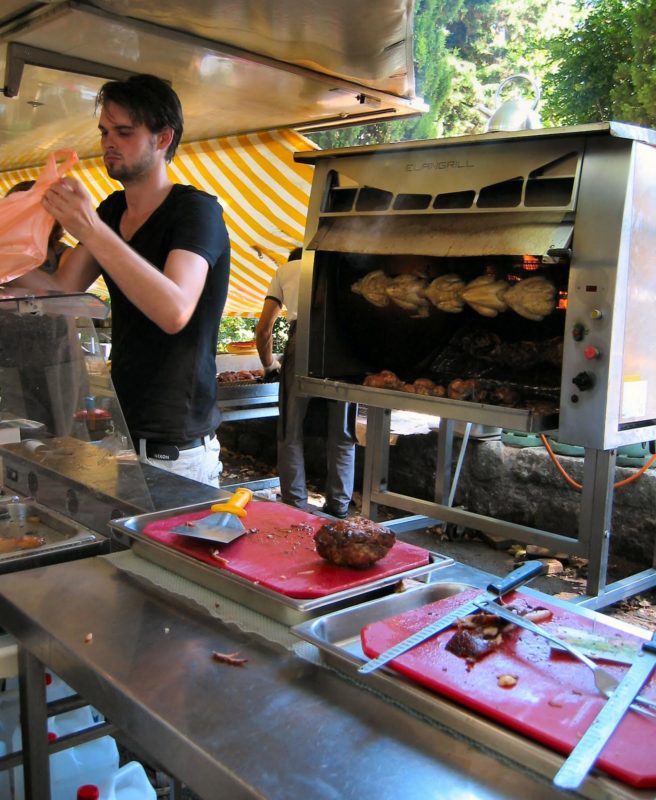 One of our favorite cheese purveyors is nearby; you'll easily spot him because of the long line of people waiting to select their cheeses from his wonderful assortment, but also because he is very handsome! "Your hunky cheese man," is how my husband refers to him.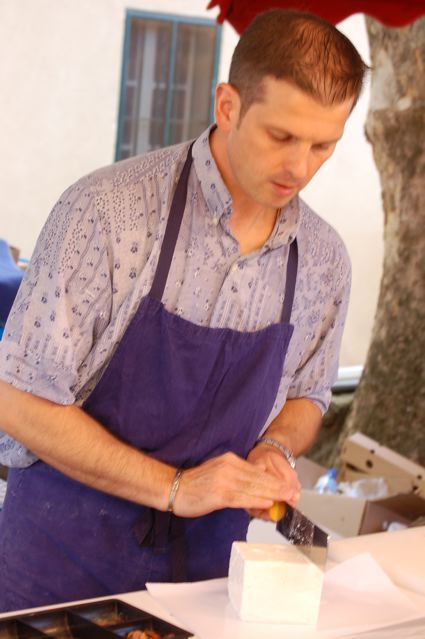 Nearby is our favorite honey producer, La Miellerie du Grand Luberon, a local producer—in Cucuron—of some of the tastiest and creamiest honey you will ever enjoy. It is biologique, too! I always buy enough to take back to the States.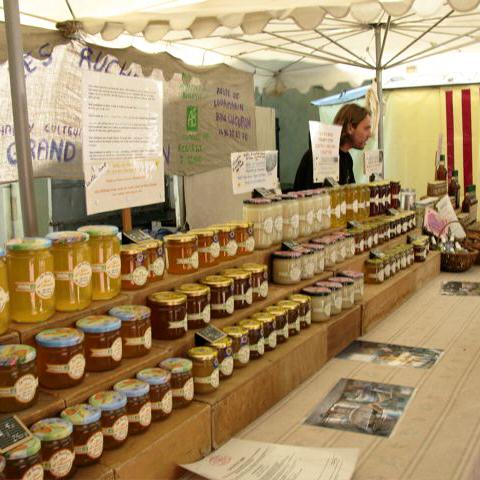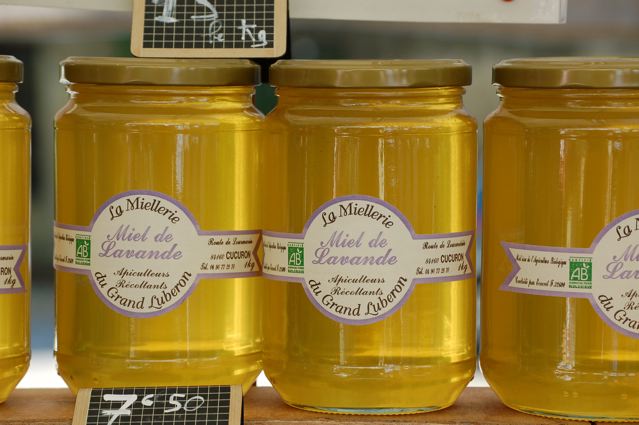 Just a little further along, there is a small stall that sells perfectly cut—paper-thin—slices of fabulous cured ham. You will recognize it by the large Spanish flag with a black bull right smack in the center of it. Ask for a taste and one of the family members will gladly comply…because you will buy a few slices! The older gentleman seems to be the designated meat slicer: watch him! He does it with such finesse that it is immediately clear he has had a lot of practice. Either of the hams is very good alone—the pata negra is the higher quality of the two–or grab a Cavaillon melon from a produce vendor for a heavenly pairing.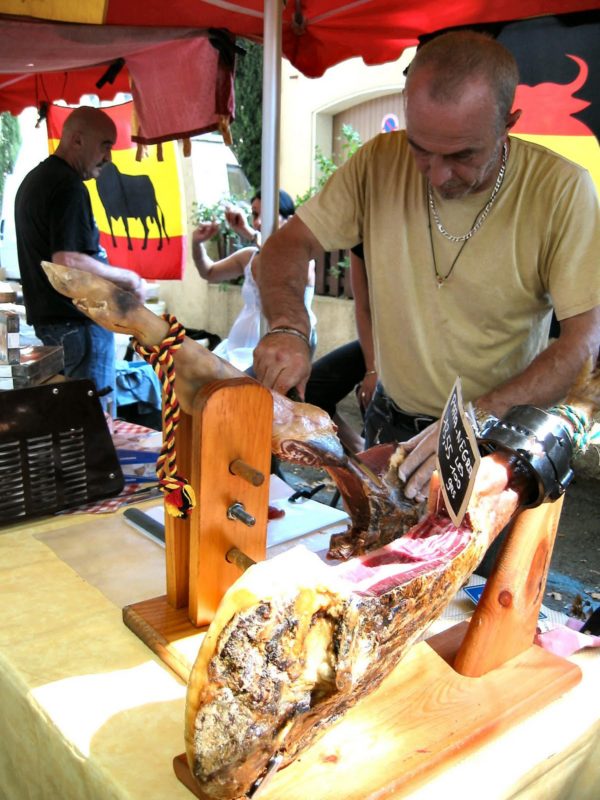 Our favorite cookie man sets up a couple of long tables, displaying an impressive array of cookies as well as fruits confits (candied fruits). We usually pick up a few biscuits to go with a cup of tea a little later.

There are several good produce vendors. My go-to man for many years was Emerique. As I explained in our first in this series on Markets in Provence, he has sold his business and will hope the new owners will maintain his high standards. This stand is located at the far end of the étang (as you look at it, with the cafes on your left and the market stalls on your right). Another good produce vendor, operated by a husband-and-wife team, is located directly across from the hunky cheese man.
You have many other choices of items with which you may fill your basket: kitchen gadgets, pottery, fabric, place mats and table cloths, clothes, flowering plants, and wine. And if you forget your basket, there's a good vendor in Cucuron for another one. The basket vendor, who also sets up shop at the Lourmarin Market, is a tall Black man from Northern Africa (where most of the baskets in Provence are made). He's usually willing to strike a deal on his baskets and may even demonstrate how a good dunk in the étang can tighten the basket weave.
Do take the time to have a café crème—or citron pressé—at one of the cafés. The view of the market is great and the people-watching is pretty good, too.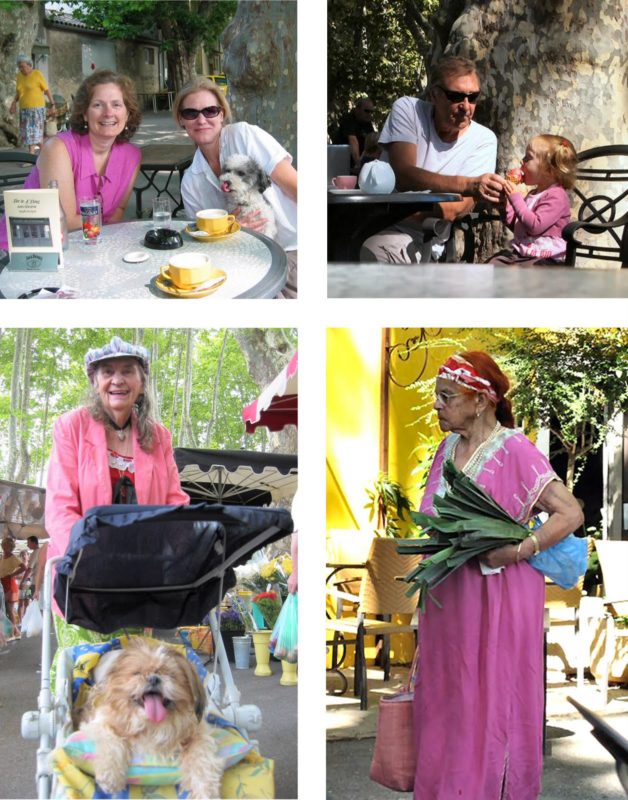 Before you leave Cucuron, head over to the 16th century olive oil mill, Moulin à Huile Dauphin, where you can still see the original ox-driven mill and pick up some of their renown—and our favorite—olive oil.
The wine cooperative is producing better and better wines each year, under the Côte du Luberon AOC (or vin de pays d'Aigues). In the harvest season, you may see a parade of trackers pulling wagons weighed low with grapes, on their way to be turned into wine at the cooperative.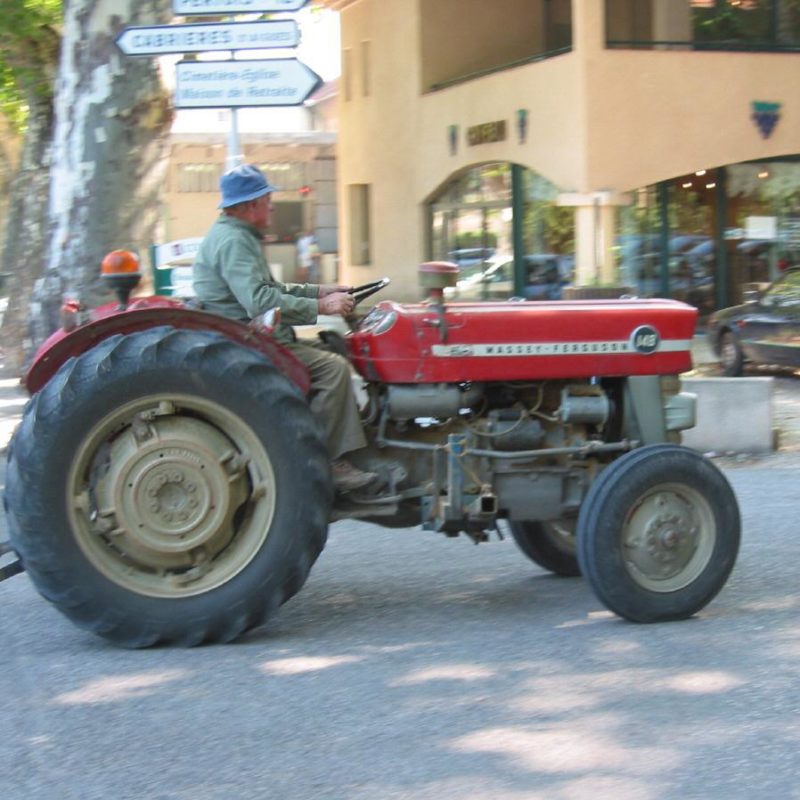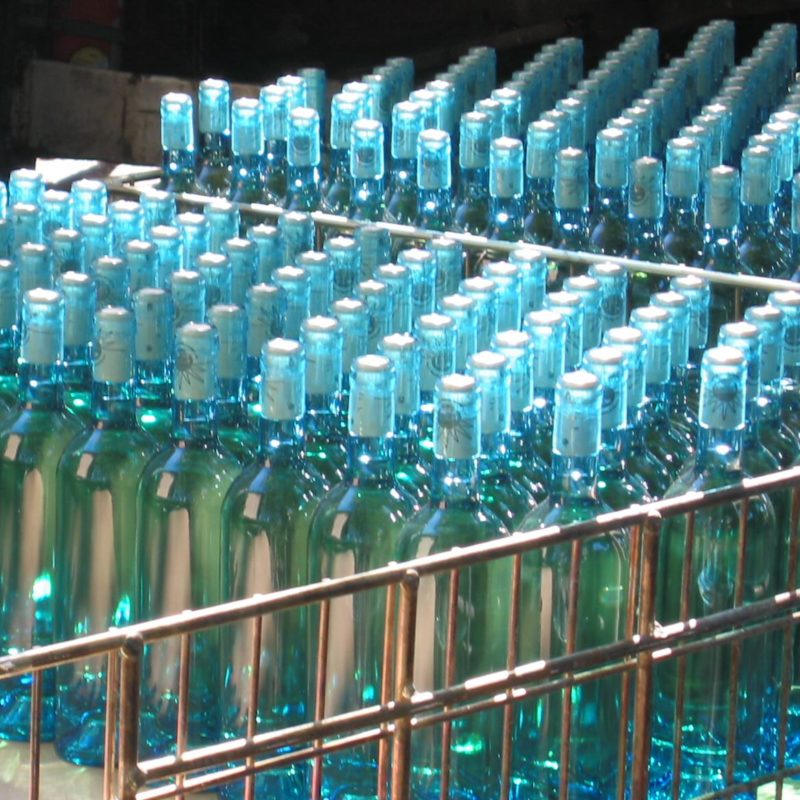 Most tourist books devote no more than a couple of lines to this sweet village. In spite of its lack of tourist appeal—or, perhaps, because of it—we find it a very pleasant village to poke around in.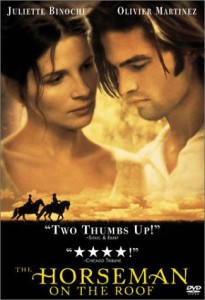 Cucuron is pretty enough to have been one of the locations featured in Director Ridley Scott's 2005 movie entitled 
"A Good Year"
 (based on the Peter Mayle novel by the same name and starring Russell Crowe, Albert Finney, and French actress Marion Cotillard). Ten years earlier, it was used as the set for the French movie,
" Le Hussard sur le Toit" ("The Horseman on the Roof"),
directed by Jean-Paul Rappeneau, based on the 1951 novel by Jean Giono, and starring Juliette Binoche and Olivier Martinez.
The medieval ramparts, the fortified gate, the bell tower on place de l'Horloge, the Eglise Notre-Dame-de Beaulieu with a Romanesque nave and Gothic apse, the remains of the 13th century Chapelle Notre-Dame-de-Beauvoir, and the Musée Marc Deydier with lots of local history, including a collection of daguerreotypes, are all worthwhile stops as you stroll along the uncharacteristically wide streets of this charming village. The tourist office is also quite good (rue Leonce Brieugne).
Consider lunch or dinner at La Petite Maison de Cucuron, where the highly respected chef, Eric Sapet, will regale you with his culinary talents while you feel like you are dining in an dear old friend's home. (It is easy to understand how Chef Sapet quickly garnered a Michelin star.) He offers cooking classes, too. Simpler fare may be found at Restaurant de l'Horloge.
The Cucuronnais will welcome you to their village whenever you choose to go, but do go. Especially on a Tuesday morning.