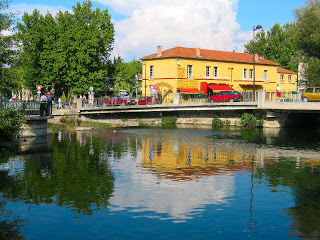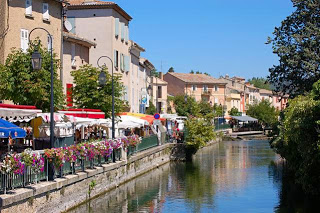 Photo: David Scott Allen
As George McQuilken, a regular traveler for over twenty years to L'Isle-sur-la-Sorgue, puts it:  "Everything in the world is sold there!"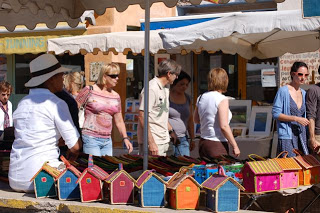 Photo: David Scott Allen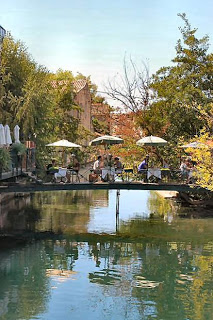 Photo: David Scott Allen
In other words, it gets crowded, especially in the summer months:   Don't drop anything because you may not be able to bend down to retrieve it and hang on to the kids!  Actually, my best advice is to go to Market with tall people who wear hats:  We never lost sight of David Scott Allen who, with his partner Mark Sammons, visited us in 2008, probably because he donned a hat atop his 6'2" frame and, come to think of it, years earlier, we never lost sight of our family friend Dustin Blaylock, 19-years-old, 6'1'' who had just—inadvertently—dyed his dark hair blonde!
Get there early to find parking and plan to cap off the long morning at the market with a leisurely lunch and stroll around the town after the crowds have dissipated.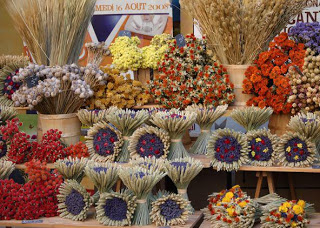 Photo: David Scott Allen
It is a very small church teeming with so many statues, wood carvings, frescoes, and paintings—all gilded, glorious, and undoubtedly virtuous—that  feelings of claustrophobia might emerge in those susceptible to such anxieties.
Mark, being much more knowledgeable about churches and the like than I, describes his experience quite differently and far more eloquently:
[The church was] architecturally fascinating enough that my attention was (gasp!) drawn away from the extensive farmers' market.
[T]he back of [the church] caught my eye for its apparently Gothic apse and earlier Romanesque tower, and perhaps Romanesque nave.
When I went inside, I was not merely fascinated by the Baroque ornament laid over the underlying structure, a common enough feature in European churches everywhere (perhaps most especially in Rome); I was stunned by the unexpected richness of it, especially in so small a town.  And then further surprised upon exiting the front door and turning around to see the austerely elegant facade (perhaps a generation later than the interior decor?).
Did 17th and 18th century textile dying pay for this lavish redecoration? Was there noble patronage? Perhaps a powerful cardinal associated with the church?  What was going on there between, say 1650 and 1780 to make this possible? It makes me wish I knew more about French architectural history.
Now that we've piqued your curiosity, do take a break from the Market to step inside this very interesting church.  It will provide fodder for conversation over at Café de France, opposite the church.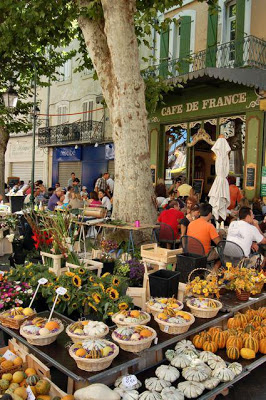 Photo: David Scott Allen
Le Caveau de la Tour d L'isle is another good stop.  It is a wine bar and wine shop.
Alternatively, grab a slice of pizza from one of the pizza trucks with wood-fired grills and head over to the other part of the market.
The flea market is located on Avenue des Quatre Otages. There you will find collectibles and other interesting bric-a-brac not quite old enough to be antique.  Our favorite purchases are our brass candlesticks, wrought iron wine bottle carriers, and a set of six 2000 World Cup Soccer glasses.
If your wallet is still full, cross the street to the row of antique stores or to Le Village des Antiquaires, a veritable shopping mall of antiques.  Most items are not priced and all are negotiable.
We have never found just the right item (that our wallets would accommodate), but such constraints never stop us from looking.  I am still yearning for a set of silverware.
Peter and Maureen Bristol, from South Africa, found an interesting piece for their Luberon home:  an open dresser with a marble top.  The two drawers at the top are "heavily carved and [have] handles [that] are 'carved angry pussycats with big ears.'"  "Donc!" they go on to explain, "for ever more, it is the angry pussycat!"
A nice way to cap off the afternoon is to enjoy a leisurely lunch.  We have thoroughly enjoyed Mas De Cure Bourse, on the outskirts of town, where one may dine on their oak-shaded terrace in the summer or, in the chilly months, in the dining room near the fireplace. Outstanding food, professionally served in a very relaxing atmosphere.
Lis Steeden, reports that she and husband Graham really enjoy Le Petit Jardin for a simple lunch after the market.
Lee-Ann McQuilken and husband George have several recommendations for meals. They have joined family and friends for vacation in this town for many years, enjoying not only the Market, but the restaurants, kayaking and canoeing, and the simple commarderie of friends and family in such a relaxing environment. They stay in Domaine de la Fontaine, which is owned by a German husband and French wife who moved from Germany to raise their children in Provence.  German friends of George, knew the couple from Munich, suggested that they meet in their Inn about 20 years ago, and they've all been going ever since.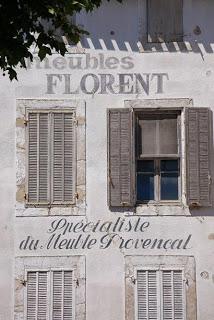 Photo: David Scott Allen
Their top recommendations for exquisite (not inexpensive) dining are: La Prévoté, where a branch of the Sorgue can be seen flowing beneath the restaurant; Le Vivier de la Sorgue, where there is a lovely view of the river from the terrace; and L'Ousteau de L'Isle, where there is a beautiful view of their garden from the terrace.
L'Isle-sur-la-Sorgue Market is a wonderful place to while away a Sunday in Provence.  I suspect you may find yourself coming back again and again for the Market or another meal! I hope to be back soon for the silver!