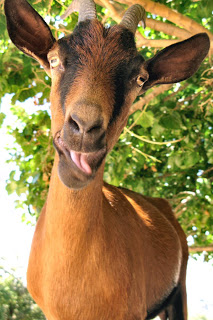 Note: This is not an experience for everyone–those with an aversion to narrow winding roads, a preference for vegetarian meals, and disinclination to dining with farm animals would want to skip this excursion. Fans of David Sedaris' most recent book, "Squirrel Seeks Chipmunk: A Modest Bestiary," will no doubt be inspired.
Tired of white linens, sommeliers, and Michelin stars? Consider lunch at Le Castelas, a working goat farm, for another kind of Provençal dining experience.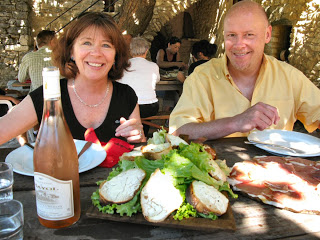 Susan and David
From Lourmarin, where La Bonbonnière, our apartment, is located, the drive is just 22 kilometers (a little over 12 miles), but—up the hill, through the woods, into the valley, past fields of lavender, and on to the plateau—you will feel like you have been transported to another time and place. Leaving Lourmarin, you will head north on the Route d'Apt (D943), alongside the Aigue Brun, a spring-fed tributary of the Durance that contributes to the lush scenery you will enjoy. About 10 kilometers (not sure how many), turn right on the D232 and, about a half dozen (or so) kilometers farther, go right on the D114 toward Sivergues.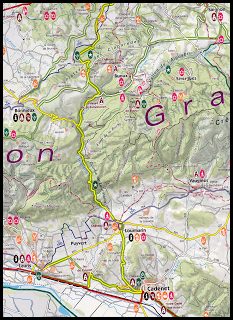 Click to enlarge
There are many places to visit in this area, some of which are mentioned at the end of this piece. We usually save the excursions for after lunch because we tend to linger over our grande crèmes in the morning and prefer a leisurely trip back to Lourmarin, but one could just as easily make the stops in the morning.
Pass through the tiny village of Sivergues (but plan to stop on the way back) until you reach the sign that says "Fin de la Route." The paved road turns to gravel and gets even narrower, but travel a little further until you see the Ferme-Auberge le Castelas, a farm, restaurant, and hostel rolled into one.
The setting is so magnificent and inspiring; you might feel like breaking into a chorus of "On a clear day, you can see forever…." I am told that, on such a day, one can see the Alps, but we happily settled for a gorgeous view of sweeping fields with neighboring villages and awesome rock formations in the distance.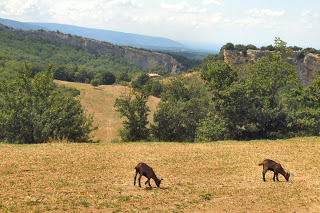 Sweeping fields at Le Castelas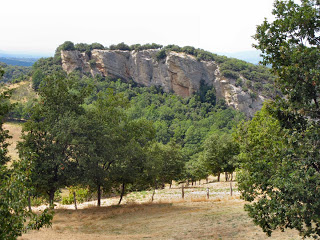 Nearby rock formations
The stone farm house is rambling and rustic. As you approach the terrace where the long tables beckon you for lunch, you pass by clusters of goats, pigs, and sheep, kind of a tip-off of what's in store for your meal.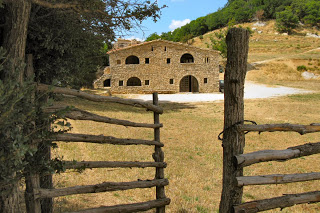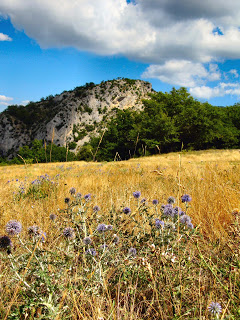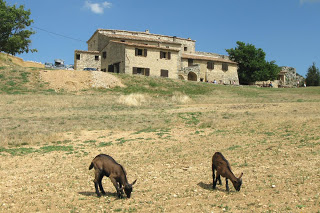 Once seated at the long tables, our party of five was served a chilled bottle of Rosé—most welcome on the hot August day we were last there—and a pitcher of water, followed by a platter of cured meats, an exceptionally fresh green salad, crusty bread, and a platter of chèvres with a tiny jar of honey and bouquets of lavender and thyme on the side. The cheeses ranged from very fresh to very aged, offering an interesting array of comparisons along the theme of aging.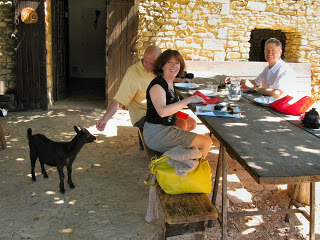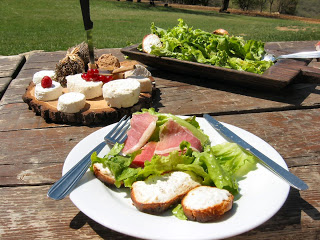 The (only) lunch menu!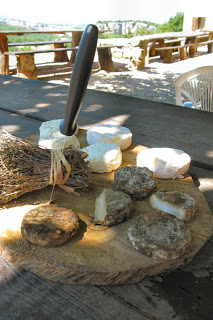 Several generations of Chèvre
Company soon arrived at our table, as well as the neighboring tables: the goats. They made it clear that they intended to share our meal and, if we weren't forthcoming with a little food as they stood near us, they rested their front feet on our bench and attempted to beguile us with up close and very personal eye contact. Failing that clear demand that we share a little, the very impertinent ones got right up on the table. (The proprietors definitely keep an eye on the action at the tables and seem to be able to anticipate when the goats' charm is wearing thin, changing the guests' delight to annoyance at which time they shoo the four-footed diners away.)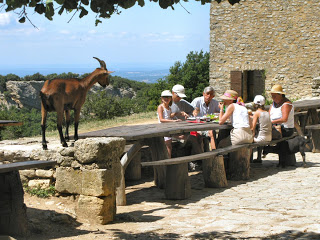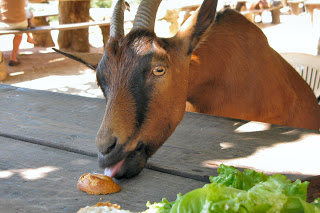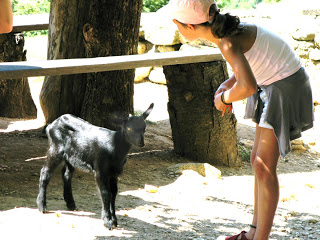 The courses come and go, the wine flows, the conversation flows, and the cheeses age at le Castelas, but time seems to stand still. It is very relaxing and, like so many experiences in Provence, magical.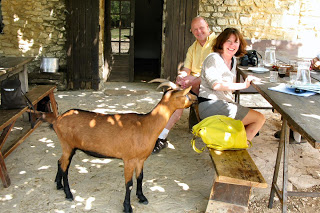 When it is finally time to leave—perhaps after warm chocolate cake and coffee—we would suggest a stop at the very tiny (population less than 50 people) medieval village of Sivergues. It is the highest village in the Luberon. It is very quiet and, with no place to buy anything, it is, refreshingly, the antithesis of tourism.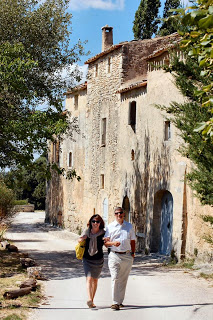 Stroll with Mark in Sivergues
Photo by David Scott Allen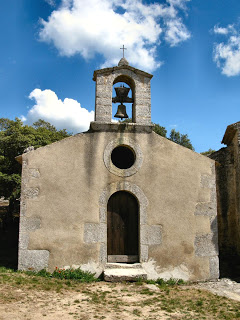 Chapel in Sivergues
Take a detour to the perched medieval village of Saignon, a longer stop where you may stroll around the village, enjoy an espresso at the café in the center of town, or climb atop the ruins of the château. The views are spectacular.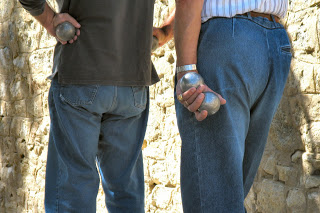 Afternoon game of Boules in Saignon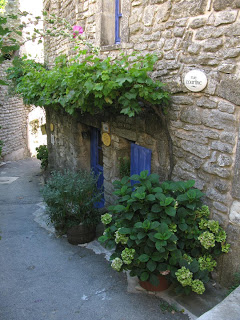 Street in Saignon
On the way back to Lourmarin, Buoux (pronounced "Bewx") is another tiny village with ruins of a large fort nearby. To see the Fort de Buoux requires a short hike, but is well worth the effort. This area has been an important stop since before the Romans arrived. The Ligurians perhaps performed pagan ceremonies here; the Romans stood sentinel guarding the passage between settlements, and the Waldesians sought protection from persecution here. Today, it is a great place for a walk or a picnic (on another day).
So much to do in the Luberon, I know you will be drawn back.
Note: Le Castelas serves lunch (noon to 2:00) and dinner (7:30 – closing). Lunch is Є25 and dinner is Є30. They are now open all year, weather permitting. Reservations are really a must: +33 (0)4 90 74 30 81.