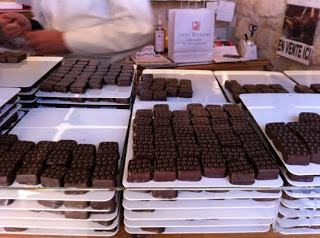 L'Alphabet des Saveurs chocolates Photo: 1j2M
Some of the best chocolates in the world hail from France. In Paris, I think of La Maison de Chocolat, JP Hévin, La Durée, Michel Chaudun. But it is to Provence that I would head for my favorite: the best chocolate in the region is made by Joël Durand in the small village of Saint-Remy-de-Provence.
We visited this alluring chocolate shop this past August. The number of times we have been drawn to Monsieur Durand's chocolate shop has long passed double digits. This time we were en route from Lourmarin, the Luberon village we have called our own for many years, to Arles…but the car knew where we really wanted to go.
We headed toward Boulevard Victor-Hugo, near the Place du Marché. The little shop is unassuming–one could easily pass by. But, with so many articles and accolades about this man and his chocolate, I suspect that…
most people have Joël Durand in their GPS.
The store looks more like an old fashioned pharmacy, with a cozy–bordering on cramped but ever-so pleasing–display of caramel sauces, chocolate bars, jams, cookies, cocoa, pralines, and, of course, L'Alphabet des Saveurs–the coveted chocolates.
"Bonjour Monsieur-Dame," the wholesomely attractive young woman greeted us and from that moment on, she was delightful–attentive and as patient as a saint–as we mulled over box sizes and which of the 32 chocolates to select for each one. Several groups of customers came and went while we deliberated…and enjoyed quite a few samples!
Durand opened his shop in St. Remy in 1996 although his culinary résumé really began years before. By the time he turned 18 years old, he had received diplomas in pastry, candy, chocolate, and ice cream and then opened a pastry and chocolate shop in Rennes. It was there that he began to explore the infusion of herbal, spice, and floral flavors with chocolate.
Durand continued to explore what were at the time these unique combinations of flavors and quickly became known for his Alphabet des Saveurs–Alphabet of Flavors–comprised of 26 ganache-filled chocolates, each one designated a letter of the alphabet, and 6 more chocolates that change with the seasons and are identified by punctuation marks.
So what to choose? Of course, the more traditional chocolates must be included: A is for Durand's Gold Square, a rich black chocolate (70%) cocoa; C is for Caramel, a sinful milk chocolate bite of "salted Brittany butter caramel"; D is for Vanilla, a luscious bite of 40% milk chocolate and Madagascar vanilla; K is for one of my favorites, Coffee; and M is for Fresh Mint.
We also want to include some of the more unusual fillings. E is for Earl-Grey; J is more Jasmine; L is for Lavender; R is for Rosemary; W is for Thyme; X is for Cardamome.
And then there are the unique combinations that probably propelled Durand's chocolates on to the international map of chocolatiers: G is for Guyana, a milk chocolate of nutmeg, cinnamon,"sun-dried" Bourbon vanilla, and lemon peel; S is for Liquorice made of white chocolate and licorice stick; U is for Szechwan Pepper; Y is for Coffee and Barley.
Not surprisingly, there is also a P for Provence but who would have guessed that Durand would fill it with "Provence almonds praline" and black olives from nearby Les Baux Valley?
We had to include some of the seasonal favorites. In August, the square with the "comma" was filled with one of my favorites: a dark chocolate and very subtle fresh basil and the one with a "period" was filled with another one of my favorites: "caramel with salted butter and fresh verbena." My husband loved the "question mark" that was black chocolate with honey and tarragon.
Durand has many other appealing products. We usually save some room in our luggage for a couple of his caramel sauces and maybe some cocoa. This time we took home Durand's cookbook, "Ma Cuisine au Chocolat", which contains 100 sweet and savory recipes with chocolate. All of his products–and a full listing of "The Alphabet of Flavours"–may be found on his website: www.chocolat-durand.com .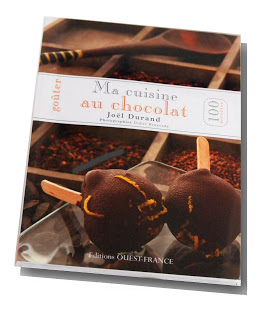 Durand's "Ma cuisine au chocolat" cookbook
We returned to our car, loaded with boxes of chocolates to take home, some caramel sauces, and the book. There was also the bag of chocolates we bought for ourselves. I have to confess–but those of you who know Durand's chocolates will understand–that the bag was opened before we had the car in first gear and, uhhh, it was empty long before we got to Arles.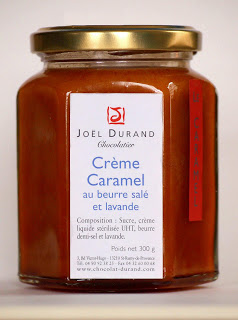 Joël Durand's luscious Creme Caramel with Lavender
Joël Durand's chocolates, in my humble opinion, are the best chocolates in Provence. Yes, I know Puyricard chocolates and I really, really like them, too, but my taste buds go crazy for those little squares with the gold letters and punctuation marks on them!
So, why not order some? My mother's birthday is around the corner–the reason I am in Southern California–and she loves Durand's chocolates. Hmmmm….
So we did order a box of chocolates. And, I will report back next week about how well placing an order for Joël Durand chocolates went and, of course, how the chocolates taste!