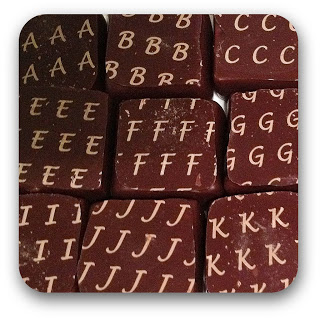 Second of a two-part article.

These chocolates are so delicious that most people say, 'They are to die for.' I would say, 'They are to live for.' Hope for a good long life, so you can try every one.
–My mother, 80-something
C'est arrivé. The chocolates arrived just in time for my mother's birthday. They were carefully packed with the knowledge that they would be traveling far from Saint-Remy-de-Provence and they arrived in perfect condition.
Regular readers of The Modern Trobadors may recall that, last week, I wrote about my favorite chocolates in Provence: Joël Durand's L'Alphabet des Saveurs. We have been to this renown chocolatier's small, rather unassuming shop in the Provençal town St. Remy many times but had never ordered them. In August, when we last dropped by to pick up chocolates, the sales associate reminded us of this option as she packed our tall stack of boxes that would soon be squeezed into our suitcases to cross the Atlantic.
"It just takes two days," she said, "and depending on your travel plans, the chocolates may arrive in better shape."
Freshness is key to enjoying these luscious squares of chocolates. They should be enjoyed right away and, according to Durand, never past three weeks. In our family, a Durand chocolate has never waited three weeks to be eaten, so I wouldn't know what it would taste like. My advice is that short of eating them in the shop or in the car on the way home, they should be eaten right away, when they are their freshest and tastiest.
It was my mother's birthday, she loves Durand's chocolates, so we thought it was a wonderful occasion to place an order and see how it goes.
The first step is to visit their website: http://www.joel-durand-chocolatier.fr/ . (Make sure you use this link because there is 2nd store website that does not allow USA orders!) There you can view your options for box size (number of chocolates) and flavors. We knew we wanted the 48-piece box because it was the right size for the small crowd descending on my mother for her birthday. Also, it is important to note that the minimum cost for shipping to the States is 20 euros, which is for packages under a kilo. A box of 48 chocolates costs 32 euros and weighs 0.6 kilos, for a total of 52 euros.
Orders placed outside of France can be placed via the website but it is not always reliable (as we discovered). If you are having problems with the website, orders can be placed on the telephone (from USA, dial 011 33 4 90 92 38 25). My husband, who is blessed with…
fluent French and whose gift it was to my mother, made the call. But, he learned that the two women who take the orders both speak English fluently; so it is not necessary to speak French.
Although one can place an order at any time during business hours, all orders are filled and packaged between 9:30 a.m. and 12:30 p.m. (French time) for the 12:30 p.m. FedEx pick-up.
Plan on two days for the trip across the Atlantic, not counting Sundays. For example, my husband placed the order on Friday for a Monday processing and they arrived on Wednesday afternoon in southern California.
Although my husband did not catch the name of the young woman who took his order, he did learn that she is a student and an ardent lover of Durand's chocolates. This very helpful young woman takes orders Wednesday through Friday mornings and recommended calling Wednesday morning (France time) to place an order!
L'Alphabet des Saveurs that we received were wonderful. My mother particularly enjoyed the "&", a caramel and salted butter with black chocolate and ginger. She advises simply placing the chocolate on your tongue so that it will slowly melt, allowing you to "savor every bit of the flavor." My daughter loved the Caramel (C) and the Liquorice (S). My brother had too many favorites to mention–the first one he tasted was a Vanilla (D) to which he exclaimed, "WOW…very good…I'll have another!" Like my brother, my husband loves too many to mention although I will reveal that he always chooses Guyane (G), Gold Square (A), and the seasonal punctuation marks.
For me, there is not a Joël Durand chocolate that I would not enjoy. I do love the Caramel (C) and the Coffee (K) and every seasonal punctuation mark that's ever crossed my lips. The chocolates are rich and yet not heavy. Durand's herbal, floral, and spice infused fillings are delicate–they provide the perfect balance to the chocolate covering. I have never met a Joël Durand Alphabet of Flavour that I did not like!
The next time you are in Provence, St. Remy is definitely worth a visit. I especially recommend the Wednesday market and a visit to Saint-Paul Hospital where Vincent van Gogh was hospitalized in the late 19th century for psychiatric treatment and where he painted some of his most famous paintings. Les Baux-de-Provence, olive oil, santons, and wine tasting are all nearby. But, most importantly, stop by Joël Durand's chocolate shop.
By the way, with Valentine's Day around the corner, you may want to know that orders should be placed by February 8 to ensure a February 14 delivery. Those delectable squares of chocolates are a wonderful way to mark any occasion.
Joël Durand Chocolatier
3, Bd Victor-Hugo
Saint-Remy-de-Provence
011-33-4-90-92-38-25 (telephone, from the States)
www.joel-durand-chocolatier.fr