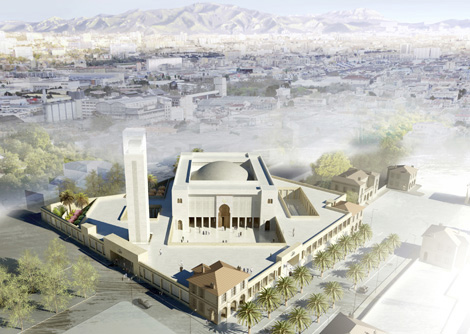 France
is poised to implement its controversial yet very popular law that bans the full Islamic veil in all public places. On April 11th, it will take effect. At the same time, Muslim leaders in Marseille, with the support of local and national politicians, are overseeing the construction of the nation's largest mosque. Perhaps ironically, work began the day after the French government put its stamp of approval on the burqa ban bill, back in May 2010. On the very north side of Marseille's famous Old Port district the €22 million Grand Mosque of Marseille will soon complement Notre Dame de la Garde, the Roman Catholic basilica that has stood sentinel on the south side for 150 years.
Notre Dame de la Garde
Our family has visited the church—where we stood in awe of such masterful craftsmanship and beauty—and we have explored the Arab markets just a few blocks off the once-celebrated La Canebière, the avenue that rises from le Vieux Port—where we were enveloped by brilliant colors, fragrant scents, and a joie de vivre that emanates from every stall there.
Marseille, just 65 kilometers (40 miles) from our house in Lourmarin, is a fascinating array of contradictions. So much so that perhaps building a giant mosque to provide a place for 7,000 of the region's 250,000 Muslims to worship even when the burqa and niqab will soon be banned in all public places is, perhaps, not a surprise.
Arab Market in Marseille
Garlic at the Arab Market
"Banning the burqa," as the law has come to be called—inaptly because, in fact, there are very few burqas in France to ban—is supported by 82% of French people. And, building the large mosque, as best I can tell, is well supported—or at least accepted—by the majority of people in Marseille, even though it was repeatedly challenged in court by the far-right. I heard grumblings about "What is happening to Marseille?" and "Look at all the Algerians here," but I also see a city that has sloughed off the sordid image of "The French Connection" and is currently undergoing revitalization.
Vieux Port in Marseille


I find all of this very interesting, as I observe it through my American eyes, and I thought that our readers would too. I will tell you what I know, as best I can glean from news sources and friends in France; but, I will leave it for you, dear reader, to draw your own conclusions. And, I would love to hear your thoughts.
France is home for five to six million Muslims. They comprise nearly 10% of the nation's population and have the widely-cited distinction of being Western Europe's largest Muslim community. Islam is the second-largest religion in France, growing faster than the officially secular nation's dominant and deeply rooted Catholicism. (Exact figures are unattainable because France's secularism prohibits the collection of census data on religion or race.) Most of France's Muslims come from…
 Algeria and Morocco, former French colonies. The largest Muslim concentrations in France are in Paris and its environs (comprising about 50% of the nation's total), and in the South of France in the area between Marseille and Nice, and in the northern industrial area of Lille-Roubaix-Tourcoing.


Women with Burqas
In all of France, fewer than 2,000 women are estimated to wear the burqa. Technically, the number is much lower because burqas are informally lumped together with the more commonly-worn niqab, even though they are clearly different garments. The burqa is a full-body covering that includes a mesh over the face and eyes; it is not commonly worn outside of Afghanistan and extremely rare in France. The niqab is a full-face veil that typically leaves an opening for the eyes; this piece of clothing is the more frequently encountered than the other full-face covering in France, although the few women who do don the niqab mostly reside in the predominantly Muslim suburbs of Paris. Both of these, because they are full-face coverings, are included in the upcoming "burqa ban."
Niqab
It is important to note that the hijab, a much more frequently worn garment that covers the hair and neck but not the face—often cited as an example of a Muslim woman's "modest dress"—is not included in the upcoming ban. Nor is the chador, which covers the body, but not the face.




Hijab
Burqas, niqabs, hijabs, and chadors were already banned from public schools, back in 2004, along with yarmulkes, Sikh turbans, and other obviously visible religious symbols—including large Christian crosses—with the ostensible goal of maintaining the secular nature of France's public schools.
What has come to be known as "the burqa ban" will, in effect, expand the 2004 law. It was overwhelmingly passed in both houses of the French Parliament: in July 2010, it breezed through the National Assembly, the lower house, by a vote of 335 to 1 and, in September 2010, it flew through the Senate, the upper house, by a vote of 246 to 1. (In the latter legislative body, most Socialist party members abstained although they reportedly oppose full-face coverings in public but did not want to address the issue in the legal arena.) To ensure that the law would be able to withstand any legal challenges, upon its passage in the Senate, the leaders of both houses requested that the nation's Constitutional Court review the constitutionality of the law.  A month later, in October, the courts determined it to be constitutional (although the law may still be subject to a challenge by the European Court of Human Rights).


According to a CNN World report, "The French Constitutional Council said the law did not impose disproportionate punishments or prevent the free exercise of religion in a place of worship, finding therefore that 'the law conforms to the Constitution'." With that ruling, a six-month period was put into place before the law would go into effect in order to inform people of the specifics and penalties for violation of the law. On April 11, six months will have passed, at which time the law will go into effect. (Interestingly, all the people we interviewed were unaware of this implementation date.)


The law, itself, forbids people—French citizens, residents, and visitors, alike—from concealing their faces in public places. Words such as "Islam," "Muslim," "women," and "veil" are noticeably absent in any part of the written law.  Exempt from the ban are people who must conceal their faces for work-related reasons (such as those in law-enforcement and other high-risk environments) and those who participate in certain sports (such as fencing). Among the items not included in the ban are motorcycle helmets, ski masks, and carnival masks.


In essence, when the law goes into effect on April 11th, it will be illegal for a woman wearing a full-face veil to step outside her home. Except for private homes, religious settings, and private vehicles (as a passenger or, if her vision is not impaired, as a driver), women will be banned from wearing burqas or niqabs anywhere else.


In anticipation of the new law, this week, French authorities began distributing posters and leaflets that display the slogan, "The Republic lives with its face uncovered" and present the specifics of the law. A website is also said to be in the works, with the URL is www.visage-decourvert.gouv.fr, roughly translated as "uncovered face.government of France. (I have yet to be able to find the site.)


This is what I can piece together about the procedure in the event that a veil-clad woman ventures out in public. Police, who are apparently reluctant to enforce the law, are instructed to prioritize their actions in favor of the urgency of their cases. Managers of shops, restaurants, cinemas, etc. may turn a blind-eye to the veiled woman or ask her to either uncover or leave the public place. If the veil-clad woman refuses to uncover or to leave, the police may be called. The woman may be required to go to the police station, where her identity will be confirmed and a penalty imposed if she refuses to uncover. Ordinary citizens are not expected to patrol public places and are not allowed to force someone to remove her veil.


The penalties for wearing face-covering veils will be stiff: as much as €150 as well as required attendance in courses on "republican values." Fines of up to €30,000 and one year in prison may be imposed on those who are convicted of forcing a woman—such as one's wife, daughter or sister—to wear a veil. Forcing a minor to veil herself can lead to a doubling of both the fine and time in prison.
Poster supporting the ban on minaret construction in Switzerland
A majority of people in several other European countries— Belgium, Britain, Germany, Holland, Italy, Spain, and Switzerland—reportedly support such a ban and, in fact, their governments are reportedly considering such bans. The majority of voters in Switzerland supported a referendum to ban the construction of minarets, the towers on mosques from which Koranic chants are broadcast to call worshipers to prayer. I found it interesting that, last July, Syria banned full-face veils in both public and private universities. In the United States, about two-thirds of those polled in the Pew Research Center's Global Attitudes Project opposed the ban. Amnesty International is also opposed to the ban.
President Nicolas Sarkozy
Why ban the burqa? Why enact legislation that pertains to fewer than 2,000 people in a country of over 64 million? The most cynical (although certainly plausible) view is that President Nicolas Sarkozy is hoping to garner political points to boost his sagging popularity. Maintaining security against terrorism is also cited as a contributing factor to the ban's popular support although, clearly, it is hard to find the legs to fully support this position. Likewise, in my opinion, enacting such a law to protect women's rights is just plain disingenuous. The answer, it seems, can be found somewhere in the mixture of maintaining a secular French Republic (referred to as

laïcité

) and preserving "French" values.
Historically, maintaining the separation of church and state has been deeply important to this country. One does not have to travel far from Lourmarin, where we have our house, to see the devastation that came from government-supported religious suppression: the neighboring town of Mérindol—its castle and every single home—was completely razed in 1545. Protestant residents between Lourmarin and Mérindol—over three thousand—were massacred, under orders of the Catholic Church and with the support of King Henri II. Today, what little that remains of 16th century Mérindol can be seen on the hill, overlooking the new village of Mérindol, and reminds us of the perils of church and state working in tandem.
The majority of the French people remain devoutly Catholic (although the Church's importance is waning); but, as Lyon resident and friend Jean-Paul (real name not used) said, "We are the granddaughter to the Church—Italy is the daughter—we are religious, but our allegiance is to our country." The French government fiercely protects religious freedom by actively discouraging conspicuous public expression by state authorities (e.g., taking the oath of office with one's hand on the Bible) and frowning on overt religious expressions by individuals. After the Swiss vote on minaret construction, The Economist wrote that President Sarkozy advised people of all religious faiths to use "humble discretion" while practicing their religion. This approach is contrary to the United States of America's tolerance—even unofficial popular encouragement—of religious expression by public figures and individuals to achieve the same goal of religious freedom. One may be able to poke holes in the logic of the burqa ban as a mechanism to protect religious freedom, but I feel there is definitely merit to this position. Others, especially Americans, may not agree because of deeply ingrained feelings based on our First Amendment.
Closely related to France's secularism, is the fear of losing what many French people hold near and dear to their hearts: their Frenchness. It is not that the French are not welcoming or tolerant—they have long had an open-door policy to immigrants and refugees from around the world including some that, like Iran's Ayatollah Khomeini and Uganda's Idi Amin, were considered morally repugnant—but, I'm told, they did not feel culturally threatened by the presence of these immigrants and refugees.  Today, with unemployment high and the economy in shambles, perhaps their hold on the future of their country, as they have always known it, feels tenuous. In any culture, overt bigotry typically rises in times of economic crises, particularly among those with the most tenuous hold on employment.  Because many French people see Muslims as a rapidly-growing segment of the country that does not share their passion for France and being French and, in some cases, abide by a different legal system (Sharia Law), it is not surprising that a rift has emerged.
"It is very frustrating that Muslims do not respect French laws," lamented our friend, Provence resident Richard (not his real name). In example, he went on to explain that it is against the law in France for a private individual to kill a goat or a sheep outside of a licensed slaughterhouse and, yet, many Muslims brazenly break the this law and butcher these animals on their own. Until recently, the police have turned a blind eye; but, after numerous complaints of animal cruelty, they have started to enforce the law.
Frustrations aside, Richard, like other non-Muslim French I spoke with, was ambivalent, even nonchalant about the upcoming law. "It is based on laïcité—everyone must follow the laws of the country in which they live."
"Banning the burqa," for other French people with whom I spoke, is a symbolic gesture that says something akin to, "Like my country or leave it…or, better yet, don't come at all." The ban may affect only a tiny proportion of French citizens and an infinitesimal proportion of visitors, but it affects those individuals deeply. The message will be broadcast far beyond the borders of France.
I am not surprised that the burqa has turned out to be the symbolic gauntlet. Symbolic or not, the burqa elicits a powerful and visceral response in many people, both its wearers and those to whom it is unfamiliar. I reluctantly confess that I still remember my first personal encounter with someone wearing a burqa. It was maybe eight years ago, in the coat department of Saks in Boston. I rounded the end of an aisle and nearly ran into a woman who was completely engulfed in opaque black garb, save a 2 x 4 inch rectangle of tightly woven black mesh that hid her eyes. I excused myself, but there was no response from this person: she didn't speak and, of course, I could not see her face or her eyes. I didn't know where to look. I had no way of knowing whether the person was angry or forgiving. I found myself thinking of this individual as more creature-like than person-like and realized that I was experiencing a growing panic that was not relieved until the person walked away. I then observed the veiled person make a purchase and could see that the clerk, however pleasant and professional she presented herself, was very nervous. When my turn came around, the young clerk unleashed her feelings of extreme discomfort about her previous interaction.
AP Photo/Claude Paris
While I like to think of myself as an accepting person who is disinterested in others' religious practices, overcoming this initial feeling took some work on my part. There was something profoundly unnerving about interacting with someone whose eyes or facial expression I could not see. Perhaps if I knew who was behind the veil, I'd be more comfortable. Perhaps with more frequent exposure, I would adjust to such interactions. It has been argued that one reason to ban the burqa is that it acts as a wall that prevents the wearer from integrating into French society. My limited experience may appear to lend some credence to this position, although I hasten to point out that I have described my perspective only; perhaps the veiled woman did not see her face-covering as an impediment to our interaction. Interviews with burqa wearers reveal that they wear the latest fashions in their homes and when visiting friends but feel exposed and vulnerable if they go into the public sphere without their burqa. In either case, with so few people wearing burqas, to focus on the removal of fewer than 2000 veils will not measurably advance Muslim integration and may well provoke an unintended backlash, even among Muslims of differing traditions.
Meanwhile, as we ponder the effects of the burqa ban, work continues on the Grand Mosque in Marseille. The complex, scheduled for completion by 2013, will be 8593 square meters (92,500 square feet) and, in addition to the prayer room, will house a Koranic school, library, restaurant, and tea salon. The minaret will rise 25 meters (82 feet) high. 
President Sarkozy and the Mayor of Marseille, Jean-Claude Gaudin, are among many French people who hope that the large mosque complex will offer Muslims another path to mainstream France, one they hope won't include burqas. Mohamed Moussaoui, President of the French Council of the Muslim Faith also seems to be excited about this integration.
The enthusiasm of the Muslim community is palpable and has undoubtedly contributed to the successful navigation of erstwhile obstacles. The mosque's location: Muslims were not troubled by the location, on the northern most part of the city, a long distance from the historic Old Port (where the Arab market is). The site: the fact that the mosque will replace an old dilapidated slaughter house—of pigs!—that later served as a hang out for drug addicts raised some eyebrows but few objections. The cost: Muslim leaders do not seem deterred by the knowledge that much more money must be raised to meet the €22 million its construction will require. The call to prayer: worshipers do not seem bothered that, in deference to the ethnically diverse neighborhood, there will be no traditional call to prayer from the minaret—no muezzin—typically heard blocks away, five times a day. Instead, there will be a purple light that flashes to call the faithful.
With only four true mosques in the city, Marseille's Muslims have patiently waited for the Grand Mosque and, when the purple light finally flashes, they will hail from tiny stores, small restaurants, converted garages, and renovated basements that have all bulged at the seams as makeshift places of worship for over 60 years.
Come April 11th, my thoughts will be with all French people as they grapple with the implementation of this law and all the issues that surround it. I will be watching Marseille with particular interest and great hope.