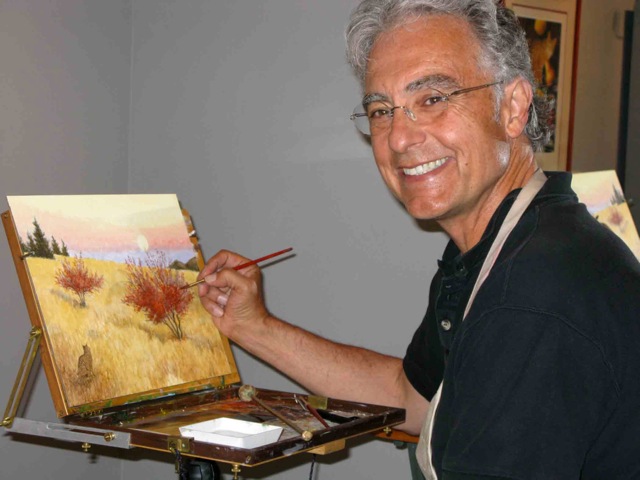 If world-famous artists like Paul Cezanne and Vincent Van Gogh fell in love with Provence, Montana wildlife painter Monte Dolack says it's got something to do with the luminous landscape and the culture he too found so captivating during recent trips there.
"There's a sense of wildness, but almost no natural forest. It's shaped because of people planting things, so it has a different look that's kind of intriguing," said Dolack (who has stayed twice in our rental apartment in Lourmarin). "The vegetation is subtropical– palm trees, oranges, lemons. And the French are terrific at taking care of it."
Lourmarin
And in the Lourmarin area at least, the zoning is such that Dolack did not encounter urban sprawl. "And that's delightful because in America, the right of the developer to destroy any naturally occuring space. Here people who advocate for zoning can get death threats, so it's nice to go there. Oh my God, it's like a parallel universe!"
Especially since the 19th century, Provence has been a mecca for artists, inspiring vibrant palettes and artistic experimentation. Van Gogh gravitated towards Arles, a little over an hour southwest of Lourmarin. Henri Matisse is linked with Nice on the coast, Picasso with Antibes, while Cezanne was born in and gravitated towards Aix-en-Provence, only 36 kilometers from Lourmarin.
Provence Spice Bowls
Ironically, some of the most famous painters who went to Provence were rejected by the artistic establishment in Paris, yet today, the bulk of their work can only be seen in Paris. Still, communities across Provence offer special tours on the trail of famous artists. In Aix-en-Provence, where Cezanne often paid bills with paintings, a specially marked route…
 retraces the artist's footsteps to his favorite haunts, and the Granet Museum in Aix displays some of his work. Traveling art buffs can visit the Picasso Museum in Antibes, the Matisse Museum in Nice, the "Espace Van Gogh" in Arles, and the Rosaire Chapel in Vence, designed by Picasso's rival Matisse, including the stained glass windows.
AMERICAN ARTISTS: PILGRIMS TO PROVENCE ART HAVENS
Dolack is among a host of artists drawn to Provence from overseas. A Montana native, Dolack and his artist wife Mary Beth Percival have a gallery in Missoula and a passion for combining art and travel."I love to travel and I love to paint, and I try to put the two together as often as possible."
Monte and Mary Beth in Lourmarin
Dolack and his wife had visited Paris, the Loire valley, and other part of France before first traveling to Provence two years ago. That's when the French government granted Dolack special permission as an artist to visit the caves of Lascaux, which were closed to the public to protect its famous but endangered Paleolithic animal cave paintings. "It was one of the highlights of my life," he said.
Meanwhile, Dolack had gone online and stumbled on our website inviting people to rent our apartment in Provence. So after visiting Lascaux, the couple came to Lourmarin. They loved it. "Lourmarin is up in the Vaucluse. The Luberon is a national park, and that area is so culturally and historically unique, they decided to make it a national park," Dolack said. "It's a wonderful place to be with its Roman and pre-Roman ruins and beautiful views, hundreds of villages, and you are not that far from bigger towns. There's a lot to see."
Monte and Mary Beth in Lourmarin
Dolack's first trip to Provence led to quite a few paintings and an exhibit. "We liked it so much two years ago we wanted to return," Dolack said. "There's a certain magnetism to it. It does kind of pull you back. Lourmarin is a wonderful town to spend time in. You can walk to everything. It has a great little boulangerie," Dolack said, referring to the bakery that sells piping hot crispy bread and freshly-made pastries. "I love getting up and buying croissants or whatever pastry is fresh out of the oven. It smells so good!"
ENVIRONMENTAL ARTIST MONTE DOLACK
A working artist since the mid-seventies, Dolack is a lover of nature and the environment. In the US, he has achieved national recognition as an American wildlife artist focusing on habitat loss, nature an technology. He has also done commissioned artwork for organizations like the Nature Conservancy and Defenders of Wildlife, as well as a local animal food bank for dogs and cats. "I've worked with people trying to introduce wolves into Yellowstone Park," said Dolack, who has watched the Druid (wolf) pack roam Yellowstone and done a number of wolf paintings.
Lions of Arles
This year, the National Park Foundation chose Dolack to coordinate Montana's Christmas decorations for the National Christmas Tree lighting ceremony in Washington, DC, an event attended by President Obama and other dignitaries, musicians and artists.
Dolack also likes to work while he travels. "I'm constantly on the hunt for ideas for paintings." During their first trip to Provence, he and his wife took equipment for "plein air" paintings out in the open, but they found this gear cumbersome. So they took their latest trip to Lourmarin this fall armed only with sketchbooks and cameras so they could create paintings later. "I'd get up early before sunrise to see the areas I wanted to see in interesting light."
Morning Mist Provence
RETRACING FAMOUS ARTISTS' FOOTSTEPS
"Like most people, the couple first times I went to France was just Paris," Dolack said. "This time, we barely saw Paris." Instead, their latest trip to Provence took them on a pilgrimage in the footsteps of Cezanne and Picasso. "This time, the highlight for me was going to Mont Sainte-Victoire."
About an hour from Lourmarin, the imposing mountain just east of Aix-en-Provence inspired numerous paintings and studies by Cezanne in the late 1800's, after he broke away from the Paris-based impressionists. Decades later, Picasso bought the Chateau de Vauvenargues at the base of the mountain. He installed a studio there in the late 1950's and is buried there.
"Cezanne was there first," said Dolack of the artist sometimes described as the bridge between impressionism and cubism. "He's considered the father of modernism, the godfather of modern art. Van Gogh was in Arles, which we also spent time in, and which is amazing because it has a lot of Roman ruins and a colisseum modeled on the one in Rome."
The couple drove up the south side of the mountain, better-known through Cezanne's paintings. "Mont Sainte-Victoire was the inspiration for 60 to 100 paintings by Cezanne. It's really spectacular. You're right up on the mountain. And it's this really white limestone sitting on red clay– so you get red and white, and the green of vegetation involving cypress and other pine-type trees. It's very arresting."
Near Bonnieux
"The way the limestone reflects that light is really brilliant," Dolack said of the drive up the mountain. "We call it the Cezanne trail. At the bottom, there's the Cezanne Cafe where Mary Beth said she had best pizza ever."
Dolack and his wife also visited Picasso's studio at the foot of Mont Sainte-Victoire. "At the end of his life, he bought a house at the base of Mont Sainte-Victoire and is buried there. We went to visit his grave."
La Treille
In Lourmarin, Dolack bumped into other foreigners, "non-stop Germans," Canadians, Americans and even another artist from Montana. "When I was in Lourmarin, I sat in a cafe and saw a hat walking by me that said Missoula, Montana." It turned out his fellow-Montanan was renting a house up the street. "A day or two later, we ran into another couple from Montana, a very well-known photographer."
Of course, travel also has its challenges. "Sometimes, travelling can be very stressful. But it can be good work. You learn more about other people. I've seen other travellers shake their heads and say this is stupid, we wouldn't do it this way because it's not the way they do it. I try to stay open and not go with a judgmental set of mind."
Monte and Mary Beth