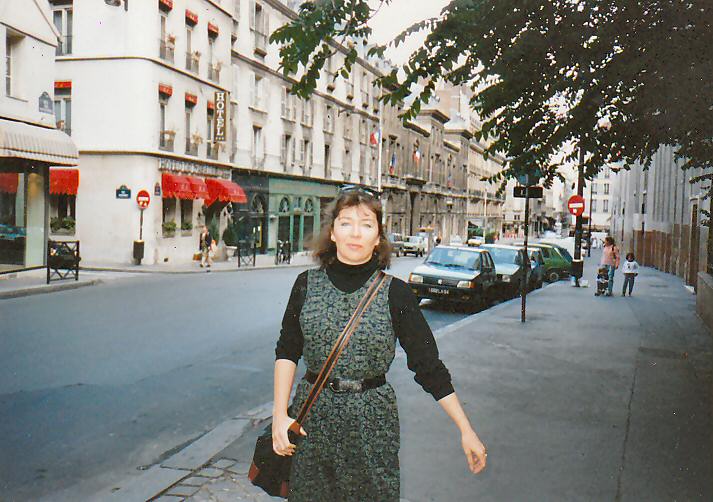 I have been known to follow the scent of a crêpe into the depths of an unfamiliar Parisian neighborhood thereby compromising our timely arrival for dinner with friends; into the longest line in Saint-Malo—in August around the French holiday, Assomption—at one of Brittany's oldest and clearly busiest crêperies; and into the intricate maze of the Tuesday market on a very blustery November day in Vaison-la-Romaine. I adore those thin French pancakes and when the scent of a crêpe wafts past my nose, it beckons. With my daughter in tow and my indulging husband not far behind, the detour is invariably rewarding  for all!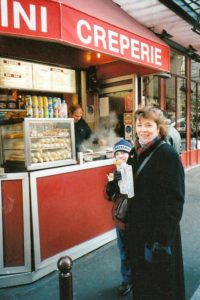 The French word crêpe—which refers to both the pancake itself and the pancake with its filling—is thought to stem from the Latin word crispa, which means "curled." (It is pronounced "krεp" with special attention to that French 'r' so as not to be confused with the four-letter English word, from which an entirely different scent wafts forth or from the crinkled paper used for party decorations.)
Crêpes originated in the northwest region of Brittany, a windswept and rainy section of France located on a large peninsula that extends into the English Channel on the north and the Bay of Biscay on the south. Like the land, the crêpes there were rustic and served like bread, typically made with buckwheat flour (sarrasin), a less expensive alternative to white flour. Over time, savory fillings were added and the name galette crêpe or just galette came to refer, and still does today, to savory crêpes. The more delicate sibling, the dessert crêpe or crêpe sucrée, made with wheat flour, came later.
Today, both savory and dessert crêpes—salées and sucrées—are available throughout France and in the United States and other countries. In some parts of France, the dessert crêpe can be purchased through a window, from a truck, from a semi-permanent stand on a busy street or in a market, and in restaurants. The savory crêpe is almost exclusively found in restaurants and often in those that clearly promote their Breton connection. (Pourquoi pas? To serve les galettes de Bretagne suggests authenticity and history.)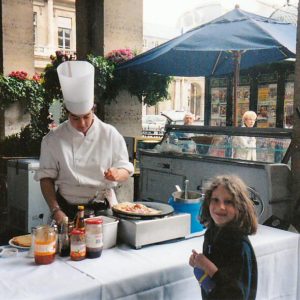 In Lourmarin, our favorite restaurant for dessert crêpes—and one of our very favorite restaurants in the Luberon—is La Louche à Beurre. Another time I will wax longingly about meals we have had there; suffice to say here that they specialize in dessert crêpes, including the famous crêpes Suzette. We always save room for crêpes here!
Crêpes are incredibly easy to make, too. With just a few ingredients readily found in the average kitchen—flour, eggs, oil, salt and milk—one can quickly produce a delectable snack. Add a few other ingredients—cheese, ham, spinach, asparagus, a few herbs—and, voilà, you have a casual meal! With slightly more fuss and a fork, you can transfer humble fare into an elegant dessert or entree! Crêpes—the individual pancakes—can be made ahead of time and kept in the refrigerator for up to three days and in the freezer for about a month. C'est très facile!
Since there are no crêperies near our home in New Hampshire, I often make my own. Our French teacher, Janine Kolb, taught me how to make these wonderful French pancakes, using her fool-proof recipe.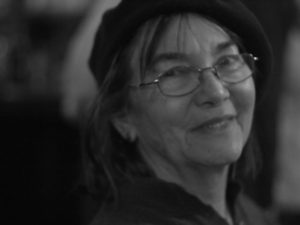 For many years, Janine worked in Montessori schools, where she taught children how to make crêpes (as well as many other French dishes). Using recipes from her childhood in Saint-Gaultier, where she grew up watching her father cook for patrons of their family restaurant and hotel—in which she and her family also lived—and for German soldiers who occupied their home during the war and, later, the American, British, and Canadian soldiers who later freed her village, Janine created a small cookbook for her students. It is a gem of a cookbook, comprised of simple recipes with appeal definitely not limited to children.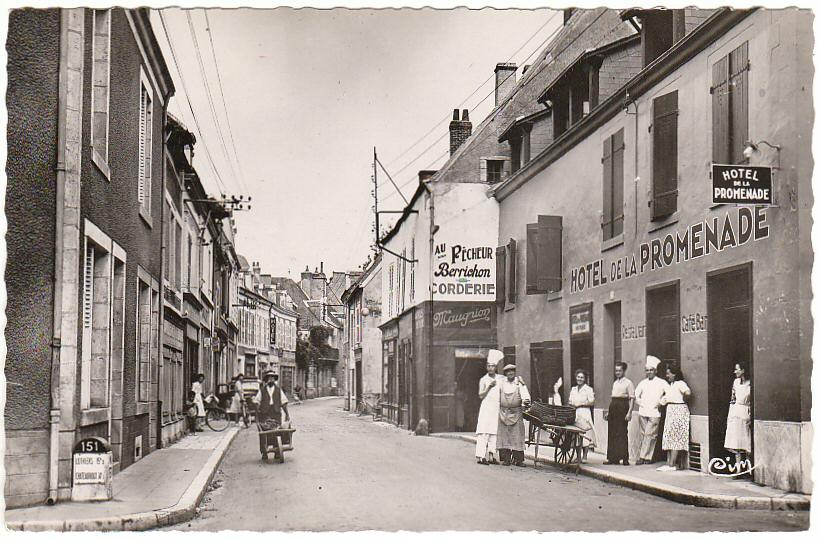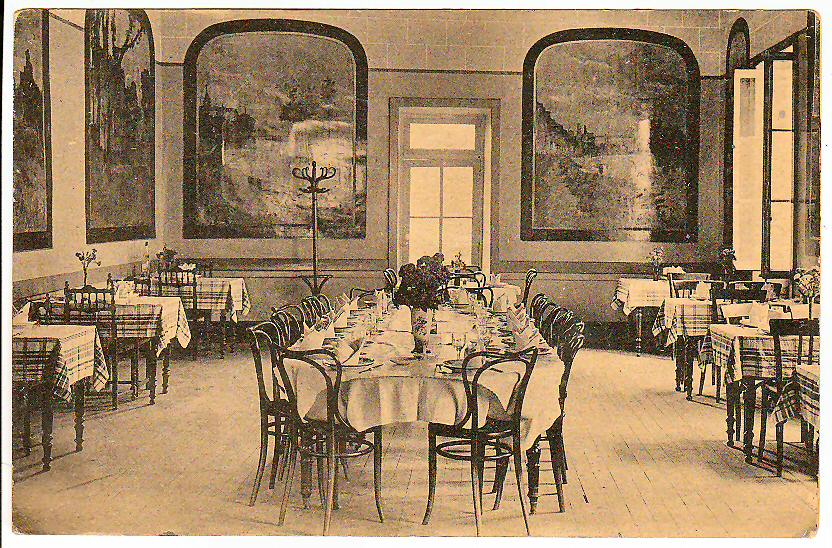 Having tried many recipes for crêpe batter, I can unequivocally report that Janine's is the best and most fool-proof I have ever made. My daughter claims they are the best crêpes she has ever had! We have made crêpes sucrées for classrooms full of children in our daughter's elementary school—butter and sugar or Nutella are their favorite fillings—and both sucrées and salées for meals at home for adults and children, alike. They can be served for breakfast, lunch, and dinner. For brunch and an after-school snack (collation, en français). Crêpes are wonderfully versatile. They are always a huge hit!
Janine has given us permission to include her recipe for the crêpe batter here in The Modern Trobadors, where we will offer some of our favorite ideas for sweet fillings and in Cocoa and Lavender, our good friend David's blog, where you will find one his favorite savory fillings, his rendition of Julia Child's Crépes au Poulet et Champignons.
The same basic recipe for the batter can be used for either dessert or savory crêpes. With the former, one would add a flavoring like vanilla or almond; with the latter, minced herbs may be added to the batter. With either, the flours may be varied with, for example, buckwheat or whole wheat.
As a bonus to the readers of our blogs, Janine provided a demonstration of the making of the batter and cooking of the crêpes. You will see just how easy—and how fun—making crêpes can be!  
Click video below to see her—and the rest of us—in action!
Have a crêpe party with David's recipe for Crépes au Poulet et Champignons and a dessert crêpe. Heck, go all out and serve crêpes appetizers! (Peut-être, tuck a little brie inside a small savory crêpe—we substituted garbanzo bean flour for some of the white floor in the batter recipe—along with onion confit and chopped walnuts, roll each up, brush them with butter, and slip the tray in the oven until the cheese melt….we took this appetizer to a dinner party for our friend Robin's birthday and they quickly disappeared!)
For a simple and yet elegant dessert, try sautéing some apples (e.g. Fuji, Braeburn, Granny Smith) in butter and brown sugar and a little Calvados. Thinly slice your apples and coat in fresh lemon juice. Melt the butter in the sauté pan, add the apples, and cook briefly. Then, sprinkle brown sugar to taste on top and cook until just soft (don't let them get too soft!).
For a crowd-pleasing finish, add a little Calvados (or brandy or rum), and light it! Be sure you are in a safe place when you light it. (I lit a kitchen towel on fire during one of my attempts to flambé les crêpes.)
Place a crêpe (see Janine's recipe below) on each guest's plate. In the center of each crepe, put a scoop or two of ice cream (vanilla or dulce de leche are our favorite choices), and then the sautéed apples. Fold the crepe over the ice cream and drizzle on some sauce with a few apples. C'est extraordinaire!
All you need are the ingredients for the crêpe batter (see recipe below), the ingredients for the fillings—will it be dessert or savory or both?—and a crêpe pan! (A good substitute is a non-stick fry pan.) Soon that irresistible scent will be emanating from your kitchen…and you never know who might wander in.
CRÊPES
Adapted from Janine Kolb's "French Recipes for Young Gourmets"
1 2/3 cups all-purpose flour
2 eggs
1 tbsp vegetable oil
1 tsp salt
2 cups whole milk
Oil or butter for coating the pan
Place the flour in a large bowl. Make a well in the flour and drop eggs in the center. Add the oil and salt to the eggs. Beat the eggs, oil, and salt with a whisk or a fork. Continue whisking while adding the milk, a little at a time, into the flour.
Add extract, if preparing dessert crêpes, or herbs if using when preparing savory crêpes. (See Notes on Crêpes below.) Whisk until mixed together.
Let batter stand in refrigerator for at least one hour. The batter should be fairly liquid, like a thick cream; if it thickens too much, add a little milk.
In a small (non-stick, ideally) frying pan—or crêpe pan if you are fortunate enough to have one—put in about a 1/4 tsp oil (or butter) and coat the pan. Heat the pan on medium-high to high (depending on your stove) and, when hot, pour in just enough batter to very lightly cover the surface of the pan. Tilt and turn the pan to swirl the batter around to cover the surface. Lower heat to medium or medium-high.
Let crêpe cook on first side for about 30 seconds, until it is no longer liquid and is lightly browned around the perimeter. Loosen the edges with a table knife or narrow spatula. Then flip the crêpe—by tossing it in the air and holding the pan beneath to catch it—and cook the other side for about 20 seconds. (You can use the spatula to flip it, too.)
Place the crêpe on a plate and keep in a warm oven until ready to prepare or, in the case of a dessert crêpe, put it on a plate, line it with your favorite filling, roll it up, and eat it right away! Crêpes can be stacked and stored in a plastic bag in the refrigerator for three days or kept frozen for one month.
Makes approximately 16 7-inch crêpes or 12 10-inch crêpes.
Notes on Crêpes
If making dessert crêpes you should add extract (vanilla, lemon, almond) or liquor (rum, cognac, Calvados, Cointreau) to the batter. For savory crêpes, the addition of minced herbs (parsley, basil, chives) is a pleasant variation. One other way to vary the batter is to substitute the 2/3 cups all-purpose flour with a slightly smaller amount of buckwheat flour, whole wheat flour, chickpea flour or other type of flour.
Fillings for dessert crêpes include sugar, butter and sugar, jam, jelly, melted chocolate, Nutella, crème de marrons, berries, sautéed apples or pears and ice cream with sauce. Savory fillings typically require more preparation and run the gamut from simple (scrambled eggs) to complicated (spinach, seafood, chicken and mushrooms). Savory crêpes maybe be filled, rolled and then simply sautéed in butter prior to serving. Or, they can be coated with a velouté, Béchamel or Mornay sauce, topped with some extra cheese and then baked till golden brown.