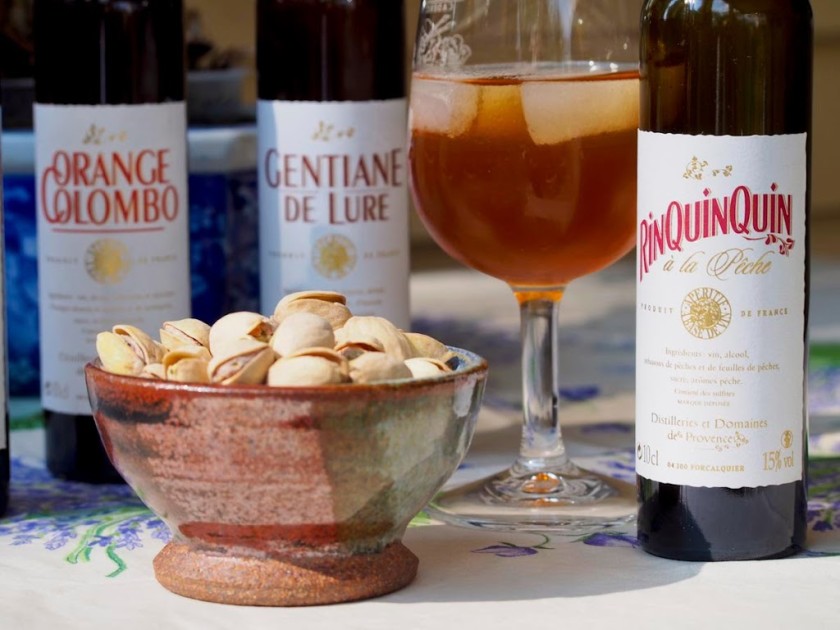 Recently, I told a group of people we are meeting in Provence that "It all begins Sunday evening with l'apéro," prompting many of those people to sheepishly inquire exactly how Sunday evening would commence.
What is l'apéro?
It is a derivative of the Latin word aperire, which means "to open," and refers to opening the palate for a later meal. It's the beverage—called an apéritif—that is served to whet the appetite, but its full meaning encompasses the whole social occasion in which this imbibing takes place. It's the drink—always accompanied by a little bite to eat—and the convivial experience of getting together with others, making conversation, unwinding, and transitioning from the end of the day to the beginning of the evening (although in many restaurants, you may be offered an apéritif before lunch).
The typical aperitif has less than half as much alcohol as the average American cocktail.
In the South of France, it is so commonplace that it is like a ritual. I suppose it is like the American cocktail hour, but the American version seems more focused on the alcohol than the social experience (although maybe it's just the way it typically manifests itself with my family and friends). And, in France, the apéritif is more bitter than sweet (don't expect Piňa Coladas on the menu).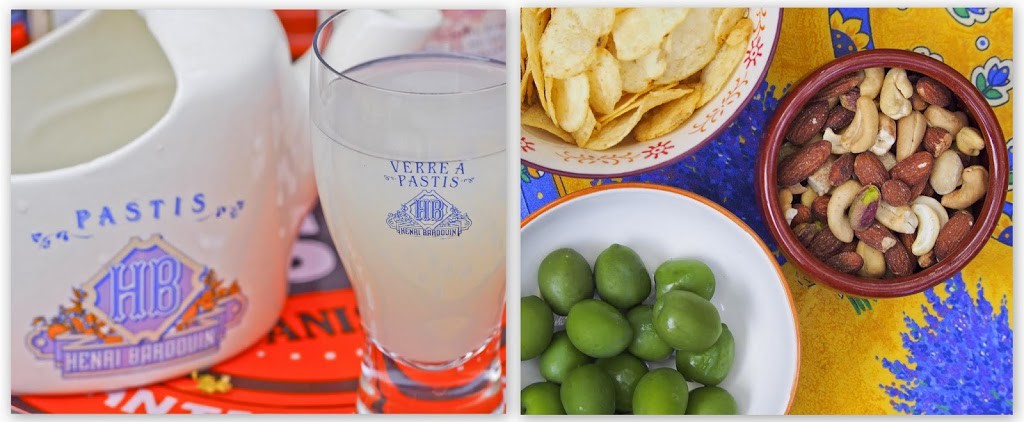 If you are invited to someone's home for l'apéro, it is important to understand that the hosts will expect you to enjoy your drink along with a small bowl of olives, nuts, or even potato chips, make some conversation, and be on your way in less than an hour. There is typically just a couple of drinks.
It's a wonderful tradition, a great way to connect with friends, family, or colleagues at home and yet it is such a casual rendezvous that doesn't entail a lot of work on the part of the hosts. In Provence, in the summer, folks may gather around a tiny table, sans table cloth, in a corner of the garden with only a bowl of pistachios for sustenance (shells to fall on the ground).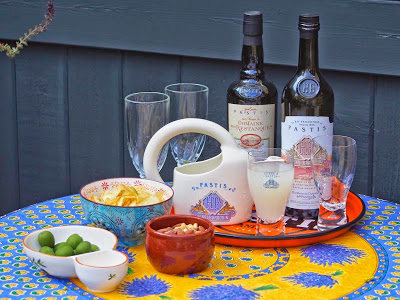 Photo by W.T. Manfull
Or, a cloth-covered table may be adorned with what appear to be more elaborate nibbles like tapenade d'olive, caviar d'aubergine, chêvre, pâté, or saucissons, along with toasts. But, even this presentation doesn't require much preparation…you know those market stands with stacks of small jars of various spreads? Now you understand why they are so popular!
Wherever it falls on the continuum of possibilities the host keeps it simple and, if you haven't been invited for dinner, the guests follow the rules—nibble, imbibe, be in the moment, and then be on your way!
L'apéro doesn't have to happen at home. I've enjoyed many an aperitif at Café Gaby in Lourmarin, always accompanied by a tiny bowl of salted nuts. (No charge—it's part of the custom and expected.) Friends come, join in the camaraderie, and then depart for home, a nearby restaurant, or wherever the evening takes them.
L'apéro is also the prelude to dinner in a restaurant and if you are traveling, this is probably the most likely venue for you to partake in this tradition.
"Désirez-vous un apéritif," the waiter will ask. And how will you reply?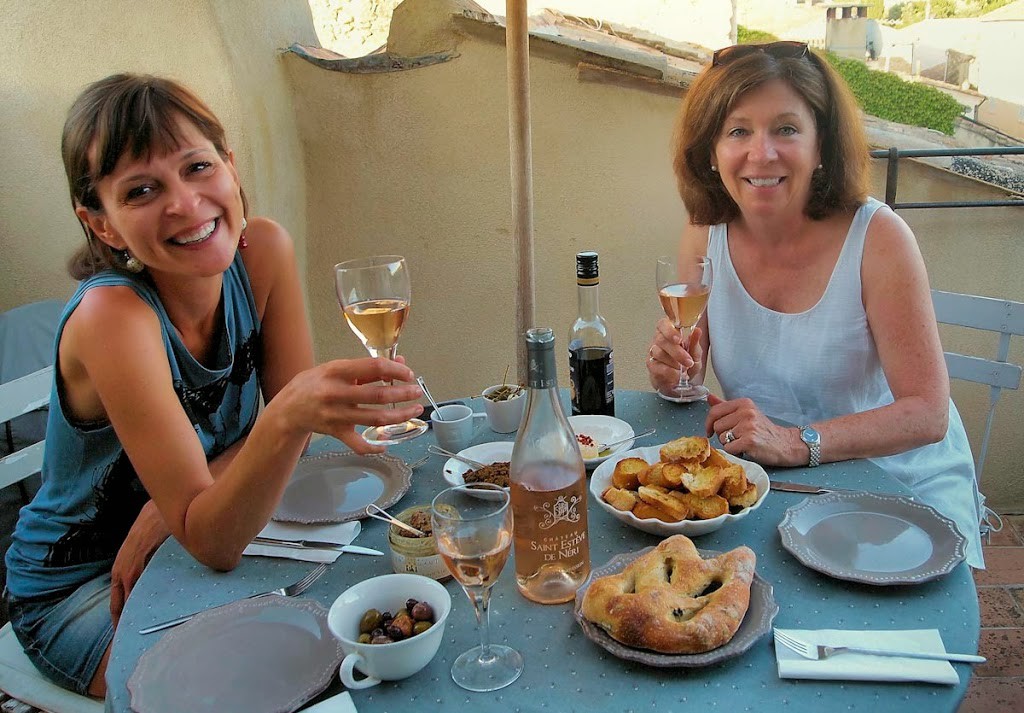 Ordering rosé or sparkling wine would be an easy way to quickly rectify that deer-in-the-headlight look you may be project if caught unaware. A variation on that theme, Kir, a white wine with a splash of crème de cassis (a rather syrupy liqueur made from black currants), is a popular response or, a step up, Kir Royale, made with champagne rather than still wine. But, it is much more fun to order something more interesting and, besides, David Lebovitz reports that the Kirs are passé.
Most apéritif are wine-based and laden with secret mixtures of herbs, spices, and citrus peels. In many cases, the closely guarded recipes have remained the same since their creation, a couple of centuries ago.
Take vermouth, for example. It is the main ingredient in today's dry Martini and part of the Manhattan and Negroni, and it is one of the first apéritif. The recipe and production are said to be the same since its inception in the 1700s. It is basically a mixture of wine, neutral alcohol, liqueurs, lots of herbs and spices that is aged in a combination of oak vats and oak barrels.
There are basically two types of vermouth: sweet and dry, also known as red and white (although vermouth is now made from rosé, too). The former was created in Italy where the two most widely known brands are Martini and Cinzano, and the latter in France where Noilly-Prat dominates the market.
The name vermouth comes from the German word for wormwood (Wermut), originally an ingredient in vermouth and absinthe.
It was just outside of Provence, on the Mediterranean coast near Montpellier, that Joseph Noilly, an herbalist, created the dry, white vermouth and later, when his brother-in-law, Claudius Prat, began working with him, the company was formally christened Noilly-Prat.
Saint Raphaël, Dubonnet and Lillet are wine based—Lillet is a fortified wine aged in oak barrels—with the addition of quinine, added initially to help troops in North Africa keep malaria at bay. In fact, it was the bitter taste of quinine that was the impetus for the development of these drinks. Later, presumably to attract a larger market (outside of regions with malaria), these drinks were advertised simply as beneficial to health.
Order these elixirs straight up and chilled or on the rocks, perhaps with a twist of lemon or orange.
In Provence, one of the most popular apéritif is certainly Pastis. It is an anise-based drink laced with the essence of the region's famous garrigue—wild lavender, thyme, rosemary—that has macerated in alcohol. A healthy inch is served in a glass, accompanied by a small pitcher of ice water. When the water is poured into the glass, a cloudy green liquid emerges (reminiscent of a high school science experiment) that, in spite of its appearance, is very tasty.
People say that it is an acquired taste—I acquired it immediately—and, come summer, it is one of my favorite drinks. Like its predecessor absinthe—the Fée Verte or green fairy—it is pretty potent.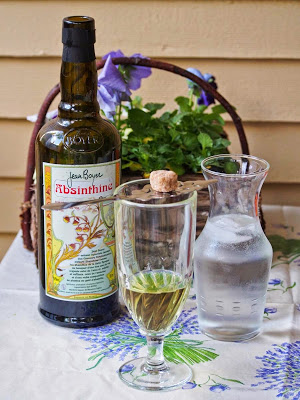 Photo by W.T. Manfull
Absinthe, as you no doubt know, was the preferred drink of artists and other creative-types in the 19th century until it was outlawed in France in 1915. If you believe the literature from that period, everyone was addicted to it and it was the culprit of all of the failings of humanity in the 1800s (at least those manifested in the French). Until recently, it was thought to play a role in van Gogh's outburst with Gauguin that ended in him slicing off part of his ear. Wormwood—more specifically thujone, a component of wormwood—was thought to be the cause of the degenerative effects, but it's now agreed that while thujone may have some hallucinogenic properties, it is impossible to ingest enough to cause such effects. It's a long story—see
an earlier TMT article
—but it is legal again, as of about 25 years ago, so you can order absinthe and be confident you won't see any whirling green fairies. Darn.
Order pastis or absinthe and the waiter will bring a glass filled with a little of the drink with a carafe of ice water so that you can add the amount of water you prefer, generally with a proportion not exceeding 1 part liquor to 5 parts water. When pastis or absinthe is served in its glory, with all its accoutrements, one would be served a ceramic pitcher of ice-cold water, a small bowl of ice-cubes, a saucer of sugar cubes, and, to the uninitiated, a curious perforated flat spoon. Arrange the spoon atop the glass, add a sugar cube or two, and pour the water over it (to sweeten its bitterness). Definitely use the sugar for absinthe and, caveat emptor, absinthe is an acquired taste!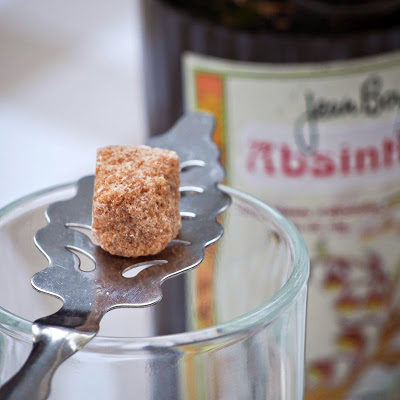 Photo by W.T. Manfull
All parts of France produce regional apéritif. In Provence, look for Orange Colombo, Noix de la Saint Jean, RinQuinQuin, and Gentiane de Lure, all produced in Forcalquier. Each can be enjoyed chilled before dinner (and in other ways such as in cocktails or with dessert or fruit!).
You prefer your apéritif without alcohol? Pas de problème. Ask for un jus d'orange (freshly squeezed orange juice) or un citron pressé (freshly squeezed lemon juice to which you add water and sugar). And then there is always l'eau gazeuse (sparkling water).
So, now you know how that Sunday evening in Provence will begin and you have a few responses for the waiter when he asks, "Désirez-vous un apéritif." So, what will it be?