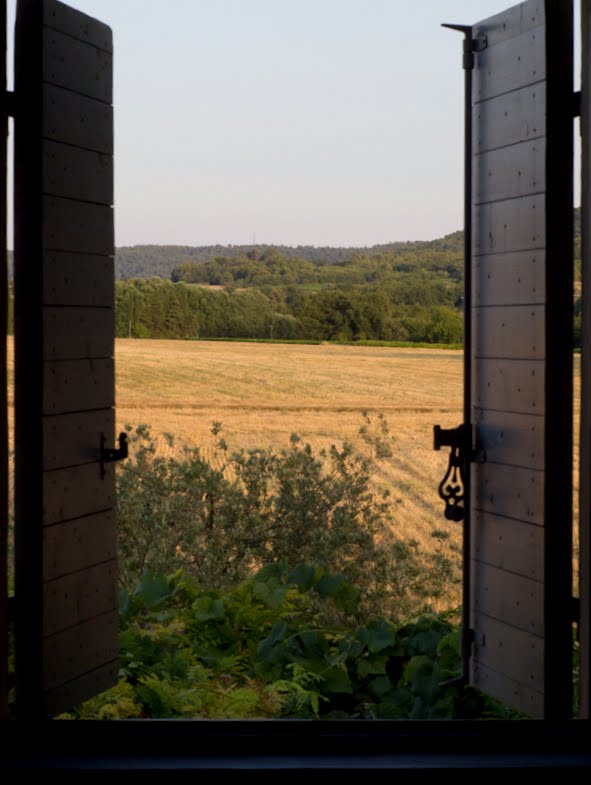 Family and friends be forewarned: I am planning a big rendezvous in Provence
Fall, for me, always marks the beginning of a new year in an evocative way that January never has.  I suppose I never outgrew that heady feeling I got as I set my binders, lined paper, and new pens and pencils next to the door and eagerly anticipated the first day of school.  In college, the stack got taller with all the new books for classes, instilling an even greater sense of possibility.  (Maybe that's the reason I kept on going, completed the doctoral degree, and became a university professor although being on the other side was never the same.)
With children, those of us who loved the start of school had the pleasure of reliving those warm and fuzzy feelings all over again.  Now with our daughter in her last year of university—I  just sent her off,  armed with clean clothes and linens rather than school supplies which, naturally, she prefers to buy on campus several states away—I am gradually coming to rely on some different markers for the inception of my new year.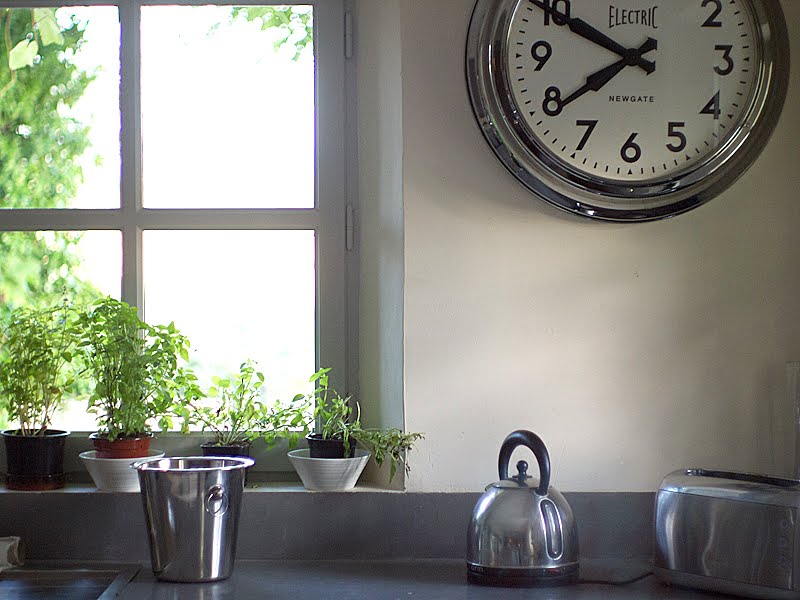 Removing the screens and closing the windows in our 18thcentury home, transferring the orchids back to the windows where the afternoon sun dips lower, pulling wool sweaters out and tucking white pants away–these are the things that define the start of fall and my year.  I put on wool socks yesterday morning;  I picked apples this afternoon; and I am getting ready for the return of my favorite TV series (like Blue Bloods, Homeland, and, I'd give my signed copy of A Year In Provence to be able to watch the third season of Downton Abbey!).
The stack of books? Okay, I confess some reasonable facsimile is still very much a part of my life….it's just that the stack is quite messy—ask the housekeeper—and it's now composed of tour books, travel magazines, travel sections of newspapers, and copious notes scribbled in notebooks.  I now get that heady feeling thinking about where I want to travel. And, okay, the itinerary always includes Provence.
Why do we always go to Provence? As many times as we have been to that fabulous region of France, there are still places we have not been. And the places we have been still beckon.  We are smitten.  The culture, the history, the landscape, the food, the wine, the people—it still takes our breath away.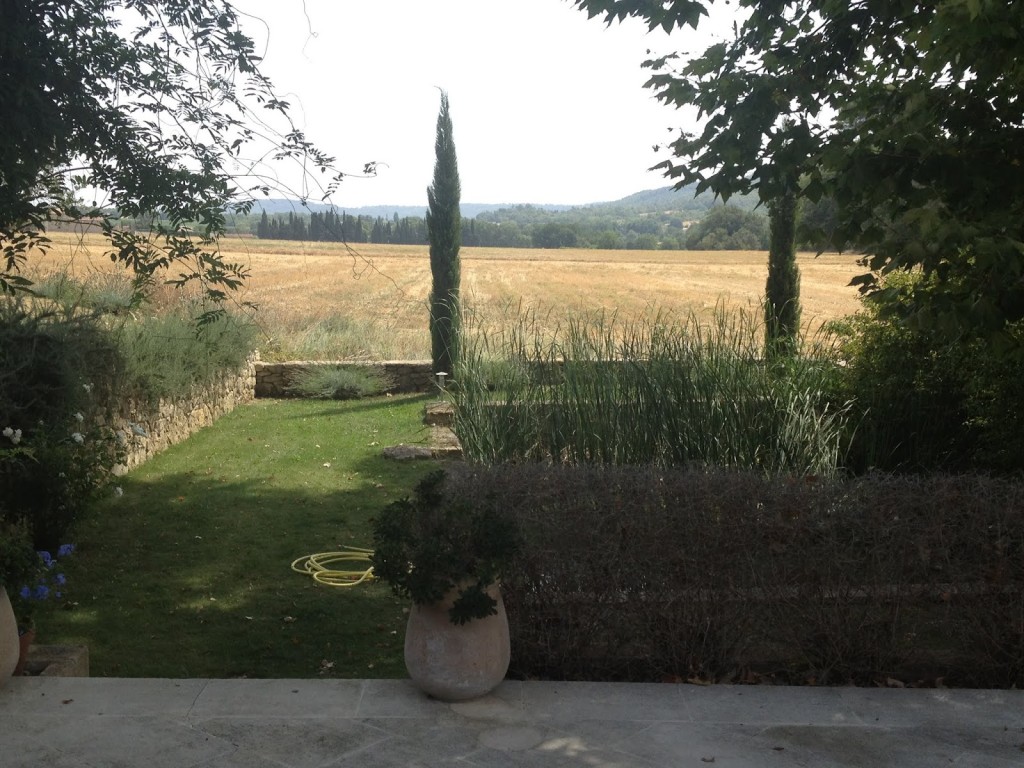 I know I am not alone in embracing my stack of tour books this time of year.  About now, every year since we have been involved with renting vacation properties in Provence, my mailbox starts to fill up with inquiries from other people who are making plans to visit Provence.  In recent years, I have fielded a lot of questions from people who are planning trips with large group—like 10 or 12 people—comprising extended family, relatives, and friends
It is in anticipation of those inquiries that I am writing this post.  Have I got the place for you and all those relatives: Les Tuilières in Lourmarin!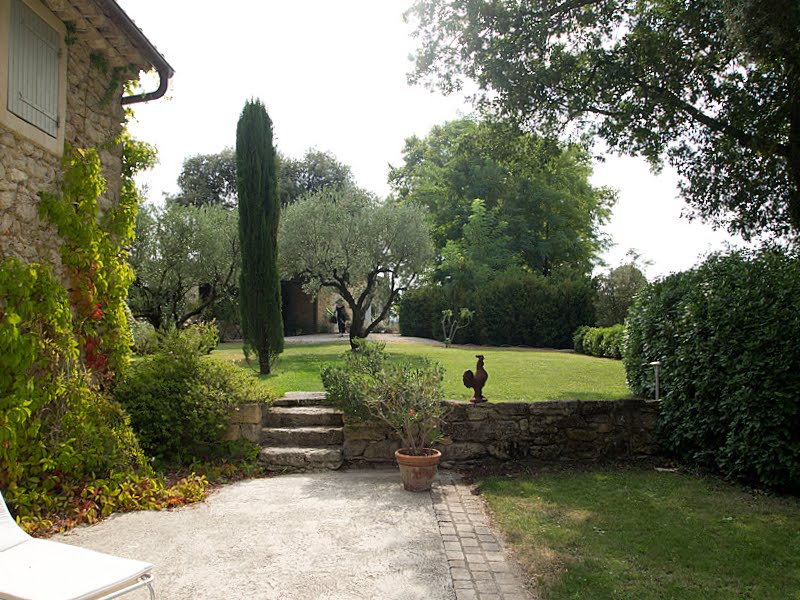 Two Provençal homes, Mas du Bassin and Mas de la Rocaille, compose Les Tuilières, a name that refers to the beautifully tiled roofs that crown these homes.  Mas means "farmhouse" in the old Provençal language, Occitan, but "farmhouse" does not do justice to either of these stylish Provençal homes.  "Bassin" refers to a small pond and "Rocaille" refers to loose stones–Mas du Bassin is adjacent to a tiny fish pond that once held water for the farmers who once lived on the property and Mas de la Rocaille is near a stone garden and is, itself, clearly made of stones.  They stand proudly in an expansive setting that is instantly tranquil but just minutes from the very popular village Lourmarin.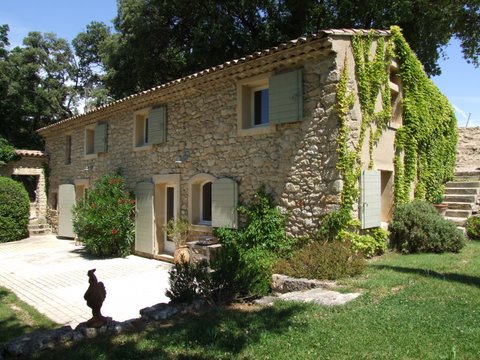 If you are looking for six bedrooms in a thoughtfully restored, bright, spacious, and quintessentially Provençal estate, look no more: it doesn't get any better than Les Tuilières in the Luberon, stomping grounds of Peter Mayle and a very popular destination for savvy travelers.
It's three kilometers outside the charming village of Lourmarin, on the edge of a vineyard and surrounded by cypress, olive, and fig trees.  It is the perfect vacation property for a big family, an extended family, or a large group of good friends.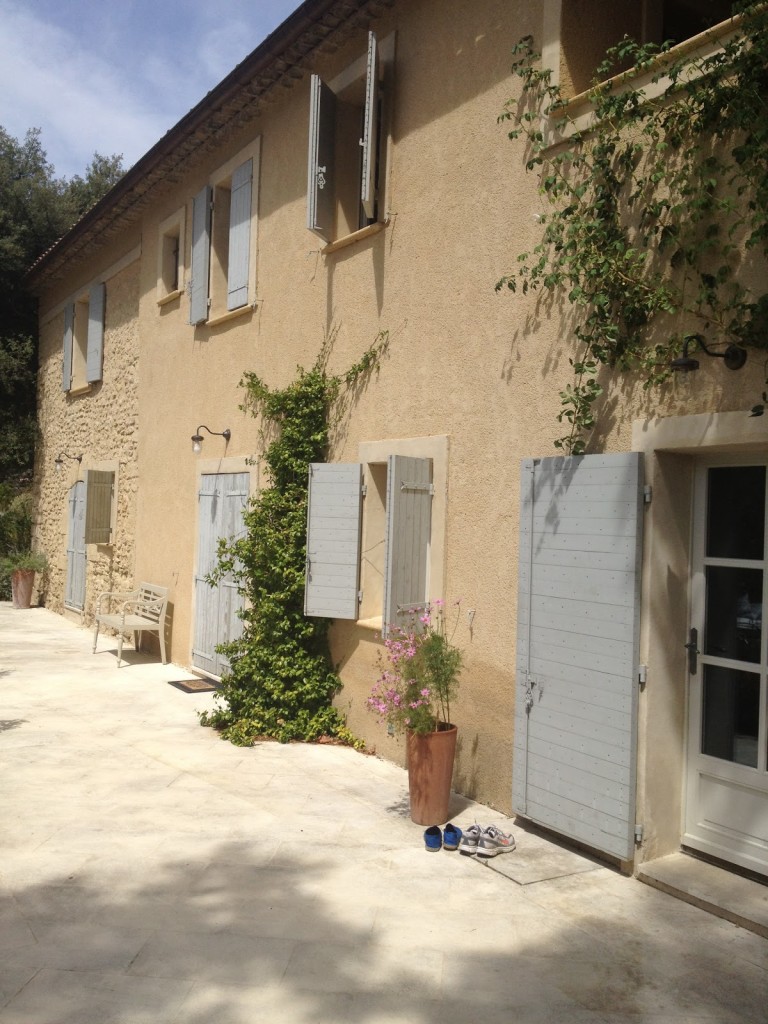 We stayed in Le Mas du Bassin in August. To say it was fabulous is an understatement.  To say it was beautiful is not enough. To say that it was peaceful and relaxing doesn't capture the feeling.
Picture opening the bedroom windows to lovely vistas of expansive fields.  Smell the sweet scent of rosemary and lavender wafting in the windows. Think about falling asleep in the warm Provençal sun.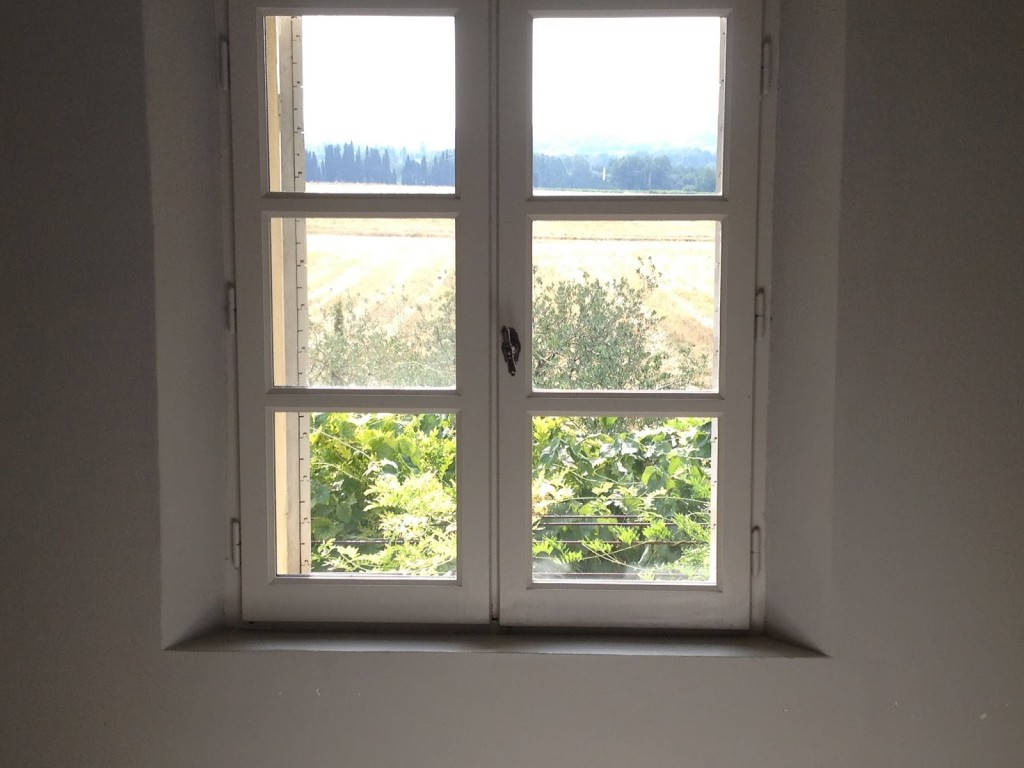 Imagine yourself taking croissants and coffee at one table while enjoying spectacular views of the Luberon Mountains; lunch at another table, maybe near the pool; a glass of rosé overlooking the formal garden and lily pond later in the day; and dinner cooked in the barbeque and served at the table on the covered terrace.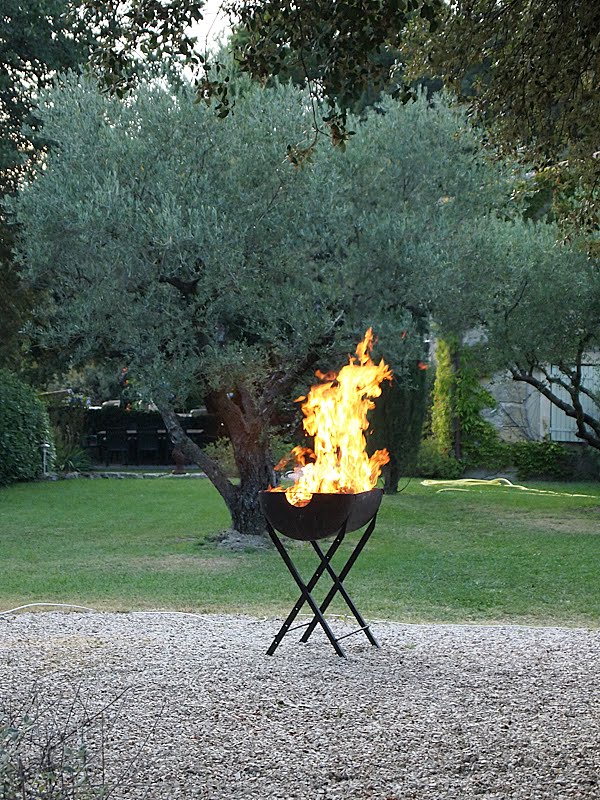 We had several dinner parties, each of which was in a different place!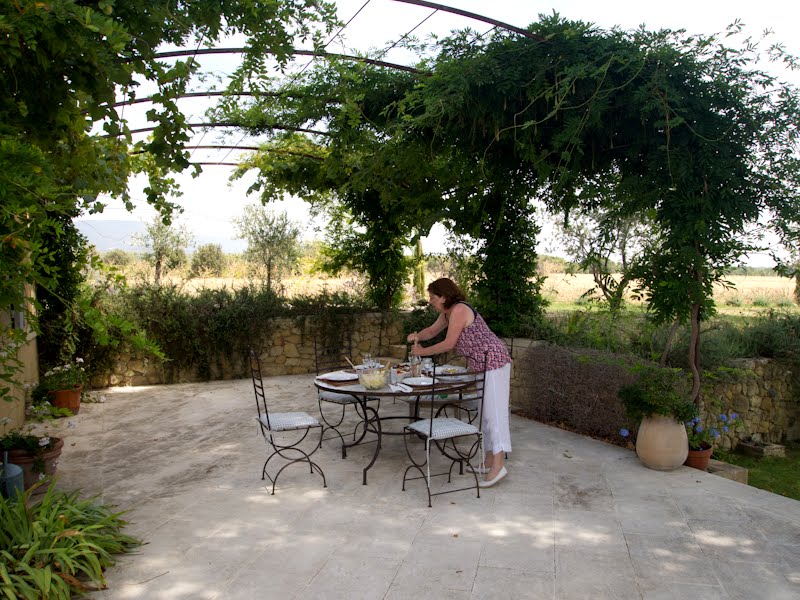 If you prefer to steal away to read a book or write your novel, there are many cozy nooks and crannies from which to choose.  In a property like Mas du Bassin, the only stress may be where to rest.  With large groups of family and friends, especially with children, let's be candid: privacy is really key to a successful vacation.  Les Tuilières gets really high marks in this area.
There are three bedrooms with en suite bathroom facilities.  The master bedroom has a private balcony, where my husband and I enjoyed an early morning pot of tea.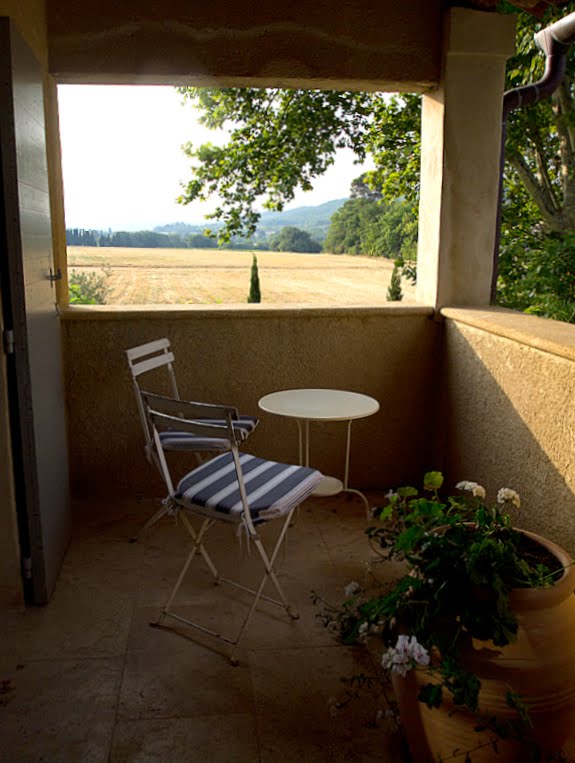 Mas du Bassin has two fireplaces: one huge fire place in the comfortable living room and another in the inviting study where there is also a Steinway baby grand piano, games, and lots of books to borrow.  Although it was simply too warm in August for even contemplating fires to be lit, we spent lots of time in both rooms, chatting the night away (and, okay, there was a little work on our laptops).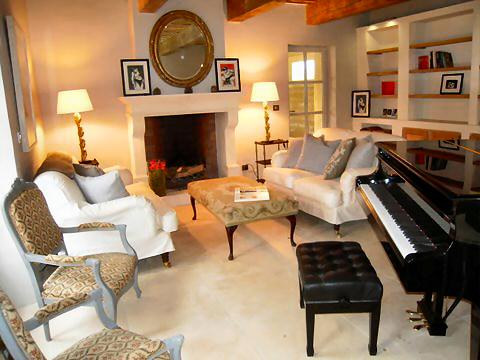 The kitchen is fully equipped and the options for where to dine are many:  the long inviting table adjacent to the kitchen, the large coffee table in front of the fireplace, the long table outside near the barbeque or any number of tables scattered about the perimeter of the home.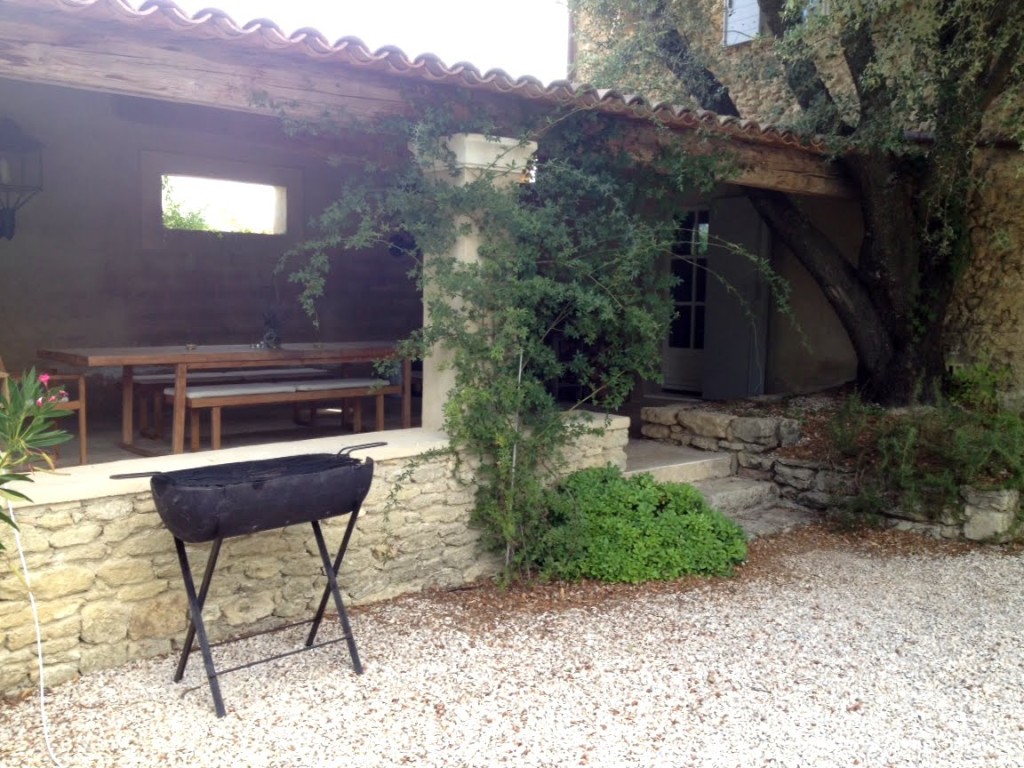 Lounge chairs dot the property near the homes and around the elegant pool.  The vacation wasn't long enough for our daughter and her friend to stretch out in each of them.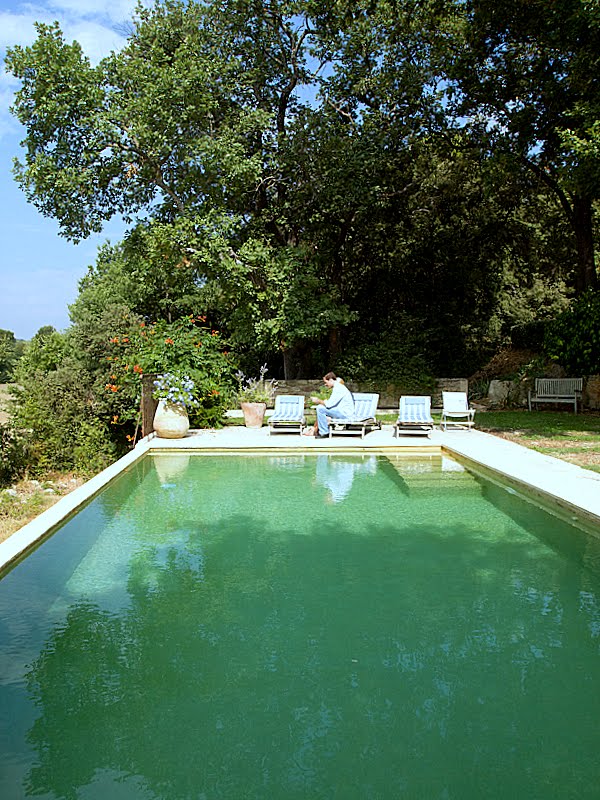 Mas de la Rocaille is adjacent to Mas du Bassin. What this home lacks in elegance compared to its neighbor, it makes up in coziness and rustic charm.  It is smaller, but also has three bedrooms, one of which has en suite bathroom facilities with the other two sharing a full bathroom and a half-bathroom.  A fireplace dominates the living room.
For children, Les Tuilières offers much space to play outdoors and, of course, the pool.  For adults, there is space to cook, relax, and walk.  For everyone, there is lots of space to have fun.  In a property as special as this one, it is easy to create memories that will last a lifetime.
Click to open publication – issuu publishing
The property is conveniently located within minutes of several fabulous markets:  Cavaillon on Monday; Cucuron and Tour d'Aigues on Tuesday; and Lourmarin on Tuesday evening (May through October) and Friday.  Fill up your baskets so that each home can take turns hosting meals or cocktails.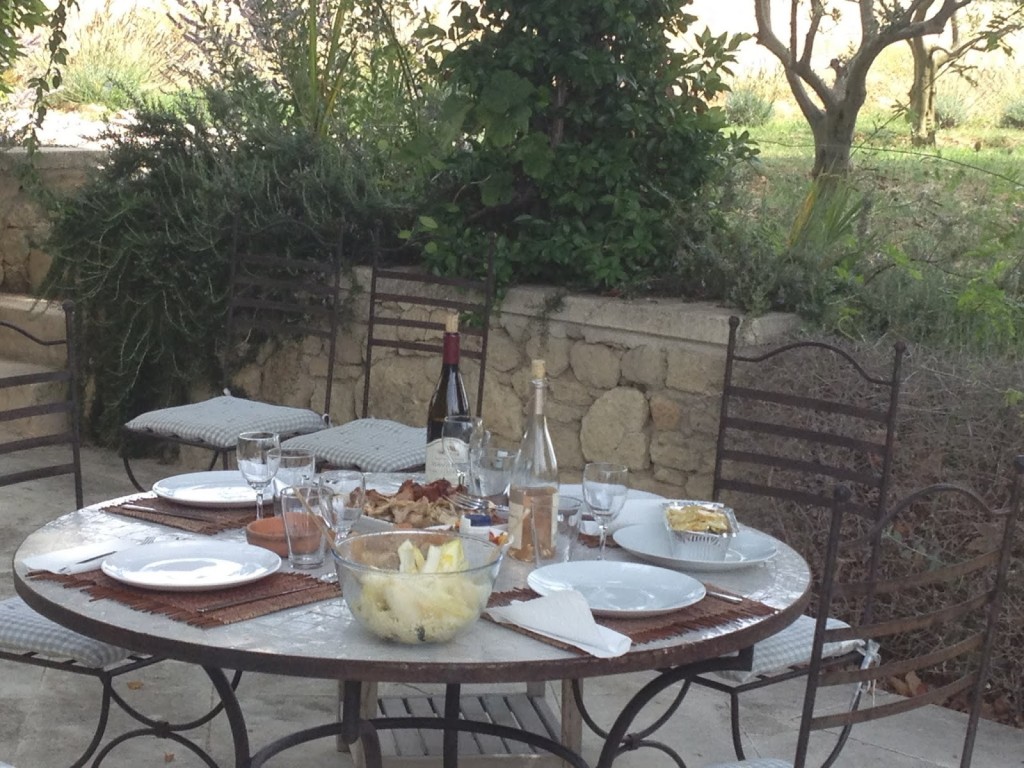 Lourmarin, as regular readers know, is our favorite village.  It is a charming place to stay in and of itself but it is also a strategic place to stay and explore this area of Provence.  There's the Luberon and all the hilltop villages that Peter Mayle writes about; there's Aix, Avignon, Marseille, Apt, St. Remy, Arles, Les Baux, markets, Roman ruins, museums, churches, concerts, and so much more. It may be hard to tear yourself away from the relaxing environs of Les Tuilières but it is an ideal location for day trips and some well-meaning relative may twist your arm to go.  (Never fear–you can be back before sunset on those long Provençal summer days…and a Pastis may be waiting for you!)
Walter, who manages the property, is worth his weight in gold to travelers.  He arranged for bicycles to be waiting for us on the property.  He had recommendations for dinner and lunch as well as driving tours of the area.  He is very knowledgeable about the history of the area, including the Vaudois and South African connection to this area.  He is friendly and affable and as reliable as the Provençal sun is warm.  In addition to French, he speaks English and German, too.
Rental rates are very reasonable.  La Mas du Bassin may be rented alone during some weeks of the year or, for the family re-union, rent both!  Book now—fall is here and people like me have stacks of tour books and notebooks filled with plans, eager to record their booking in indelible ink.
We can't wait to return and we want our family and friends to join us.  Hmmm….Maybe I can adjust to a stack of tour books rather than text books!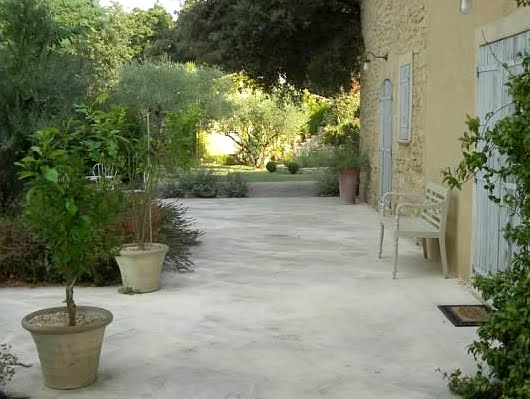 __________________________________________________________________
Les Tuilières is available for rent through www.RentOurHomeInProvence.com.