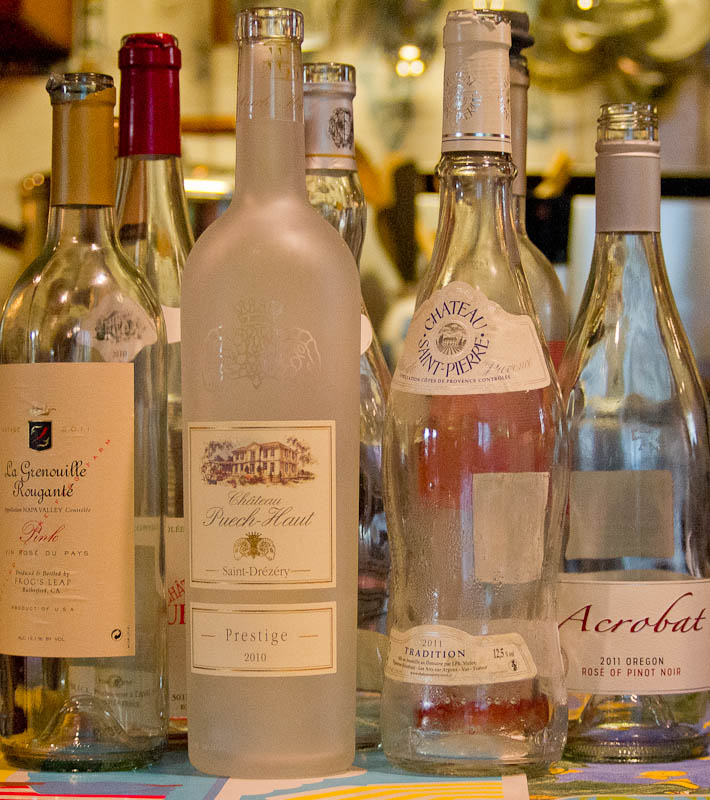 We opened ten bottles of rosé within 24 hours last week. Good friends David and Mark were visiting their old stomping grounds here in Portsmouth. Since we had enjoyed so many rosés while we were together in Provence in 2008, we made those pink wines, now very trendy, our theme for a tasting.
We then moved into the dining room where six wines awaited us, along with more food. Each bottle was wrapped in a brown paper bag, tied with a ribbon, and numbered 1 through 6. They were chilled, with cork or screw-top removed, ready to be tasted. Each person had six rings, also labeled 1 through 6, a pen, and the wine-tasting booklet. (There would be no time to read the booklet, but the long list of adjectives used to describe wines is often helpful.)
Support your local wine merchants. They will help you select wines and many merchants will keep track of what your guests have purchased so that your tasting will not have duplicates. They are a wealth of information and ideas. In Portsmouth, New Hampshire, we are lucky to have several, two of which we regularly patronize and encourage you to do so, too!