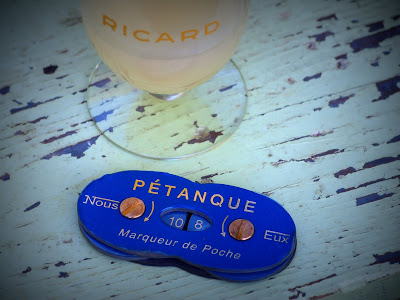 A glass of Pastis next to a scoring tool for pétanque


We played pétanque, drank pastis, and spoke a little French last weekend. The only sign that we were in Portsmouth, New Hampshire was the Norwegian Maple tree—a poor substitute for the stately Plane tree that is rarely far from any game of pétanque in Provence—but, it didn't matter. Palm trees could have framed the terrain where the games took place. All eyes were on the players and their boules….well, unless they were on the pastis. C'etait formidable!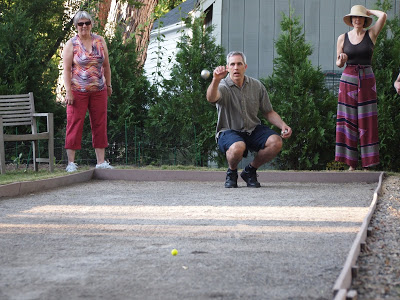 Portsmouth, New Hampshire
I have watched the game for many years in France, but I've never had the opportunity—or I've never taken the opportunity—to indulge in this national past time, myself. I had been content to be a spectator. My husband and I have been known to spend hours watching village games. How could watching a few balls being tossed over and over again be so riveting?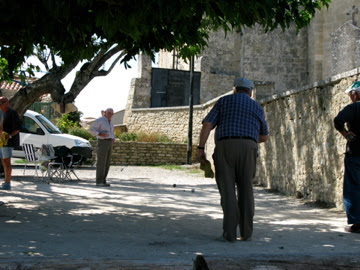 Saignon, Provence
In Provence, where the game was born, watching pétanque is akin to watching a scene from of a Marcel Pagnol movie. Players typically are charming old men—who's left in to play during the day in these tiny villages?–who don straw hats and berets as if…
such hatware were an obligatory part of a French national pétanque uniform. There's intensity among the players that must rival that of surgeons in the operating room. Nothing else matters when a game is in session, as depicted in a famous scene from Pagnol's 1932 film Fanny.
These seemingly mild-mannered men speak French rapidly with a severe Provencal accent that is usually impossible for even my husband to decipher. When a dispute erupts—usually over the distance between opponents' boules and the cochonnet—words fly faster than the speed of sound, arms wave, and fingers wag, eclipsing any comprehension by spectators like me except the universal understanding that there is a disagreement seemingly as important as the division of empires in Post-World War II. When the boulomètre à tirette is unfolded, the men squat down, as if on cue, and lean in to watch the man with the measuring device as he precisely assesses in millimeters the distances that are the source of contention.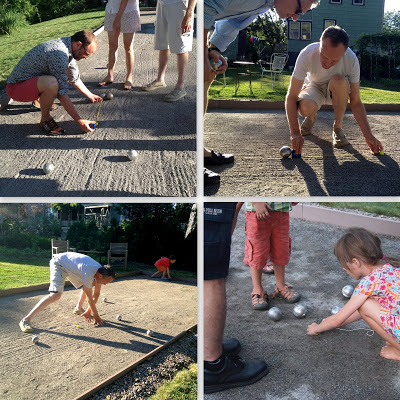 Whose ball is closer to the cochonnet?
The measurement may or may not settle the dispute but just as quickly as it erupted, laughter replaces accusations, fingers are again wrapped around boules and arms are tossing them toward the cochonnet. My heart rate reverts to normal and I pepper my husband with questions about what just happened. Usually neither of us knows. Mais, pas de problème —if you are lucky enough to be able to while away a sunny afternoon in Provence, few activities could be more pleasant than stopping to rest under a canopy of the region's majestic plane trees in a small Luberon village and watch this quintessentially French game of boules.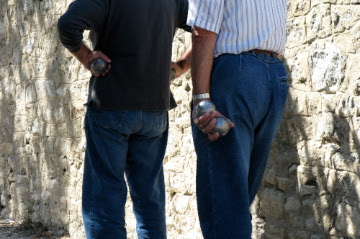 Saignon, Provence
Pétanque is a variation of the game of boules, a game that, in one form or another, has been around for centuries. The Romans undoubtedly introduced the modern-day version of boules (in which balls are tossed toward a target) when they came to Provence over 2000 years ago. Basically, a target ball is initially tossed down a long court and opponents—individuals or teams—take turns tossing a ball toward the target with the goal being to get your balls as close to the target as possible by steady aim or knocking your opponent's balls away from the target ball (otherwise known as the cochonnet).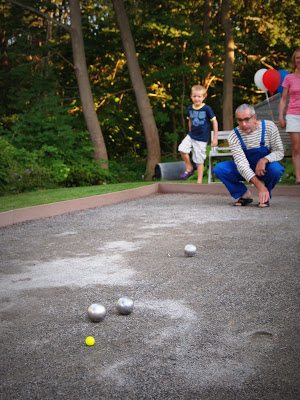 Portsmouth, New Hampshire
As early as the 19th century, the game came to be known as boules in France ("bowls" or "lawn bowling" in England) and jeu Provençal in Provence. It was further defined at that time by requiring players to run three large steps (or jumps) before tossing a heavy ball on to a court 15 to 20 meters long. It required a certain athleticism.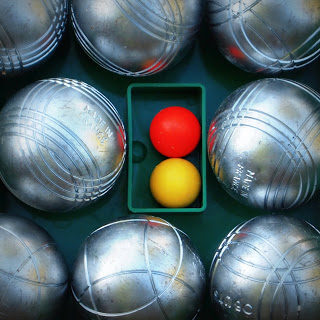 Boules et cochonnets


In the early 20th century, in June 1907 in La Ciotat, a small coastal town between Marseille and Toulon, when a popular jeu Provencal player, Jules Lenoir, lacked the athleticism to continue to play—his chronic rheumatism made it impossible for him to be able to take the running steps before the throw—his longtime friend and fellow jeu Provencal player, Ernest Pitiot, said that they would play a "shorter" game.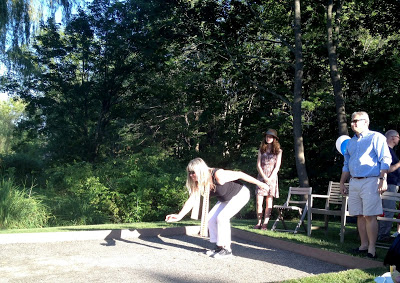 Portsmouth, New Hampshire
The "shorter" game would consist of a shorter terrain or court and a stationary toss. From a circle drawn at the end of the terrain, all players would throw their boules—there would be no running start. Rather, feet would be together, on the ground—pès tancats which means, in Occitan, the old Provençal language, "feet together or anchored." (The origin of the word is also said to be pieds tanqués which, in French, has the same meaning.) In 1910, Ernest and his brother Joseph Pitiot , owners of a café in La Ciotat, organized the first pétanque tournament. Pétanque was born and it quickly became wildly popular. (Attentive viewers will have noted that the clip from Pagnol's Fanny was actually boules.)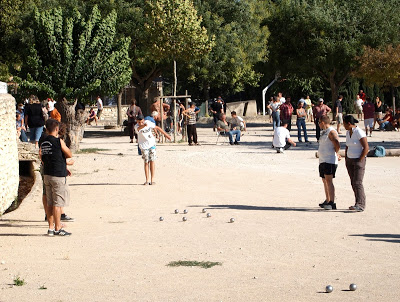 Lourmarin, Provence
Today pétanque is played by upwards of 17 million people in France and in many other countries, including the United States where there has been a recent surge of enthusiasm for this game, definitely not limited to charming old men.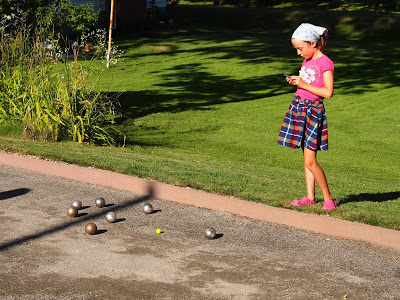 A young scorekeeper
Back in Portsmouth, Jean-Christophe Barré and his wife Kristina Logan, the hosts of our evening of pétanque, are doing their part to encourage enthusiasm for pétanque (and speaking French!). Jean-Christophe is a French teacher and founded the Active French School in Portsmouth. He is a native French speaker, born and raised in Normandy, who received a master's degree in French literature and linguistics and a bachelor's degree in teaching French as a Second Language.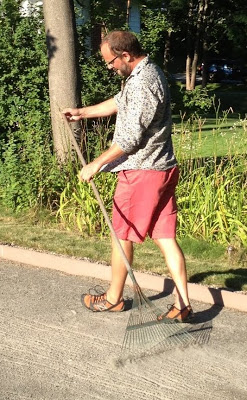 Jean-Christophe rakes the terrain
Jean-Christophe has worked for twenty years as a teacher of French in several schools in France, including Créa-Langues, a well-known French language school in Moustiers where I took an excellent week-long immersion class several years ago. Jean-Christophe was not teaching during the session I attended but the other teachers spoke very highly of him and told me that I must look him up when I returned home to Portsmouth. Little did I know that he and his family lived just a few blocks from my home. I am confident his classes are excellent—check out his website for more information about classes, including online classes: www.activefrenchschool.com.
Jean-Christophe and his family just returned from a six-month stay in Marseille. I suspect they honed their pétanque skills while there and will continue to do so on their own court in Portsmouth.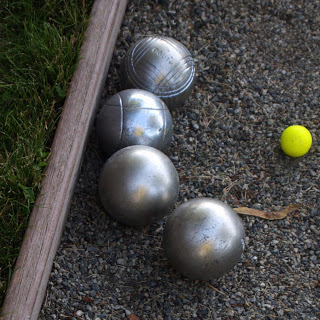 Lourmarin usually holds a pétanque tournament during its annual fête votive on the last weekend of August. Perhaps we should start practicing now.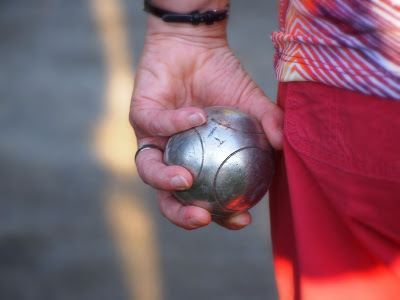 Upon return from such a lovely evening of pétanque and pastis, we immediately measured our backyard. For tournament purposes, a pétanque terrain measures 4 by 15 meters (about 13 by 49 feet). Ah, we'll have to stick with serving pastis.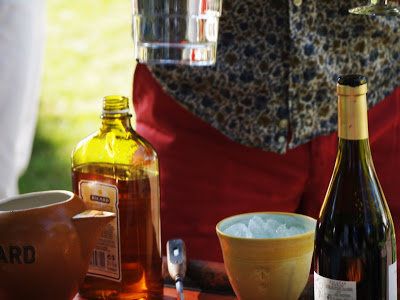 Serving Pastis