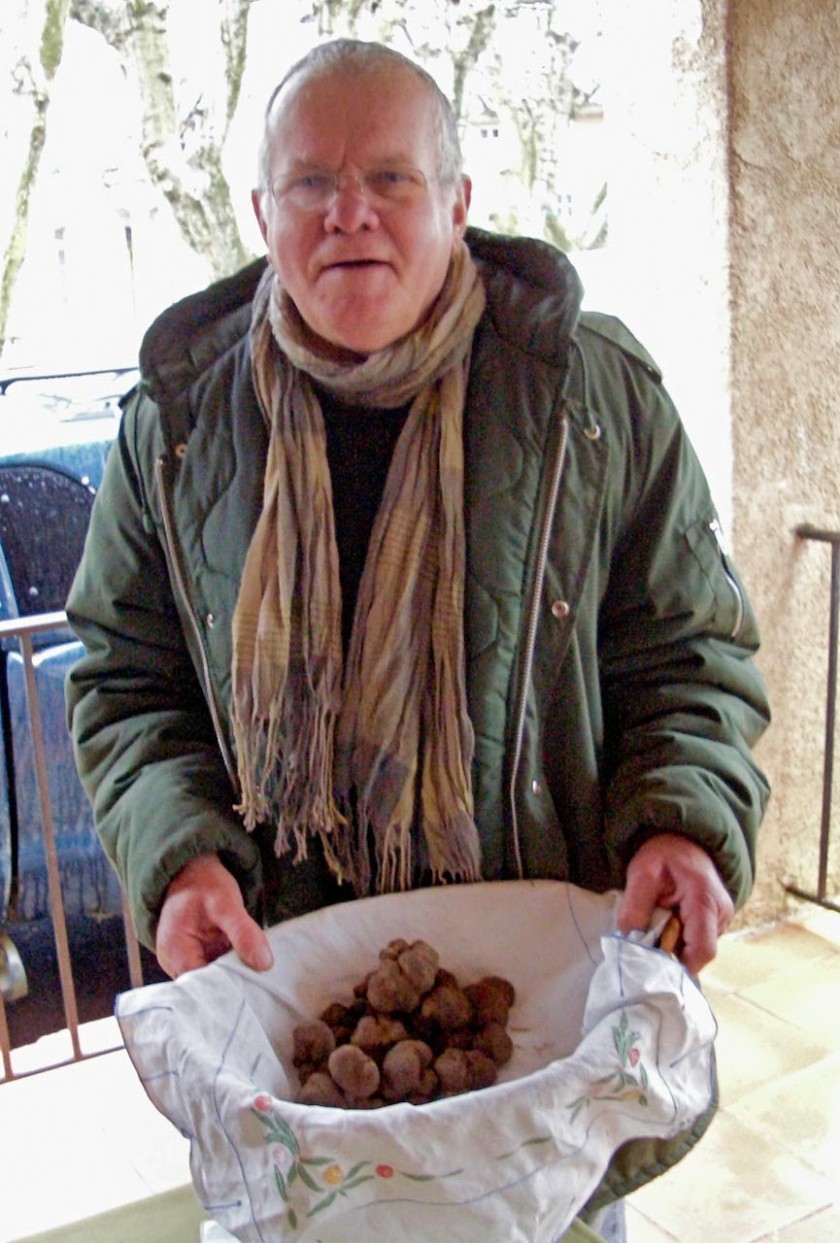 Every Thursday morning from mid-November through February, truffle vendors file into Aups for the region's most popular retail market for "Tuber melanosporum," otherwise known as the "black truffle." And following close behind are chefs from local restaurants, agents working on behalf of culinary establishments in Paris, people like me who simply love truffles, tax inspectors, and more gendarmes than a village of 2000 should ever expect to see, even at the annual peak of tourism in August. This past Thursday morning, when torrential rains periodically doused the crowd, the cast of characters was in place. The market must go on—there's black gold wrapped in dish towels in those baskets!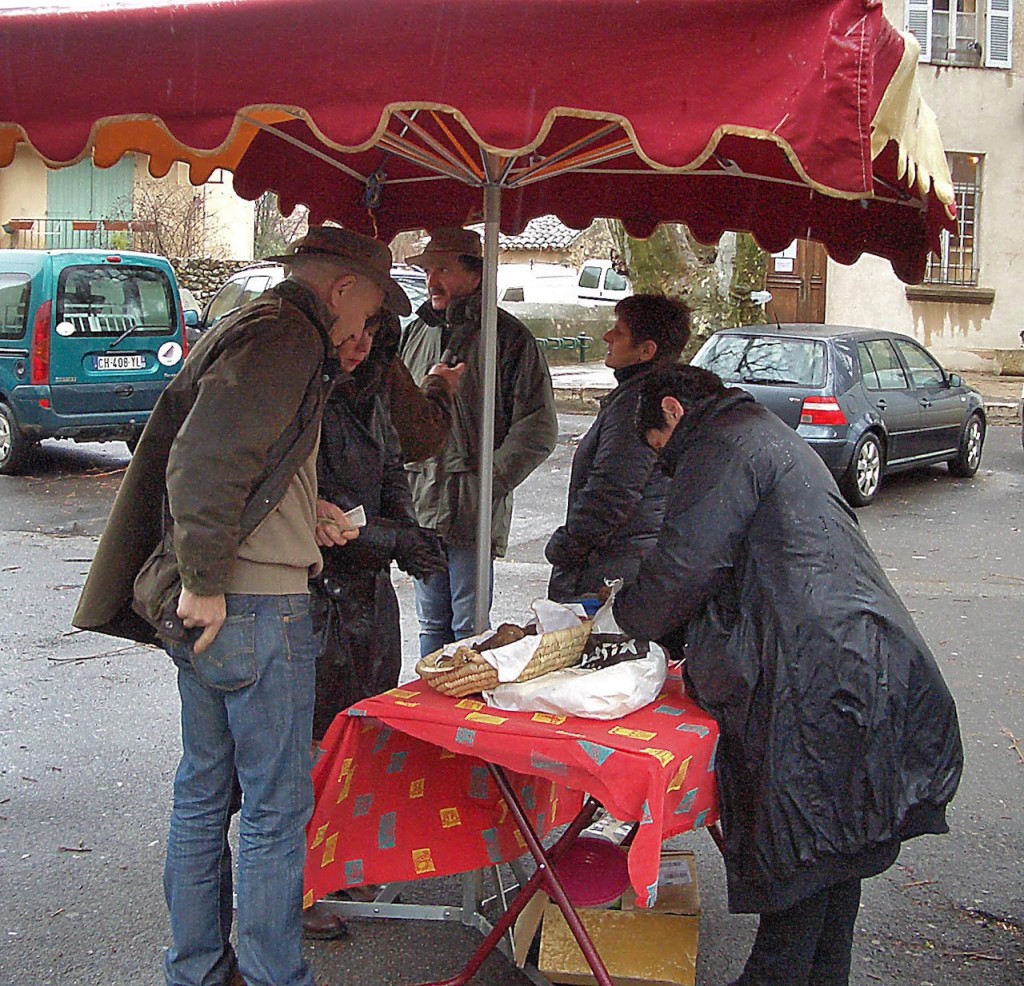 The first time I visited Aups was in the spring of 2004. I was en route from Cotignac to Moustier-Sainte-Marie for a week-long French-language immersion course. We had left early for the 50-kilometer (30-mile) trip, taking a rather circuitous route to see the small villages (and a grand canyon, the Gorges de Verdon) that lie along the road there.
Aups, a sleepy little commune and with its characteristic dull, biscuit-colored buildings, didn't spark a lot of interest the day we drove up. However, something seemed to be going on—what with horse-drawn carriages and people in costume—so we stopped and found that we happened to visit on the day of the annual olive festival (the fourth Sunday in March).  We were also pleasantly surprised to discover pretty squares with huge plane trees, lots of fountains, and narrow lanes that wrap around the confines of ramparts. At the language school, I learned that J.R.R. Tolkien had a vacation home just outside the village.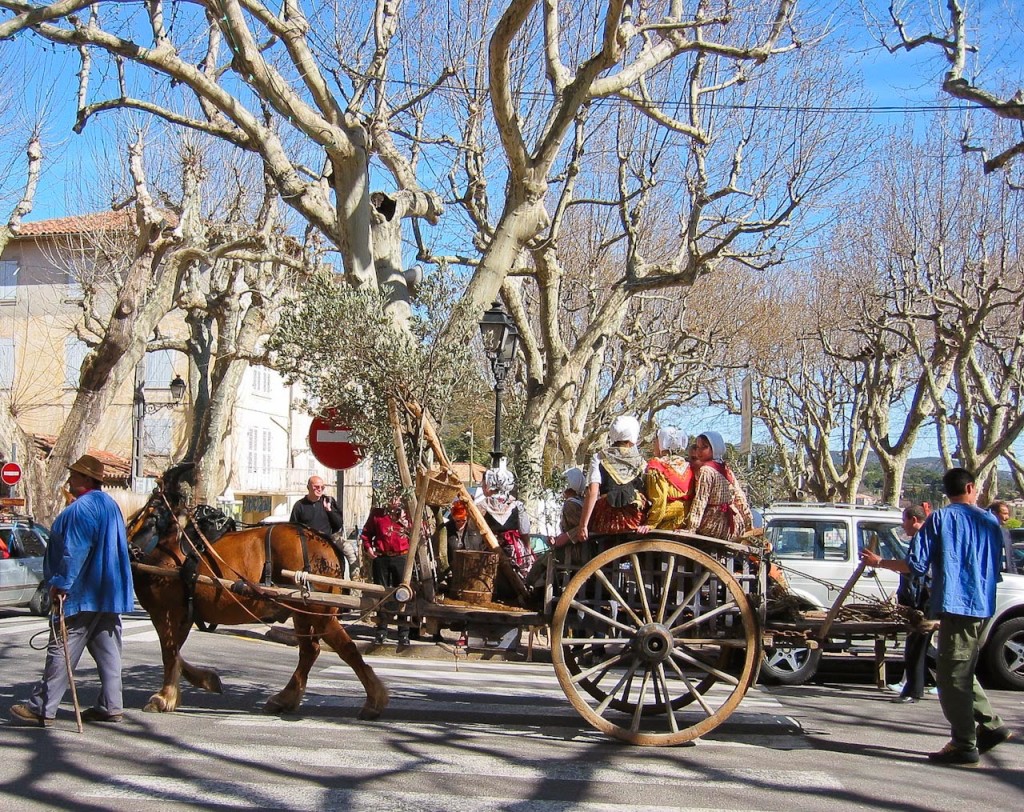 It was a friendly village and I ended up in a long conversation with a local vendor—who agreed to speak French slowly enough for me to understand her—about olive oil, a specialty of the village and surrounding area.  I bought a tin of exceptional olive oil from the kind woman (and left imbued with slightly more confidence about my up-coming immersion into French).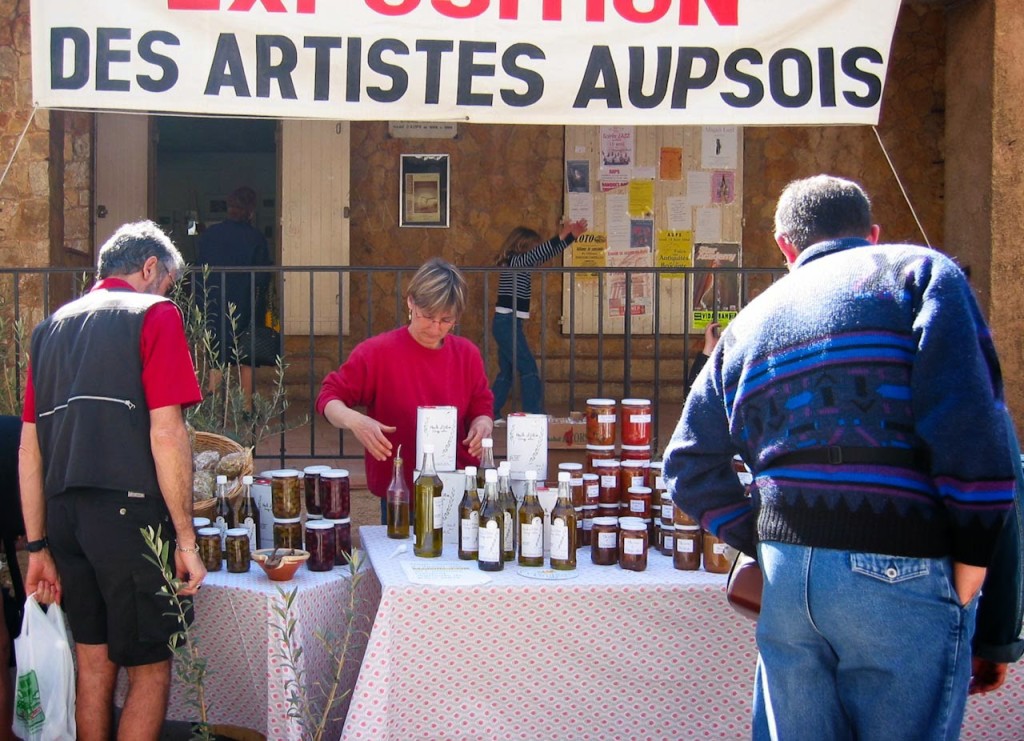 It was only later that I learned truffles were also a specialty of Aups and that this unassuming little village is the center of truffles in the Var département and, by most accounts, the third largest black truffle market in France, after Richerenches and Carpentras, both of which are in the Vaucluse département. (Richerenches, which is famous for its "Mass for the Truffles," arguably holds the title of being the largest truffle market in Europe and Carpentras is said to be the oldest truffle market in the world).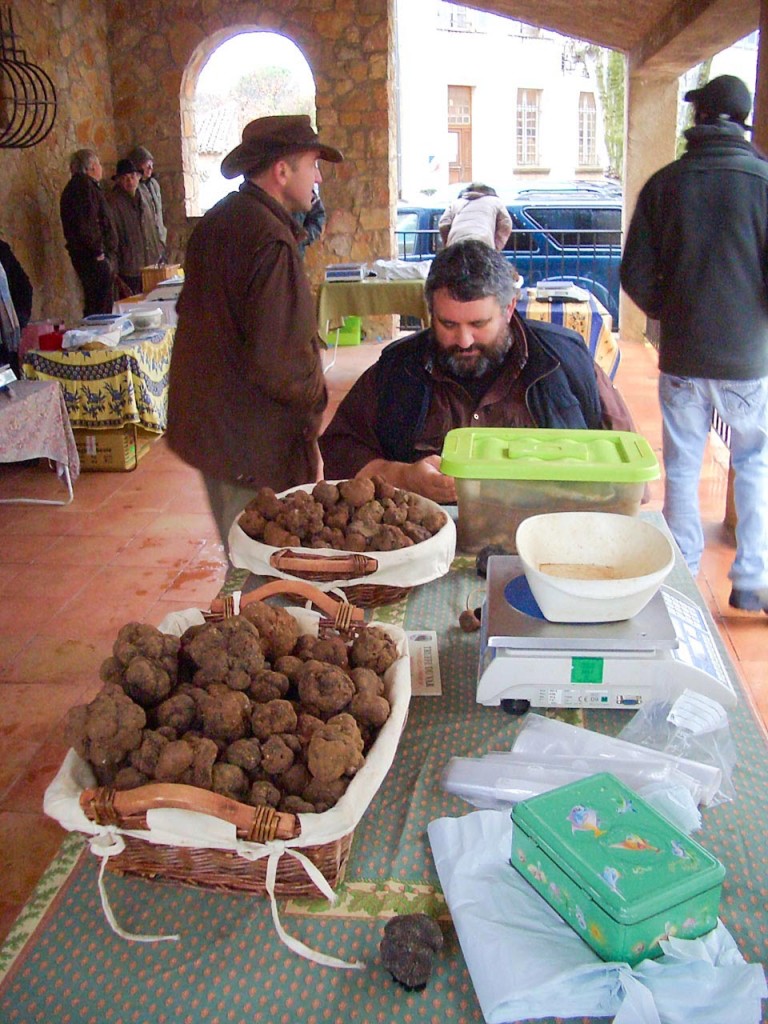 France produces nearly half of the world production of black truffles, with around 80% of that production coming from the southeast part of France (upper Provence, the Languedoc département of Gard, and the Rhone département of Drôme). Production has dropped considerably over the past century, from an annual production of 1000 tons or so in the early 1900s to around 30 or 40 tons now. Exact numbers are hard to come by because the truffle business—characterized by a farmer, his dog, and an old jalopy—is steeped in secrecy and a fair amount of intrigue. Still, it is safe to say that there is a shortage of French truffles to meet demand and, with prices as high as €1000 to €2000 a kilo (and higher!) and with most business transactions made in cash, thieves (and counterfeiters) may be lurking in the forests. (Back in 2005, when Ludovic Blanca, a truffle broker, was driving his car from Aups where he had picked up 40 kilos of truffles, he was sideswiped by armed men who stole the truffles.)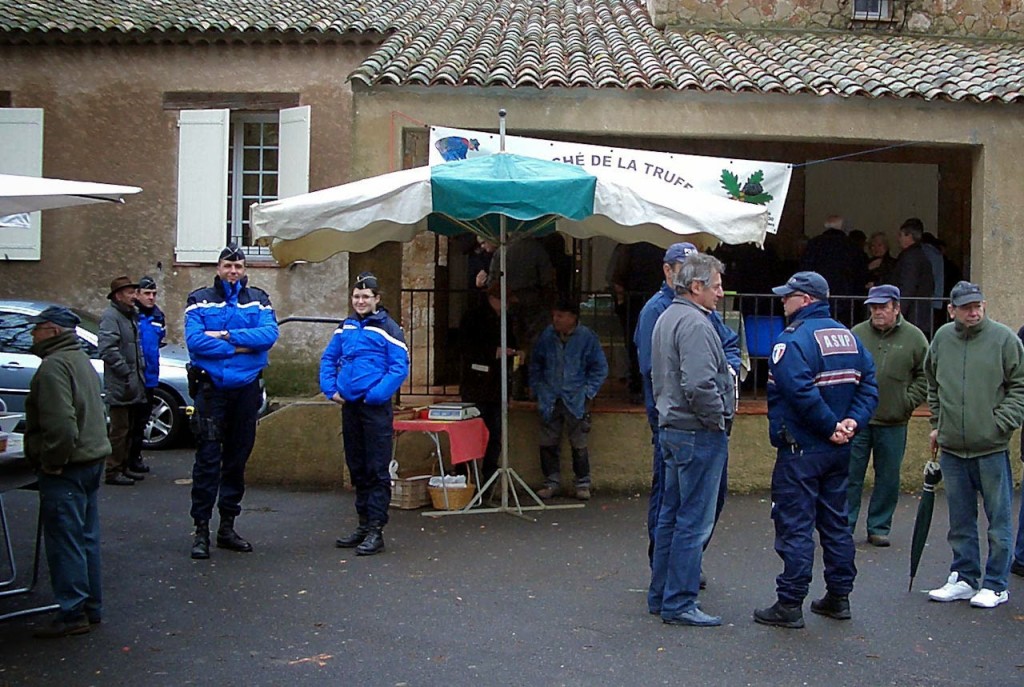 Last Thursday morning in Aups, when Pamela O'Neill came into the market with camera and umbrella in hand, there were only the truffle hunters and their coveted fungi, merchants and their related wares, and fans of the legendary black truffles (and the 10 gendarmes who arrived a little later, probably after the vendors had begun to collect what would be substantial amounts of money).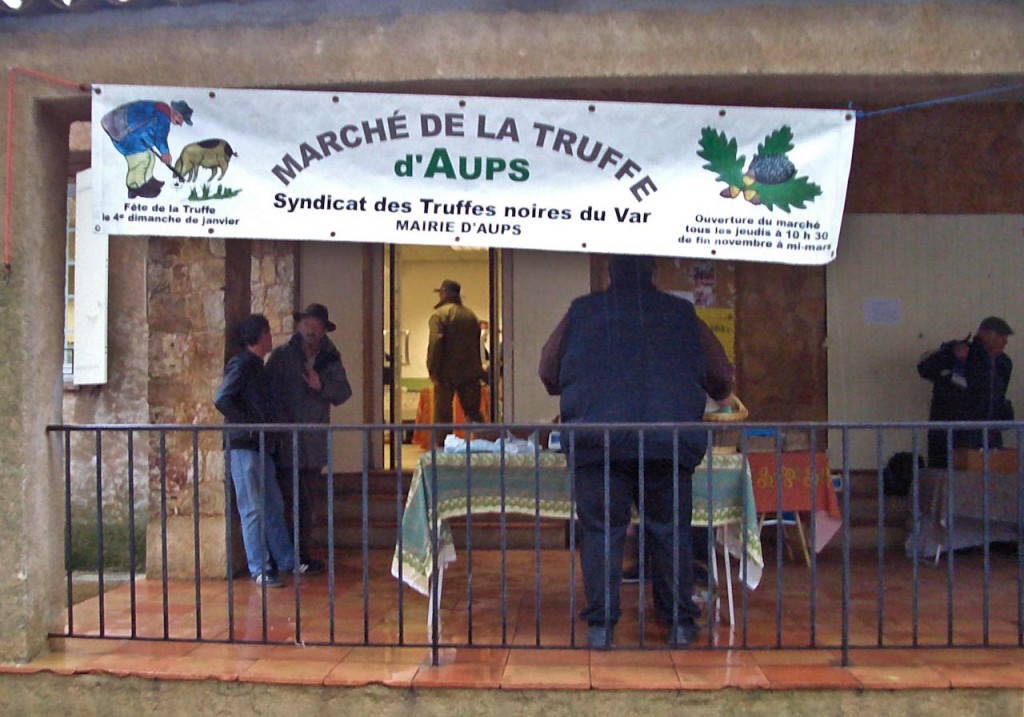 Unlike the most  popular weekly markets of Provence–boisterous and spirited–truffle markets are quiet and subdued. In Aups, the most popular retail truffle market in Provence,there was a certain calmness that pervaded the market, according to O'Neill.  Perhaps disguising the seriousness with which they take their work or perhaps simply underscoring the familiarity they had with a business they had conducted for years and even generations, it was almost eerie, she said. But, certainly welcoming, O'Neill added.
In Carpentras, we observed something quite different.  Transactions were conducted with such stealth that, in fact, the first year we went to the Friday market looking for truffles, we did not find a single one.  We later learned that all business was conducted out of the trunk of one's car or the back rooms of cafés, like the resistance activities that took place in the same area in the Second World War.  Fortunately, that is not the case in Aups, where the market, albeit confined to a small area in the center of the village, is devoted to truffles and they are everywhere.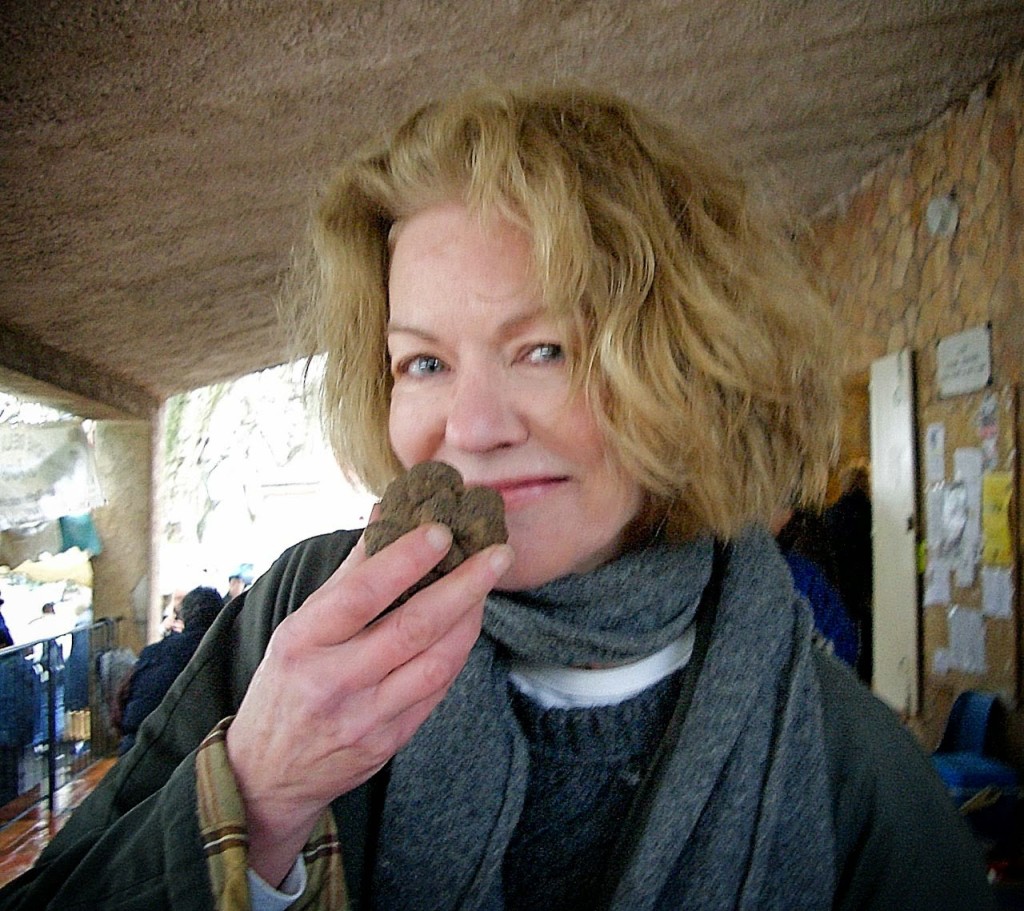 The unmistakable aroma of black truffles was in the air.  Variously described as "smelly sneakers," "wet earth," and "body odor," I think everyone would agree that the scent of a truffle is distinctive and truffle lovers would call it "alluring."
O'Neill said that they smelled "divine" and added "I was tempted to bite into one but thought I wouldn't be allowed to take more photos [if I did]."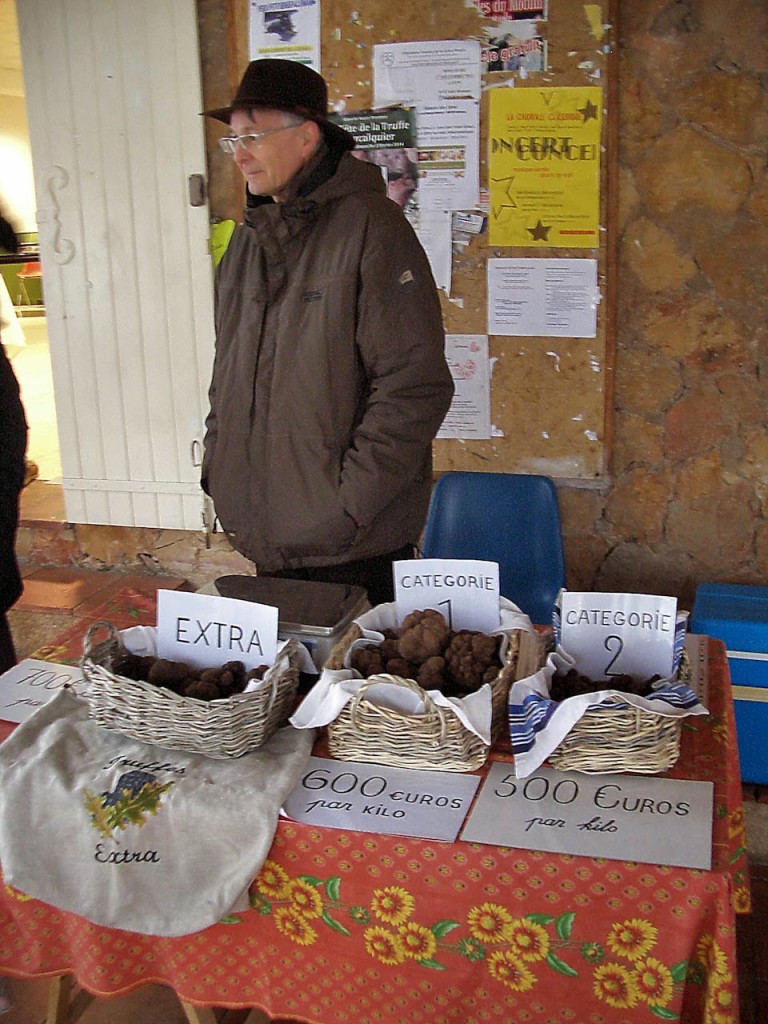 Once the dirt has been brushed off the freshly harvested black truffles, they are graded. Size and quality are the primary considerations (given that they are all the same type, such as Tuber melanosporum).  Size refers to weight and quality refers to the aroma, maturity and appearance. Any damage to the truffles (e.g., from their excavation, by animals, or by insects) will significantly lower their value. Most truffles will fall into the "First" (14%) or "Second" (84%) class. The first category refers to "restaurant grade" truffles and are likely to be about the size of an olive.  The second category refers to "market grade" truffles and are about the size of a pea. As the class increases, so does the strength of the aroma with the "Extra"category, also known as the "connosieur grade" and consisting of just 2% of harvested black truffles, being "very large specimens of high intensity aroma" that are perfectly shaped.  The "scraps" are not classified but are still valuable and are sold in bulk.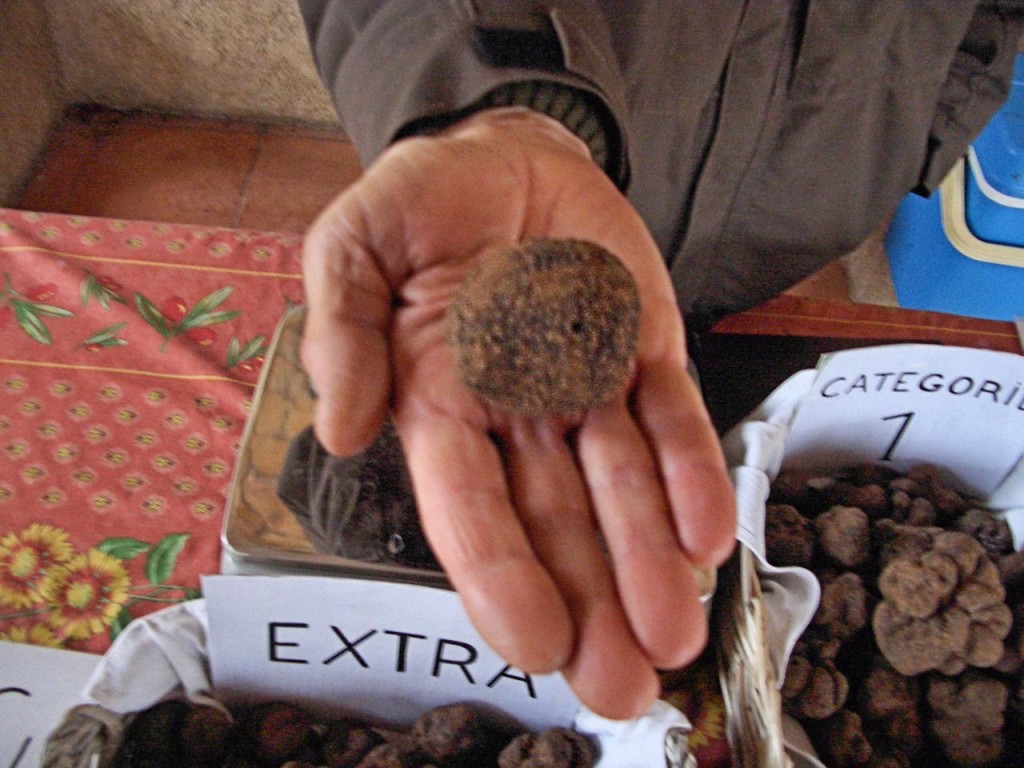 The truffle business–at least in a market like this–is highly regulated. All vendors must display their licenses.  The Aups market would be a great place to learn more about truffles with honest answers from the vendors. Pam found that everyone was friendly and interested in answering her questions.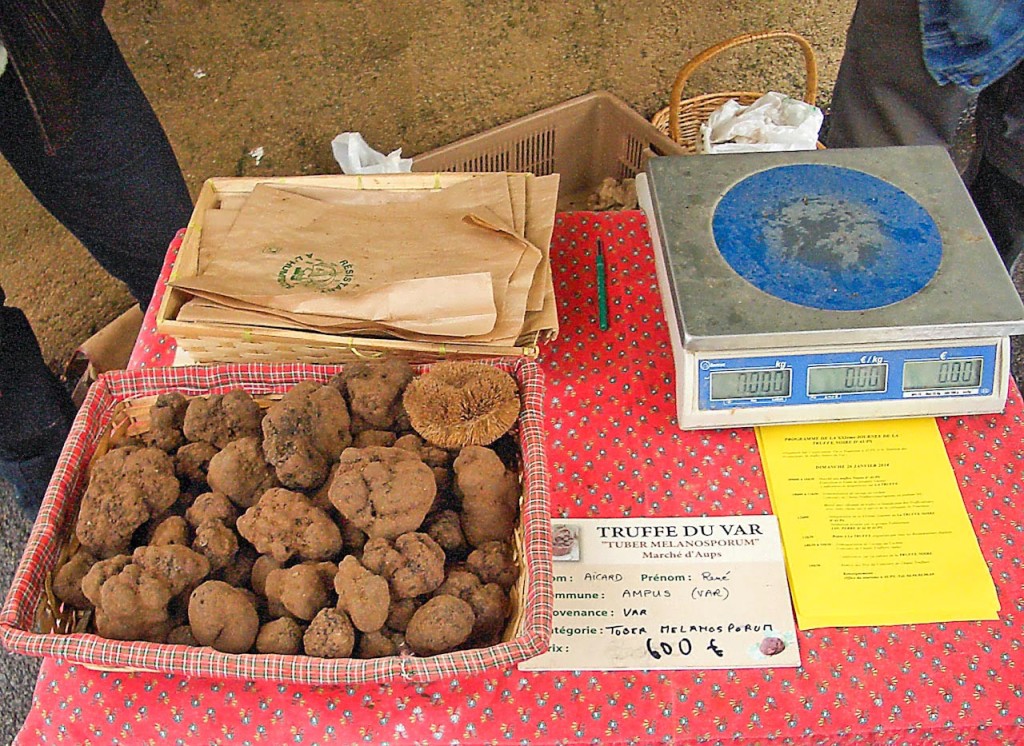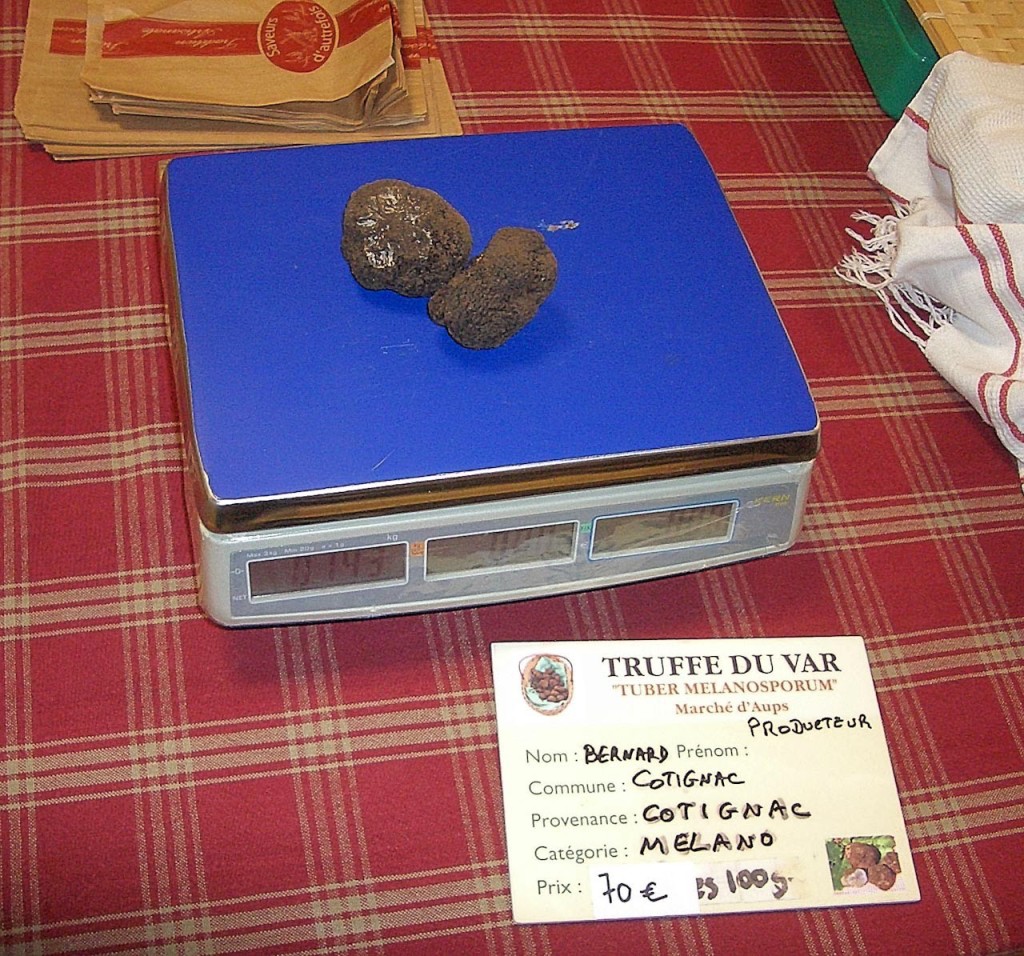 If you are able to visit Aups during truffle season, you will find that the market is not limited to truffles themselves.  There are all sorts of supporting paraphernalia, such as truffle mandolines, and myriad books about the coveted truffle.  I picked up a truffle brush (to clean the black diamonds) topped with a dark plastic handle  molded to look exactly like a real  truffle.  Needless to say, I haven't used it as much as I would have liked but it always reminds me of the delicious meals we have made and it makes me smile.

Likewise, Aups has a whole industry built around the truffle market.  L'épicerie, in the center of town, is a small store filled with truffle-related products such as the "carpaccio de truffe" (pictured below).  Gare du Nord, located on rue Marechal Foch, is a cheese and pasta shop owned by "Katja and Martin."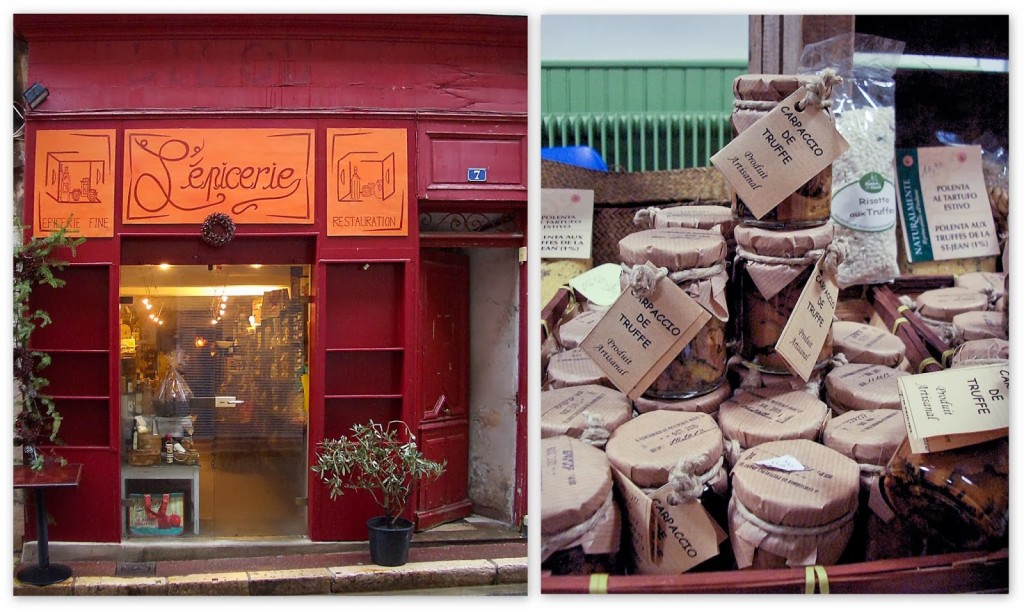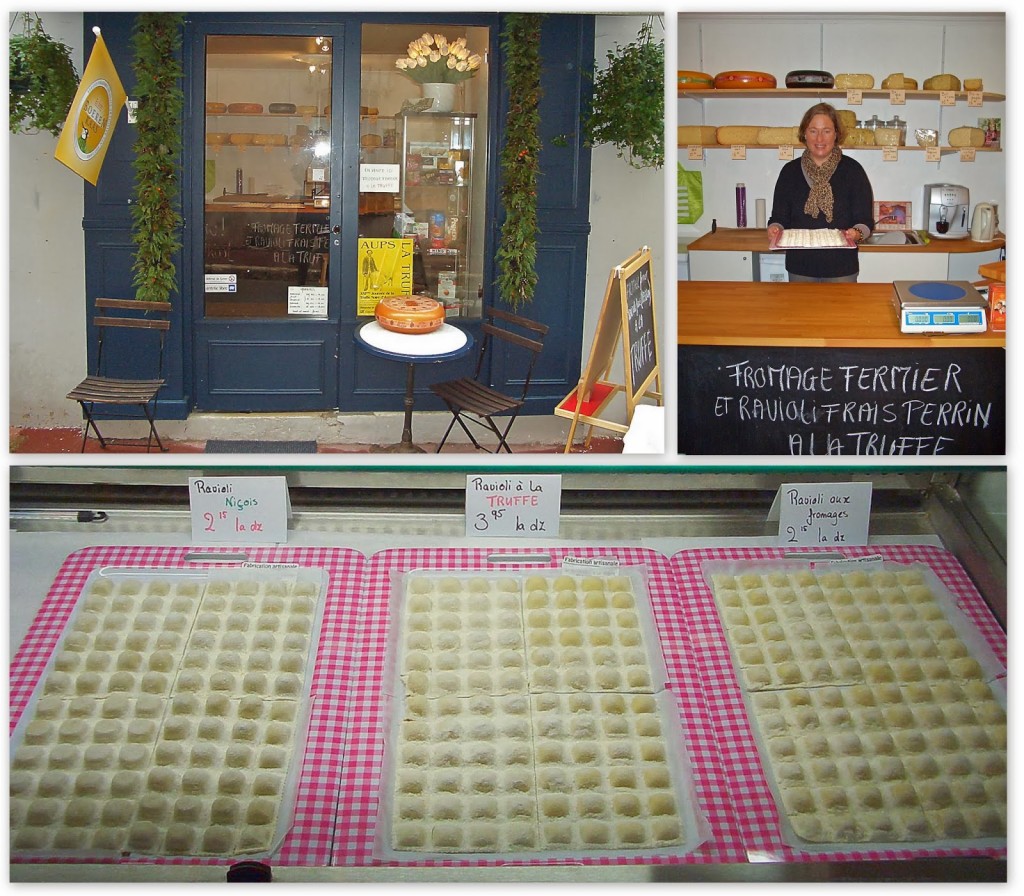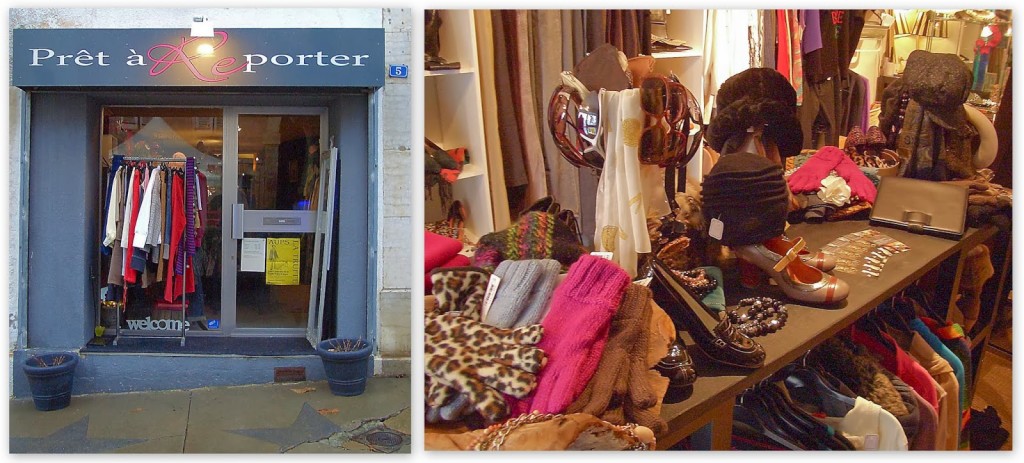 I think you may be getting the picture that Aups is a very friendly village.  The photo below offers further evidence of the amiable nature of this small village in the Var.  The gentleman on the left approached O'Neill as she was photographing the church (that stands on the square where the truffle market takes place).  He asked her why she was taking photographs and when O'Neill replied that it was for an American blog about Provence, he said, "Wait!" and ran back into the neighboring café, Grand  Café du Cours where he had been sitting with the priest.  O'Neill wasn't sure what he was doing but he quickly returned, escorting the priest to the front of the church.  He said, "You have to have le prêtre!"
Finally, a great way to cap off the morning would be lunch.  Two restaurants that come highly recommended are pictured below.  O'Neill reports that the soupe au pistou at La Provençal is excellent.  Me, I am leaning toward the Prix Fixe menu at La Truffe.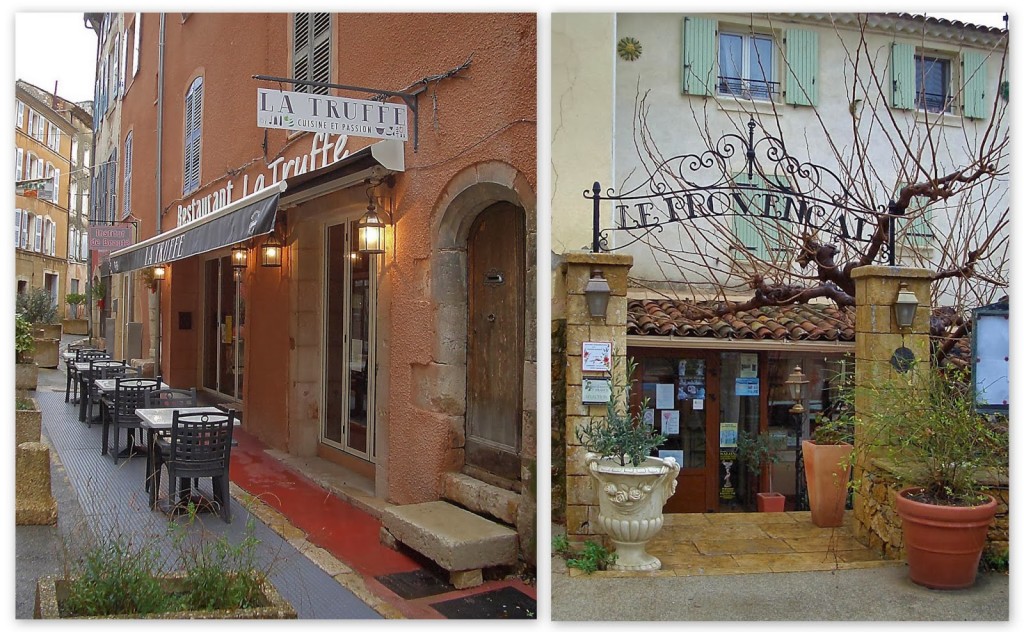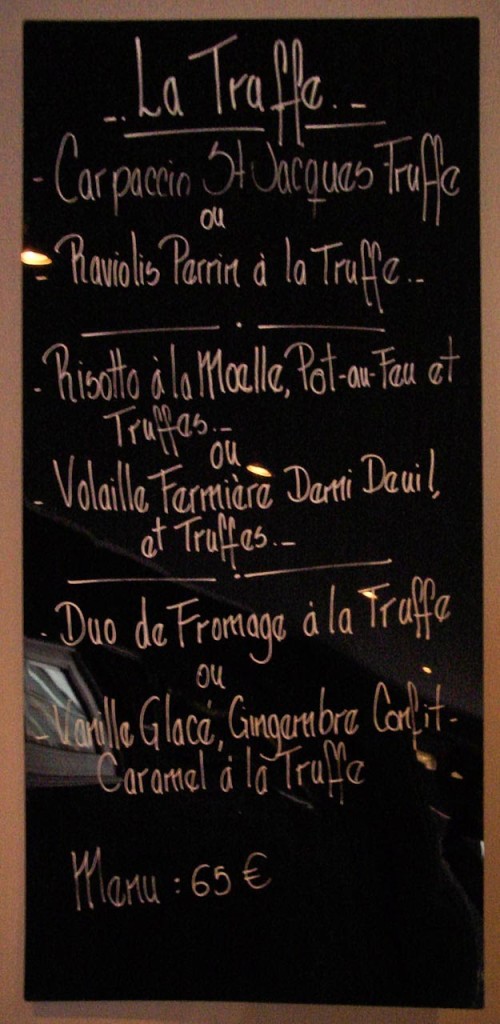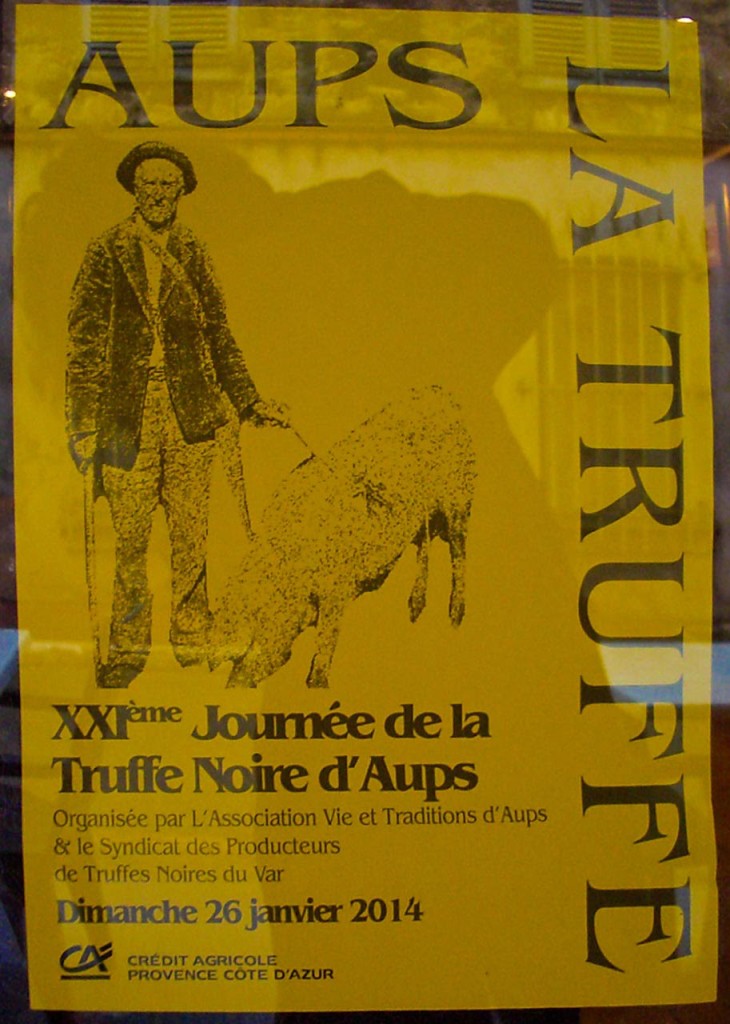 Notes:
Un grand merci to Pamela O'Neill, in Cotignac, for her photography (during monsoon conditions) and research contributions.
Most important for those of you currently in Provence is that Aups is hosting their annual Truffle Festival next Sunday, January 26, 2014.  I'd love to hear from you if you go!  Roaming photographer/reporter Pamela J. O'Neill promises to be on the scene and will share the skinny with TMT readers. (See poster below.)
Tuber melanosporum is the scientific name of the French black truffle. Often referred to as the Périgord truffle because it is native to the oak forests in that southwestern region of France, this name causes some confusion because it is also found in Provence where it is referred to by the Provençal term, rabasse. In fact, the black truffle from southeast part of France (upper Provence, the Languedoc département of Gard, and the Rhone département of Drôme) typically comprises about 80% of France's black truffle market. This same black truffle or winter truffle also hails from Spain, Italy, Australia, New Zealand, and the United States. The Chinese truffle is a different species (Tuber indicum), inferior and much cheaper, but nonetheless hard to distinguish visually from the black truffle.
TMT posts about truffles that may interest you are:
Our Brief Foray Into the World of Truffle Hunting
Longing for Black Truffles, Consoled by Fragrant Memories, and Patricia Wells' "Simply Truffles"
To learn more about truffle from around the world, see: http://www.delectations.org/index.html
To learn more about "The Dark Side of the Truffle Trade," see Ryan Jacobs' article in the current edition of The Atlantic.