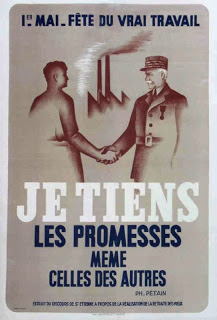 May 1st is La Fêtedu Travail in France. As in many other countries, it is "the worker's holiday." It is a very important day, a public holiday in which public offices, post offices, banks, and many private businesses are closed and some public transportation schedules may follow a holiday schedule. Parades and demonstrations to champion workers' rights typically cause congestion and delays in traffic in metropolitan areas.
This May Day will be no exception: demonstrators around the world, including France, will take to the streets in support of workers' rights and other social justice causes.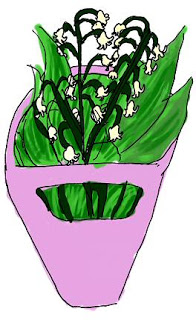 Le Muguet Art: Alex Manfull, Age 9
In Paris, congestion will be particularly bad this year. There will be the usual Labor Day parades organized by trade unions and left-leaning sympathizers and the now annual "Joan of Arc Day" demonstrations organized by the extreme right, anti-immigration National Front, led by former Presidential candidate Marine Le Pen. In addition, President Nicolas Sarkozy plans to stage his own rally for his supporters and what he refers to as "real French work." Presidential hopeful François Hollande, who has been very critical of President Sarkozy for trying to horn in on a long-standing labor event, is said to have plans to attend a memorial ceremony for a former Socialist Prime Minister, Pierre Beregovoy. With tensions rising between the two candidates, amidst an anxious electorate, and with both candidates vying for the 6.4 million voters who supported Le Pen, this May Day may find snarliness on the streets and elsewhere.
Interestingly, the idea for a designated day to celebrate workers—International Workers' Day—was inspired by events in the United States in the 1800s when labor unions were gaining tremendous strength as deplorable working conditions were increasingly exposed (and violent labor strikes were erupting.) On May 1, 1886, unions in Chicago demonstrated for an 8-hour day which led to rioting and the deaths of…
12 people. In 1889, at a meeting of the International Socialists in Paris, May 1 was designated as the day to mark workers' rights, especially the right to work only eight hours in honor of those American workers in Chicago.
During WWII, the Vichy government made May 1 an official paid holiday which, along with the adoption of Mother's Day, continued to be part of the French calendar after the war.
Other countries also adopted May 1st as a day to honor workers; but, in the U.S., the holiday was later moved to the first Monday in September—some say to separate the day from its leftist roots—but political demonstrations and protests still take place on May 1 in our country, as they do around the world.
In France, the first day in May is also called La Fête du Muguet and is marked in another entirely different manner: with bouquets of lily of the valley given to friends, neighbors, lovers, mothers, bosses, even yourself…whomever you choose to bestow happiness upon! We have been in Provence and Paris at this time and can report first-hand that this is an endearing tradition.
As May 1st approaches, carts selling muguet de bois—lily-of-the-valley—spring up on the streets of villages and cities, alike, in France. The other part of this tradition is that these bouquets of happiness may be sold without a permit or any other form of taxation.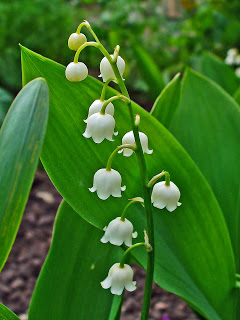 Lily-of-the-Valley Photo: H. Zell
It all began back in 1561, on this day, when King Charles IX of France received a lily-of-the-valley, said to be a good luck charm, a gesture that prompted him to give the flower each year to all the ladies of the court. Of course, its roots may be traced back further to pagan celebrations of spring that also revolve around this day.
What better way to usher in spring or to share a little happiness than with a bouquet of lily-of-the-valley? Well, some would say a demonstration. In France, you can do both.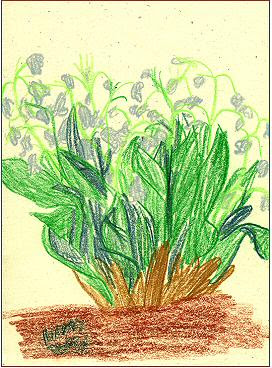 Muguet de Bois Art: Alex Manfull, Age 9