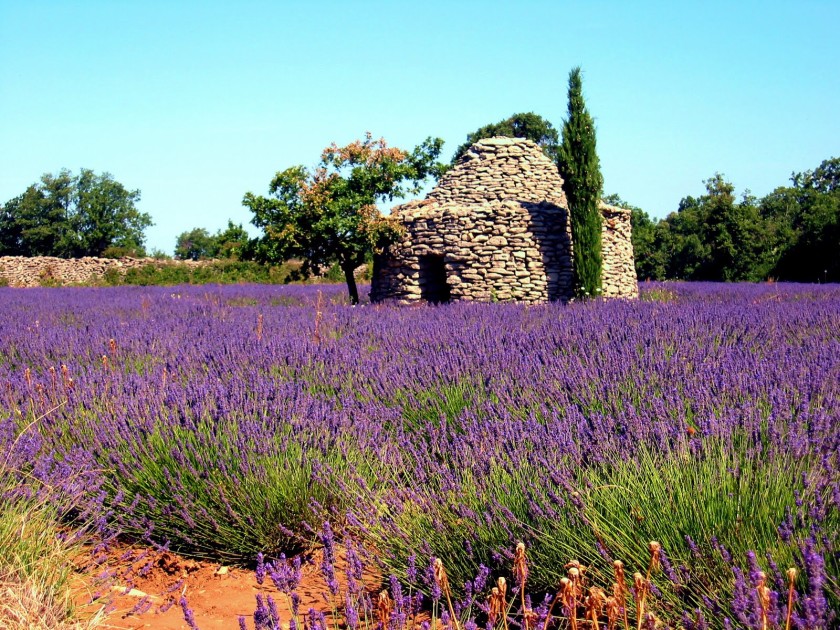 Lavender is a magnet for tourists to Provence. Our post, "Lavender: A Flower Rooted in Sun-Drenched Provence," remains our most read article and questions about lavender season dominate our inquiries. That a factory tour in sunny Provence is a popular tourist destination may not be such a surprise, then, when the company is L'Occitane, manufacturer of lavender-infused lotions, soaps, bath and shower gels, essential oils and much, much more.
L'Occitane–pronounced "lox-ee-tan"—stores have popped up all over the States and around the world in recent years. Surely you know the ochre-colored boutiques with the peculiar word inscribed across the top.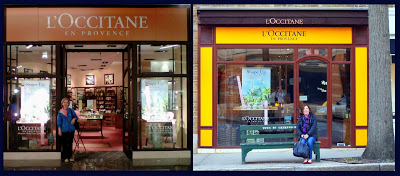 L'Occitane boutiques in Annapolis, Maryland and Greenwich, Connecticut
There are at least 170 shops in the United States, one of at least 80 countries in which L'Occitane products are sold. The net sales for the year ending March 31, 2011 were 772.3 million euros, but it wasn't always like that.
Olivier Baussan, born 1952, grew up in abject poverty. When he was six months old, he and his family moved from Paris to Ganagobie, essentially a hill, in the Alps-de-Haute-Provence department of France. His parents had a dream of living off the land, a dream that quickly evaporated although the countryside infused in the young boy an appreciation of nature that never left him.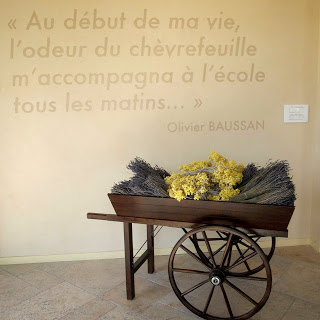 L'Occitane en Provence Museum in Manosque
Baussan's young life seemed plagued with so many problems that it reads more like a piece of fiction about the cruel effects of poverty than the biography of a successful businessman–broken farm equipment, ill livestock, a drought that devastated the crops, an accident that rendered his father…
an invalid, and, finally, a cold winter that left the family starving. In the years that followed, the family moved, first to a nearby barren shack with none of the most basic amenities and, later, to a dismal housing development just outside Manosque where the young Olivier was forced to part with his long time canine companion. Still later, they moved to the small city of Digne, where Olivier would long for the countryside but find comfort in a new interest in poetry.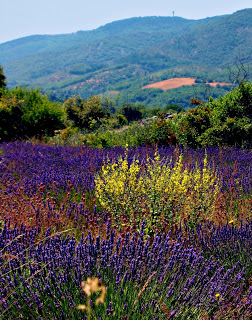 Field of Lavender, 25 minutes from Lourmarin
In the late 1960s, at 16 years old, Olivier appeared to wrestle with the issues that were confronting other teenagers of this era–independence, drinking, and drugs. Young Olivier embarked on the seemingly obligatory hitchhiking tour around Europe where he struggled with the allure of his adventure and the fear that his adventure was never far from a physically repulsive homelessness. During this time, he found solace in poetry.
Olivier would later attend university in Aix where he appeared to be conflicted between the far leftist movement popular at the time and his personal interest in the tangible effects of racism and anti-Semitism.
Olivier's apparent search for himself continued into his early twenties—communes, existentialism, psychoanalysis, promiscuity were all avenues he explored–when he had what he described as a "serendipitous" encounter with a man who eventually sold Olivier the rights to bubble bath "guaranteed to slim you down and pick you up."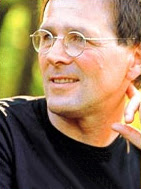 Olivier Baussan
As described in the biographical book, The Essence of Provence: The Story of L'Occitane, this encounter sounded more like a swindle. But, with the rights to the bubble bath in his name, a second bit of serendipity occurred and it set the stage for Olivier's now famous career: he found an old rusted still in the middle of a field of lavender. He bought it for a song, managed to get it working, and distilled a batch of essence of rosemary—a wild herb that is abundant in the countryside of Provence—and he added it to his first concoction of bubble bath. With just the barest of labels on his jars of bubble bath filled with essence of highly aromatic rosemary, he loaded his old Citroën 2CV and drove to all the nearby familiar towns—Manosque, Digne, and Forqualquier. He convinced only one merchant to buy his product; but, amazingly, all the bubble bath sold and the merchant wanted more, with decent labels.
This was in 1976; Olivier was 23 years old. He called the company L'Occitane which, in the native language of Provence, means "the woman from Occitania." (Occitania refers to a region that encompassed the South of France, northeastern Spain and northern Italy during the middle ages.) "En Provence" was added to underscore the company's connection to Provence.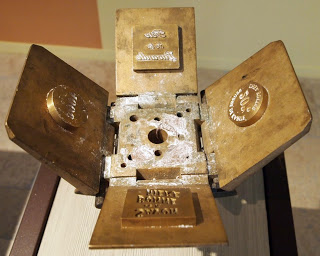 Soap mold, l'Occitane en Provence Museum
Should you visit the museum, you will learn more about this remarkable man's professional history and that of the company he founded. Suffice to say here that L'Occitane en Provence has grown into a highly respected and successful international company that manufactures a very long list of popular skin care products and fragrances.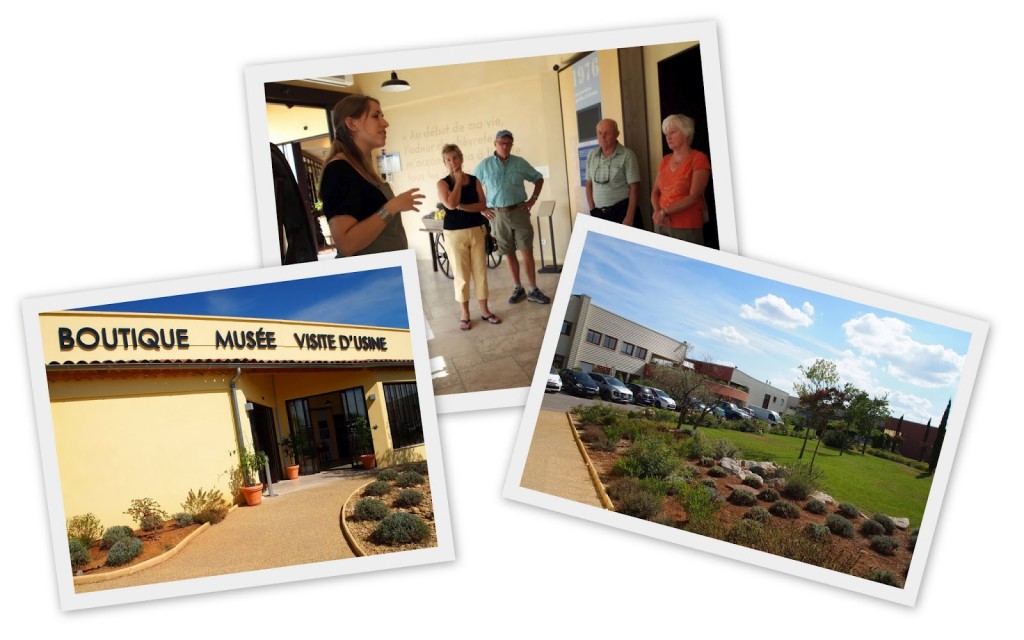 In 2006, the company celebrated its 30th anniversary. To mark the occasion, a Foundation was created to support the causes to which L'Occitane had long been committed: 1) programs for the blind and partially sighted, such as ORBIS; 2) sustainable programs led by women in third world countries such as the all-female associations that produce shea butter in Burkina Faso; and 3) the preservation of the knowledge and traditions revolving around nature in Provence. I think it is remarkable that, since its inception, L'Occitane has engaged in business practices that stemmed from the founder's basic philosophies about respect and responsibility; for example, the company has supported the traditional cultivation of almond trees, lavender, and other herbs, the preservation of rare species such as Immortelle flowers, and has procured the majority of its ingredients from local producers.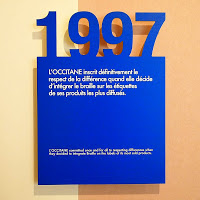 L'Occitane Museum
During the tour and in the museum, I was particularly struck by the support that this company has given to the blind and visually impaired. In 1996, serendipity visited the founder's life again: he happened to be in one of his boutiques when he noticed a blind woman sampling perfume and he was intrigued by the intensity with which she smelled the product. Probably tapping into his long held empathy for those less fortunate, he decided then that he would make the company's bath and body products accessible to customers with visual impairments. In 1997, the first Braille labels were rolled out and, within ten years, Braille labeling was on almost all of the products. The addition of Braille labels is estimated to cost the company 4 to 6 cents more per package.
In 2009, Olivier Baussan was given the Medal of the Knight of The Order of Agricultural Merit from the French Minister for Agriculture. The Order "rewards people who were a great help to agriculture, either in the practice of agriculture or in industries relating to it or in public services or scientific works or in agricultural publications." Monsieur Baussan stands in the company of Louis Pasteur and Catherine Deneuve, among others.
The company has come a long way from the old rusty still and deliveries in Olivier's 2CV, but the founder seems to have never forgotten his roots.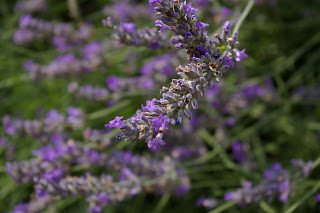 Lavender


For more information about how to make reservations (required) to take a factory tour, visiting the museum and the store, and directions to the complex in Manosque, see http://www.loccitane.com/factory-tour,29,1,2280,106337.htm .  Tours are available in English. A 10% discount is offered at the store and samples are part of the tour. While I wouldn't put a L'Occitane tour among my top ten things to do in Provence, I would recommend it—take it at the end of the day (or on a cloudy day) and combine it with a little wine tasting in Pierrevert and dinner. We—two adults and a teenager—found the tour and the museum very interesting and fun.