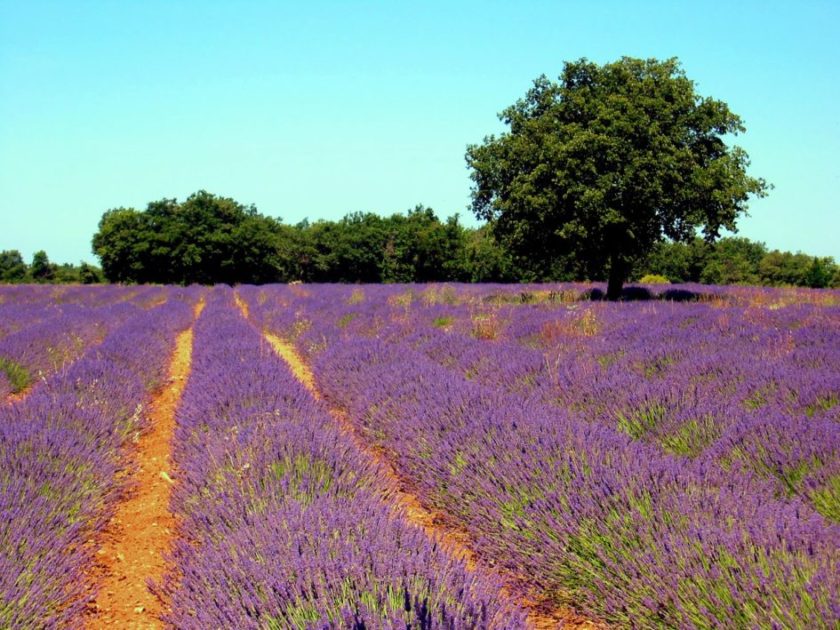 Lavender is entwined with the very soul of Provence. In the summer, when the lavender fields bloom, a vibrant purple sea envelops the region's medieval monasteries, lapping at ancient hilltop towns and traditional working farms. In July, lavender is everywhere – snaking up hillsides in parallel purple rows, splashing field after field with a touch of day-glo purple. In August, it's harvest time — the rows still stand but their purple hues are more subdued after tractors pass through and collect fragrant bunches of lavender for the distilleries. Already, the lavender festivals are in full swing.
The lavender fields are scattered across Provence ( http://tinyurl.com/25e82nk ) many of them within an easy drive of La Bonbonnière, our rental apartment in Lourmarin. (There are small fields just fifteen minutes away!) Depending on their location, altitude and the year's weather, the best time to see them runs from late June until harvest-time in late August.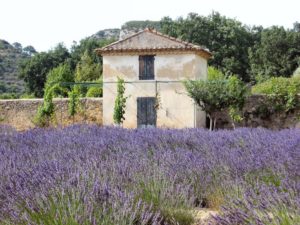 A few kilometers from our place, southern France's "Lavender Roads" (Les Routes de la Lavande) ( http://tinyurl.com/2eagv7q ) offer a winding route through breathtaking vistas of lavender landscapes splashed with bluish-purple ( http://tinyurl.com/263j9md ). You will see aromatic fields, tiny gardens, busy distilleries, a few museums, a lot of gift stores, and villages everywhere reveling in the glory of the lavender season.
Lavender has always grown wild in Provence, but it has only been grown commercially here for a century or two. Valued by the Romans for its ability to perfume relaxing baths, its name derives from the Latin verb lavare (to wash) and is linked to the French verb laver, which means to wash. Today, lavender is woven into the fabric of Provence's commercial life….
Grown for its essential oils, true lavender is put through a series of hoops, and held to very strict standards to win the coveted French official stamp of approval, the Appellation d'Origine Controllee. For this, lavender must be grown in the Alpes-de-Haute-Provence, the Drôme or the Vaucluse. Even then, the privilege of growing lavender is limited to a few hundred villages located above a certain altitude. And because the lavender is used by perfumeries and for medicinal purposes, it must meet specific harvesting, distillation, and olfactory protocols to maintain this exclusive recognition.
Visitors to Provence often wonder what that "other" lavender product is; Lavendin is a hybrid of true lavender and broad-leafed lavender and it is much less expensive. Although its scent is longer-lasting, it is not as pure or pleasing and does not have the same medicinal properties as lavender.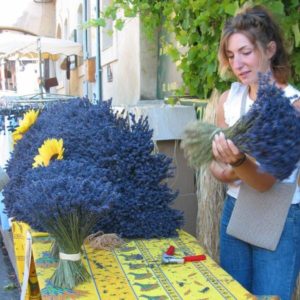 During lavender season, lavender tourism goes into high gear. With the fragrance of lavender in the air, bustling lavender markets peddle lavender-scented products, from soaps and sachets to honey, candles and aromatic oils. Quaint restaurants tout menus with everything from dried lavender flowers to candied lavender cake decorations. Spas offer lavender baths and massages. The well-known French herb blend, Herbes de Provence, usually contains a sprinkling of dried lavender flowers. Distilleries show visitors how they extract lavender oil from dried lavender flowers harvested in a select number of Provencal villages for use in high-end perfumes, following formal protocols to win the exclusive French trademark Appellation d'Origine Controllee.
A half-hour from
La Bonbonnière
, our rental apartment, visitors can drop in on a honey farm in Apt, and peer through special windows fitted to the hives to watch bees busy making lavender honey (
http://tinyurl.com/2b67zs2
). Near Apt, the Lavender Museum (
Le Musée de la Lavande
http://tinyurl.com/2f6oox3
) touts the greatest collection of copper stills used to distill lavender's essential oils from the 16th century on. Set in a typical Provencal stone farmhouse (called a
mas
), the museum was founded 18 years ago by a distiller who says he is passionate about preserving the unique botanical qualities of Provence lavender, its history and traditions.
Lovers of French history can tour medieval abbeys like the Abbaye de Senanque ( ) near the village of Gordes, about 37 kilometers away from La Bonbonnière. Here, modern monks once attacked by heretics now raise bees, sell books and work lavender fields surrounding a massive 12th century abbey.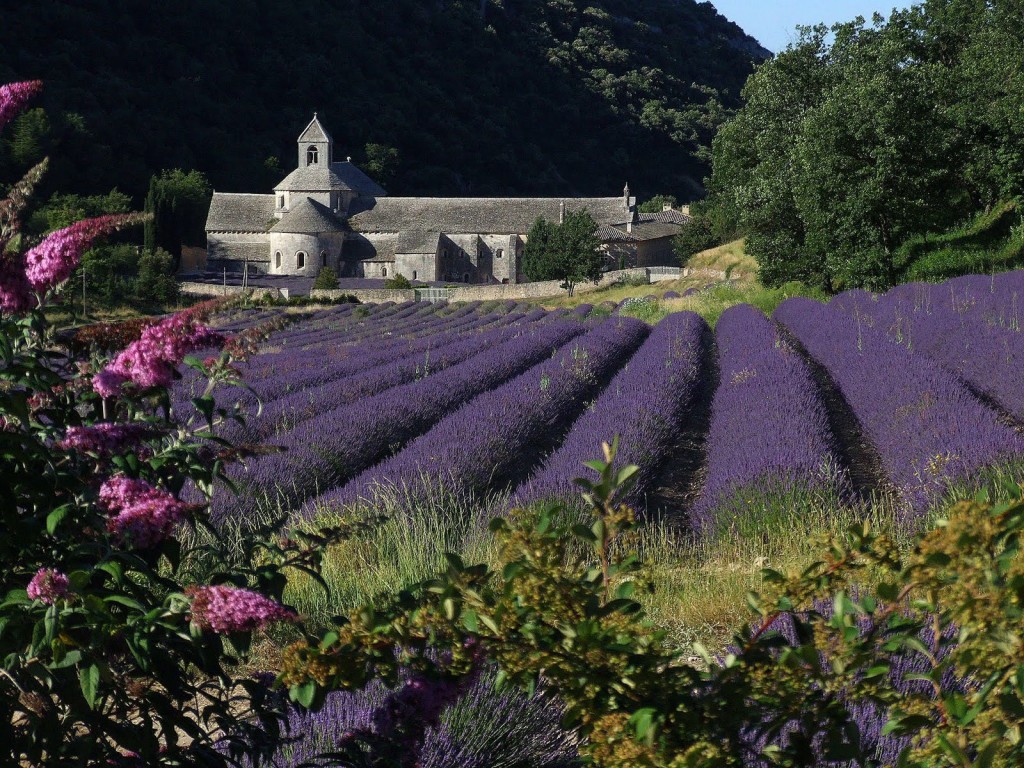 Across the region, visitors can check out traditional farms, where generations have grown lavender and still harvest it with baskets and hand tools ( http://tinyurl.com/2bqmdxx ). It then must dry for days before it can be distilled, a process that involves passing steam through stills filled with dried lavender bunches, resulting in highly prized essential oils. Some three hundred pounds of lavender are needed to produce just one quart of essential oil. And to make perfume, it takes more than 2,000 pounds of lavender to make three gallons of perfume-grade absolute pure lavender oil.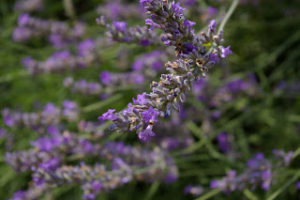 The ubiquitous scent is now found not only in hand soaps, but in laundry detergents, dryer sheets, and ironing sprays as well as very expensive body lotions and facial creams. L'Occitane en Provence, the widely popular skin-care and bath and shower enterprise began in Provence with mainly lavender-scented products and has grown into a successful multi-national business with stores in every American mall this writer has visited in the last year.
Lavender is said to have anti-fungal and anti-bacterial properties. Its fragrance is thought to reduce stress and insomnia, which is probably why it is recommended that a small potpourri of lavender be placed next to one's bedside. Lavender is also thought to keep scorpions at bay. (Yes, scorpions are found in Provence, but they are not the poisonous type!)
The popular purple flower has many culinary uses, too. As mentioned above, it is one of the herbs in the well-known Herbes de Provence, so you might find it in a poulet rôti, or in your scrambled eggs, in your vinaigrette that dresses your salad or even on your pizza. Then, there is lavender syrup, which may be found in pastries, ice cream, or even in champagne! Have you had marshmallows made with just a hint of lavender syrup?
All kinds of fairs and festivals celebrate the region's iconic purple flower, restaurants offer lavender inspired menus, and spas offer thermal baths and massages with lavender oil! There's a Lavender Fair (
Fête de la Lavande
) in Valensole the third Sunday in July (
Valensole.fr
) , a Lavender Festival (
Fête de la Lavande
) in Barreme the last weekend of July, a Lavender "Corso" (
Corso de la Lavande
) featuring a parade, floats and fireworks in Digne-les-Bains July 30 to August 3 (
http://tinyurl.com/264x87f
), a Lavender Market (
Marche de la Lavande
) in St Andre de Rosans August 7 and 8, a Lavender Fair in Digne-les-Bains (
http://tinyurl.com/26jn5b8
) an hour-and-a-half away August 19 to 22, and much, much more. One of the largest festivals is held on August 15th in Sault where lavender is turned into bouquets and sachets as well as creamy honey, scented candles, aprons and even floats for the big parade.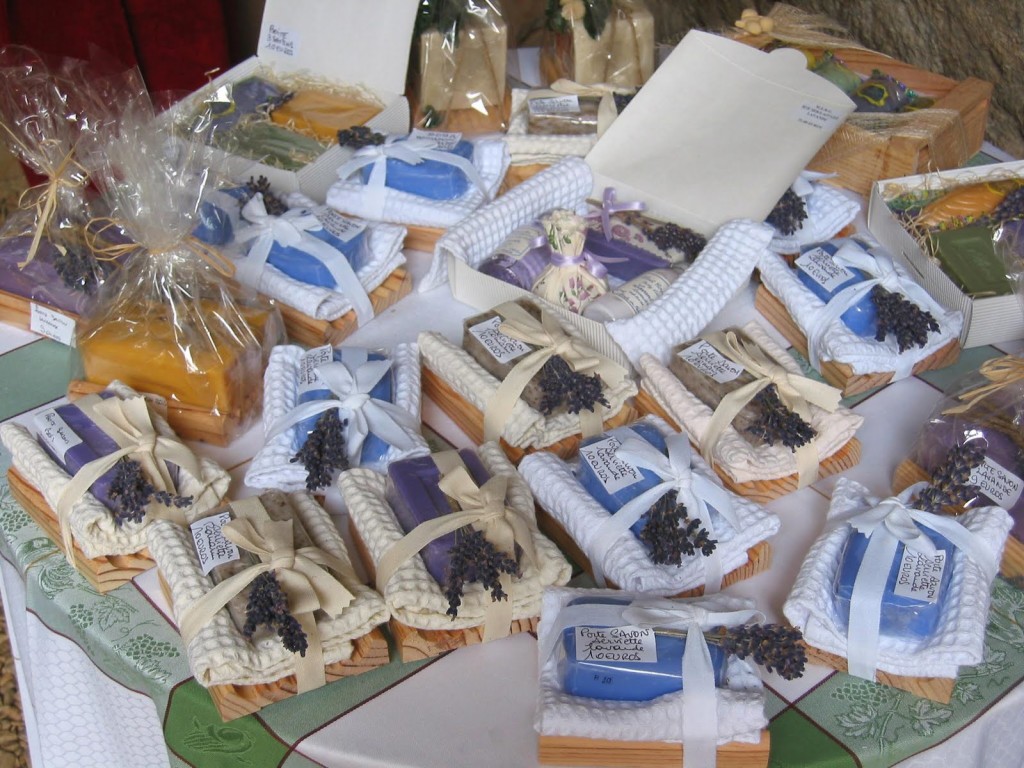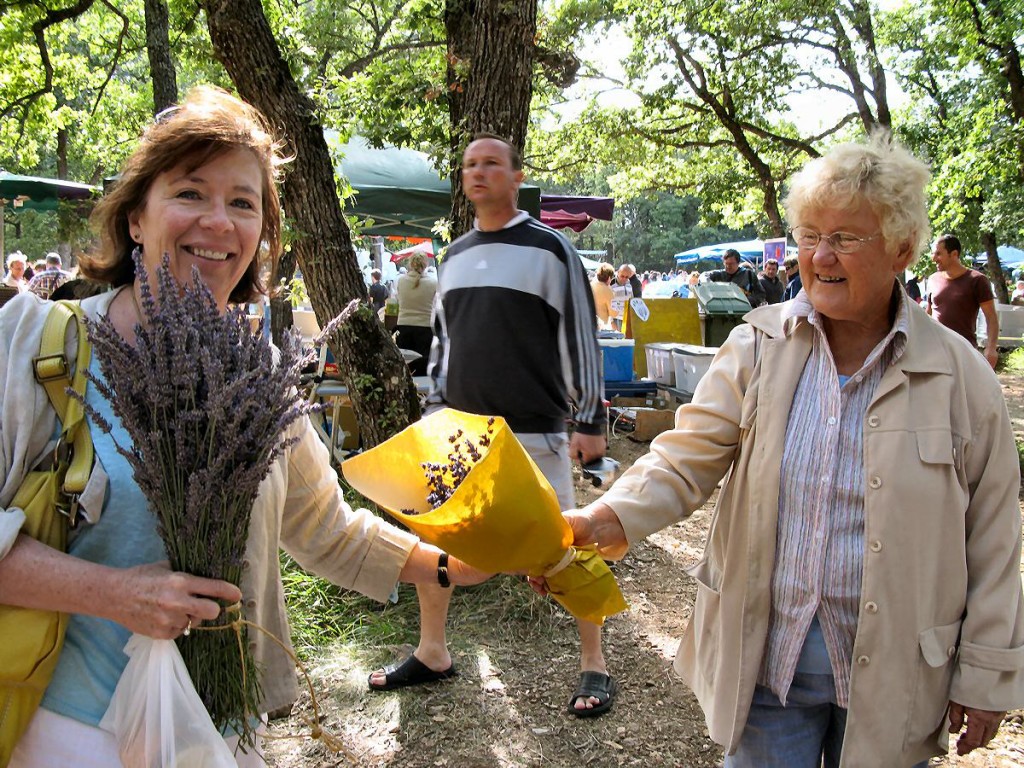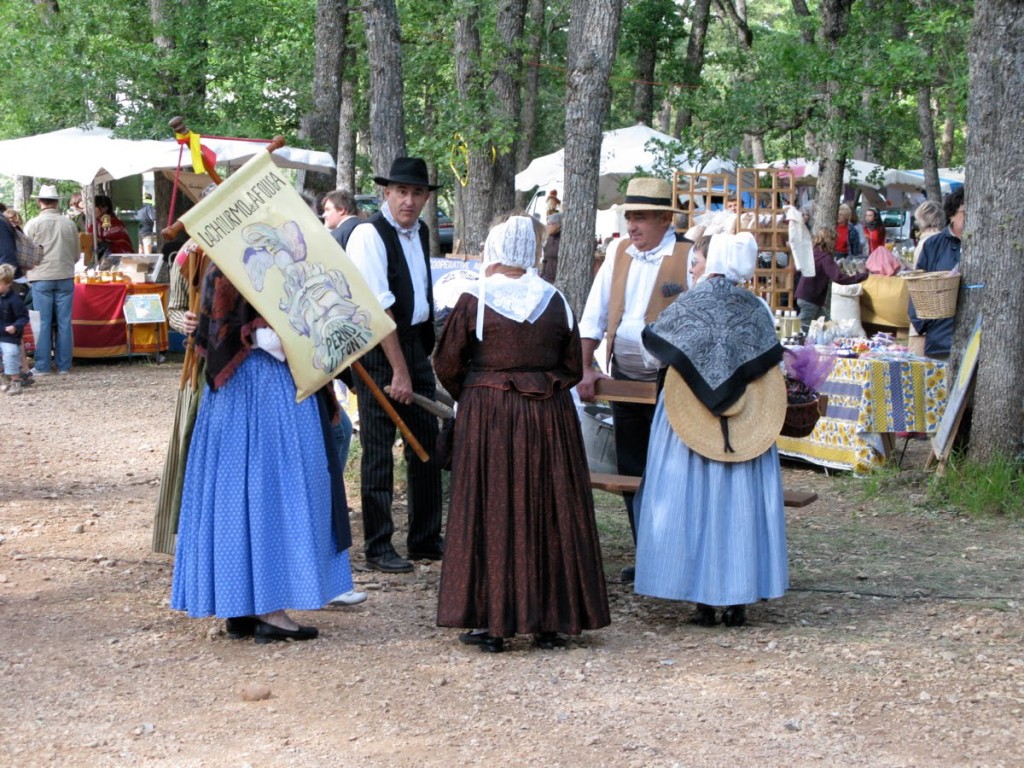 If a trip to Provence is not in your immediate future, you can easily grow lavender in temperate climates, as a perennial in warm, dry areas or as an annual nearly anywhere. If you don't have an open field to plant with lavender—a tiny pocket garden or even a small pot will do fine. Its color and fragrance will brighten your flower bed ( 
http://tinyurl.com/263me3o
).
Provence is inviting during every season for different reasons; but if you have a chance to visit the region in mid to late summer, follow the lavender-laced breezes and you will not be let down.