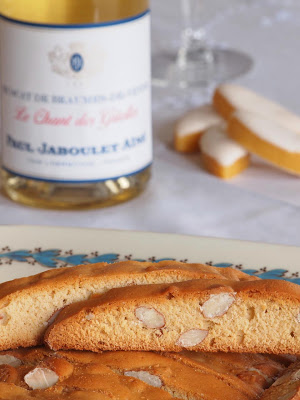 My advice is to find some Muscat de Beaumes de Venise and forget the confusion of what to call them!
What's in a name? That which we call a twice-baked almond-honey cookie by any other name would smell as sweet. Apologies to Shakespeare (who, by the way, would have called them biscuits!).
Part two of a three-part series about what you may find in Provence after the "big supper" (otherwise known as the "Gros Souper") on Christmas Eve. Called "the thirteen desserts of Christmas" or "Les Treize Desserts de Noël," tradition dictates that the desserts consist of dried fruit and nuts, fresh fruit, and sweets totaling 13 desserts to represent Jesus Christ and his 12 apostles at the Last Supper. The desserts are set out after Midnight Mass, all at once, on three layers of white table cloths (that represent the Holy Trinity). People who live in Provence know that everyone should take a piece of each dessert. (I don't know what happens if you don't, but I don't want to tempt fate.)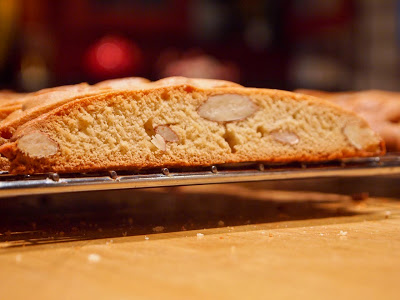 Photo: W.T. Manfull
I first learned about croquettes from Patricia Wells who, in her cookbook entitled
Patricia Wells at Home in Provence
, described them as "firm, dry cookies perfumed with the almonds and honey of Provence [that are] found at nearly every pastry shop in the region." I would add that they are found in nearly every market in Provence, too.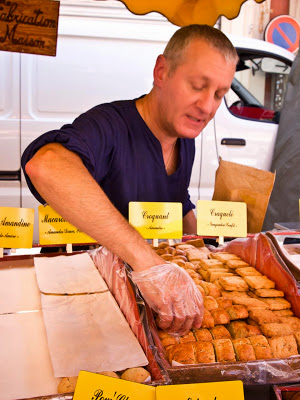 Artisan Biscuitier of Les Secrets de Lola at
L'Isle-sur-la-Sorgue market.  Photo: W.T. Manfull
Wells continues, "… [they] are dear to the Provençal heart." They have become dear to my heart as well and I've been making them for nearly twenty years now (basically since I got the cookbook).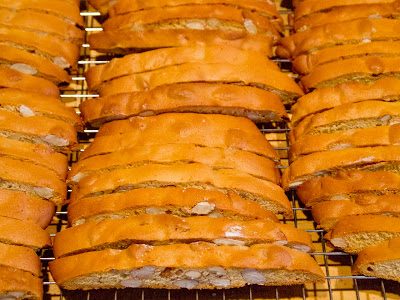 Photo: W.T. Manfull
As a specialty of the region, they can be enjoyed year-round, of course—alongside ice cream, crème brûlée, lemon
pots de crème
or dipped into a good sweet wine, a demitasse of espresso or a cup of tea—but, at Christmas time, they are a…
popular part of "
Les Treize Desserts de Noël
." (Even my good friend Lew, for whom dessert is defined as something chocolate, would choose to count croquettes as one of his thirteen desserts!)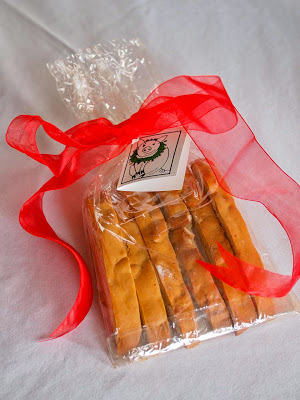 Photo: W.T. Manfull
Like calissons, they are easy to find in Provence but, unlike calissons, they are very simple to make (and all the ingredients are easy to get your hands on). One huge benefit to adding these cookies to your inventory of holiday treats is that they can be baked a month in advance and stored in an airtight container.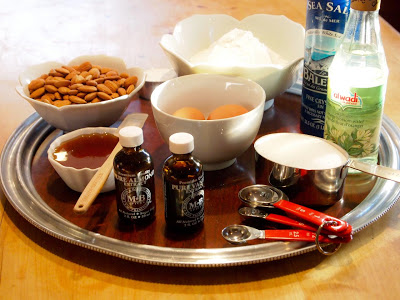 Mise en place for croquettes.  Photo: W.T. Manfull
I use a slight variation of Wells' recipe—I add a bit more flour as my dough is always too sticky to conform to the log shape suggested by the recipe. Propriety would suggest I can't print the recipe here—and I do wholeheartedly recommend owning the book as evidenced by the pages falling out of my own copy—but, in case you want to make them before you are able to purchase the book, you might be interested to know that I did find the recipe on Google Books as a
preview
of Wells' cookbook.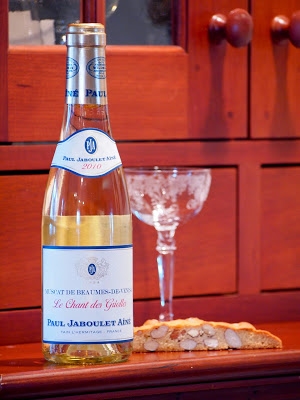 Photo: W.T. Manfull
Croquettes
pair sublimely well with another regional product—Muscat de Beaumes de Venise, a fortified wine or
vin doux naturel
—that hails from the Vaucluse village with the same name. It is north of Carpentras, tucked in to the southern base of the protective Dentelles de Montmirail. We have driven through this village while tooling around on our way to Vacqueyras and Gigondas but, for one reason or another, we have never stopped to do any tasting.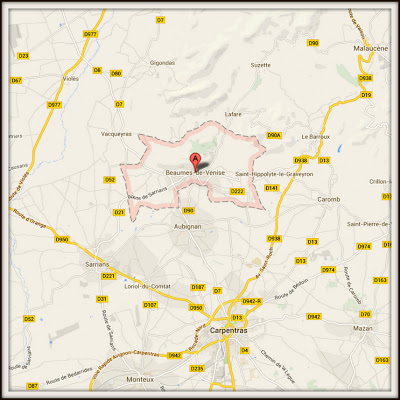 Beaumes de Venise is part of the Southern Rhone Valley wine region and one of the eighteen villages in Côtes-du-Rhône Villages Appellation that are considered "superior." Although red wine is produced here, it is the fortified sweet white wine made from the grape called muscat blanc à petits grains that the area is world renowned for. This wine was made here as long ago as 2000 years ago and while the Papal Court was in residence in their Avignon palace some 700 years ago, the wine was so popular that production had to be increased to meet demand. The area was given appellation contrôlée status in 1945.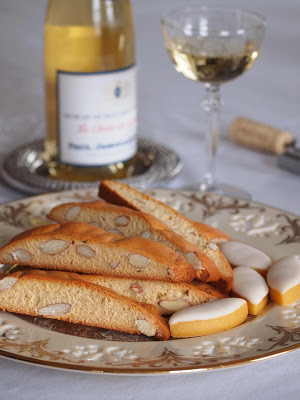 Photo: W.T. Manfull
The grape goes by several other names, including muscat de frontignan, and is used to make wines as diverse as Piedmont's sparkling Asti and Alsace's very dry muscat.
This muscat grape is a very aromatic, as the nose of our wine quickly revealed. The wine made from this grape tastes sweet, but pleasantly so. Honey, melon, stone fruits (especially apricots) and well, sweet grapes come to mind. It is delicate, not heavy or cloying. It is very appealing—one sip easily whets the palate for another. Its tastes linger in a nice, very long finish.
As a fortified wine, grape spirits are added, which stops fermentation and contributes to the inherent sweetness of the final product as well as ensures that the alcohol level reaches a minimum 15%. (As my friend Jerry points out, "Certainly 15% alcohol was indicative of a fortified wine back then, though [such an alcohol level] is not at all uncommon for red table wines today.")
In France, this wine is commonly served as an aperitif as well as a dessert wine. It also works well with savory dishes such as in its well-known pairing with foie gras or with melon and ham (both of which I can to attest to being excellent combinations). As an aperitif, the wine should be chilled; in the other cases, it should be below room temperature but not cold.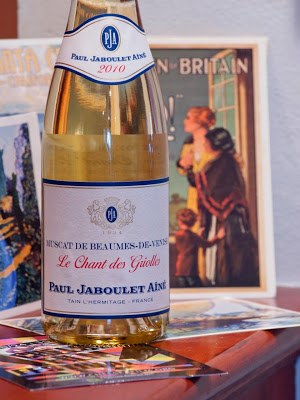 We selected a Muscat de Beaumes de Venise Le Chant des Griolles (2010) produced by Paul Jaboulet Aîné. Like many fortified wines, this particular one is available in half bottles, a perfect size because, as much as I like it, a little goes a long ways and, a properly re-corked bottle, refrigerated, keeps just fine for as long as a week. At $27, it may not sound like a bargain, but its price becomes much more appealing when compared to Sauterne.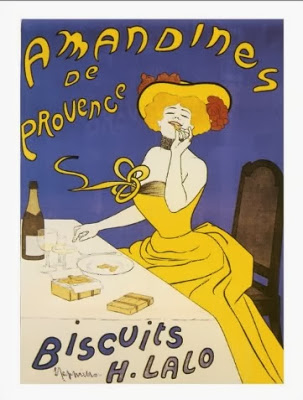 A vintage poster for Biscuit H. Lalo
I happen to really enjoy this wine with Provence's
croquettes
. My husband thinks the French would be horrified if they saw me dipping my croquette into and elegant glass of Muscat de Beaumes de Venise.   If you are invited to Christmas Eve dinner in Provence and you find
croquettes
(or
croquets
or
croquants
or biscuits….you know what I mean) among the thirteen desserts, I hope you are also offered a glass of this lovely wine. But, do dip discreetly
.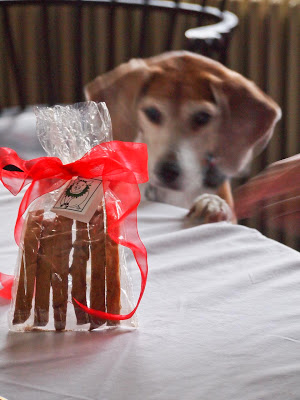 Everyone likes croquettes!