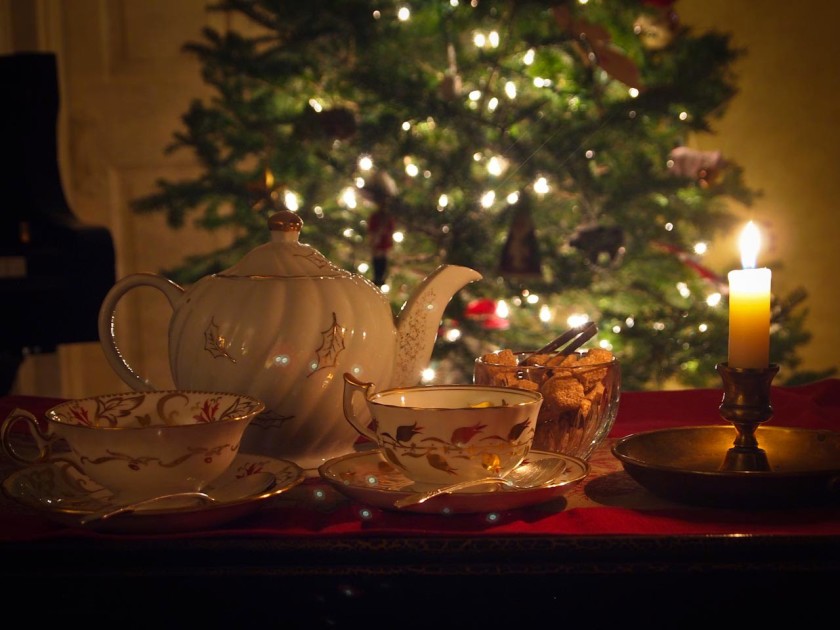 Part three of a three-part series about what you may find in Provence after the "big supper" (otherwise known as the "Gros Souper") on Christmas Eve.
There's simply nothing like a cup of tea to slow down the frantic pace of the holidays, soothe the harried nerves, and warm the seasonal spirit. We have been thoroughly enjoying Palais des Thés' No 25 limited edition collection of four blends of tea—black, green, rooibos, and white—each  flavored with orange peels, red rose petals, almonds, cloves, vanilla pods, and cardamom and a fifth tea, chai, a blend of black tea with those  No 25 spices as well as cinnamon, ginger, pink pepper and blue safflower petals.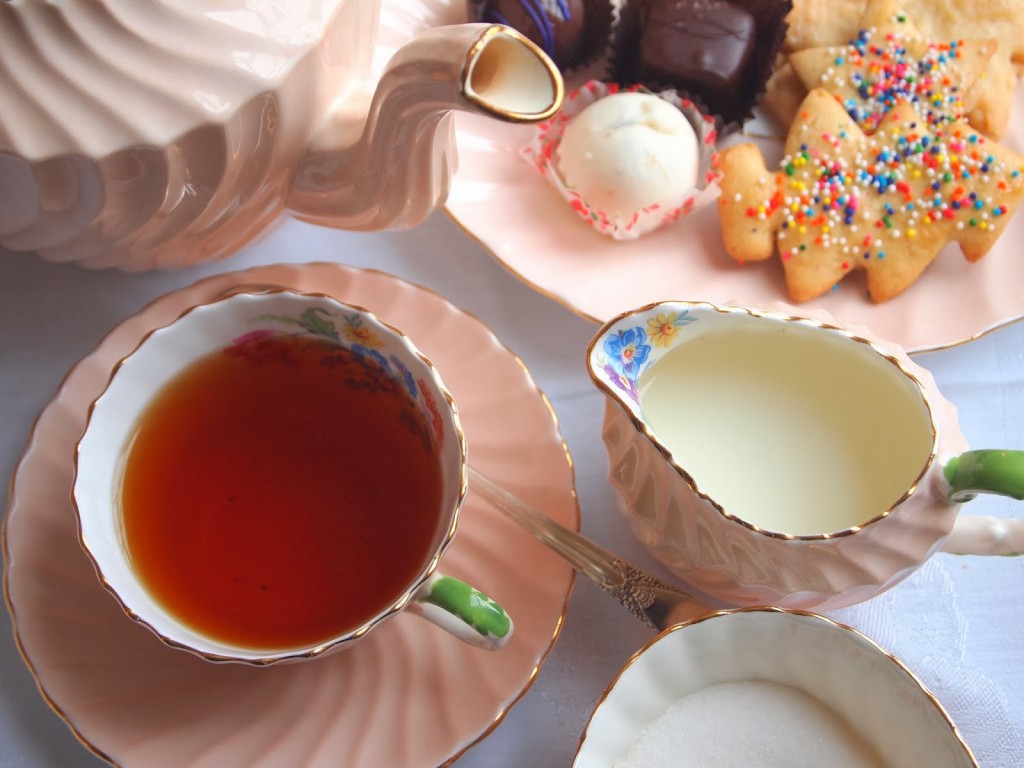 Whether paired with
calissons
,
croquettes
, chocolates, poached pears, or gingerbread—or all alone—these French teas are delicious. Any one of them would be welcome with the Thirteen Desserts of Christmas—
Les Treize Desserts de Noël
—at the close of the 
Gros Souper  
on Christmas Eve
.
It was in Lourmarin, my favorite village in Provence, that I was introduced to these exquisite teas from Palais des Thés.  Muriel Schott, who at the time owned Thé dans l'Encrier, a tea salon and book shop just a few doors down from our village house, only served teas from this French tea company.  I was a regular and must have tried every one listed in her booklet of teas.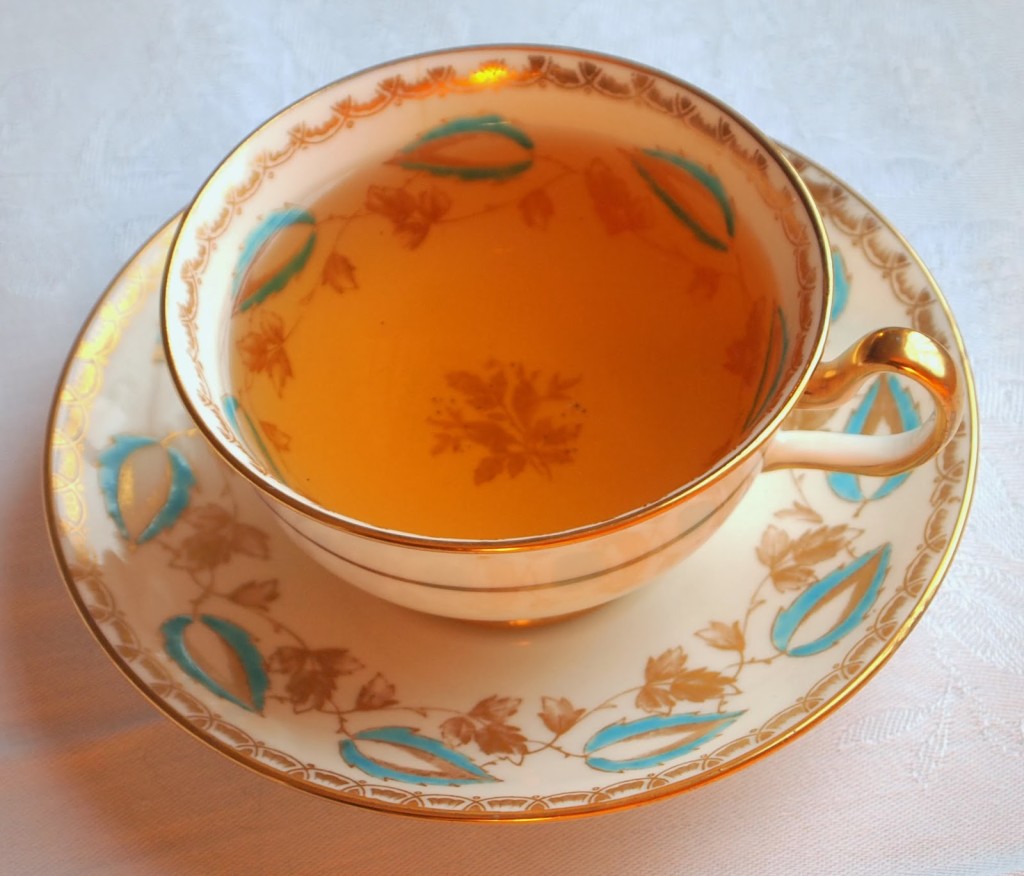 Muriel serves a perfect cup of tea.  A teapot filled with simmering water steeps the leaves in the strainer. The aroma of the leaves soon titillates the senses and whets the palate.  After a few minutes—depending on the type of tea—the strainer is removed and with a quick stir of the pot, it is ready to be poured.  Good tea should not be drunk too hot because its delicate flavors would not be fully enjoyed.
As a longtime fan of Earl Grey teas, I was immediately drawn to Thé des Lords tea, a black tea with a particularly salient bergamot flavor.  I could drink this tea all day long and, for years, I did.  I was religious about having it every morning.
On those hot summer days so familiar to those who travel to Provence in the July and August, Muriel made iced tea.  Perhaps she made batches with many different teas but I can only remember iced Thé du Hammam, a perfectly balanced green tea said to be "inspired by a traditional Turkish recipe" and "a moment of pleasure in a hot bath in Istanbul." We all love this tea and everyone I have ever introduced it to would implore me to tuck a bag or two in my suitcase (with his or her name on it!).  This was our daughter's first encounter with iced tea and, ten years later, it still sets the standard for her.
In the afternoon, I stretched my palate to include other teas…Īle Maurice, Margaret's Hope, Thé des Fakirs, Quatre fruits rouges, to mention just a few.  Eventually I met Big Ben and Grand Yunnan Impérial, both of which have recently replaced Thé des Lords as my go-to breakfast teas.  I love them with just a little skim milk.
I gradually began to realize that apparently Palais des Thés did not package a tea that I did not like. Well, okay, I am not a huge fan of Thé du Tigre, a smoky tea that, while not meant to be my favorite, is one of my husband's very favorites.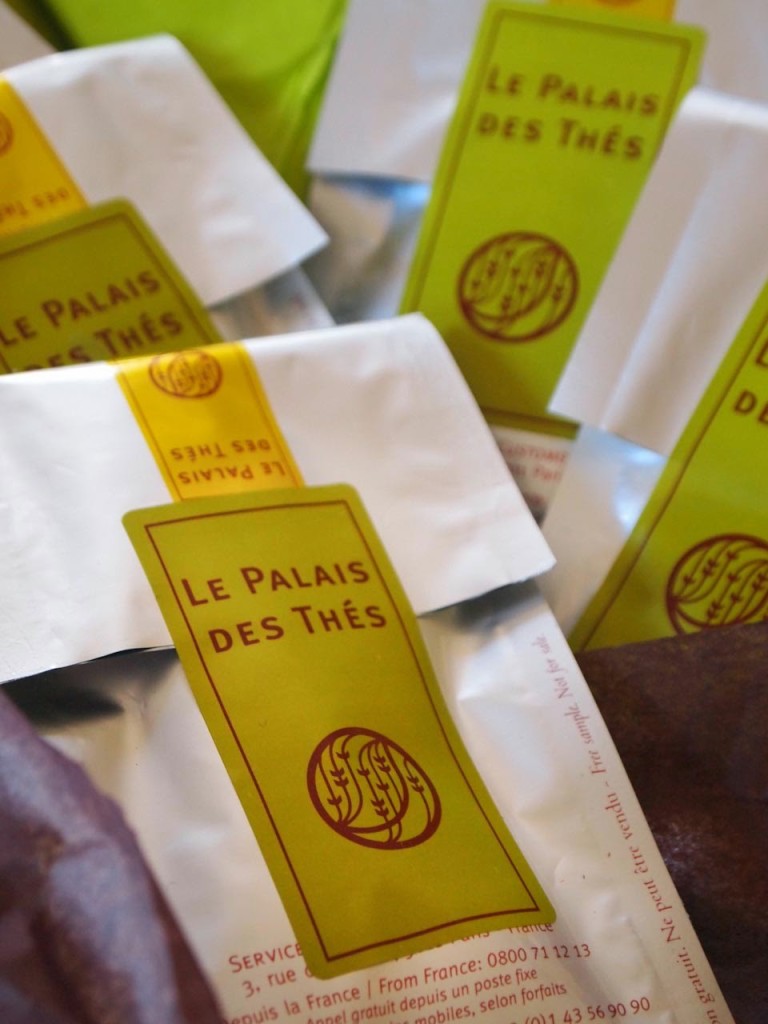 Palais des Thés was founded in 1986 in Paris by Francois-Xavier Delmas, a "tea-expert" known internationally for his passion for this beverage but also for the strong relationships he has been able to establish over the years with his suppliers, relationships said to be key in enabling access to the world's best quality teas, and for the code of ethics he and his team follow in their work with these suppliers.
From South Africa to China, Delmas has been visiting tea plantations for several decades in search of the finest teas, be they black, white, or green, all of which come from the same plant (Camellia sinensis), or red tea, known as Rooibos (pronounced ROY-bus) which comes from the Aspalathus linearis plant.   (The color of the tea stems from processing the tea leaves, a procedure that takes place at the tea plantation.  One of the most important processes—the one that leads to the tea's color—is fermentation, "a chemical reaction [carefully controlled by the tea planter] that takes place as a result of enzymes contained in the fresh leaf." Who knew that there is green "red" tea?! )
Schott sold packages of these teas, too, and I would fill my suitcases with my favorites and hope that the sealed packages would last until we returned to France.  Inevitably, our supply did run dry and we would have to go online to order more.  At that time, orders were processed and mailed from France. Our order would arrive, meticulously packed with lots of tissue, in a lightweight brown cardboard box, our address hand written in beautiful French cursive, a fin-de-siècle effect undoubtedly achieved with the expert use of a fountain pen.  The arrival of the package signaled a special tea time in our house.

Now, firmly into the 21st century, the good news is that one no longer needs to order his or her Palais des Thés teas from France.  You may order them stateside and, if you live in New York City, you can go up to 194 Columbus Avenue (between 68th and 69th Streets) or down to SoHo (156 Prince Street between West Broadway and Thompson Street) to taste and purchase these teas!  The Upper West Side shop offers around 80 tea blends and the downtown location has over 100 tea blends and tea classes! Wander into either store to sniff around, taste some tea, and chat with knowledgeable staff.  I have, and it is a real treat.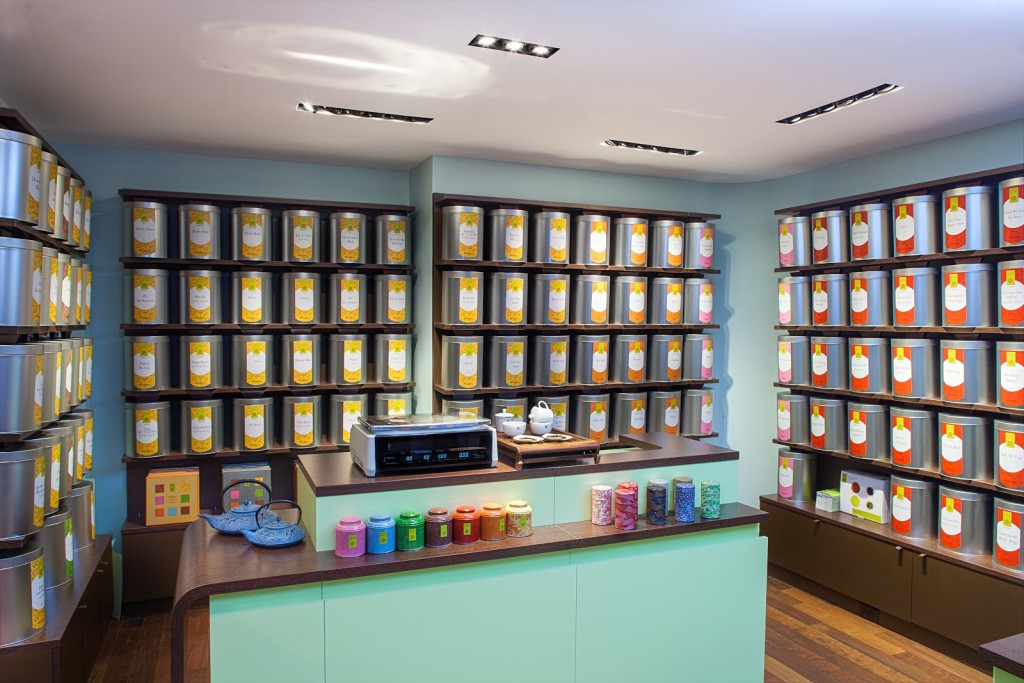 I know you learn about the production and tasting of tea in these classes but I wonder if you learn about food pairings.  I find it so interesting that Thé des Lords reportedly pairs very well with foie gras, duck, pigeon, roast beef, and lamb.  Who would have thought?  Private tea tastings are available too.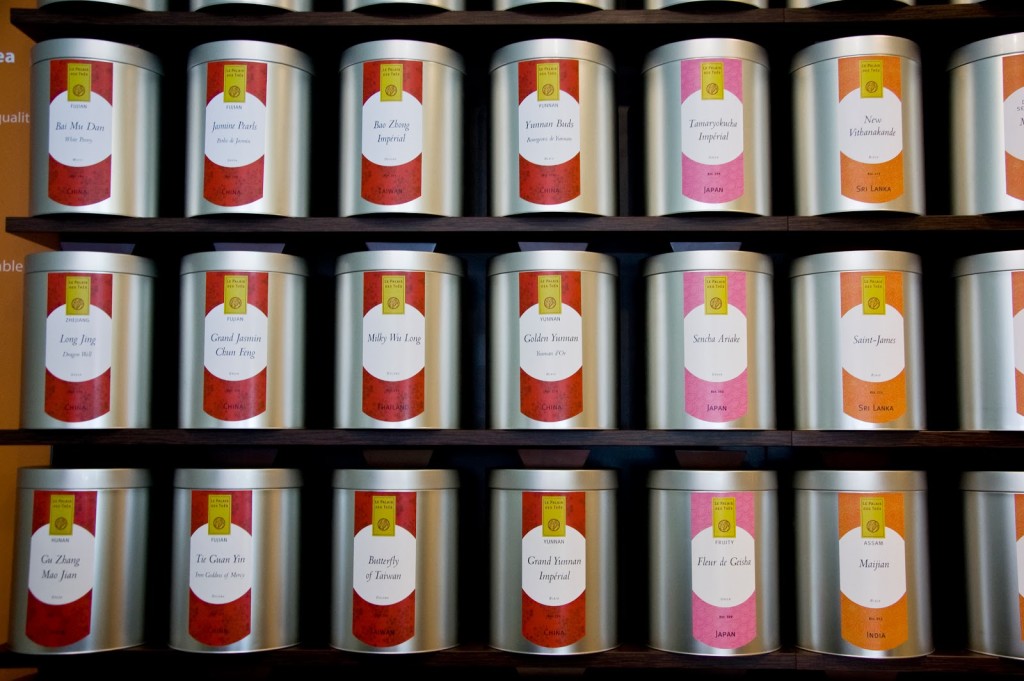 These two shops, recently opened and the company's first venture into the States, are overseen by husband and wife Cy and Aurélie Bessière.  And if tea courses through the veins of the next generation of tea aficionados, surely Ms. Bessière would benefit by being the niece of the company's founder, Mr. Delmas.
In Provence, there are shops in Aix-en-Provence, Marseille and Nice.  There are five shops in Paris and in many other cities in France and other parts of the world.
Back to the N
o 
25 collection, the teas are a limited edition—available only through the holiday season—so I encourage those who are interested in trying them, to visit a shop or
their website
soon.  (For those readers outside of North America,  please visit http://www.palaisdesthes.com/fr/ .) I liked them all, but I especially fancied the wonderfully well-balanced black tea.  For a light but very flavorful cup, go with the white tea—its clove flavor is less pronounced than the other teas and its vanilla taste is a little stronger.  Green tea drinkers should try that tea—it is very smooth and has just the right taste of cloves.  The Chai tea, not typically a favorite of mine, might be the best chai I have ever had—its spiciness is pleasantly subtle. The Rooibos tea is a very soothing noncaffienated tea.
Tea has been around for a long time—perhaps as long as 5000 years—and it appears that it was first drunk in China.  Today it is enjoyed around the world as the second most popular beverage (water is most popular).
Palais des Thés teas are my favorite teas–thanks, Muriel, for introducing me to them!  What are your favorite teas? Put the kettle on and drop me a line!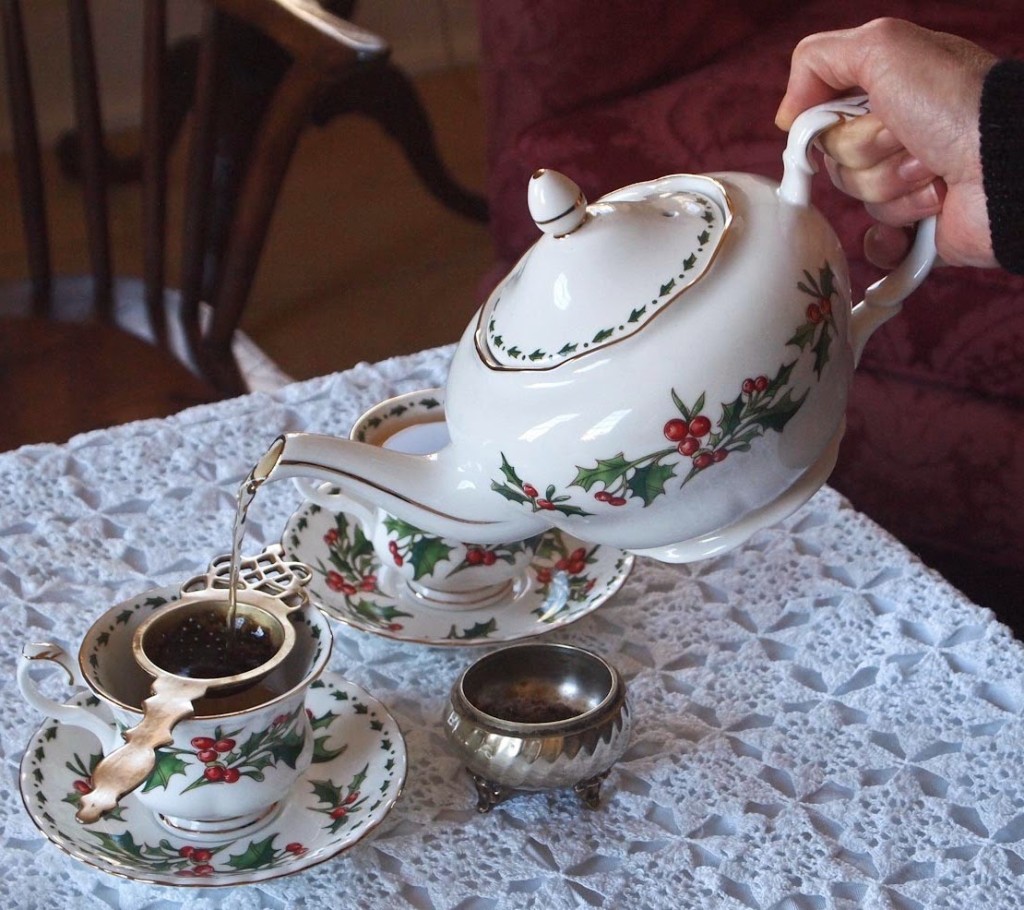 A correction regarding the plant from which Rooibus tea comes was made on December 27, 2013.