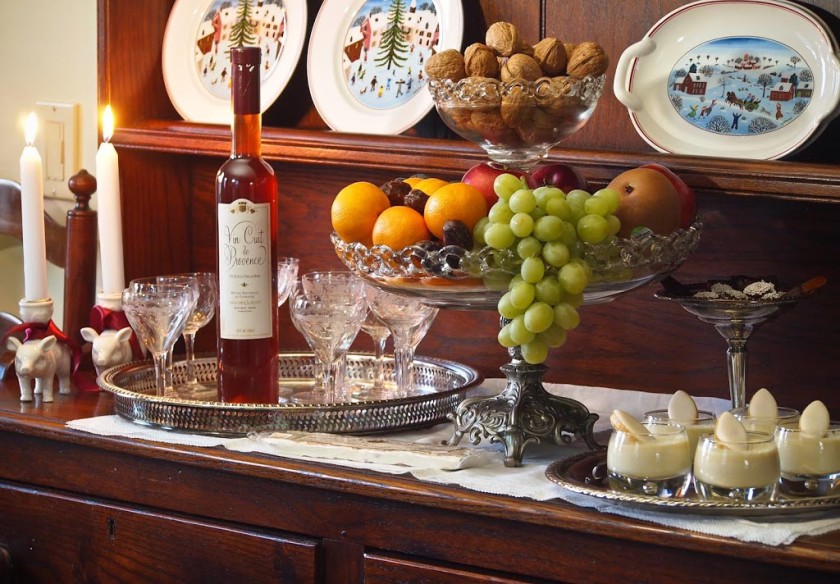 Regular readers of
The Modern Trobadors
know that thirteen desserts—
Les Treize Desserts de Noël
—are traditionally served on Christmas Eve in Provence, after the big supper—
Le Gros Souper
—which, actually, is more lean than "big" with its emphasis on herb-laced broths, seafood, and vegetables rather than meat. Ah, dear
TMT
reader, you can probably recite to your clueless friends what the thirteen desserts consist of and why there are thirteen. You know that they might not be set out until after Midnight Mass, but that they will be served all at once, on three layers of white table cloth. (Okay, tell your friends why there are three.)But, you may not know much about the "cooked wine" or "
vin cuit
" that is traditionally served with the 13 desserts and you may not know about this particular variation on one of the traditional thirteen desserts. Both the
Vin Cuit de Provence
from Mas de Cadenet and the
Panna Cotta aux Calissons
from Éric Sapet's Cucuron restaurant, La Petite Maison, are so fantastic, you are going to want to know about them! So, there may indeed be a reason—more than one—to read this article. If you know all about the famous Thirteen Desserts of Provence, skip the next section.
The Tradition of Les Treize Desserts de Noël
Centuries-old tradition dictates that the desserts consist of dried fruit and nuts, fresh fruit, and sweets totaling thirteen desserts to represent Jesus Christ and his twelve apostles at the Last Supper. The desserts are set out after Midnight Mass, all at once, on three layers of white table cloths (that represent the Holy Trinity). People who live in Provence know that everyone should take a piece of each dessert (and not wanting to tempt fate, I always do).
Although the specific desserts may vary by regional or family tradition, it seems that every table is graced by the "four beggars" or "les quatre mendicants," which represent the four monastic orders. Look for walnuts (or hazelnuts) representing the Augustinians, almonds for the Carmelites, raisins for the Dominicans, and dried figs for the Franciscans. Dates, standing for the foods from Christ's homeland, and prunes may also be found under this category of dried fruits and nuts.
The fresh fruits likely comprise tangerines, oranges, apples, pears, and grapes. The grapes, in centuries past, were carefully selected by grape farmers and stored on straw in cold barns or cellars. The tangerines, probably from neighboring Spain, are particularly sweet this time of year and, although introduced a little over a hundred years ago, have become an integral part of the Les Treize Desserts de Noël. Hundreds of years ago, long before Hédiard and Whole Foods, these highly coveted fruits were anticipated with much excitement on Christmas Eve.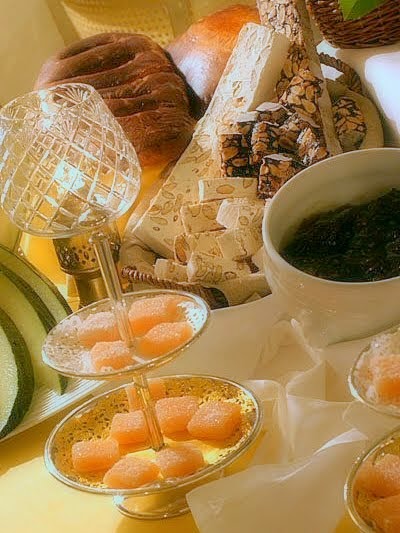 The sweets always include white and black nougat—nougat blanc and nougat noir au miel—said to symbolize good and evil or, alternatively, to represent the shift from long bright days to long dark days as marked by the winter solstice. (The classic nougat hails from Montelimar, where it is AOC protected.) The table probably also includes fougasse or pompe à huile (a slightly sweet bread made with olive oil and perhaps orange flower water). Long ago, the dough was made at home and taken to the village baker to be baked in his oven. In some locales, pompe à huile may be served with a jam made from the grapes harvested from local vineyards. It's widely understood that the bread should be torn apart (rather than cut) in order to protect one's assets. Candied citron, quince paste (pâte de coing), spice cake (pain d'epices), calissons, and croquants may also be parts of this impressive spread.
Variation on the Sweet Theme of the Traditional Thirteen Desserts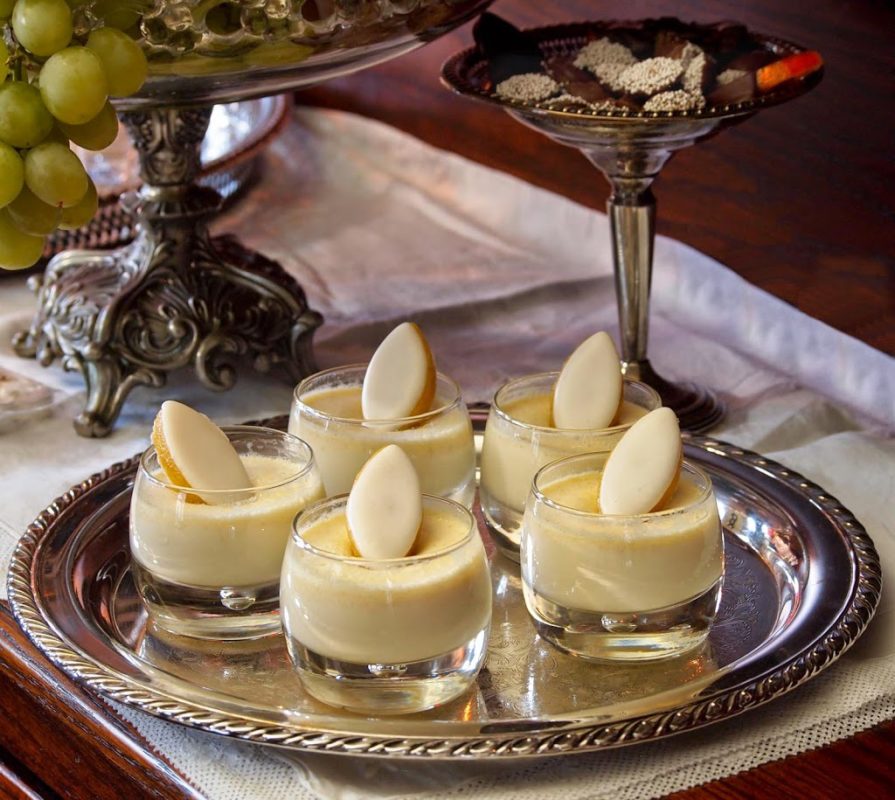 Even died-in-the-wool traditionalists may look for variations on the same theme (and may even veer away entirely from tradition, which is the case with the bûche de Noël). For our Christmas Eve dessert this year, I turned to Éric Sapet, chef and owner of La Petite Maison in one of my favorite villages, Cucuron, just a few kilometers from Lourmarin (where regular TMT readers know I like to hang my hat). Although both my husband and my daughter—on separate occasions—have had dinner at La Petite Maison, I have not…for a long while after Sapet was awarded a Michelin star in 2009, it was nearly impossible to book a table without significant advance notice. My husband, who had dinner before the coveted star was bestowed, and my daughter, who had dinner post-star, both raved about their respective meals. Now, open tables are not as difficult to come by, but reservations are still definitely recommended…sadly, I have yet to go, but I do have a copy of his cookbook, Éric Sapet: À La Petite Maison de Cucuron
. And it was to this source that I turned for a variation on the sweet theme of the traditional thirteen desserts.
Sapet devotes a significant section of his book to the thirteen desserts, each of which he infuses with his culinary magic. It was hard to choose one but his "Panna Cotta aux Calissons" really spoke to me. I love calissons!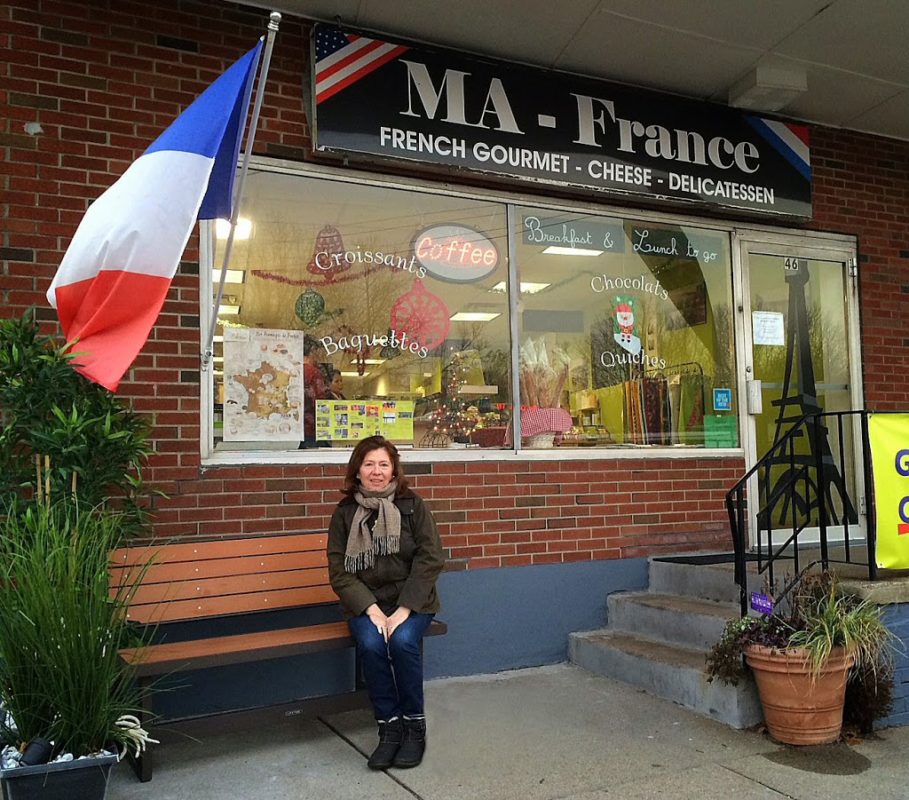 This year, like last year when I wrote a post about calissons, we ventured south from Portsmouth, New Hampshire toward Boston for these delectable almond-shaped pastries of ground almonds, candied melons, and sugar topped with a bright white royal icing. However, this year we veered west to Lexington, Massachusetts, home of "MA-France" This small store was opened less than two years ago by husband-and-wife team, François and Cecile, who spoke very little English when they arrived from France to welcome their first customers in 2013. Today, it is chock-full of wonderful French-inspired products, many of which are shipped directly from France, and is doing a thriving business (if our observations last weekend are any indication!).There, we found Calissons d'Aix—and lots of other difficult-to-find, gourmet products our cuisine simply demanded we buy—and we enjoyed some of the best savory crêpes we've ever had (including in France!). François and Cecile are charming and we will definitely be going back to MA-France in Lexington to learn more for an upcoming TMT article.
Sapet's panna cotta recipe is a blend of half-and-half (crème fleurette), gelatin, and ground calissons—if you would like the recipe, drop me a note as I would feel a little cheeky publishing his recipe online without his permission (which, as I go to post this, I am still trying to obtain). Sapet's Panna Cotta aux Calissons was just scrumptious and whether you are serving thirteen desserts or one, I highly recommend it.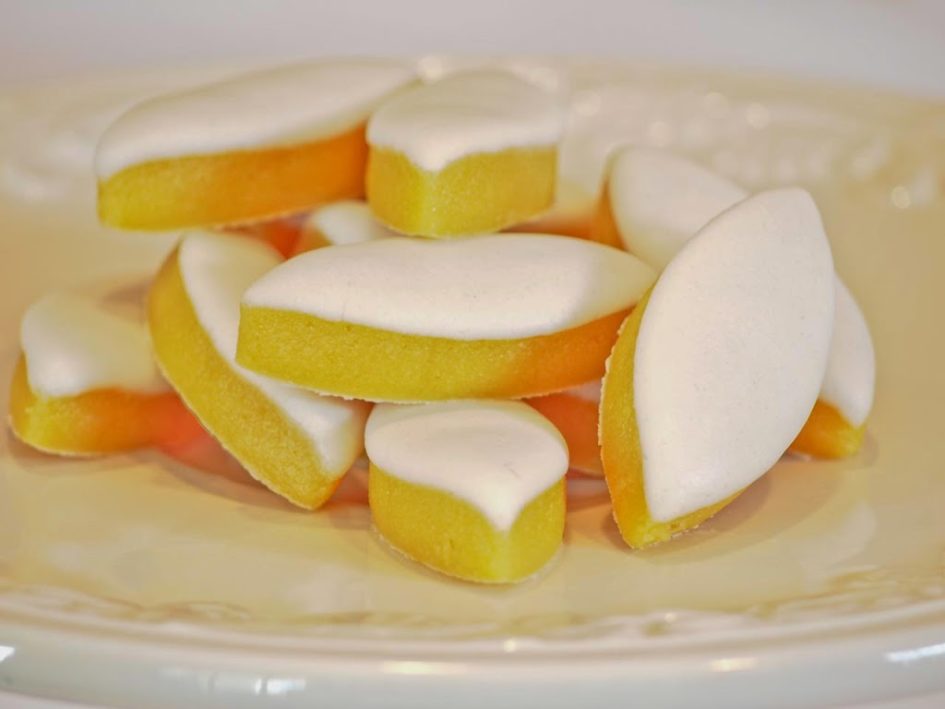 The Tradition of Le Vin Cuit de Provence

Vin Cuit is a "cooked wine" that is traditionally served during the Christmas season in Provence.
Although most of this holiday dessert wine never makes it out of the small villages in which it is made, a handful of wine producers in Provence are dedicated to making enough to sell to a wider audience. The best one I have ever tasted is produced by Mas De Cadenet—a 200-year-old estate that lies at the base of Mount Sainte-Victoire where vin cuit originated—and is now available in the US. It just arrived…in time for the holiday season!
Made from a blend of the juice from Rolle, Grenache, Cinsault, and Syrah grapes, this must is cooked in a huge open cauldron over an oak fire until it is reduced by about half. It is then put into vats for a long fermentation and then into old oak barrels where it is aged for two years.
The result—for Mas de Cadenet's vin cuit—is an elegant dessert wine with a gorgeous, deep golden amber color; intense and complex flavors from the first wave of aromas to the lingering finish; and a silky mouthfeel. (I can't say the same for all the vin cuits I have tasted!)
To learn more about vin cuit—how it is made, what other traditions are associated with it, what other foods it is traditionally served with, and where to buy it—watch for an upcoming article in Provence WineZine.
Provence's Thirteen Desserts
Whether you are serving your own Treize Desserts de Noël et vin cuit or lucky enough to be in Provence this time of year and really lucky to receive an invitation to Christmas Eve dinner—a traditionally family oriented event—I hope you enjoy this centuries-old tradition. May it remind you of the meaning of Christmas and the importance of tradition.