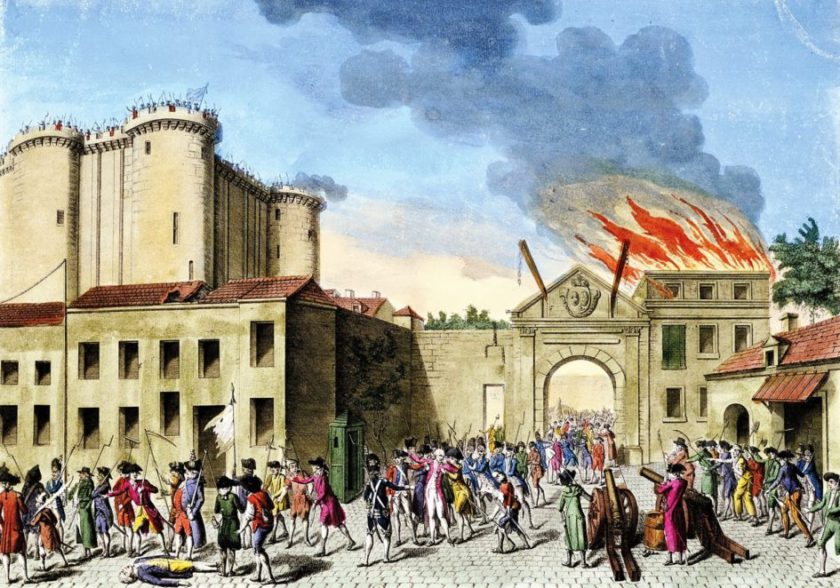 Le Quartorze Juillet, also known as La Fête Nationale or, especially in English-speaking countries, simply Bastille Day, is next Sunday.  July 14th is a French national holiday that marks the anniversary of the storming of the Bastille (prison) in 1789 and the symbolic birth of modern France. To learn more about the history of this fête nationale, please see an earlier TMT post.
If you are lucky enough to be in France as you read this post, it will not be difficult to find a place to celebrate Bastille Day. Depending on where you are, there may be long parades, fireworks, airplanes decorating the sky with tri-color contrails, music, dancing, and communal dinners; but, no matter where you find yourself, there will be people making merriment. This is a holiday the French take very seriously…and celebrate passionately!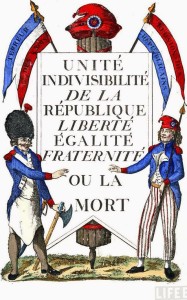 In Paris, where, in 1974, I first celebrated Bastille Day, I will never forget the huge numbers of manifestly proud French people—of all ages—that lined the Avenue des Champs-Elysées, waiting for the parade of tanks, military troops, and bands that would eventually roll down the famous avenue. From the Place de La Concorde to the Arc de Triomphe de l'Étoile, hundreds of French flags were flying. Later, planes thrilled the crowds with red, white, and blue designs in the sky, and much later, fireworks lit up the Tour Eiffel. For my 20-something eyes, this was "pomp and circumstance" like I had never before witnessed and, for many years, would define that phrase for me.
According to Virginie Julien of the Office de Tourisme in our favorite Provençal village Lourmarin, there will be a dance with a DJ on the place Henri Barthelemy on the evening of July13th. In nearby Cadenet, there will be fireworks on the night of 14th and in La Tour d'Aigues, there will be a dance and fireworks on the evening of the 14th.   We always have fun at  celebrations organized by the small villages.  In Lourmarin, for example, expect to see all ages dancing the night away, with the village's Mayor Blaise Diagne taking a central role.
If you are in France now and would like to learn more about Bastille Day festivities near you, click here for more information. Make sure to confirm the date as many of the small villages, such as Lourmarin, celebrate on the 13th.
If you are in the States, three large Bastille Day celebrations I am familiar with are in Boston, New York, and Portland, Oregon.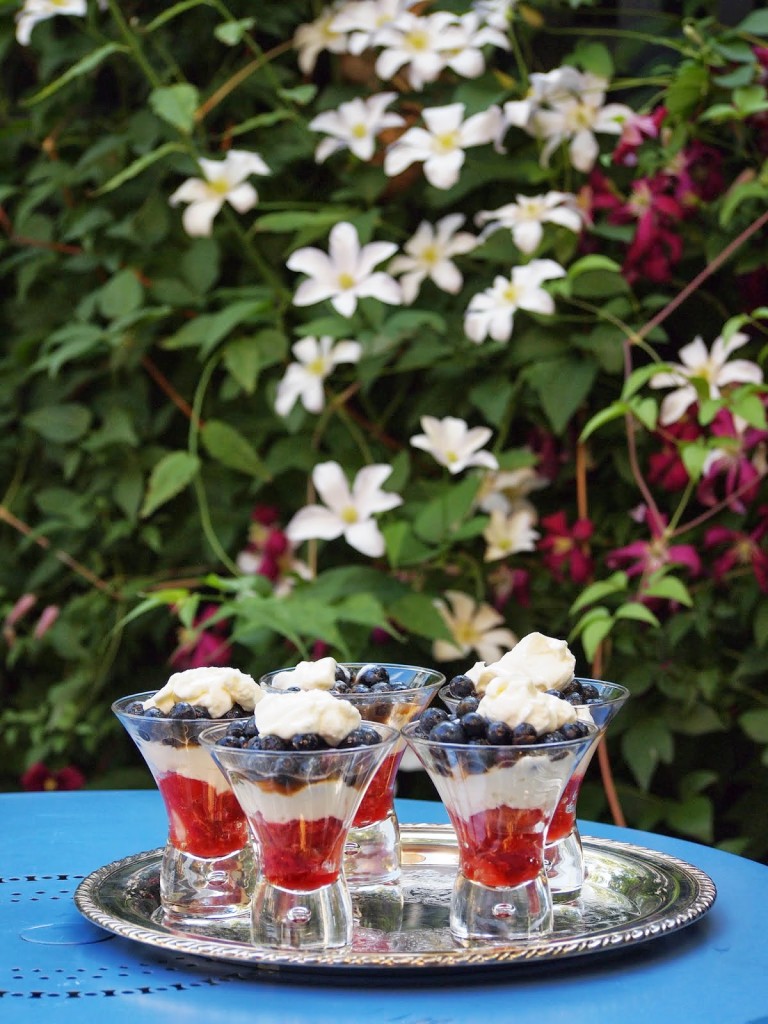 We will be celebrating at our house, too. Regular readers will guess (correctly) that we will be opening some rosé and, in case you would like to know what we will be serving for dessert, I have included our recipe for Red, White, and Blue verrines. This dessert is festive, easy, really good, and thematic (that is, red, white, and blue!).
Wherever you are, take a moment to toast to France, a country that, over two hundred years ago, helped our own country, Americans, establish its independence.
Tchin-tchin ! À votre santé, nos amis en France!!
Red, White, and Blue Verrines* of Berries with Mascarpone Cream
1 cup (8 oz.) mascarpone cheese
1/3 cup well-chilled heavy cream
¼ cup sugar
1 pint small strawberries, quartered
1/2 pint raspberries
1 pint blueberries
4 tbs orange marmalade
4 tbs Cassis (or other dark berry liqueur)
Place raspberries and quartered strawberries in one bowl and blueberries in another bowl.
In a small sauce pan, mix together marmalade and liqueur, simmer, and stir until reduced by almost half. Pour about half of the liquid over each of the bowls of berries and carefully stir to coat the berries.
In an electric mixer (with a whisk attachment) beat mascarpone, cream, and sugar until stiff peaks may be formed.
Layer each verrine with strawberries/raspberries, then mascarpone, and, finally, blueberries. Take care to create layers that are straight (so that they resemble the tri-color French flag). Chill until ready to serve. Allow verrines to set out briefly before serving. Top with a dollop of mascarpone or whipped cream.
Makes 6 servings, depending on the size of your verrines.
This recipe was adapted from a Gourmet (July 1998) recipe for "Berry Tart with Mascarpone Cream."
*Verrine is a relatively new word, not even found in my online Larousse dictionary. It is pronounced like "vair EEN." Undoubtedly derived from verre, the French word for glass, verrine is probably the result of a union between verre and another French word, terrine, which refers to a mixture of meat, fish or vegetables, usually prepared in layers in a loaf shape. As used in contemporary culinary circles, verrine refers to layered dishes—sweet or savory—served in small clear glasses of any shape. A verrine can be any part of the meal—an amuse-bouche, an appetizer, a salad, a vegetable, a main course (or more likely the main course may comprise a selection of verrines), a dessert (the course in which a verrine has its longest history)—or the whole meal may be served as verrines.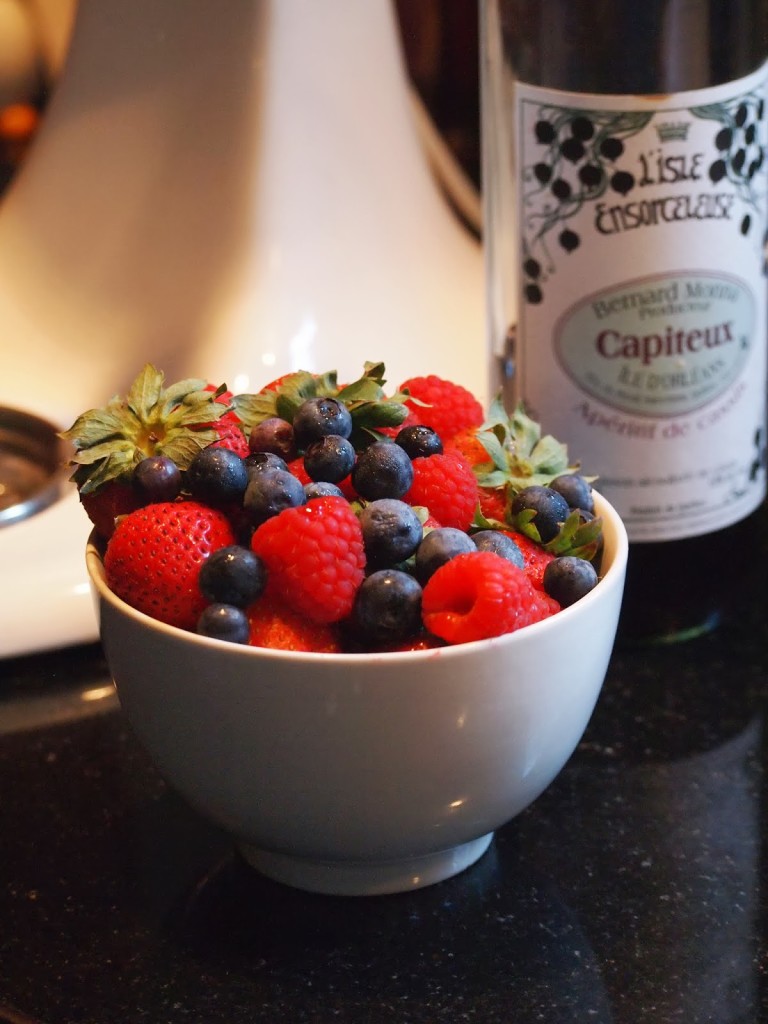 We have a few boxes of the verrines pictured in this post left for purchase.  Please contact us if you are interested.
Other related TMT posts you might be interested in reading:
'TIS THE SEASON FOR VERRINES DE NOËL!
ROSÉ, WHITE, AND BLUE ON BASTILLE DAY
14th OF JULY — LE QUARTORZE JUILLET — LET'S CELEBRATE WITH A BASTILLE DAY DINNER PARTY