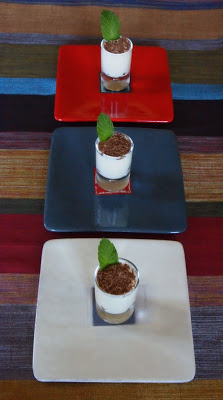 Having entered the season in which we all eat, drink and endeavor to be merry, I would like to introduce you to verrines, a culinary concept that, in its own right is simply captivating but one that may be especially welcome during our annual holidays of overindulgence. (Forgive me, those of you who already know verrines!)
I made my first acquaintance with verrines in the summer of 2008. At least, I think I did, but Towny insists we enjoyed them as early as 2001 in Édouard Loubet's Michelin-starred Moulin de Lourmarin (sadly, now closed). This time around, we were in Roussillon, the Provençal city best known for its fabulous ochre-colored cliffs, in a small restaurant called La Maison Tacchella. It was definitely here that those small attractive glasses—filled with layers of color, texture, and taste—first caught my attention. Perhaps it was because the menu had referred to them by a particular name—verrines—or perhaps it was because David and Mark, being the foodies that they are, immediately noted the interesting serving of the two small salads that accompanied my smoked salmon and made them a fascinating subject of table conversation.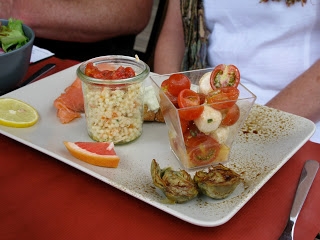 Verrines at La Maison Tacchella
No matter why, the small glasses of savory goodies—a salad of Israeli couscous and another of tomatoes, mozzarella, and pesto—were firmly etched in my food consciousness that day. They were exquisite: attractive in presentation, appealing in their uniqueness, and just the right amount of food. It was love at first sight—and first bite! I was hooked! We looked for
verrines
on all the menus we saw for the rest of our stay in Provence and David, who was already familiar with…
them as he will explain in an upcoming post (December 24th, 2011) on
Cocoa & Lavender
, created them more than once for our table at home in
La Bonbonnière
, our apartment in Lourmarin.
The word, verrine,is a relatively new one, not even found in my online Larousse dictionary. It is pronounced like vair EEN. Undoubtedly derived from verre, the French word for glass, verrine is probably the result of a union between verre and another French word, terrine, which refers to a mixture of meat, fish or vegetables, usually prepared in layers in a loaf shape. As used in contemporary culinary circles, verrine refers to layered dishes—sweet or savory—served in small clear glasses of any shape. A verrine can be any part of the meal—an amuse-bouche, an appetizer, a salad, a vegetable, a main course (or more likely a selection of verrines may comprise the main course), a dessert (the course in which a verrine has its longest history)—or the whole meal may be served as verrines.
Verrines became a dining sensation in Paris in early 2000s when they were (arguably) first introduced by high-end Parisian chefs. But, their appeal was so captivating that their popularity quickly spread from Michelin-starred venues to chic bakeries and then to bistros and cooking shows, magazines, and cookbooks with names like, "Verrines: Apéros et Gourmandises." A quick Google search will yield pages of French sites devoted to verrines, including "Verrines de Noel." In fact, just as they are beginning to make their way to the States and Canada—still, they are rarely seen on menus—their popularity may be starting to wane in Paris.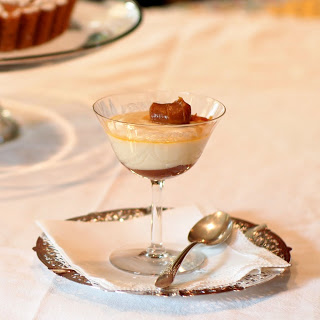 Black Bottom Butterscotch Pudding
In the States and Canada, verrines may blend into the current small plate craze or tasting menu sensation, culinary movements that focus on small portions of interesting preparations that are often served with wines to complement each serving, and both of which have been met with both praise and satire.
Verrines can fit in anywhere. They may be served for breakfast, lunch, or dinner. For breakfast, think simple: layers of granola, fruit, yogurt, and nuts. Or, imagine Eggs Florentine in layers: a layer of chopped cooked spinach, followed by chopped soft-boiled egg, and topped with a dollop of Hollandaise sauce and a wedge of English muffin. For lunch, think cold soups or a chopped salad in layers. For dinner, let the imagination go wild: your favorite meatloaf topped with mashed sun chokes and mushroom gravy…hmmm.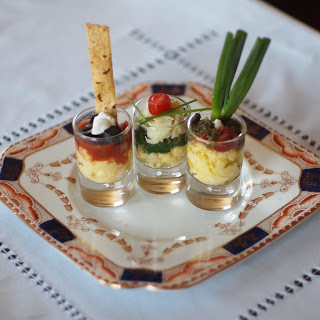 A trio of breakfast verrines – scrambled eggs with cheese and topped with
salsa and olives; spinach and artichoke hearts; or tomatoes and pesto
The possibilities are limited only by your imagination….and the number of small glasses you are able to conjure up.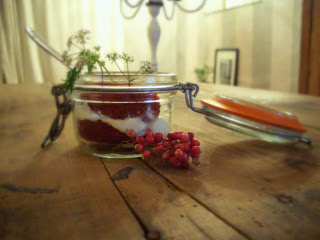 A small mason jar makes a great verrine! Photo: Pamela O'Neill
For our Christmas dinner, we will include a few verrines. We often begin with oysters on the half-shell—why not an oyster topped with our favorite sauce in a tiny glass (in some circles, this may be called an oyster shooter).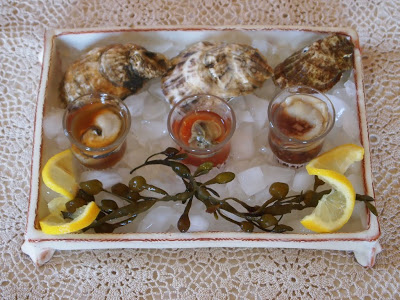 Three different types of oyster with Towny's mignonette, cocktail sauce and
Andalusian Orange Sherry Mignonette (from our friends, Heidi and Mark, at Vervacious)
A verrine of shredded raw beets in vinaigrette, topped with sour cream and chives would be a nice side dish.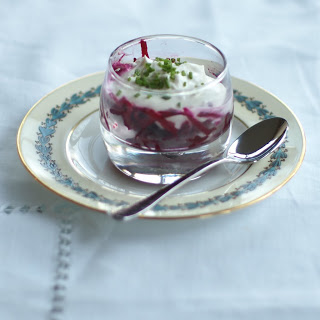 Shredded Beet Salad
A verrine of mashed potatoes with roasted garlic, topped with chanterelle mushrooms that were sautéed in butter is sure to be a big hit.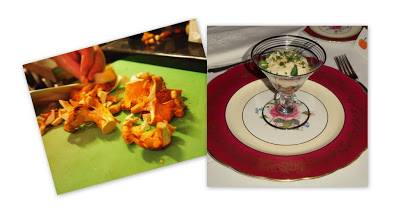 Chantarelle Mushrooms and Roasted Garlic Mashed Potatoes
Even that (in)famous Watergate Salad takes on a new life when cast as a verrine. I am never sure of what point in the meal this dish should be introduced, but gussied up as a verrine, it is sure to be a hit (or, at least a topic of conversation.)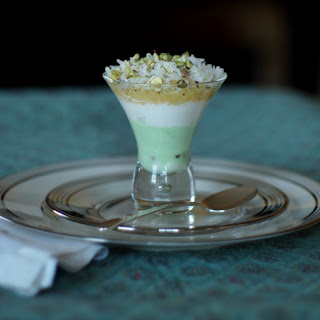 The Watergate Salad goes Hoity Toity
Dessert in verrinescomes naturally. A black-bottom butterscotch pudding with a layer of whipped cream and a dollop of crème caramel on top is pictured above. A good ol' standard, the parfait—perhaps a distant relative of today's verrine—is transformed into a verrine when served in a smaller glass, a size not so large that guests feel compelled to share one dessert! We will serve a white chocolate pudding, with a thin layer of whipped cream and topped with shavings of dark chocolate for dessert at Christmas.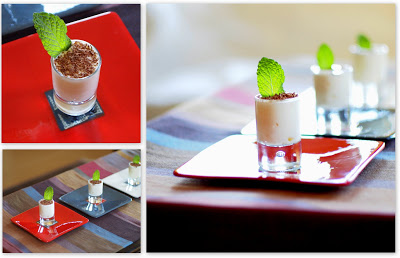 Whatever you fill your holiday
verrines
with, think festive: layers of color, texture and taste. Check out
Cocoa & Lavender
on December 24th for recipe ideas.
'Tis the season for verrines! Have fun, but beware: those tiny dishes can be addictive….You'll be planning your next menu of verrines just as soon as all those small glasses have been washed and dried!