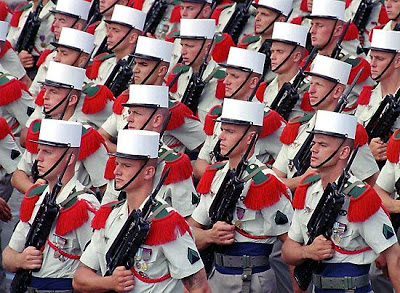 The complicated and factious situation in West Africa, now centered in the former French colony Mali, has been difficult to fully understand without a background in the long history and politics of West and North Africa, its people (especially the Tuareg) and the emerging network of terrorist groups, some of which are connected to al-Qaeda. Having a good map is helpful, too.
Beyond a recent acquaintance with the Tuareg, a vague notion of the location of Mali's famous Timbuktu, a mental image of Mali's neighboring countries, and an appreciation of the region's music, I didn't know much more. Articles I found helpful in elucidating this conflict, including why we should be concerned, can be found at the end of this post. The subject I want to focus on here, in this post, is the French Foreign Legion (FFL).
As just about everyone knows, two weeks ago, France sent troops to Mali in an effort to regain control of the northern half of that West African country, where cities had been overtaken by Islamic rebels months ago. But did you know that the French Foreign Legion (FLL) was deployed as part of the 2500 soldiers from the French army? And did you know those FFL soldiers—the exact number not disclosed—are part of the cavalry regiment that is stationed in the Provençal city of Orange?
Having always had a romanticized view of the Légion étrangère— handsome, virile men from around the globe who enlist so they can start lives anew, adopt a nom de guerre, forge a new identity, leave a wild past behind—I wondered if this was accurate.  What is this Foreign Legion?
The French Foreign Legion was formed in 1831 by King Louis Philippe. Its creation served two needs: it allowed France to funnel its undesirables (e.g., political enemies, criminals, social outcasts, and other generally disruptive sorts) into productive… service and reinforcements were needed for France's war in Algeria. It was and still is part of the French Army, but consisted of only a few French men and, by law, was not allowed to fight in France itself.
The Legion remained in Africa for most of the rest of the 19th century, protecting and expanding France's colonial empire, but troops were also sent to Spain, Crimea, Italy, Mexico, Madagascar, and, later, in France when, I guess laws were changed to permit in-country service.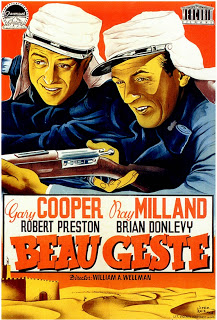 Popular Culture helped romanticize the FFL
During the 20th century, the services of the Foreign Legion continued to be in heavy demand, most notably in WWI where their reputation for bravery and espirit de corps reached its pinnacle, WWII, and the Algerian War.
In recent years, the Legion has been sent to Bosnia, Cambodia, Chad, Democratic Republic of the Congo, Republic of the Congo, Djibouti, French Guiana, Gabon, Iraq, Ivory Coast, Kosovo, Kuwait, Rwanda, and Somalia. Very recently, they were in Afghanistan, Ivory Coast, and Central African Republic.
Today, the FFL consists of over 7,000 enlisted men and non-commissioned officers. In 2008, volunteers came from 140 different countries. William Langewiesche, in a December 2012 article in Vanity Fair described a meeting with 43 recruits in training and reported that those particular recruits came from 30 different countries: Austria, Belarus, Belgium, Brazil, Britain, Canada, the Czech Republic, Ecuador, Estonia, France, Germany, Hungary, Italy, Japan, Latvia, Lithuania, Macedonia, Madagascar, Mongolia, Morocco, Nepal, New Zealand, Poland, Portugal, Russia, Senegal, Serbia, Slovakia, South Africa, and Ukraine.  Americans certainly join the Legion, too, although I was unable to establish the extent to which they are represented.
One can imagine that the language problem is huge, especially with so many of the drill instructors being from a country other than France. Sign language and French language lessons are very common.
Applicants to this fabled force must pass a serious of rigorous tests—physical, psychological, intelligence, medical, and motivational—as well as a background check and interview. While candidates with serious criminal backgrounds (e.g., murder) are now likely to be screened out, a large dose of "don't ask, don't tell" still exists to ensure that minor criminal backgrounds can be overlooked when the less-than-savory candidate passes the grueling tests. "A chance for a new life" is still part of the recruitment appeal. But, such a new life is only possible for men between the ages of 18 and 40. The starting monthly salary is 1043 euros (about $1400 USD) and includes "room and board" and 45 vacation days (and you get your own kepi blanc!).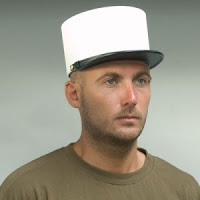 Kepi Blanc
If you are interested, there are 11 different recruiting centers in France and much more information on their website in thirteen European languages. You have to be willing to commit to the Legion for five years and, at the end of that time, you may apply for French citizenship.
The headquarters of the FFL is located in Aubagne, just located 17 km (11 mi) east of Marseille and is most known as the birthplace of well-known novelist and playwright Marcel Pagnol (1895–1974) who produced two of my favorite French films, Manon des Sources and Jean de Florette.
The Legion's only cavalry regiment is located in Orange, a city most known for its Roman roots which are revealed in its famous Théâtre Antique and Arc de Triomphe.
So, about that romanticized view of the Foreign Legion….In reality, there is nothing remotely romantic about going to war.  Langewiesche, in his Vanity Fair piece, wrote that "There is no other force in the world today that has known so much war for so long."
Nonetheless, the Légion étrangère maintains its allure.  A brand new start in life can be very appealing.
Articles and Photographs about the Mali conflict:
http://www.washingtonpost.com/blogs/worldviews/wp/2013/01/16/9-questions-about-mali-you-were-too-embarrassed-to-ask/
http://www.theatlantic.com/infocus/2013/01/the-conflict-in-mali/100446/