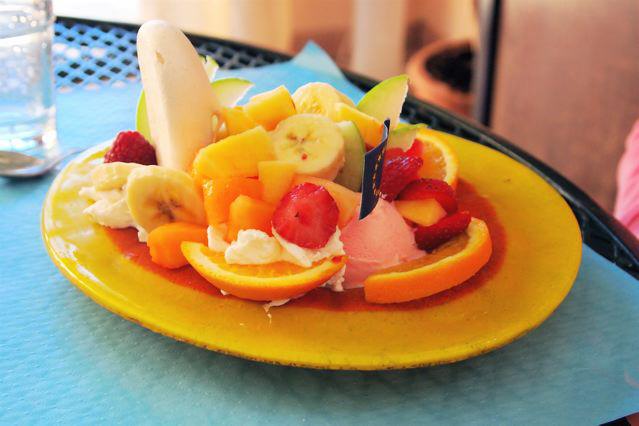 Over the hill, past the Château d'Ansouis, and through the vineyards and sunflower fields, you will find not the house of Little Red Riding Hood's grandmother, but the home of La Famille Perrière, where over sixty flavors of ice cream and sorbet are regularly offered to their very happy patrons.
Nestled into the Luberon hillside, about 5 km past Ansouis (and about 20 minutes from La Bonbonnière in Lourmarin), is L'Art Glacier. Customers who make the trek to this most unlikely location for an ice cream parlor are richly rewarded by the award-winning ice creams as well as the expansive views of a beautiful patchwork of various shades of green below the Saint Victoire range.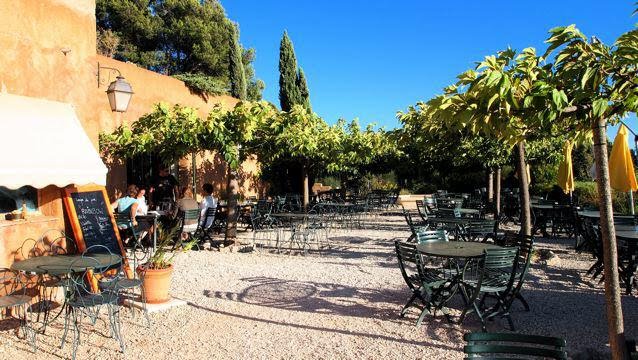 On our last vacation to Lourmarin, I made the trip twice. Introduced to L'Art Glacier by Jean-Walter Geiser, who is a regular, I am confident that we, too, will become regulars.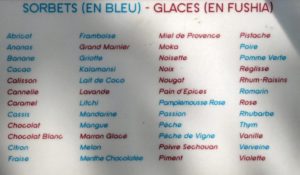 The extensive choice of flavors is initially overwhelming. Being a huge ice cream fan, I have been to many ice cream parlors—I am still lamenting the close of New York's Rumpelmayer's in the late 90s—but, I don't think I have ever felt intimidated by a list of ice creams.
Perhaps the proprietors recognize this possibility because customers are first greeted by a shorter list consisting of just the Parfums du Jour, handwritten on a blackboard. On the days we visited, there were fifteen flavors-of-the-day listed and included such enticing flavors as Caramel beurre salé, Figue, Tiramisu, Poivron rouge, Muguet, Prune and Pamplemousse. Others were downright curiosities like Tomate, Speculoos, and Coquelicot.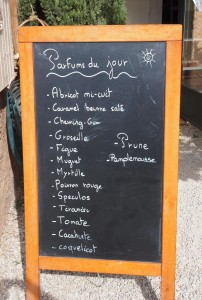 Another blackboard lists the flavors in the Coupe du Jour, one of several of distinctly unFrenchlike offerings. This one, called the "Rainbow," included six flavors, meringues, three fruits, tuiles, chantilly and some kind of decoration, all for 12.70 euros! Given the typically small servings the French are accustomed to, we were taken aback at this massive offering and assumed that this, as well as the other even larger creations listed on the menu, would be served "family-style." (More on this later, but our assumption was not correct.)
Because the mistral was whipping through the terrace that afternoon, we opted to be seated inside. The dining room is immediately inviting, much like visiting someone's grandmother; not mine, I hasten to add, but the happy hodgepodge of artwork and campy arrangements of brightly colored plastic flowers makes one feel at ease. With sixty to eighty varieties from which to choose, we settled into our chairs quickly, eager to get down to the serious business of choosing one's flavors. . When we spotted our waiter making his way toward us, stooped over by the weight of the menu-books he was carrying to our table, we knew that our task would indeed take time.
Sigrid and Michel Perriére have been making artisanal ice-creams—with the most modern equipment—since the late 1970s. Michel, who graduated from the Nice Hotel School where he specialized in the art of making ice cream, eventually moved from Paris to Juan-les-Pins and, in 1978, opened his first ice cream parlor or glacier. Awards for exceptional ice cream were soon rolling in. After a very successful operation in that Mediterranean port town, they moved to the Luberon and opened L'Art Glacier in 1989 with just a couple of tables. Their business grew quickly and, today, friends of ours tell us that the wait to be served can be an hour-and-a-half. Their son, Olivier Perriére, who, according to their website, received his training in the best schools, has taken responsibility of the "quality control lab." (What a job!)
Only the freshest and highest quality natural ingredients are used, we are told. One may order one or more boules, various sundaes, parfaits, or ice cream extravaganzas such as the "Flying Saucer." We diligently perused our menu-books and were salivating by the time we placed our orders. It was tough. We finally agreed that we would share our boules amongst ourselves. There would be three bowls of three boules each–including Rose, Romarin, Caramel beurre salé, Pain d'epices, Pistache, and Lavande—and one extravaganza.
Extraordinaire was the consensus. The ice cream was rich and creamy and incredibly flavorful. I loved the Caramel beurre salé, but the Rose and the Pain d'epices were terrific, too, and the Romarin. And, the Lavande was the most luscious color purple and tastiest lavender that has ever crossed my lips. Each dish was adorned with a meringue cookie that was scrumptious and don't get me started on the chantilly—the best I have ever had! It's optional, but do not pass on this heavenly whipped cream!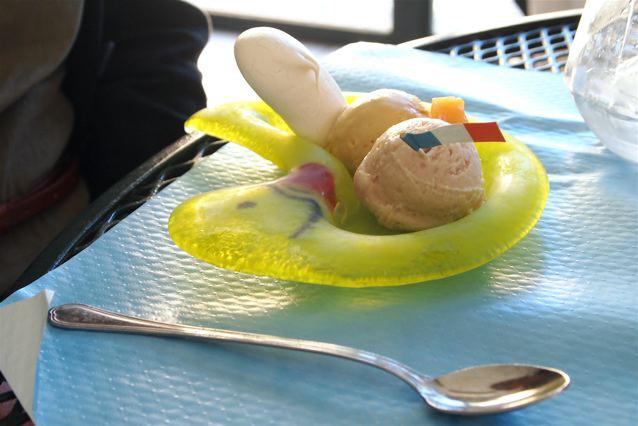 Our ice cream and sorbet were so good that I was compelled to take a friend there a few days later. The mistral was not wreaking havoc that afternoon, so we sat outside on the terrace, a lovely setting, and enjoyed a round of boules. Alas, we found two flavors that did not captivate us—Menthe chocolatée and Chocolat blanc—but discovered two others that did: Miel de Provence and Pêche de vigne. (I had just been introduced to this variety of peach the night before; it's a small peach that has a highly concentrated but less sweet peach flavor than the traditional peach and is only available for a very short time in August.)
The table next to us dispelled any notions we had had about the French and their small servings. It took three waiters to carry the eight humongous creations of ice cream, sorbet, and various adornments to a party of eight. They were very happy. As were we.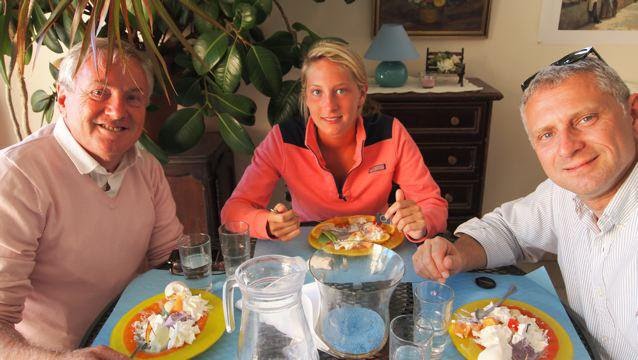 L'Art Glacier is well worth the detour. Directions are available on their website (www.artglacier.com) and small signs along the road help you find your way. They are open June through December, although hours are limited in June and September and down to weekends only in October through December. Specific hours are also posted on their website, but, as the season wanes, you are advised to call ahead. Special occasion creations may be ordered and take-out is available…..hmmmm….how long is that flight home?…is ice cream a liquid?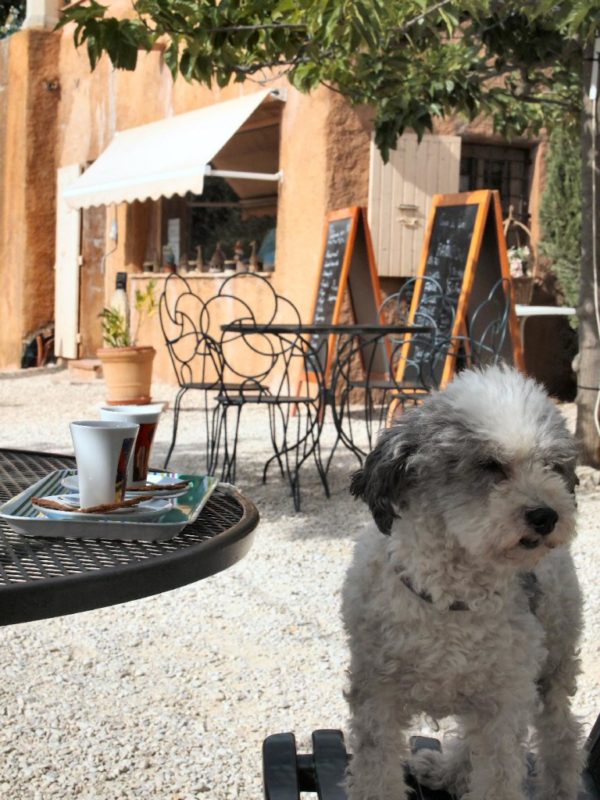 PERRIERE FAMILY
Masters of Ice Cream Making
Les Hautes Terres
84240 Ansouis
France
e-mail : ag@artglacier.com
Tel. : 00 33 (0)4 90 77 75 72
Fax : 00 33 (0)4 90 77 76 73