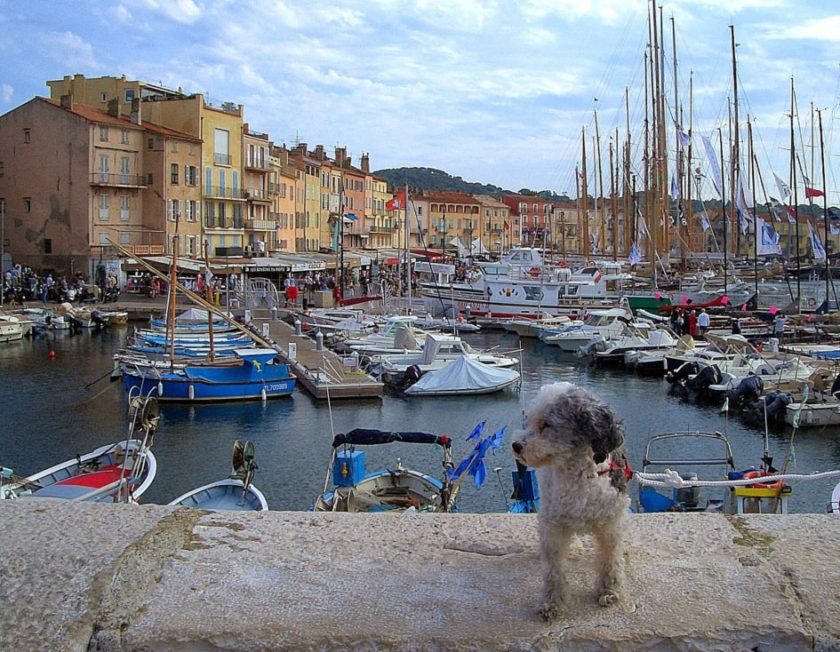 I was settling into the chair at my desk earlier this week, fully prepared to wax enthusiastically in this post about the merits of visiting St-Tropez any time after August, when the telephone rang and changed the focus of my story.
I was all set to grumble about the inconceivable amount of traffic in July and, especially in August when everyone on the continent seems to have set their GPS devices set for the French Riviera. The notorious two-lane D98 becomes a virtual parking lot of vehicles—Maseratis, open-top Ferraris by the dozen, big Bentleys, tiny Fiat Pandas, and camping-cars alike—inching forward en masse toward the international playground of the rich and famous.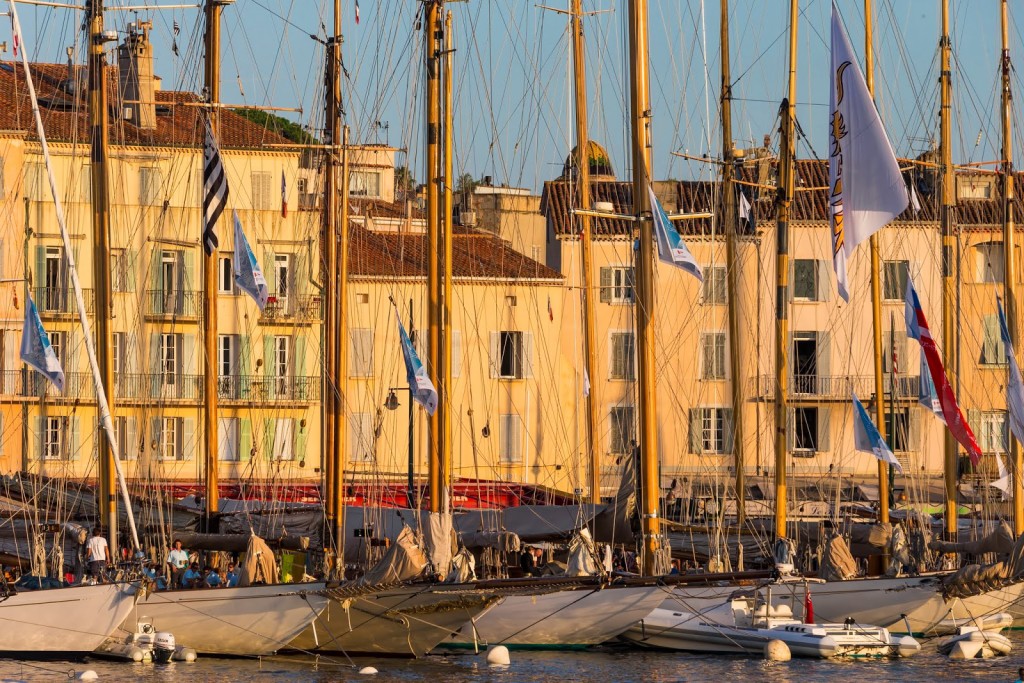 This is no exaggeration, I assure you: We have been among those cars. What were we thinking that August when we surmised we could beat the traffic, if we left Lourmarin very early in the morning? It takes just over two hours to get there in the other ten months of the year, but, on that day two hours stretched threefold. We were only a few kilometers outside St-Tropez when we found ourselves at a complete standstill on the main route—indeed the only route—into this seaside village.
Ah, but this is not any seaside village—it is Saint-Tropez, famous for its uber-rich and celebrity visitors who, along with ordinary people like us and everyone else in between, expand the residential population of about 6,000 people to as many as 100,000 every August.
I still have the lavender sachet, one of a large number of souvenirs I was compelled to buy that morning in exchange for the use of the private facilities in a gift store along the D98. The clerk's loud hmpf and pronounced roll of her eyes suggested I was not the first to inquire about the bathroom but, not wanting to lose the sale from my impressive pile of sachets, painted tiles, dish towels, and ceramic cicadas, I might have been the first for whom she acquiesced. The scent of that lavender, like my memory, is still remarkably strong and it evokes memories of that August trip to St-Tropez every time I get in my car, where I now keep the sachet—oh how desperately I needed a ladies' room and how I longed, for the first time in my life, to be on une moto weaving in and out of the immobile cars.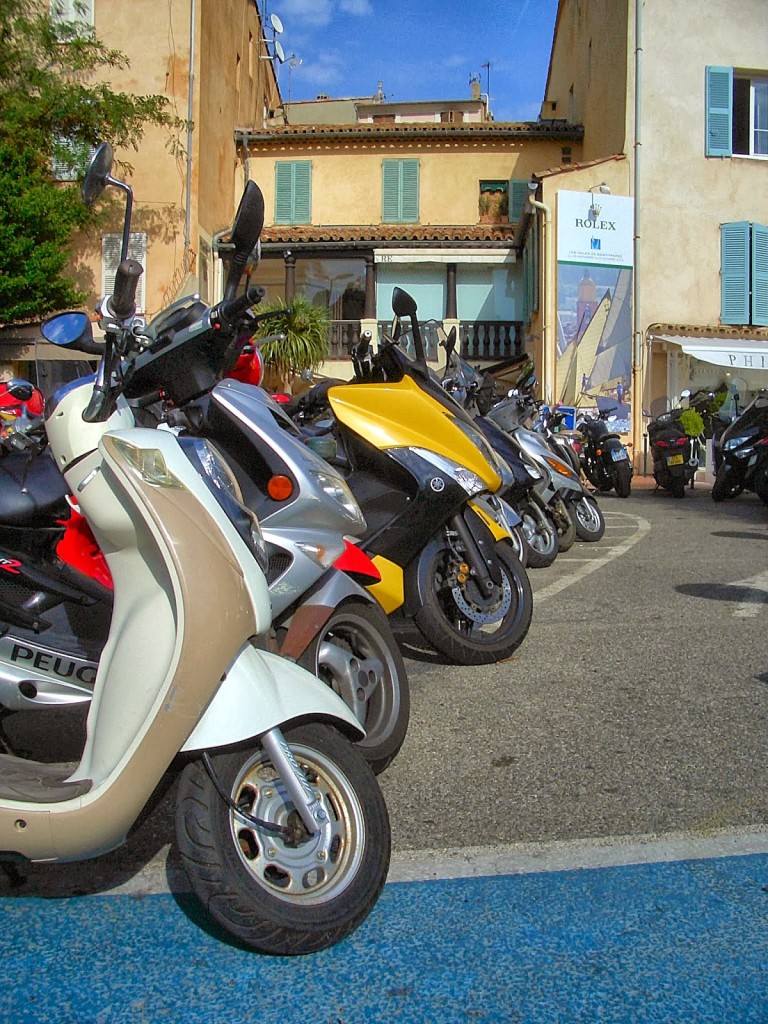 Until I make friends with someone who docks his or her yacht in the port of St-Tropez—Heidi and Dennis…Linda….are you reading this?—I will probably never see this lovely city in July or August again.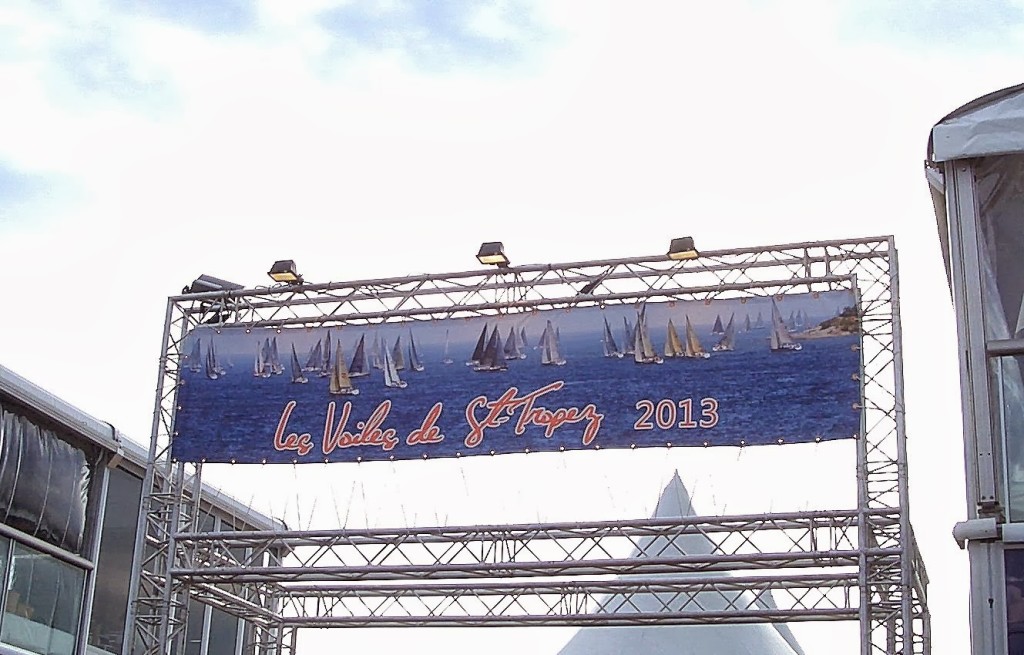 So, dear readers, just as I was about to tell you all the lovely ways to while away a fall afternoon in St-Tropez—sans the summer traffic and swarms of people—my dear friend Pamela O'Neill, who lives in nearby Cotignac, called to say that she would be going to St-Tropez the next day for "Les Voiles de Saint-Tropez." Ooops, this is one of the biggest events of the year in St-Tropez….the D98 will be back to its status of a parking lot. However, I'm told that this is such a sensational event that I simply have to add it to the reasons to visit in the fall…and recommend another way into the village.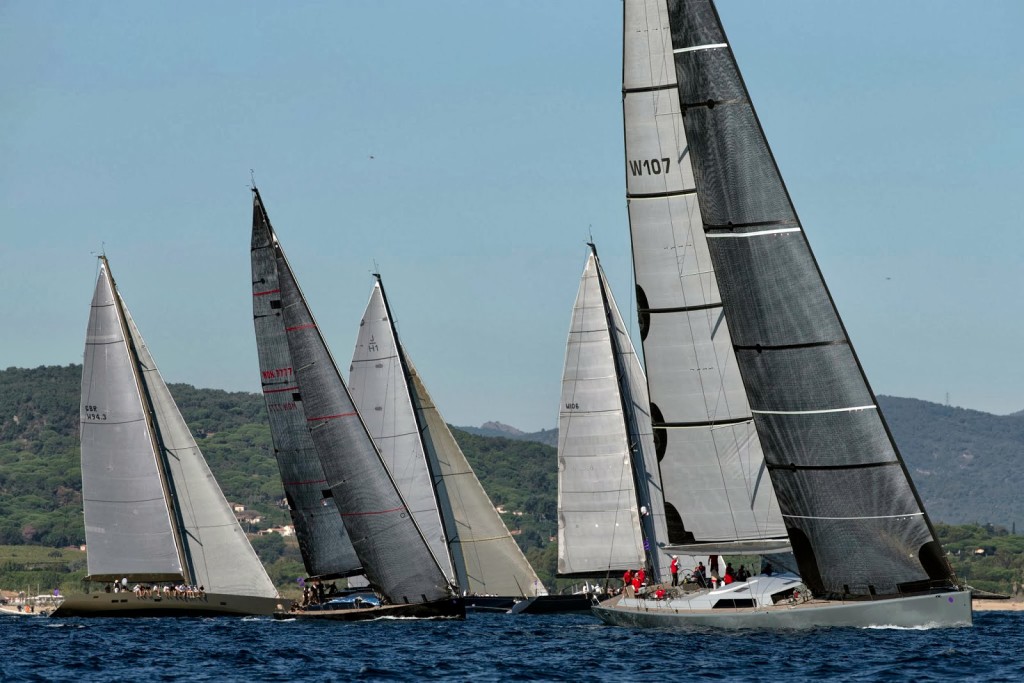 So, my story changed to include this very cool annual event, "The Sails of St Tropez." With sails folded after the last event yesterday and awards distributed today, there's no time to visit this year, but for those of you passionate about sailing, it is worth marking your calendars for next year.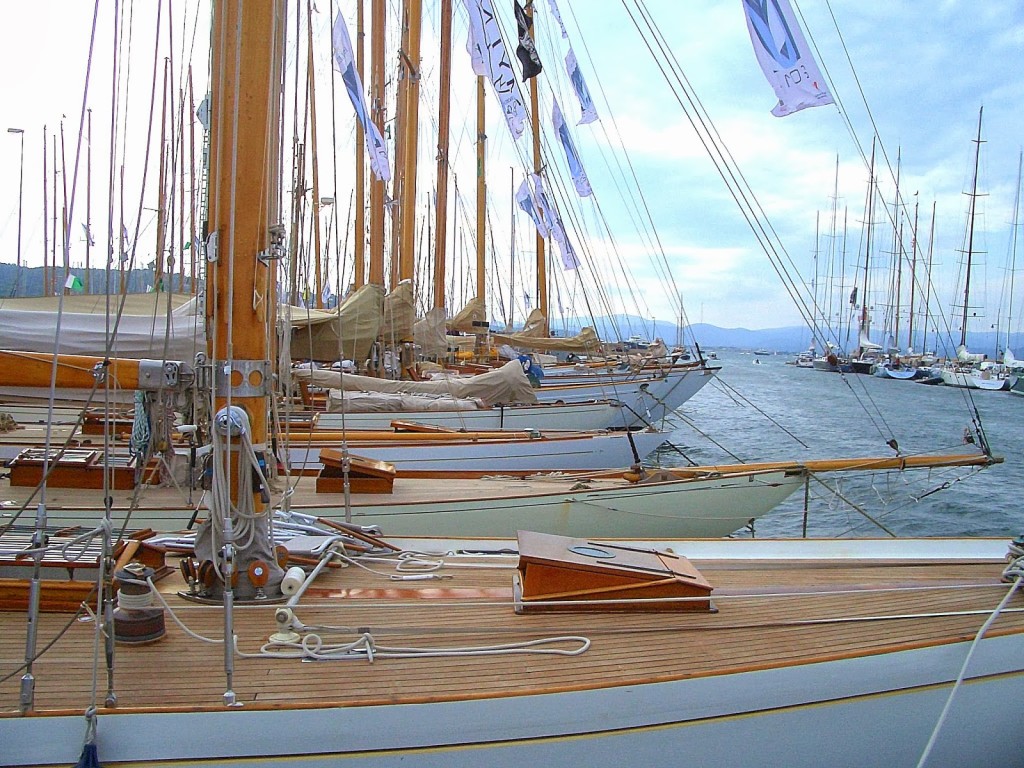 This seven-day event, now including 300 vessels, grew out of a little friendly competition between two sailors who happened to stop in the port of St-Tropez back in 1981. Frenchman Jean Laurain, on his "12 metre JI" Ikra, met American Dick Jayson on his "Swan 44" Pride and, apparently, a conversation ensued about who had the fastest boat. They wagered dinner at the renowned  Cinquante-Cinq (Club 55), the bar and restaurant on Pampelonne Beach just outside St Tropez, where the finish line would be. (More on Cinquante-Cinq to follow.)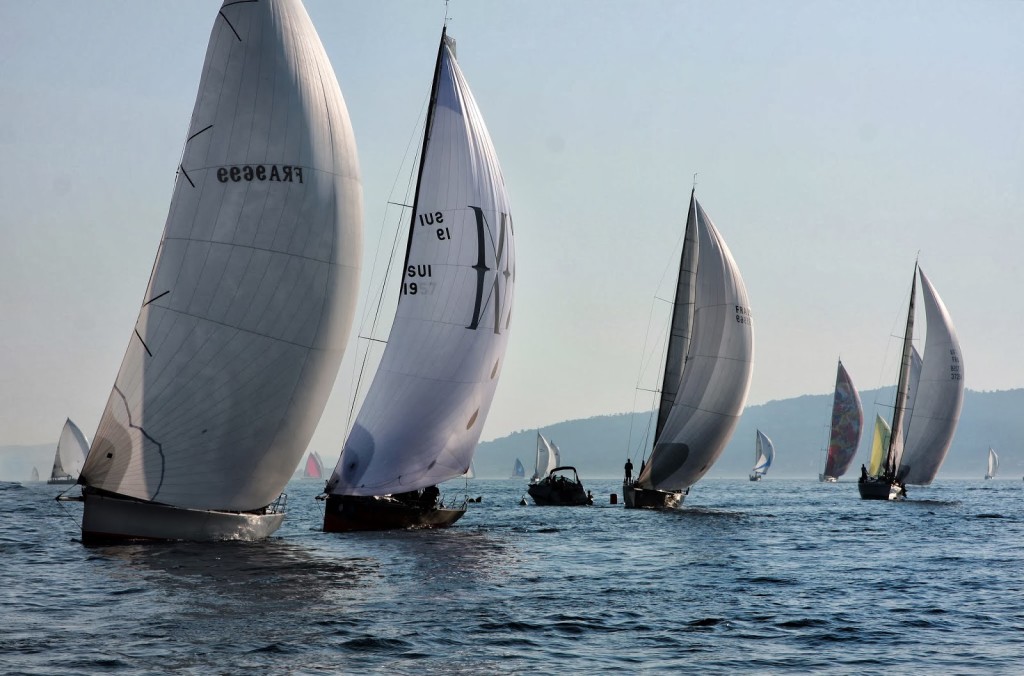 Ikra triumphed over Pride but dinner, along with an enthusiastic reception from Cinquante-Cinq owner Patrice de Colmont, was enjoyed by all. This marriage of passionate racing and genuine camaraderie set the stage for a racing tradition that draws people from around the world to sail among others who simply love the sport. (Okay, the Rolex watch that accompanies the Rolex trophy is probably a drawing card but something tells me that these folks could buy their own and one for every member of my family.)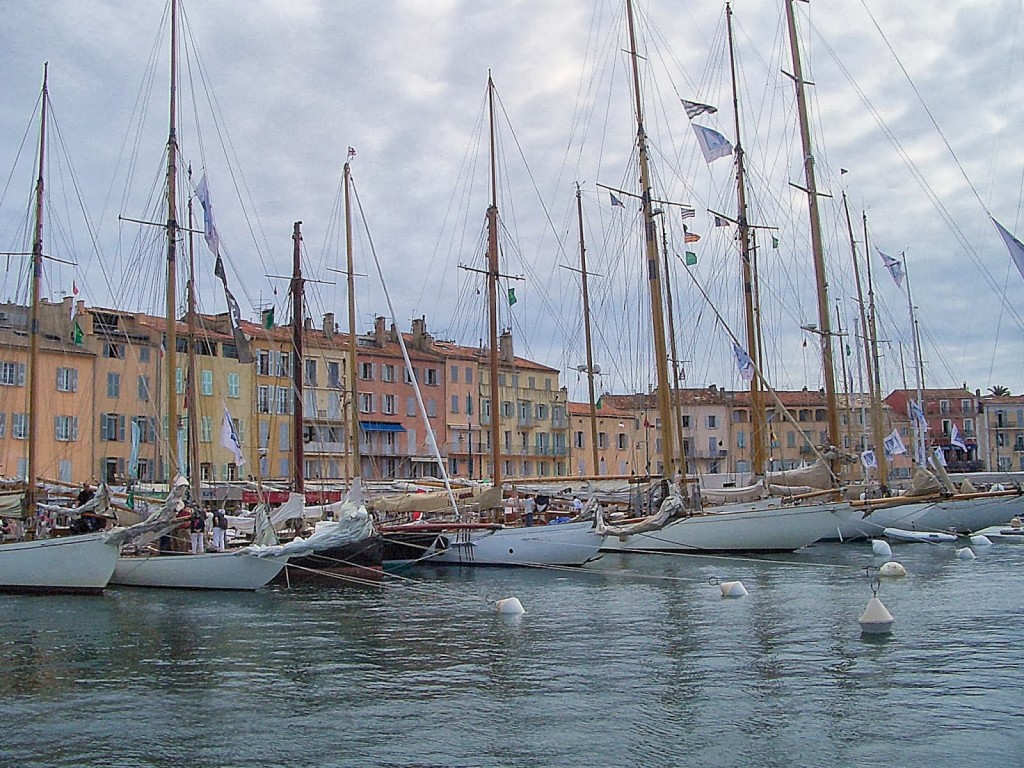 A unique aspect of this race is the mix of ultra-modern vessels and vintage sailboats, some built as early as the 1890s. One of the races is limited to boats built before 1976 (and a few replicas that meet strict design and materials criteria). What a sight that must be!
Little did Laurain and Jayson know what their innocent challenge would create. The next year, a few friends joined the competition and, in short time, an annual event, first called "La Nioulargue," was born. (The name refers to a buoy that identifies the Nioulargue shallows off of Cap Camarat and it was used as a turning mark in the original race.) In 1995, a tragic collision occurred that ended the regatta for four years. In 1999, it returned as "Les Voiles de Saint-Tropez," generating the same espirit de corps as the original race. It is now organized by Société Nautique de Saint-Tropez (St-Tropez's yacht club).
This year's event commenced on September 29th and culminates with an awards ceremony today, Sunday, October 6th.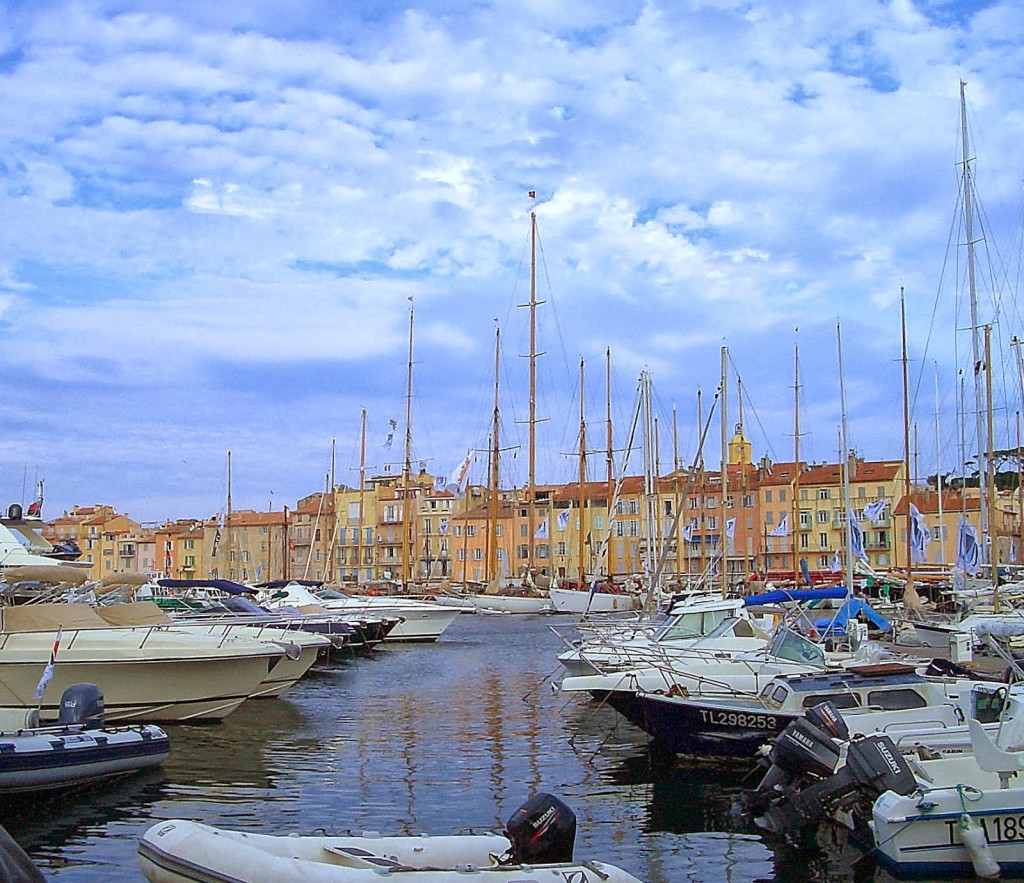 Everyone partakes in the celebration. "You can feel the party atmosphere, " O'Neill said.
With Saint-Tropez in the Côtes de Provence where some of the best rosé in the world is produced, it shouldn't be surprising that corks are flying off of bottles of rosé during this event.   A rosé was crafted for especially for this event by nearby Les Maitres Vignerons de la Presqu'ile de Saint Tropez.  Called "Les Voiles de Saint-Tropez Rosé," it is a blend of Cinsault (70%), Grenache (20%) and Syrah (10%).
Several other wineries–Château Minuty, Château Barbeyrolles, Domaine de Bertaud Belieu, and  Les Vignerons de Grimaudare (a cooperative)–are also very close and I suspect  they are busy during this event, keeping the sailing crews and their fans content.
The folks at Château d'Esclans were sent into a tizzy one year when Las Vegas resort magnate and billionaire Steve Wynn requested some of the highly coveted Garrus rosé (2006 vintage) for his yacht and guests, only to discover the winery's cellar was empty. Wynn's crew, who undoubtedly knew that their boss was not accustomed to hearing "no," explained the significance of the request to Château d'Esclans staff who persevered until they were able to locate six bottles in London and make arrangements for them to be over-nighted to France.  Everyone was happy.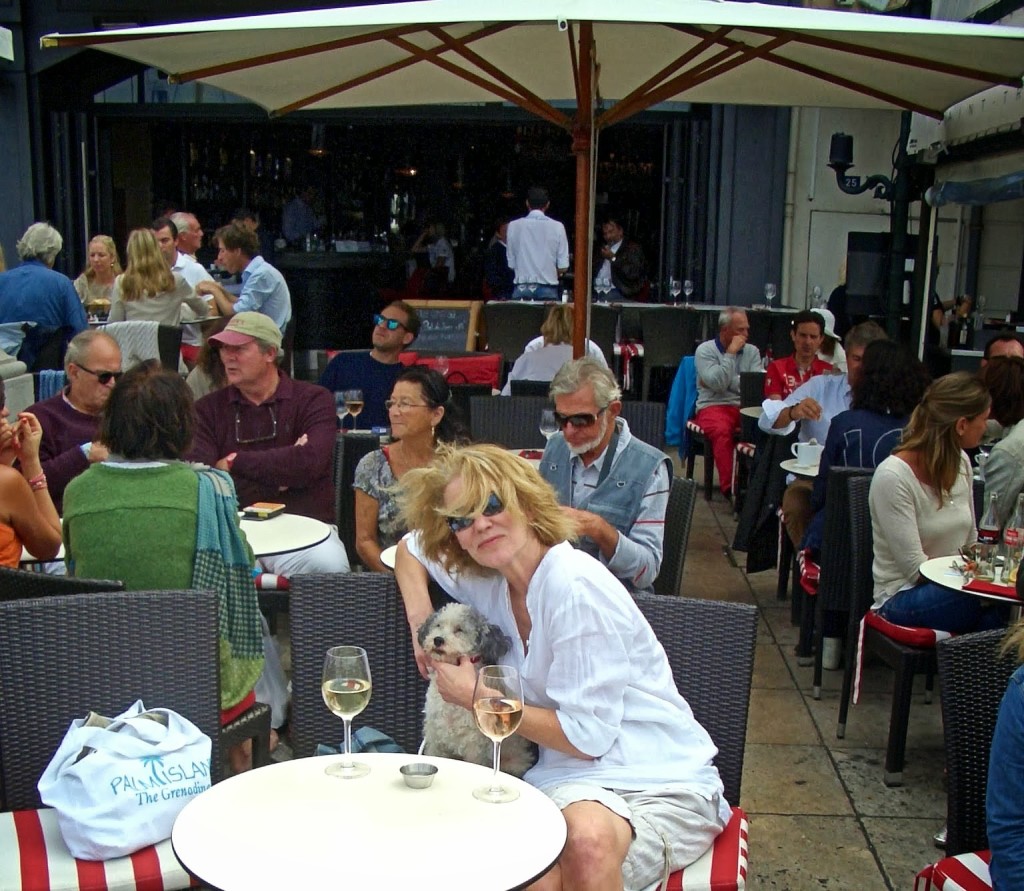 O'Neill and friend Annie Rollings, from nearby Lorgues,  attended what is called "Challenge Day" or the "Club 55 Cup," wherein one skipper challenges another (or several) to a private race, thus acknowledging the modest roots of this now huge event. So, while they did not experience the "sea of sails" for which this event is renowned, they did get to see the vast majority of boats, up close, docked in the harbor.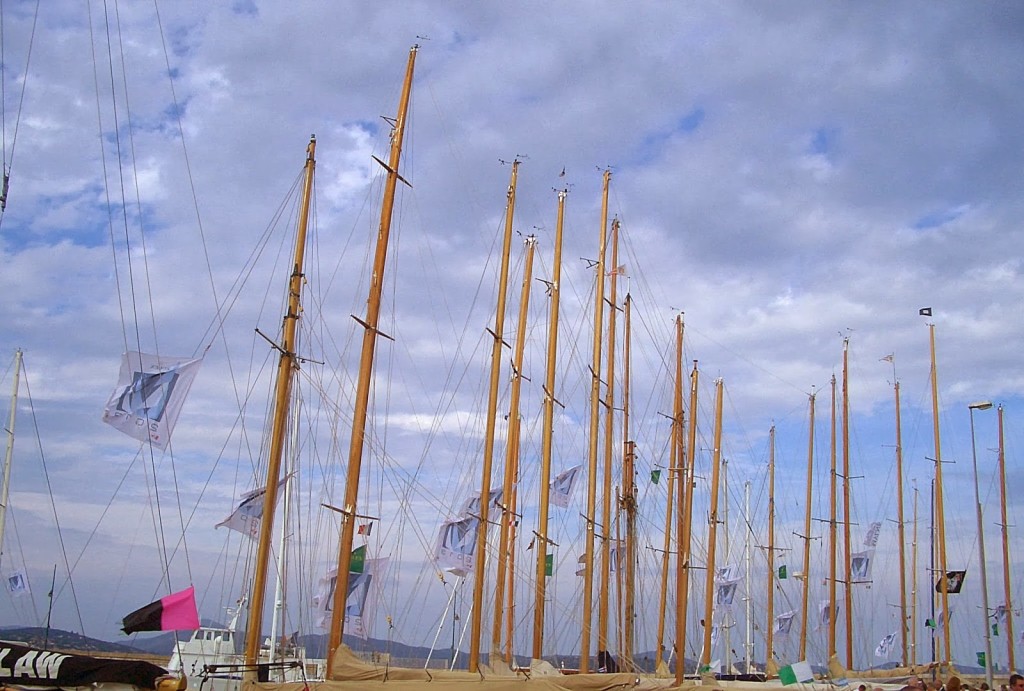 "They were stunning, abolutely stunning," O'Neill, who grew up sailing in Newport, Rhode Island, said. "The variety was breathtaking."
Pam and Annie began the morning strolling around the port. Usually filled with huge motor yachts more akin to floating high-rises, it was a treat to see these magnificent sail boats whose collective history spanned over 100 years. On most days, it is still a working port with fishermen repairing their nets next to deckhands busily tending to their captain's boats. This week the street artists dominated the perimeter around the harbor.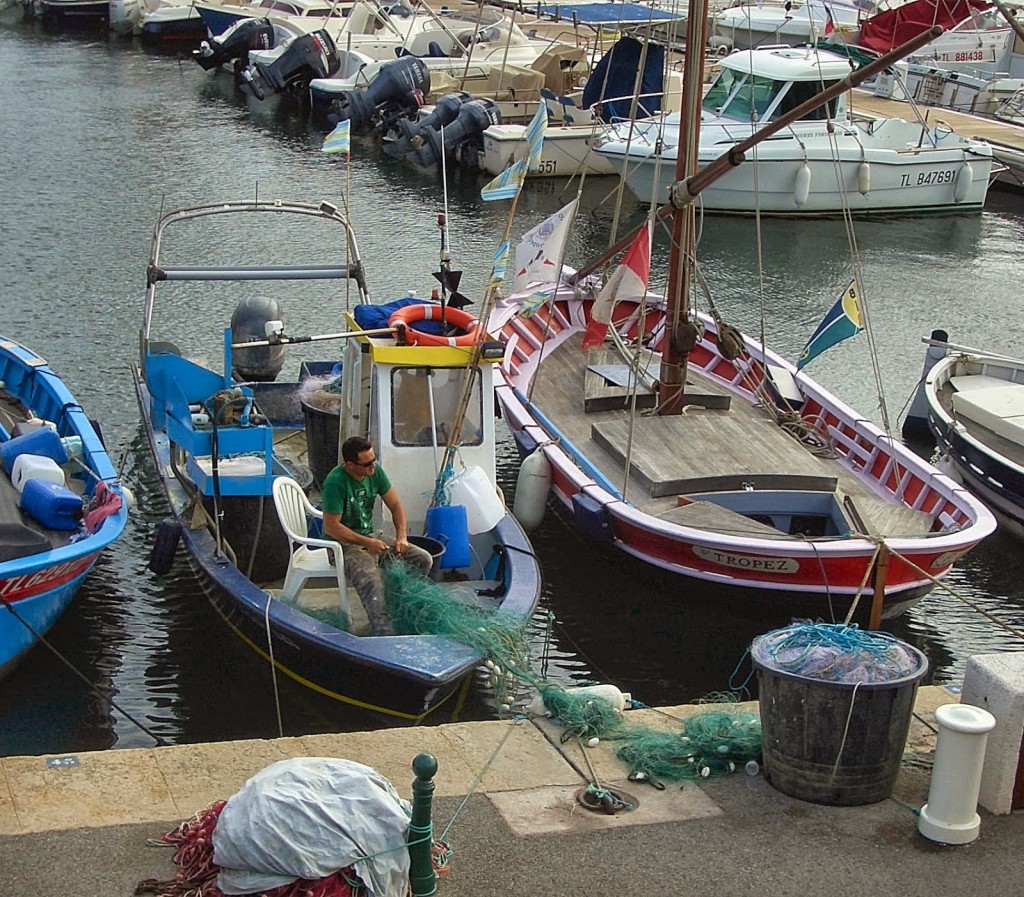 There was the "gendarme" who is a one-man show inspired by the movie entitled Le Gendarme de Saint-Tropez (and the various iterations of the sequels it spawned). He is an integral part of the scene during the tourist season and for any large attraction, like this one.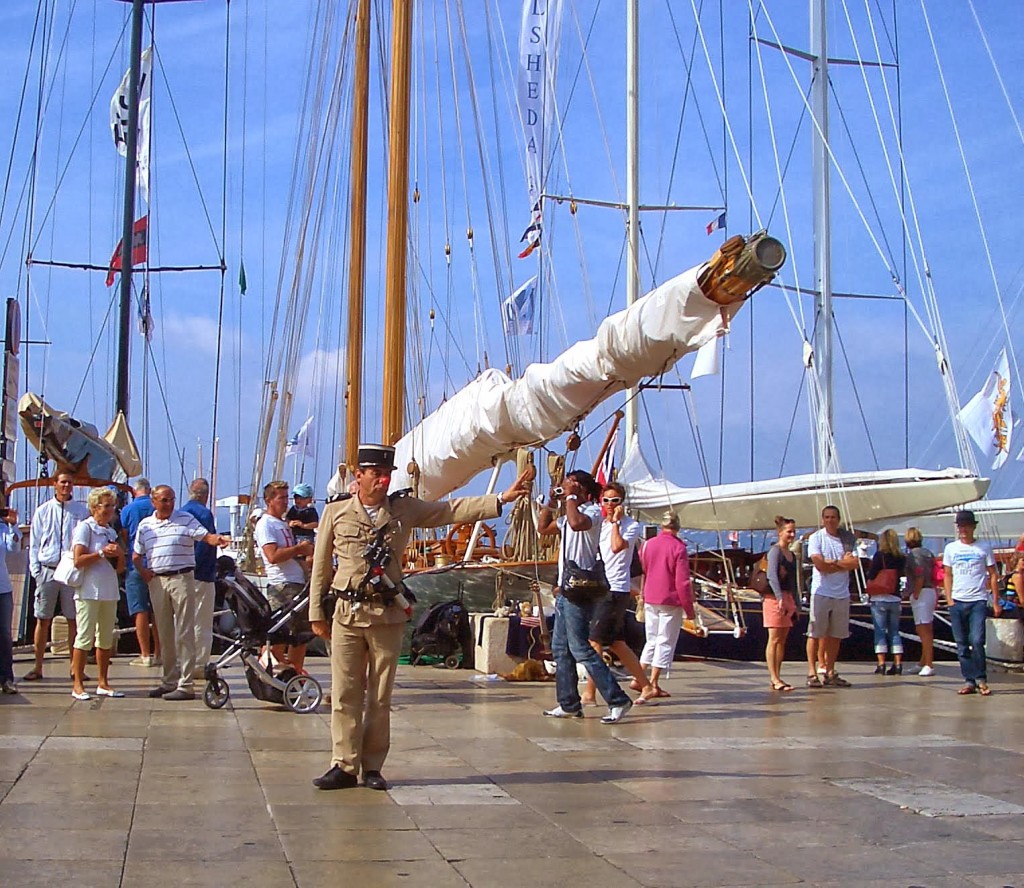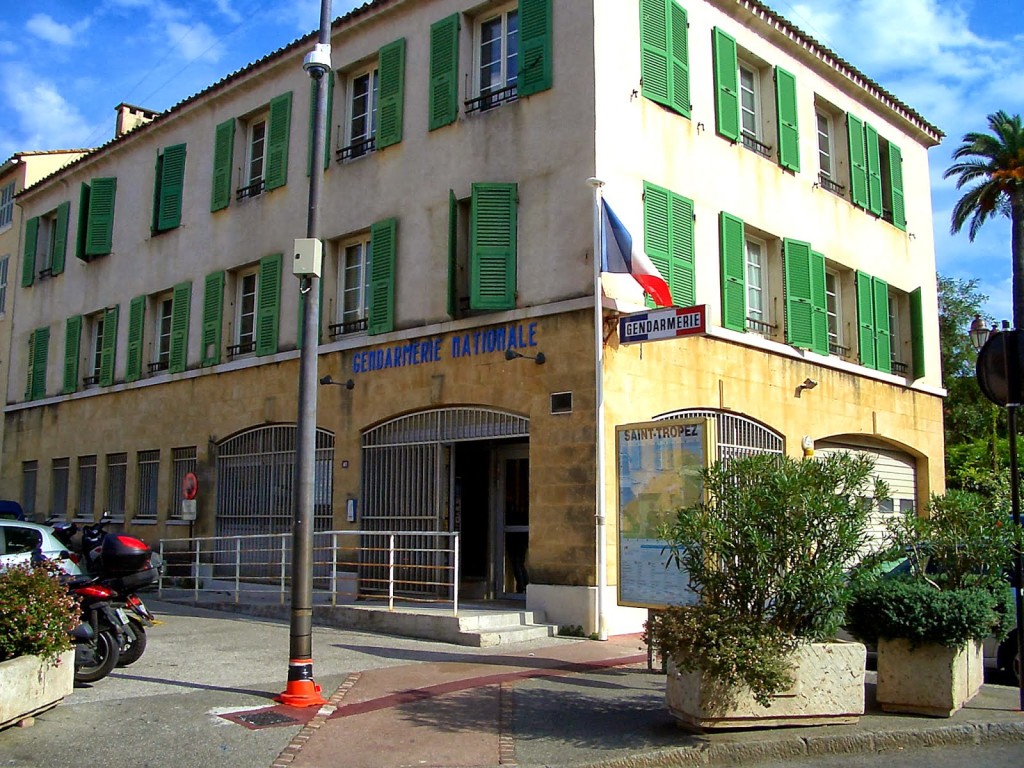 The cafés that line the port offer perfect vantage points to watch the action. O'Neill and Rollings said they were lucky to find an empty table at Café de Paris. They really wanted a table on the balcony of Hôtel Sube's second floor but, with its reputation for "the best view of the port," chances were slim that an empty chair would surface anytime that week. Le Sénéquier (established in 1889 as a tea room) is another popular option. If all else fails, buy a bottle of water from the nearby Casino market and find one of the slabs of concrete around the perimeter of the port.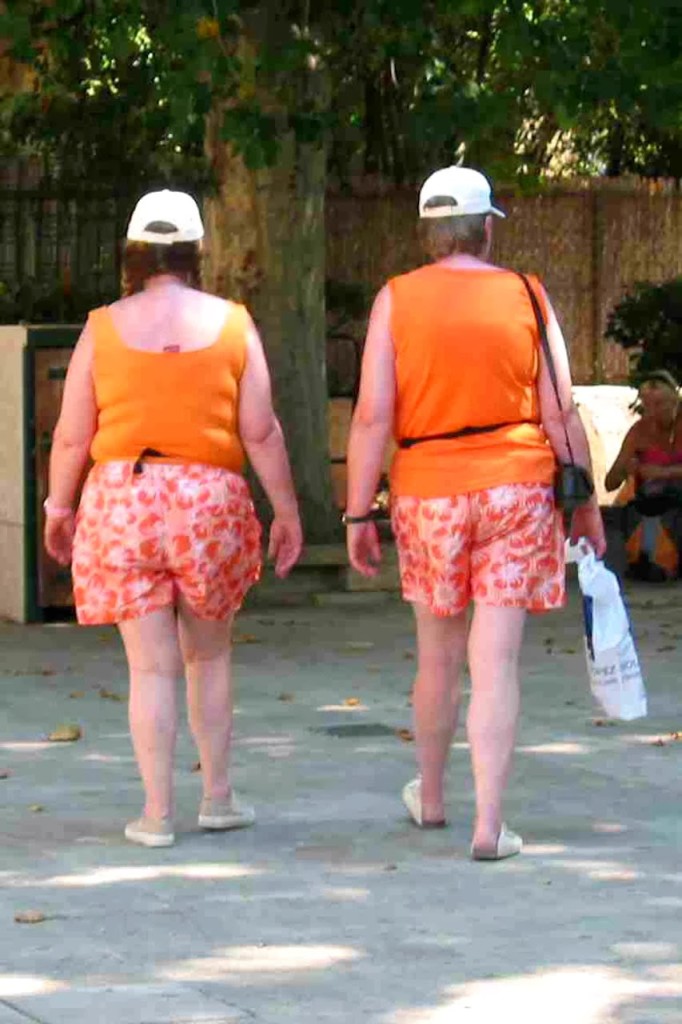 It seems you could see anyone in St-Tropez. Although I suspect most celebrities are more likely to be found on yachts and in private beach clubs than with the hoi polloi at the port, still it's not out of the realm of possibility to catch a glimpse of regular visitors like Kate Moss, Naomi Campbell, Elton John, Leonardo di Caprio, Jack Nicholson, George Clooney and, of course, Paris Hilton,  to name just a few famous tourists. The star who made St-Tropez famous, Brigitte Bardot, is probably the most likely to be spotted (and very likely to be tethered to a dog or a cat).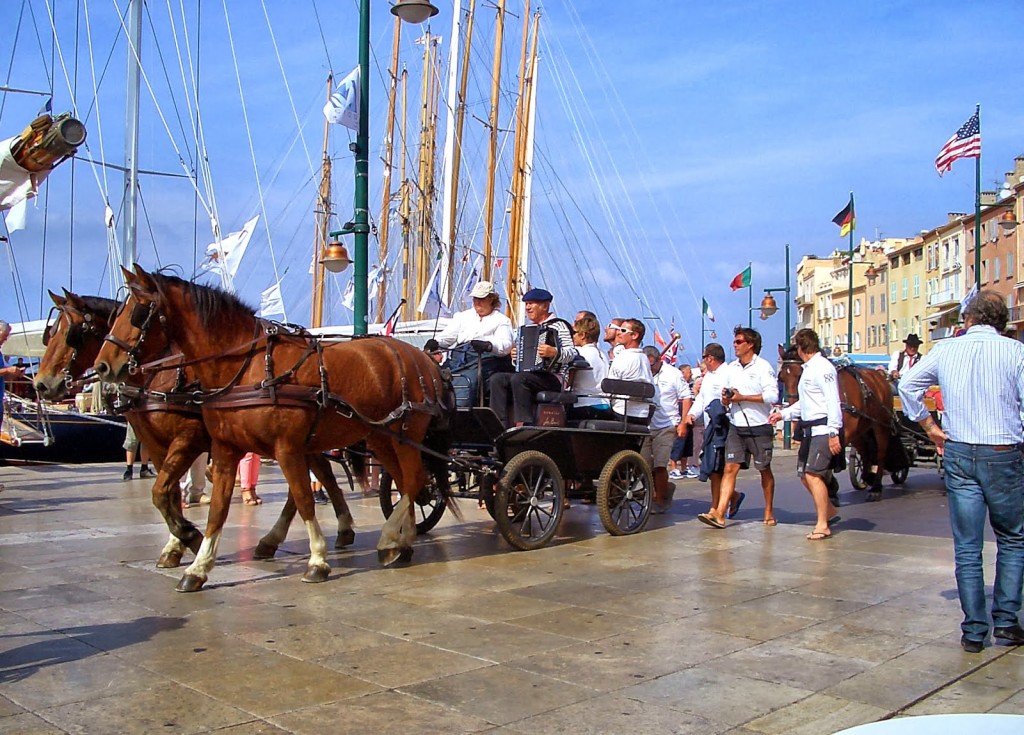 When you have had your fill of people-watching, a very good option is the nearby Musée de l'Annonciade, a small museum but filled with the work of famous artists from the period of 1890 to 1950. Pointillist Paul Signac, who came to St Tropez in 1892, is said to be responsible for introducing the area to other modern artists whose work is part of this collection: notably Edward Vuillard and Pierre Bonnard (representing the Nabis group), André Derain and Henri Matisse (from the Fauvists); and Georges Braque and Pablo Picasso (from the Cubists). The museum was established in 1922 and is considered by some to be the first modern art museum in France. It is housed in a former 16th-century chapel on Place Grammont, near the port, as I mentioned above, and right next to Hermès (should you be in the mood to splurge on a silk scarf!).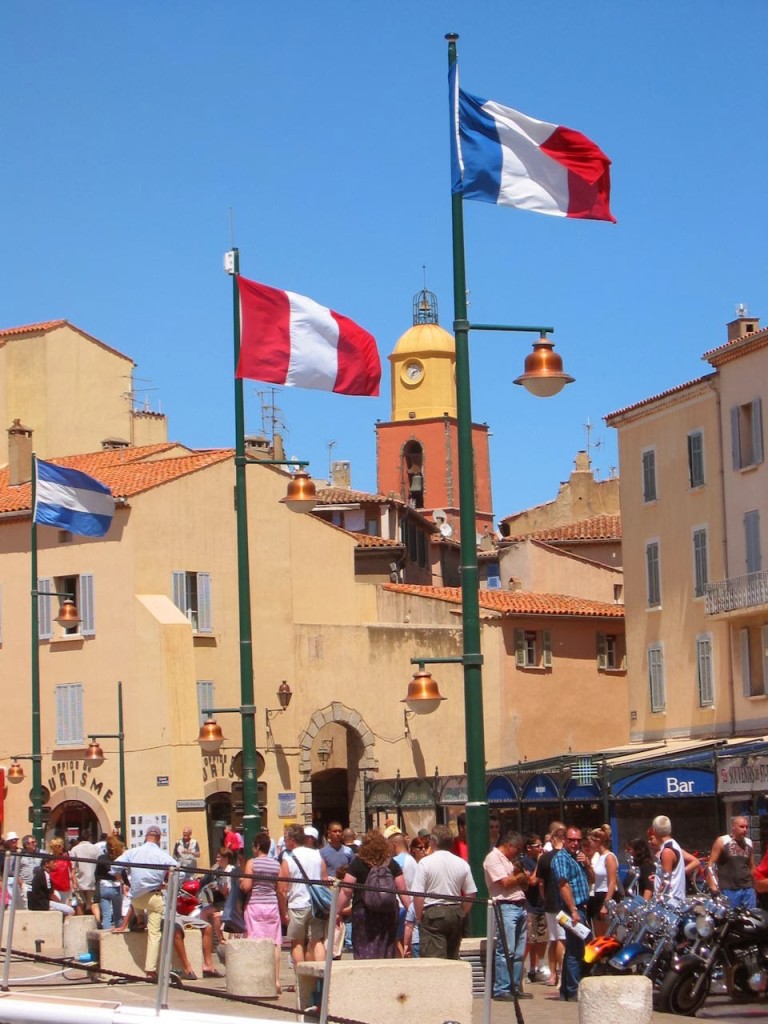 If scarves aren't your thing, pas de problème, as luxury shopping abounds in St-Tropez. There is Rolex, Dior, Armani, Longchamp, Dolce & Gabbana, and Louis Vuitton, to drop a few familiar names. There is also Atelier Rondini where you can pick up a pair of Sandales Tropeziennes, the legendary leather sandals made since 1927.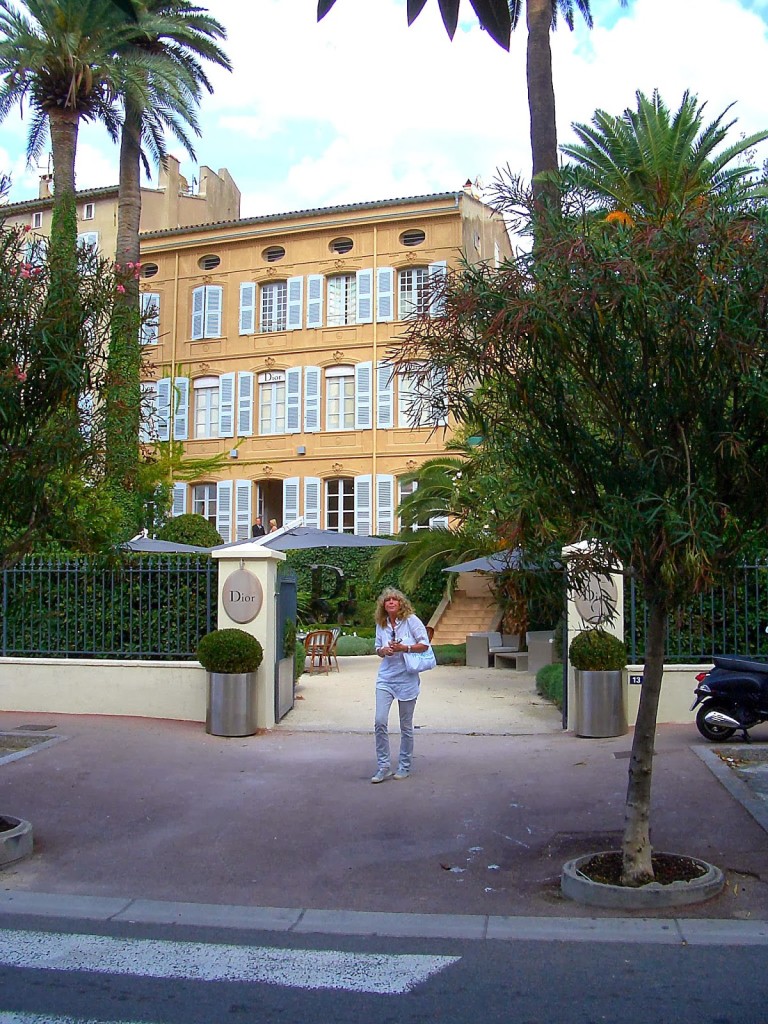 O'Neill and Rollings opted for a walk along the tiny cobbled lanes to place des Lices where there are more cafés and benches from which to choose and, if it is not a Tuesday or Saturday morning, you are likely to find a game of pétanque in session. The huge plane trees that grace the place have not changed much since Charles Camoin painted them in 1936 or even since Signac painted them in 1893. (Camoin's painting, Place des Lices, may be seen in the Musée de l'Annonciade.)
The place des Lices is transformed into a vibrant market on Tuesday and Saturday mornings. Filled to the brim with the usual fresh produce, prepared food—excellent paella here—and other wares one finds in an especially good market, this market has a large number of vendors selling high-end goods—vintage Louis Vuitton luggage has been known to be found, according to an article in FranceToday—or, from late fall through the end of winter, truffles freshly earthed from the Var might be spotted. Place des Lices is where you will find me shopping, toting a basket of olive oil and scarves, along with something for dinner.
Not far away is La Tarte Tropezienne, where you can find St-Tropez's famous pastry (for which the pâtisserie is named). It is a custard-filled brioche that is definitely worth the effects of every calorie it claims to carry.
Another sight to consider is La Citadelle, a 16th-century fortress, built atop a hill, dominating the east side of the village and offering fabulous views of the patchwork of St-Tropezienne homes, glistening in the famous light, and, in the distance, the brilliant blue Gulf de St-Tropez. Its Musée Naval, located in the "dungeon," showcases the maritime history and the August 1944 landing of Allied forces. I have not been here, but I can report that it is the second most visited sight in the Var and has just re-opened after a long renovation.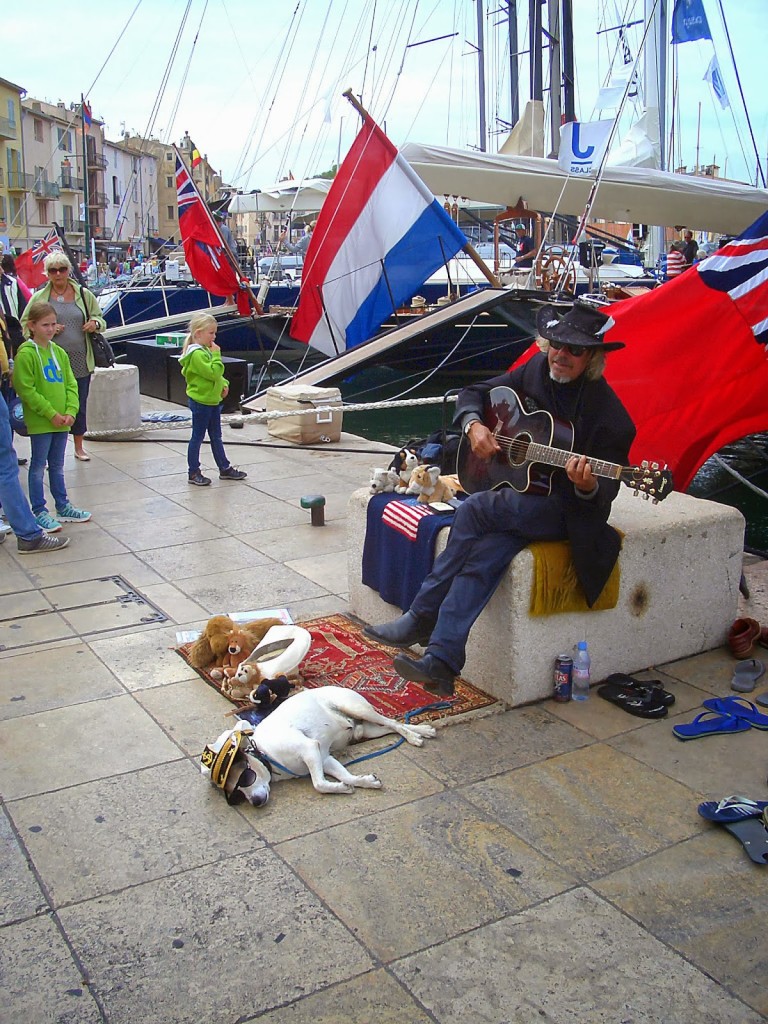 For the other view of St-Tropez—when "Les Voiles de Saint-Tropez" is not taking place—consider a boat excursion where, I read, you will learn a little St-Tropez history and a lot of St-Tropez gossip. Le Brigantin is recommended by many sources. I would like to do this next time I am there.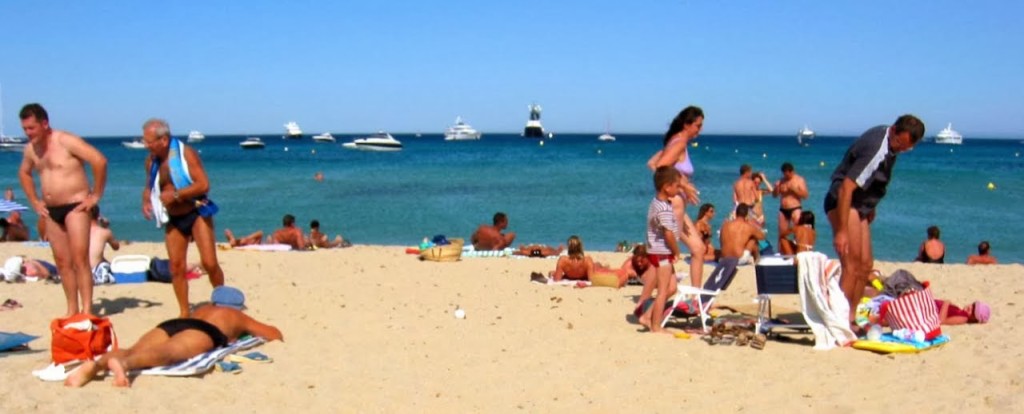 Finally, there are the beaches and beach clubs. St-Tropez does have its own beaches, although one rarely hears about them. Plage de la Bouillabaisse and Plage des Graniers are the most notable. The latter is a short walk from the center of the village, past a pretty seaside cemetery.  O'Neill and Rollings have often visited this beach and enjoyed moules-frites at a very casual restaurant on the beach called Les Plage des Graniers.

By far, the most famous, trendy, star-studded, and popular are the private beaches and clubs that lie on the three-mile stretch of sparkling sand called Pampelonne beach, which is actually part of the neighboring (inland) village, Ramatuelle. In the fall, when all the cabanas and umbrellas have been dismantled and blankets folded up, one can see the sand again. In the fall, when the beach clubs are shuttered, it is peaceful. This is a nice time to be on Pampelonne beach. In striking contrast to August.
Our first experience with the beach clubs of St-Tropez was at Nikki Beach. It was August, the same visit we spent so much time on the D98, and after a nice lunch at Brasserie des Arts on place des Lices, we asked our young, perky waitress where we should go for an afternoon at the beach. She suggested Nikki Beach Club.  Even years later, I wonder if we misunderstood her or if she thought it would be funny to recommend the quintessential playground of jet setters and their young, scantily-clad hotties to us, a family of three. I can't believe we actually went so far as to drive into the parking lot—the endless rows and rows of shiny Porsches, Maseratis, Ferraris , Lamborghinis, and Bentleys should have been our first hint that our dented Renault rental car was not going to blend in. Furthermore, no one could reasonably deduce that any of those cars brought in two parents and a thirteen year-old daughter. But, there we were pulling up to the valet. I chuckle out loud as I write these words.
The handsome young man, clad entirely in white linen, sized us up quickly but nonetheless asked—politely and with a remarkably straight face–how he could (possibly) help us. My husband said, in perfect French, that we wished to go to the club. The fellow looked inside to be sure and thought for a moment—perhaps about how he could best say this—that he really thought we would be happier simply going to the beach and he directed us to another parking lot filled with cars more akin to our own.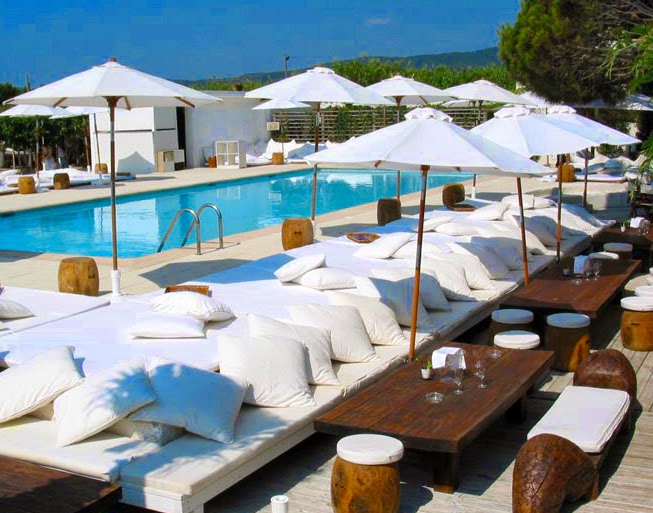 As we walked to the beach, we passed the club and saw what I would describe as beds with white linen canopies draped down from overhanging structures, some open and some closed. The bass of the music was so loud that I was sure it changed my heart rate. Everyone was twenty years younger than we were and not too much older than our daughter. The flowing champagne was probably the only aspect of Nikki Beach that I could identify with. The closest I had come to this scene was watching a James Bond movie.
By the time we got to the beach, we were doubled over in laughter. I can't imagine what would have happened had the young valet taken our car and directed us inside! We were very happy with our station at the beach and, after signing our credit card for the obligatory chair rentals and a few cold drinks, I couldn't imagine what the bill at Nikki Beach Club might have been!
Much better to go to Cinquante-Cinq, the first beach club in the area. Established in 1955, as the name suggests, it was the go-to place for the cast and crew of And God Created Woman, starring Brigitte Bardot. Elegant, sophisticated and a favorite of the jet setters, it also has room for ordinary people (and those who are older than thirty years).
"Your toes are in the sand," said O'Neill.  "It's very relaxed, delightful."  On one of her visits, she was seated at a table near Michael Douglas and Catherine Zeta-Jones.
The day went by quickly for O'Neill and Rollings–as it always does for us, too. There is much more to do in St-Tropez than I have covered here. It is a wonderful way to pass a day and even better if you spend the night there, a prospect that opens up many alluring possibilites for watching sunsets and enjoying apéros and dinner.
October is a perfect time to visit St-Tropez.  To combine your visit with a "sea of sails" in the harbor would be thrilling.  Even the winter months are inviting in Saint-Tropez when the village's quiet charm warms one's chilly soul.
If you go during the summer months–or during a big event–follow the lead of O'Neill and Rollings who avoided the traffic generated by "Les Voiles de Saint-Tropez" by parking their car in Sainte-Maxime and taking the ferry, operated by Les Bateauxvert, over to the St-Tropez harbor. A round trip fare (for the 20-minute ride) is 13 euros (in October), and a lot less stressful. (Or find a friend with a yacht or a helicopter!)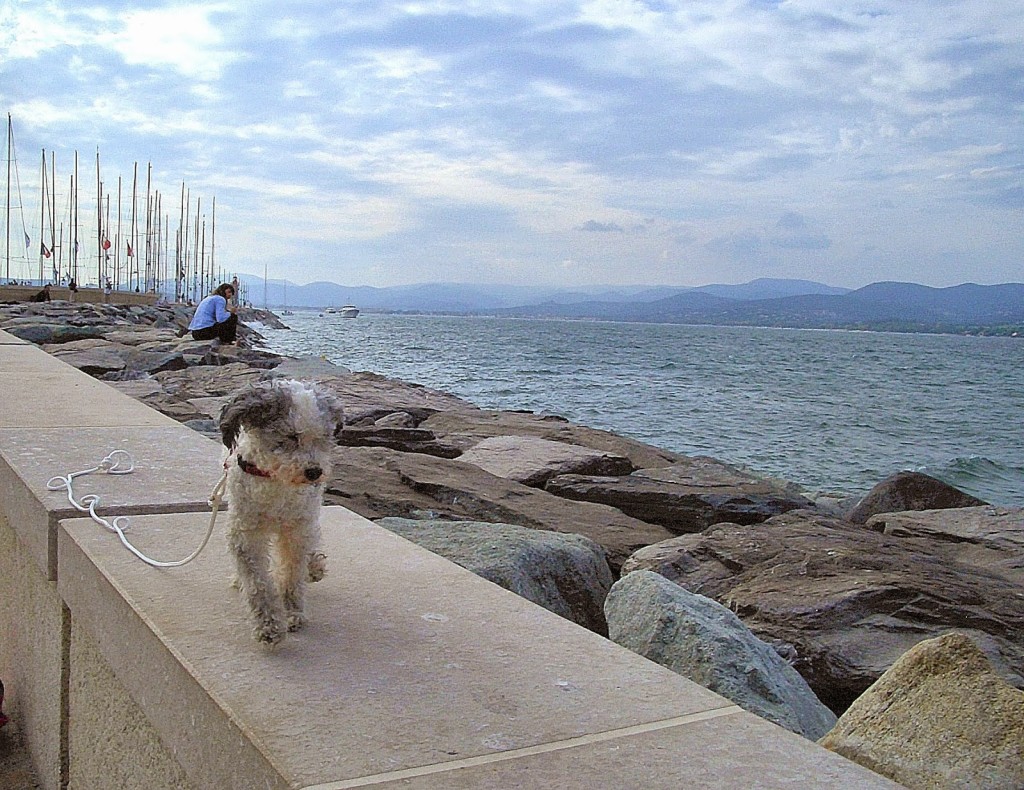 Un grand merci to Pamela O'Neill, in Cotignac, for her photography and research contributions, and to W. Towny Manfull, currently in Berlin, for his technical assistance (and, of course, for his photography).