Throughout the concert, there were film clips of Piaf in concert, including on the Ed Sullivan Show
Édith Piaf was surely smiling when Thursday night's vibrant tribute to her life and music opened with a animated duet of La Foule by French singers Nolwenn Leroy and Zaz. La Foule—"The Crowd"—is about the chance encounter of two people in the midst of a festive crowd who, as quickly as they connect, they are separated. So much of Piaf's life seemed fated for disappointment, but this sold-out Francofolies de New York Festival was beautifully orchestrated to ensure a remarkable celebration of her life and music. There were no—well, very few—disappointments.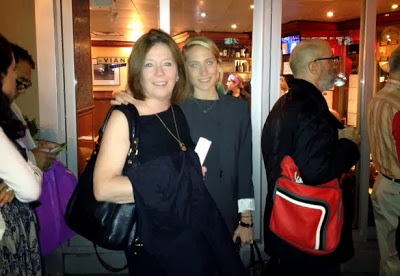 Waiting in line
Francofolies was founded in 1985 in La Rochelle, on France's west coast, north of Bordeaux. It has grown to be one of Europe's most popular music festivals and now hosts such festivals in Belgium and Quebec. This past Thursday, September 19, marked its debut in the United States, at the Beacon Theatre in New York's Upper West Side.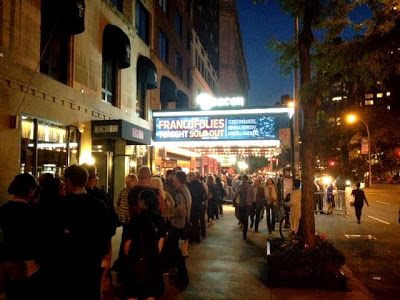 The Francofolies de New York Festival was sold out at the Beacon Theatre
At 7:30, when the show was to start, the line to get in to the sold-out venue was several people thick and went up the block and wrapped around the corner. In spite of the wait and the news that Charles Aznavour, French music legend and close friend of Piaf, and British singer and songwriter Marianne Faithfull were not able to attend, the mood was positively giddy. Once inside the theater, there was an audible buzz of …excitement. Fans of this world famous performer were anticipating a terrific show—La Foule was happy. We even had our own chance encounter with two lovely women in the seats adjacent to ours: they agreed to swap seats with my daughter and her boyfriend so that they could sit with my husband and me. (Okay, the two women got slightly better seats in exchange but they were nicely settled in their first seats and were very kind to dislodge themselves in order to accommodate us—merci encore!)
The concert was billed as "star-studded" and indeed it was. Harry Connick, Jr. was there to perform Piaf's signature song, La Vie en Rose. Although his delivery could have been a little more inspired—perhaps he was concentrating on his French—I was thrilled to hear him sing in person. Madeleine Peyroux, one of my long-time favorite (American) jazz singers, delivered a heart-felt Padam Padam that really pleased the crowd.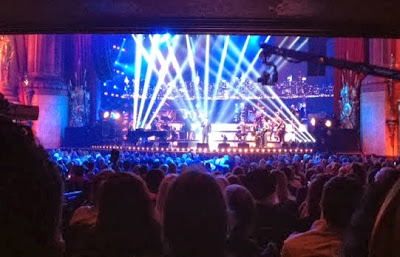 Harry Connick, Jr. takes the stage
One of the goals of Francofolies New York was to introduce some of France's rising stars. So, it should not have been surprising to see many young performers, at least five of which had been top competitors from France's Star Academy and Nouvelle Star (French versions of American Idol).
One of the stand-out performers for me was 33 year-old French pop singer Olivia Ruiz. Ruiz, from Star Academy, belted out a version of Milord that was so remarkably reminiscent of Piaf that we could swear "The Little Sparrow" had snuck on to the stage. Opening performer Nolwenn Leroy, also from Star Academy, sang a brilliant Je Ne Regrette Rien.
Christophe Willem, from Nouvelle Star, wowed the crowd with Mon Dieu. Also from Nouvelle Star, 21 year-old Camelia Jordana sang a very emotional L'Hymne à l'Amour.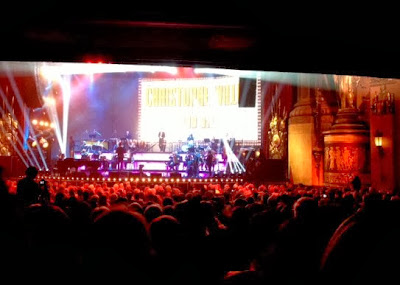 Christophe Willem performs Mon Dieu
The only song performed in English was L'Hymne à l'Amour, sung by well-known British singer-songwriter known simply as "Duffy."
The most moving part of the evening was French singer and composer Charles Dumont's emotional performances of two songs he wrote for Piaf: Les Amants and Les Flonflons. Sitting at the piano, he crooned a wonderful Les Amants and then stood to sing to a recorded version of Piaf and him singing Les Flonflons. The audience was enraptured.
I also really enjoyed Jean Louis Aubert who did a spirited rock-and-roll version of Je T'ai dans la Peau and Patrick Fiori who did a lively L'Accordéoniste that really got the crowd swaying. And, while on the subject of that quintessentially Parisian instrument, the orchestra's accordionist himself was extraordinary.
The strangest performance of the evening was that by French singer and songwriter Patricia Kaas. Arriving on stage in long black gown reminiscent of a boxing robe and boxing gloves (apparent reference to Piaf's lover, French boxer Marcel Cerdan), with a backdrop of photographs of herself, she sang an over-the-top version of La Belle Histoire d'Amour. I know she has an international following and her concerts routinely sell out, even in such impressive venues as New York's Carnegie Hall and London's Royal Albert Hall, but we found her annoyingly more focused on herself than Piaf.
Angélique Kidjo, internationally acclaimed singer and songwriter from Benin, was the final performer. Having seen her at the 2011 Newport Jazz Festival where she put on a stellar show, we were looking forward to her arrival on stage. Kidjo did not disappoint—she put on a rousing vocal performance of Johnny Tu n'es pas un Ange and her guitarist introduced an African rhythm to the piece, all of which really pleased the crowd.
The finale was an uplifting reprise of La Vie en Rose. Notwithstanding the absence of Harry Connick Jr. and Alex Hepburn's apparent unfamiliarity with the lyrics, it lifted the spirit of the audience and sent us bouncing home. I am sure we were not the only family who could hardly wait to get home and dig out our Édith Piaf recordings (which we did!).
TMT readers may remember that we had our own tribute to Édith Piaf last winter. Good friends, Ray Demarco, local jazz pianist, and Janine Kolb, local French teacher, put on quite a stirring performance that snowy afternoon. (Janine and Ray—we'd love to do that again!) Visit that TMT post to see a video of Ray and Janine (or you can often catch them on Tuesdays at The Press Room in Portsmouth, New Hampshire!).
And, finally, you definitely want to make a note that this Francofolies de New York Festival will be aired in October 2013 on TV5MONDE in the U.S.(I think it is October 12th) and public TV channel 2 in France (I think it is October 5th). I promise you won't be disappointed…okay, alright, no one can roll their "r's" like The Little Sparrow..