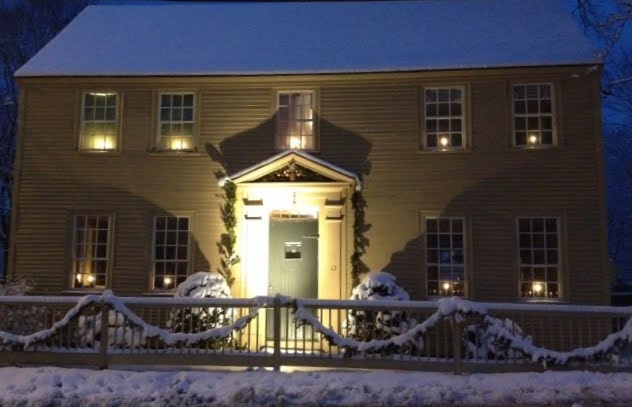 It is 12 degrees outside as I write this post. The wind is howling and the ground is covered with several inches of snow. Portsmouth, New Hampshire is not in the Alps, the place from which this Swiss dish hails, but the blustery weather makes me long for a roaring fire and one of Switzerland's storied and traditional meals. Hint: it has a French name.
Not fondue…the other Swiss meal with the French name—raclette.
In the United States, nearly everyone is familiar with cheese fondue, but very few people know about raclette. And yet, it is said to be more popular in its native country than fondue.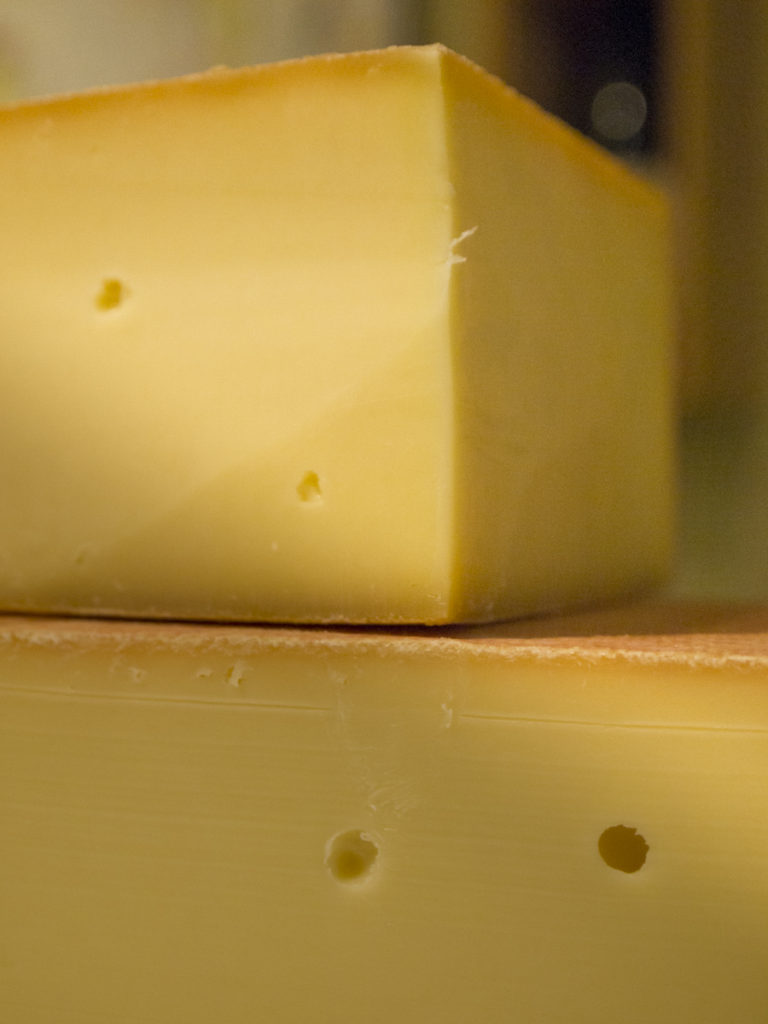 So what is raclette? It refers to both the popular Swiss meal and the cheese that is at the center of that meal. Pronounced rah-KLET, it comes from the French word, racler, which means "to scrape." In its most basic form, it is just melted cheese served with boiled potatoes (fingerling or new), cornichons (small pickled cucumbers), pickled onions, and some bread.
It probably dates back to the Middle Ages when Swiss cow herders in the Alpine valleys and mountains are said to have carried hunks of cheese along with them as they moved the cows from one pasture to another. The story goes that, at the end of the day, as the herders warmed themselves around the campfire, they would place their cheese on a stone next to the fire and wait for it to melt enough to scrape on to a piece of bread. According to some lore, the meal was inadvertently discovered when a herder happened to place his bag of cheese and bread near the fire: the cheese melted, the herder scraped it on to the bread, and a delicious meal was created.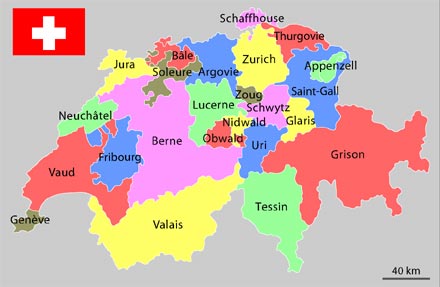 The Canton de Valais, one of 26 districts in Switzerland, is in the heart of the Alps—home of the Matterhorn (4478 m / 14691.6 ft.)–and is where raclette is said to have originated. It lies in the southwestern corner of Switzerland, bordering France and Italy. Both French and German are spoken in this canton (although it would not be uncommon to hear Italian as well).
Raclette was first called "Bratchäs," a German word for "roasted cheese" or the French equivalent, "fromage roti." It was not until the beginning of the 20th century, when the melted cheese was served at a 1909 Canton de Valais exhibition of regional wines, that the cheese and the meal were christened "raclette."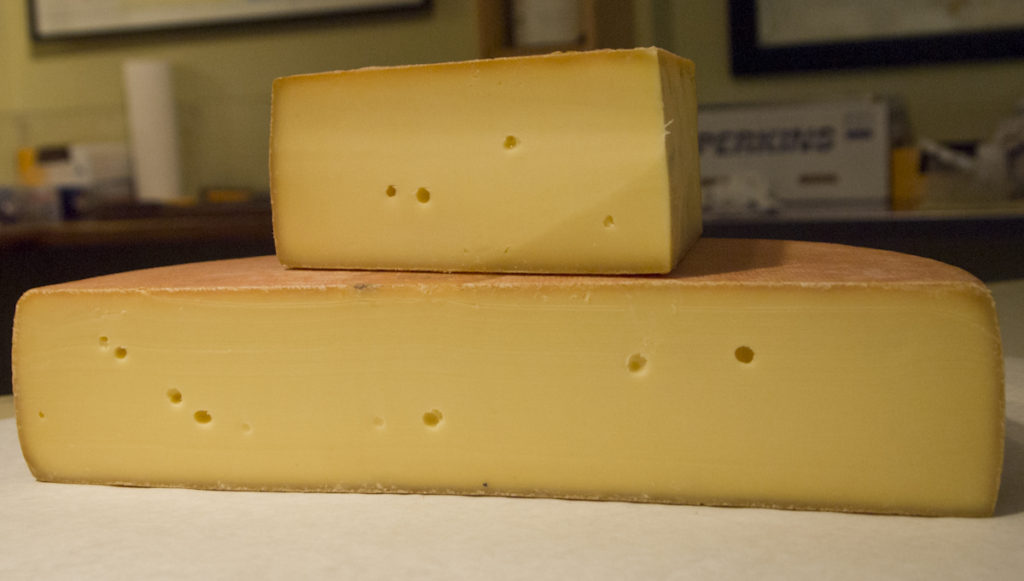 The cheese is semi-firm and made from pasteurized cow's milk. (Legislation in Switzerland now requires all cheeses to be made with pasteurized milk.) The distinctive flavor of… raclette cheese is said to come from the herbs that the cows graze on in the mountains of the Canton de Valais. The texture is creamy and buttery—it is required to have at least 45 grams of fat per 100 grams of cheese. It is, of course, made in Switzerland but also in France and now in Germany, Austria, the U.S., and Australia as well.
Today, raclette, the meal, adheres to its roots as a simple dish. However, it is now likely that your melted cheese will be served with more than potatoes, cornichons, pickled onions, and bread! A charcuterie and vegetables almost always accompany the original meal. At our table, it is a veritable feast of accompaniments!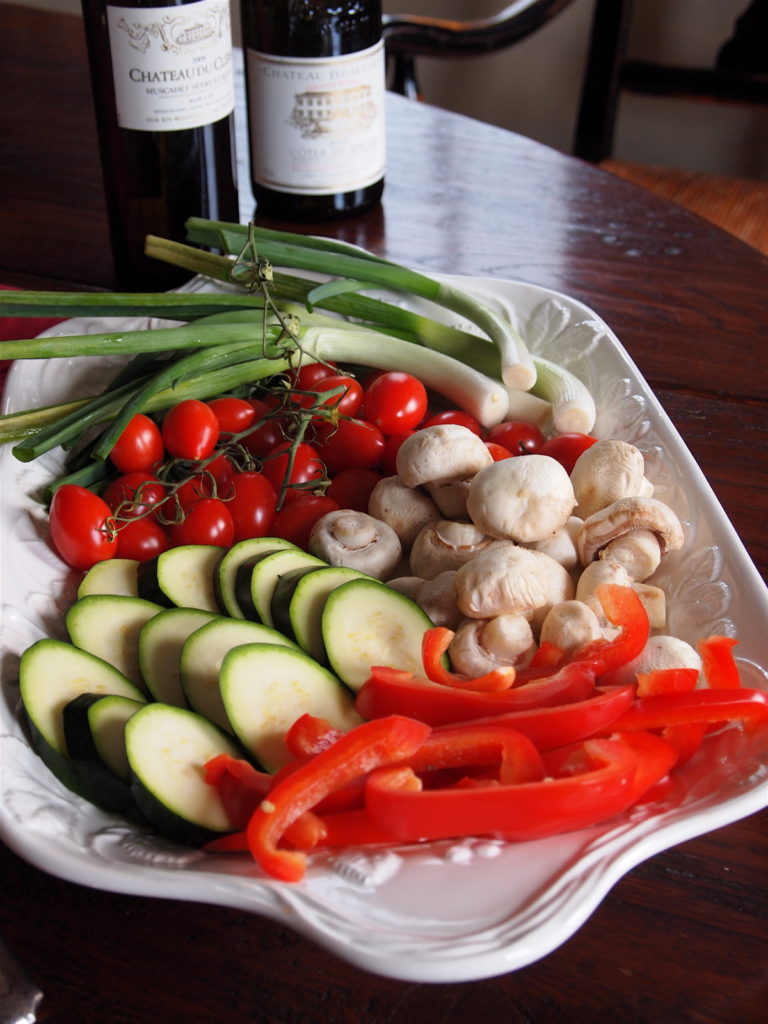 I usually serve several platters of vegetables that may include slivers of red peppers, quartered artichoke hearts and mushrooms, sliced zucchini, cherry tomatoes, scallions, hot peppers, broccoli, baby corn cobs, asparagus, and hearts of palm. Depending on your taste preferences, marinate, pan fry, or serve these accompaniments raw. The potatoes can be served whole or sliced. A simple green salad and baguette are the only other obligatory items although (cooked) shrimp often finds its way on to our table (to the audible pleasure of our guests).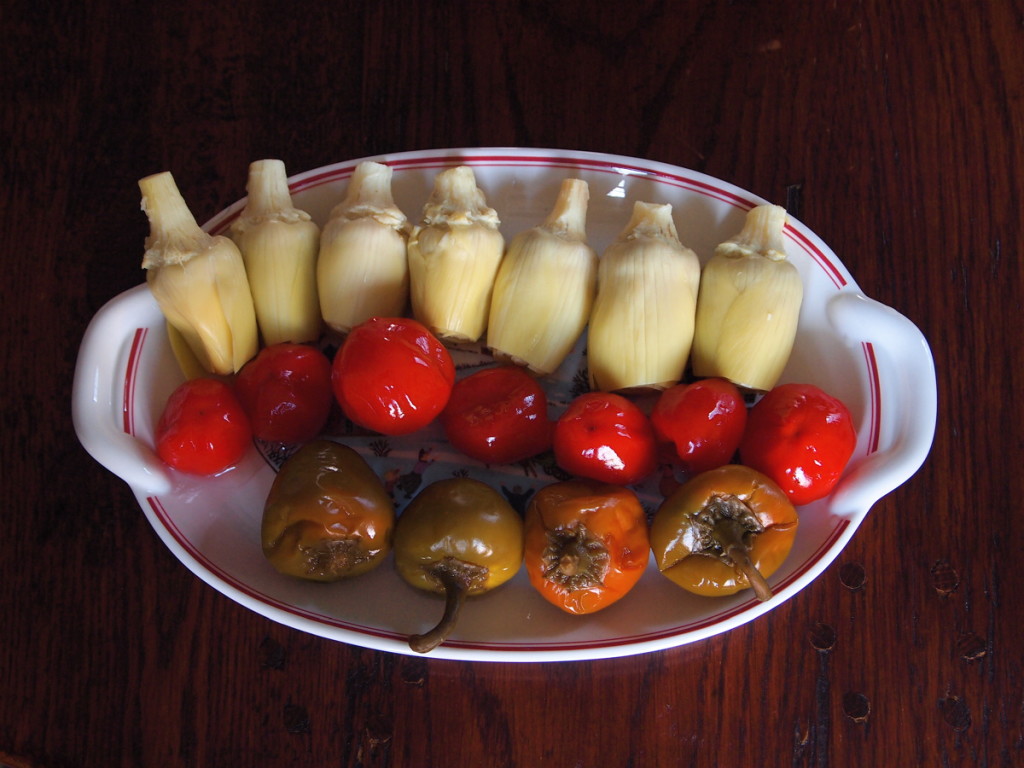 In Switzerland, a Swiss Fendant wine (made from Chasselas grapes) is often paired with raclette. You are also very likely to be offered hot tea or beer. Very cold beverages are not traditionally served as they are thought to disrupt digestion.
In Portsmouth, Dave Campbell, proprietor of Ceres Street Wine Merchants, suggests a simple white wine with some acidity. The 2009 Château du Cléray Muscadet that he selected was perfect.  At Portsmouth's South Street and Vine, proprietor Win recommended a Côtes du Rhone from Chateau Beauchêne. It is a lovely white wine that also complemented the cheese perfectly and was an interesting recommendation because the Rhone River flows through the Canton de Valais, where raclette originated, and continues on into to France and south into Provence's Côtes du Rhone where the wine is produced.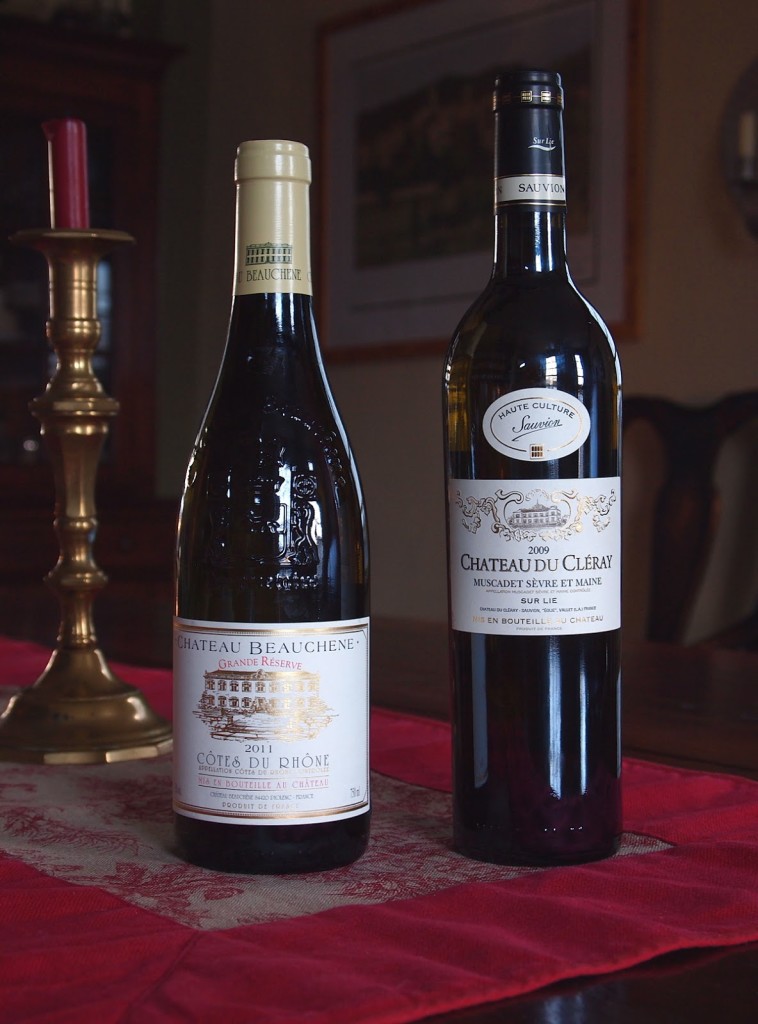 To enjoy raclette, you no longer have to build a camp fire and scrape your cheese off a hot rock. Raclette grills for the home are now widely available. There are two basic types.
The most common "machine" has two levels so that veggies and meats can go on top to be grilled while potatoes and cheese go in individual trays that slide under the grill. While the veggies are getting hot on the top, the cheese is melting on the potatoes below. The grill is set up to serve eight people—there are eight small trays that slide under the top level—but it has been our experience that there are territorial disputes over space for the grilled items on the top level. I recommend a maximum of six guests per grill. (We now have two grills!)
The second type of machine has a heating element that melts the top portion of a half- or quarter-wheel of cheese which is then scrape on to a plate, individual or communal. The cheese is then scraped off and spread on the accompanying veggies, charcuterie, bread, etc.
We were introduced to raclette in Interlaken, Switzerland, a small but busy town, used as a springboard for the surrounding Alpine destinations of unparalleled beauty. We were there to meet family friends—young brother and sister, Breana and Dustin from California who were traveling abroad for a month—and to do some hiking around Grimmelwald. After a tiring—but exhilarating—day of walking and taking in the glory of the Alps and with temperatures dropping precipitously low, we felt like a meal that would stick to our ribs. Fondue! We chose a restaurant known for this well-known dish; but, once there, we became so intrigued with the waiter's description of raclette—and never having heard of it before then coupled with being voraciously hungry—we ordered both. It was the raclette that we all enjoyed the most!
When we returned to Provence, we found raclette in a restaurant called L'Aïgo Blanco in Forcalquier, about 45 minutes from Lourmarin, the charming village we have long used as our "base camp." I know it is available in near-by Aix-en-Provence and Marseille, too.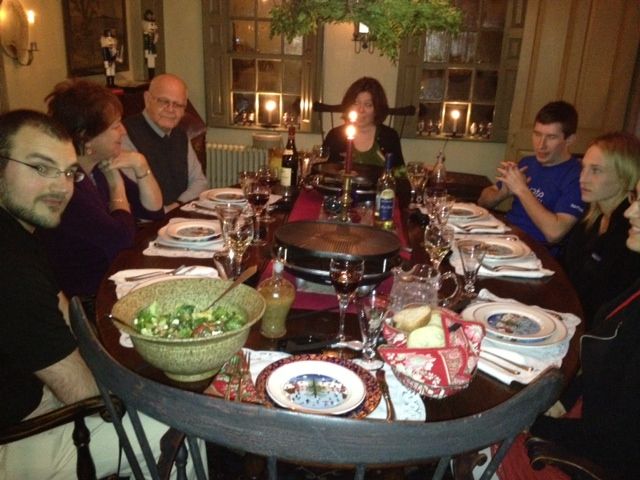 Raclette is a very social meal: lots of passing of platters and, as I suggested above, a lot of affable jostling for grilling space. It is always fun—and easy—to invite a crowd to the house for raclette. Good thing, because it is very hard to find a restaurant that serves this dish outside of Switzerland and France.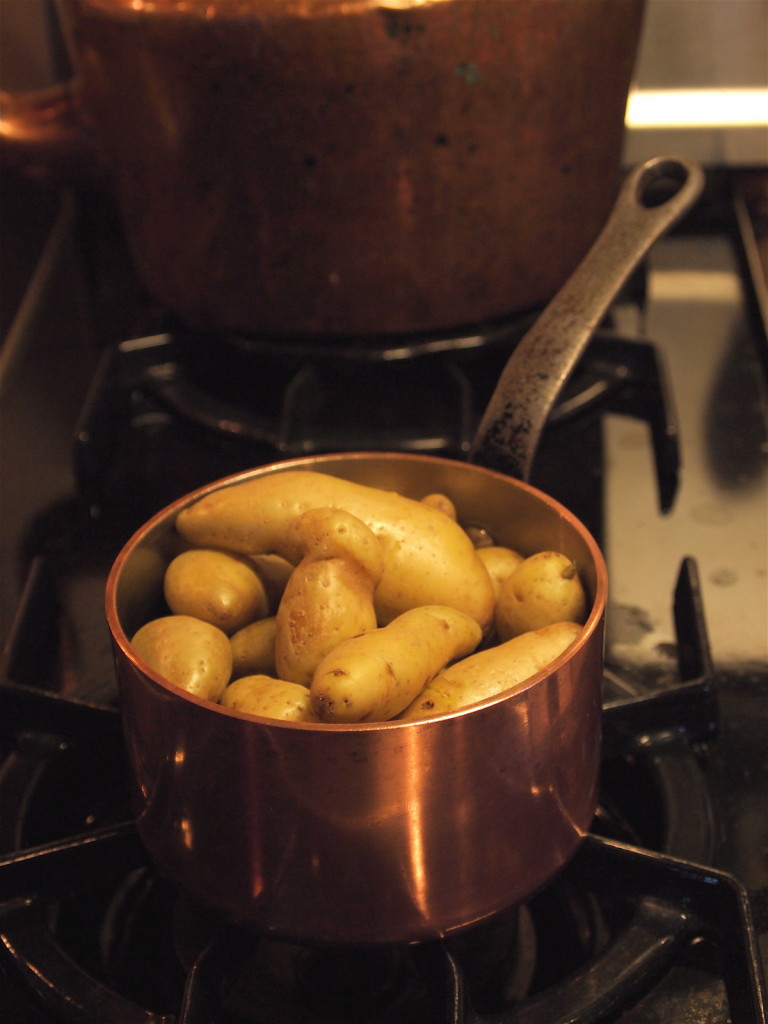 But, I hasten to add, that it is also a perfect meal for one—which is what I am doing tonight. Home alone and in the mood for raclette—no problem! I am fortunate to live across the street from a small wine and cheese store, South Street and Vine, where I can buy the cheese—Berghoff raclette cheese from Switzerland—as well as the baguette (if I get there before they have sold out).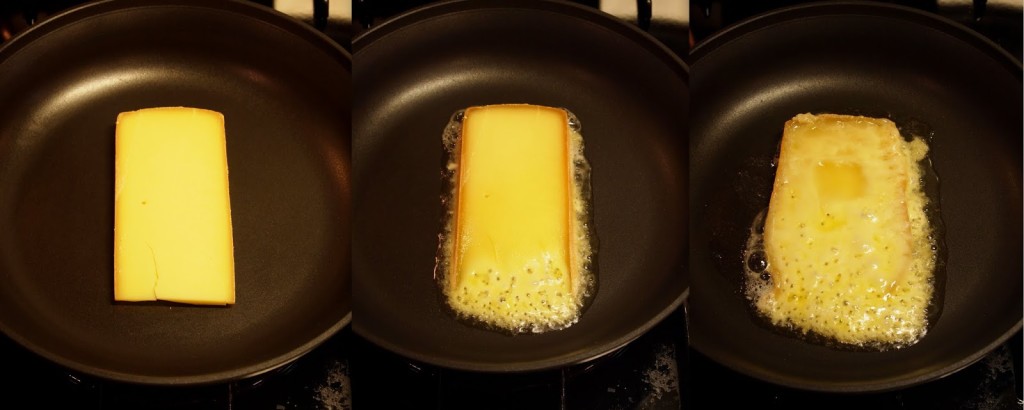 No sense unpacking the raclette grill for one person.  I melted the cheese in a non-stick skillet, boiled the potatoes, and raided the fridge. I had an open bottle of red wine–a blend of Cab, Syrah, and Petit Syrah–so I poured myself a glass and I cobbled together a very nice dinner.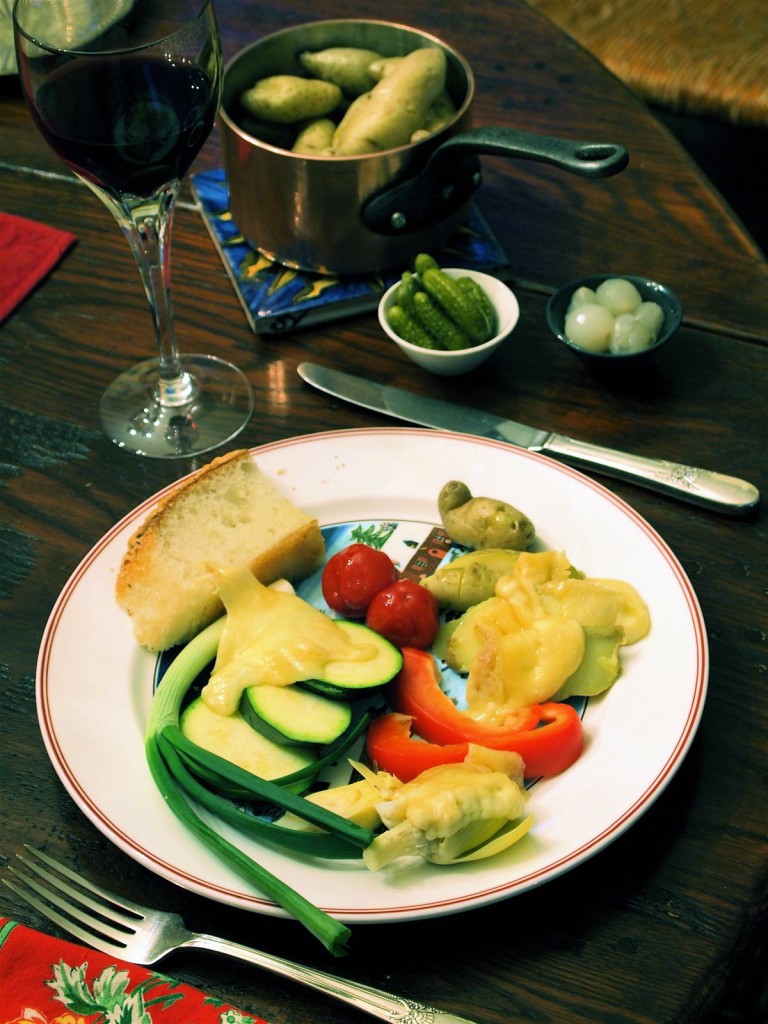 On a cold winter's night, the Swiss know what to have for dinner!