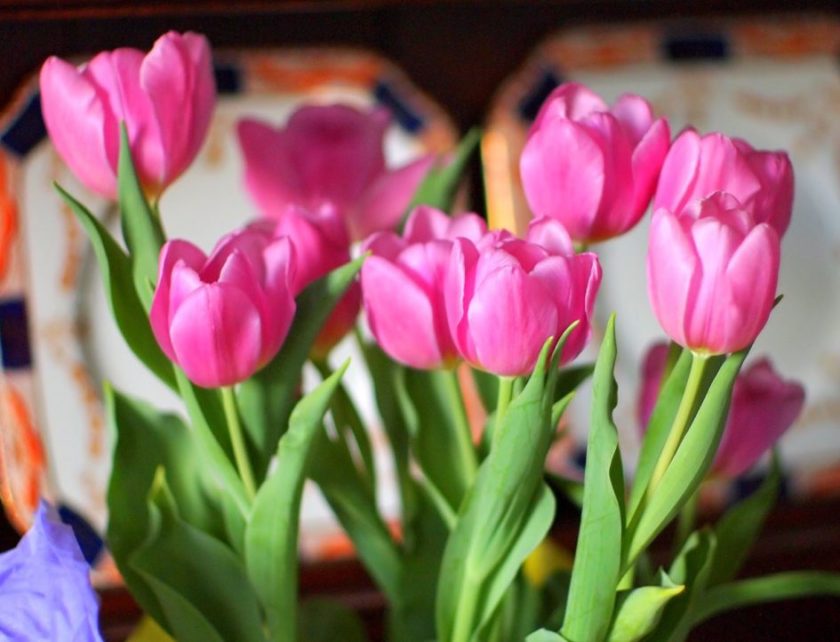 It is quiet in Provence today. It is Lundi de Pâques, a public holiday in which post offices, banks, many stores and, especially in small villages, restaurants and cafés are closed.
Look for family and friends gathered together for an Easter egg hunt, attending a parade or La Féria (which marks the start of bullfighting season in France) and, later, look for them around the table for the traditional Easter Monday meal of omelets.
In our favorite village of Lourmarin, we checked in with friends to see how the celebration of Easter was taking form there. In the predominantly Roman Catholic country of France where there is a church or two in every village, it's not surprising that Easter is a joyous occasion. Although in Lourmarin, as in other Provençal villages, the celebration is low-key in comparison to other areas of France, most notably the Alsace region.
April in Lourmarin began with some rain, following a "stunning" March. With temperatures into the 70s and a back drop of "almond blossoms fading to announce white clouds of cherry flowers," a lovely stage was set for Easter.Jim O'Neill who, with his family now lives full time in Lourmarin, told me that neighboring villages had "colorful Easter 'carnivals' with floats, fancy dress…music and a general air of spring joie de vivre." Lourmarin's carnival, set for after Easter, is highly anticipated.
Easter egg hunts seemed to be mostly family affairs with invitations extended to close friends although Jim got word that an egg hunt on the grounds of the château was planned. If I were a kid, I would definitely head over to that event!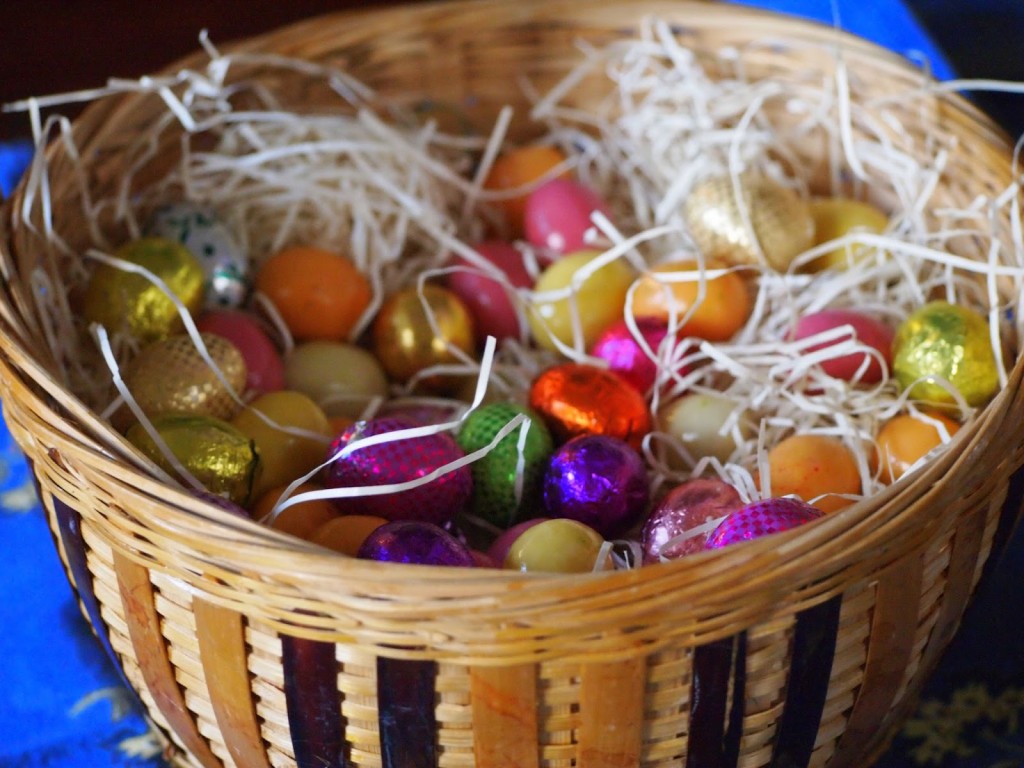 The Lourmarin shops and bakeries have been full of Easter goodies for weeks. The window displays are charming but very simple, even rustic, in comparison to the elaborate displays found in the confiseries and chocolatiers in Alsace and Paris. There, the Easter displays are akin to the Christmas windows in New York and attract many admirers. There are lovely chocolate bells with delicate wings and ornately decorated eggs that look more like works of art than something one might actually eat. Edible bunnies probably originated in Germany so it is not surprising that fabulous cookies, cakes, and chocolates in the shape of rabbits can be found in Alsace. And, one will also see American Easter standards–chicks and lambs—and lots of fish!!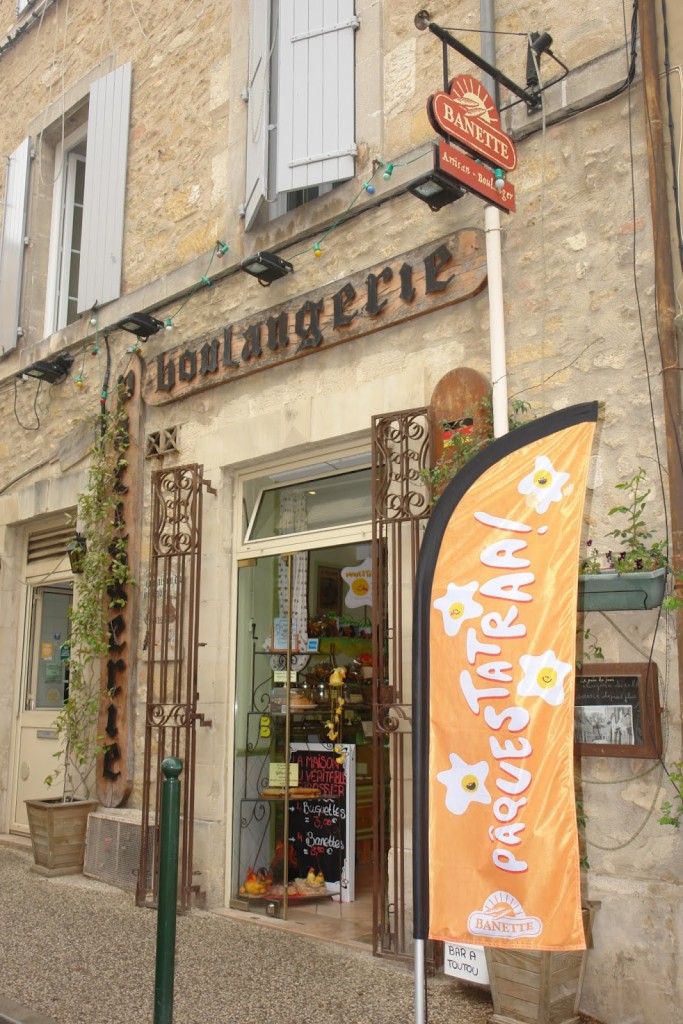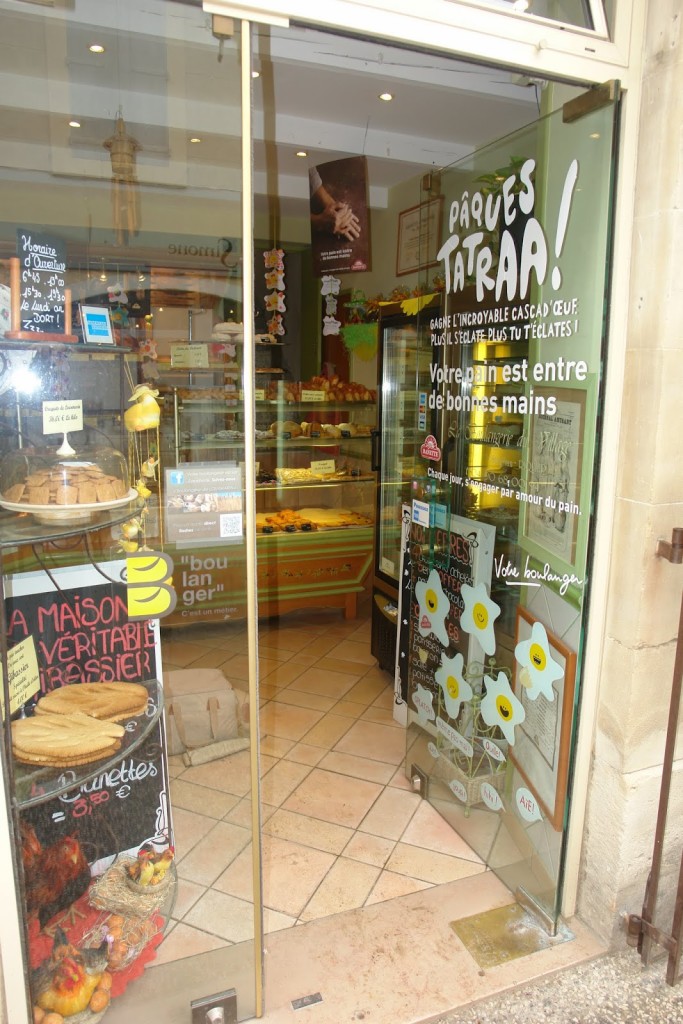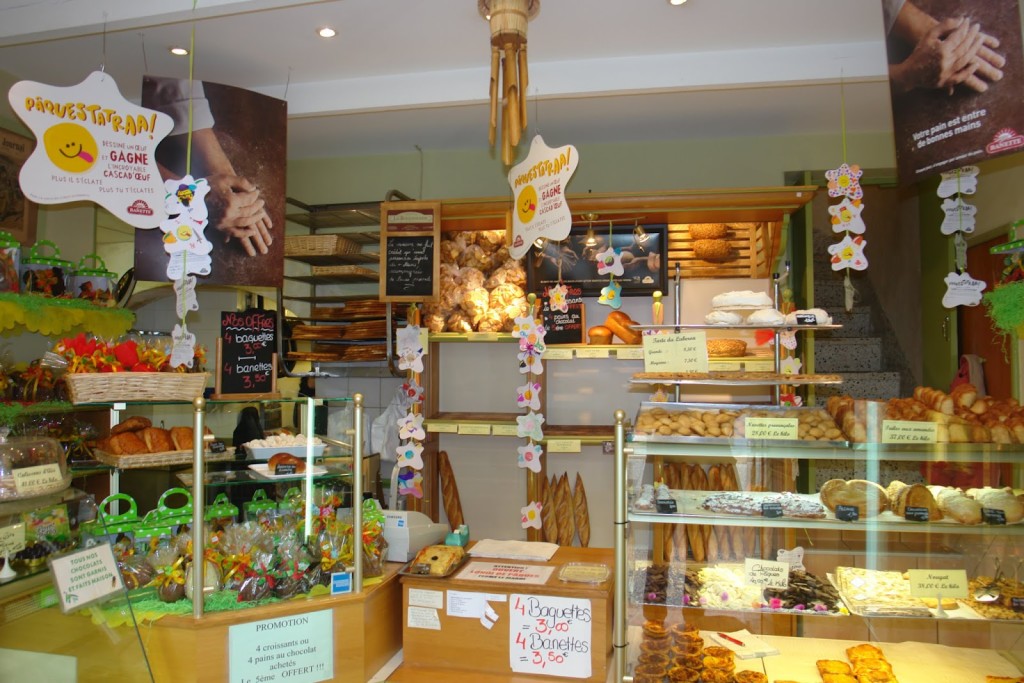 Who doesn't know that the French love food, but still the inclusion of the cold-blooded vertebrate creatures with gills and fins in an Easter celebration—albeit in chocolate—was, well, baffling. I didn't think these chocolate fishes had anything to do with the line drawings of fish I see on bumper stickers of Christian cars, but perhaps there was a pagan origin that connected both.
When I asked what fish had to do with Easter, the answer I most often got was that the fishes—called Les Poissons d'Avril or the April fish—actually stemmed from an April Fool's "trick" that has been assimilated into Easter given the proximity of the dates.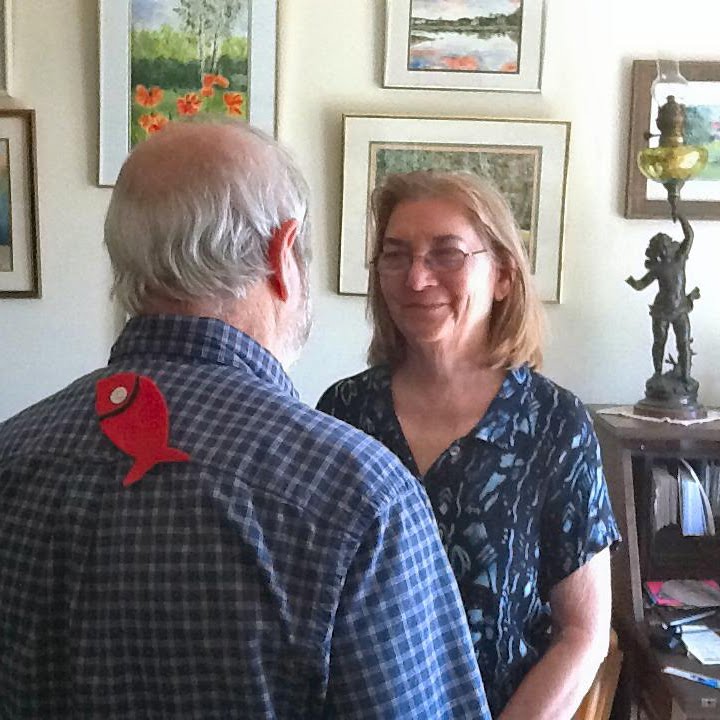 The trick is that children stick a paper fish on the back of as many adults as they can and then shout, "Poisson d'Avril." The children laugh and run away, only to return to receive a small chocolate fish from the successfully targeted adults. It is said that this tradition is several hundred years old and may have evolved from another "trick" in which some unsuspecting person would be sent to market to buy a particular fish that was not in season. (The global food market no doubt took the fun out of the real fish trick and my cynical side fears that the sticky fish trick will soon become too simple for our sophisticated youth!)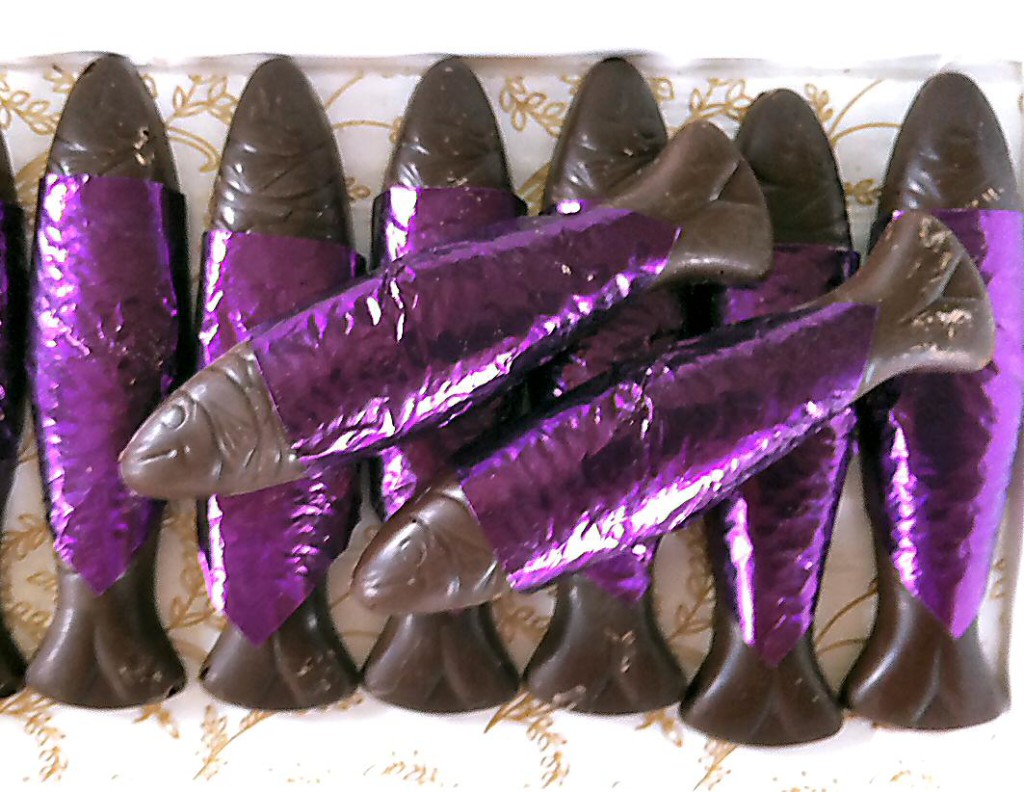 In Lourmarin, in fact, sticking the fish on the backs of friends has pretty much fallen out of favor as an April Fool's trick, but eating chocolate fish has not lost its appeal. These small chocolate fish, often wrapped in shiny foil and sometimes tied in a bundle by a pretty ribbon, have gradually been swept into the Easter goodies and, now, can even be found inside a chocolate Easter egg.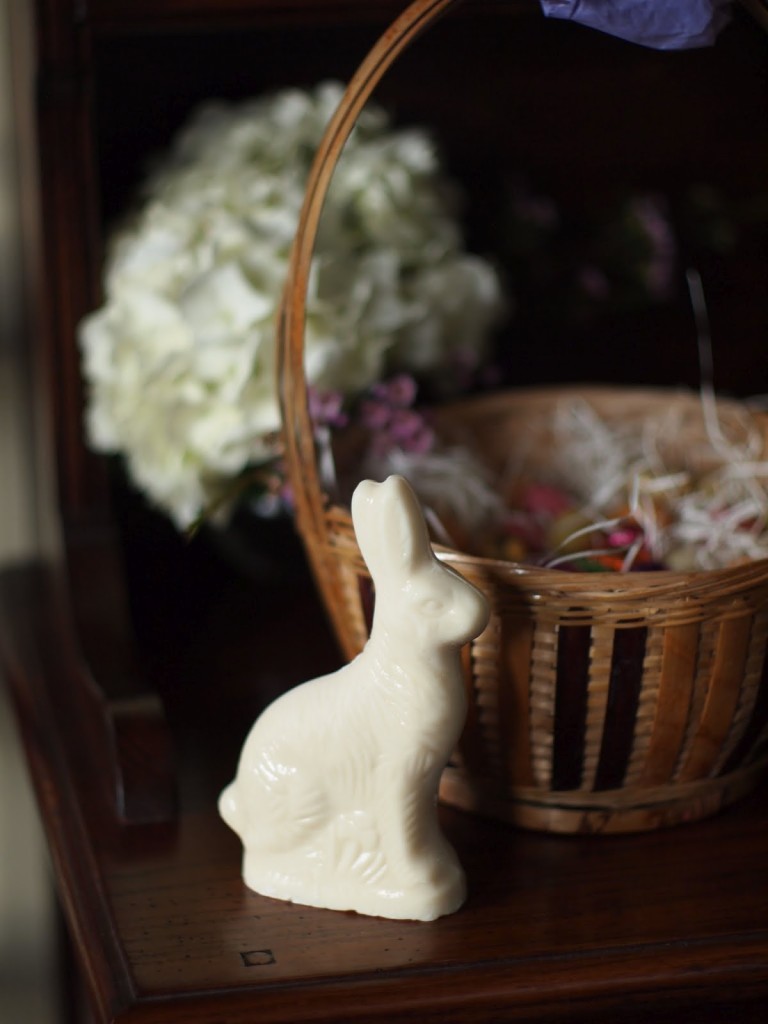 On Easter day, children in Lourmarin hope that goodies will be left for them by either
Le Lapin de Pâques
or
Les cloches de Pâques
. I gather that the Easter Bunny is a relatively new addition to the festivities in Provence although he has been visiting Alsatian children since the 17th century and may have originated in Alsace.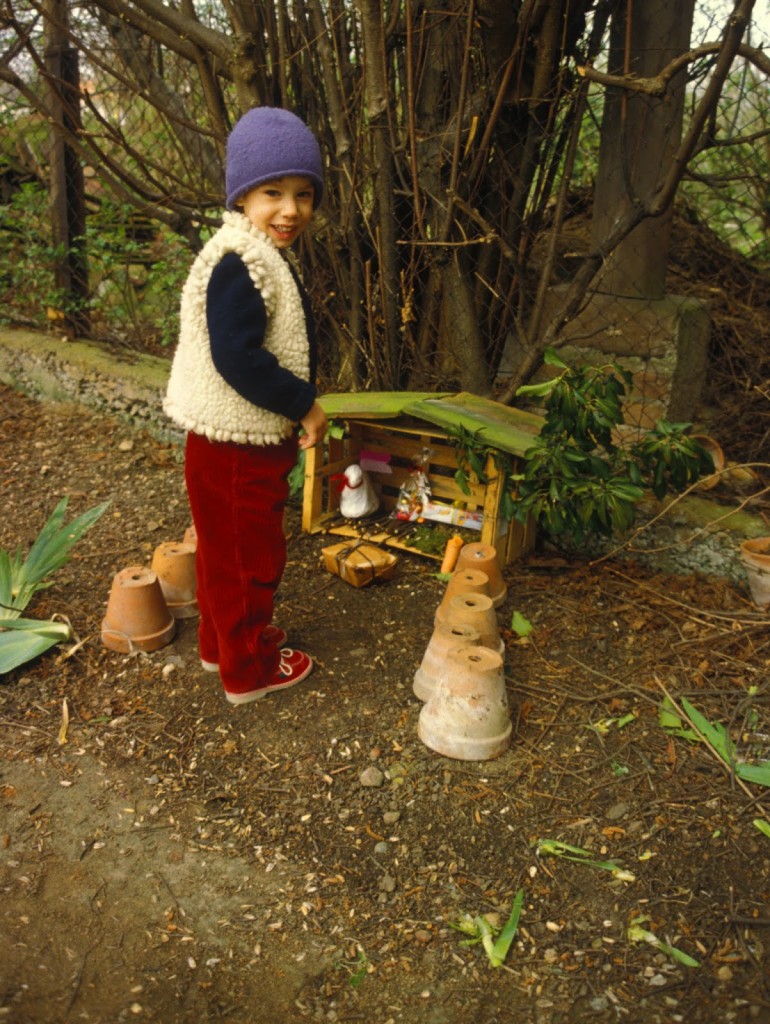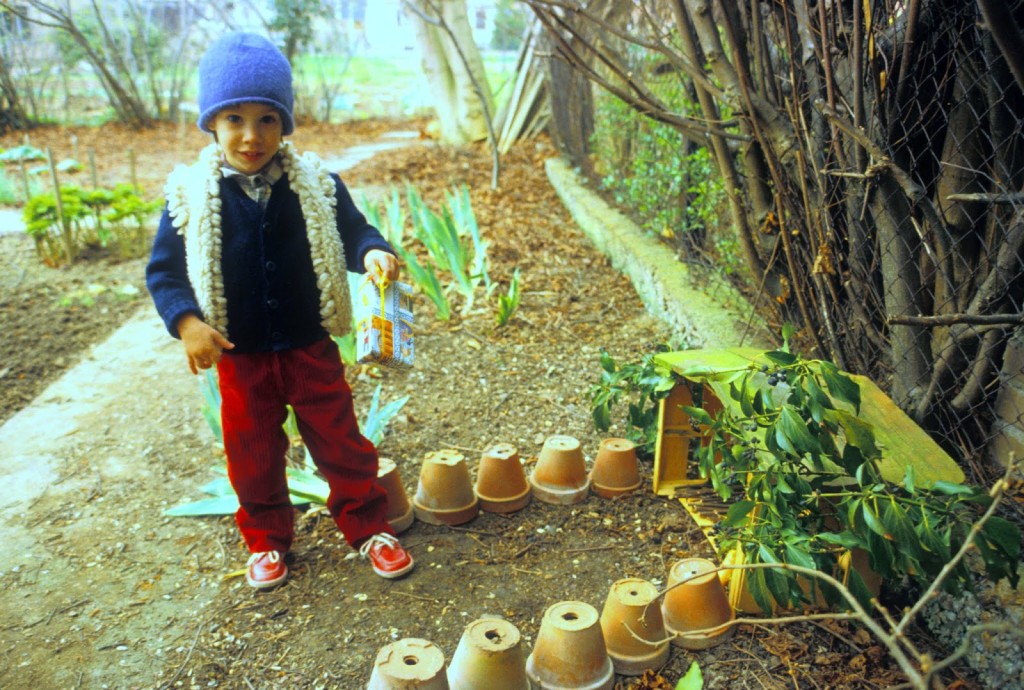 Children in Alsace make nests with leaves, sticks, and grass from their garden and
hope that the Easter Bunny or the Flying Bells will fill them with Easter goodies.
The church bells of Easter have long been a part of French Easter celebrations and may date as far back as the 7th century. The bells are said to fly to Rome to visit the Pope on the eve of Good Friday when, all over France, church bells are silenced as a sign of mourning of the death of Jesus. (In Roman-Catholic France, I guess the Vatican would be a likely destination for church bells.) On Easter morning, the church bells return to France to drop Easter eggs to children and to ring out from their steeples in celebration of the resurrection of Jesus.
Agneau de Pâques
is definitely the most popular main course for Easter dinner in Lourmarin. Lamb from nearby Sisteron—
Agneau de Sisteron
—would be our friend Pierre's recommendation. That renown lamb is an appellation of origin, meaning that certain specifications of farming must be followed so that the quality of that lamb is controlled.
Jim and wife Linda will be serving a "pot roasted rabbit." "[T]he rabbit will be skewered in places with rosemary from the terrace and, of course, ample garlic" and then cooked "on a bed of a little good oil with finely chopped onion, carrot, and celery melting on the base…." Linda's roasted potatoes a la mode italienne—a dish that has claim to fame in the family—will accompany the rabbit and a simple preparation of asparagus from nearby Villelaure—known for this spring delicacy—will grace the table. Sounds good to me although I have to confess that I've never eaten rabbit on the same day that a cute incarnation of him put eggs in my basket!
And Lundi de Pâques finds us at the table again with omelets. With such a feast and all those goodies the day before, a quiet day and a simple omelet sounds divine. But, if quiet is not for you, next year head over to the village of Bessières in the Pyrenees Mountains near the Spanish border. It's not quiet there on Easter Monday. Nope. Every year residents prepare a communal meal in which the main course will be gargantuan-sized omelet of 15,000 eggs, cooked in a pan four meters (over 13 feet) wide. Hmmm….I think we must do that one year!
I hope that you and yours had a Joyeuses Pâques!