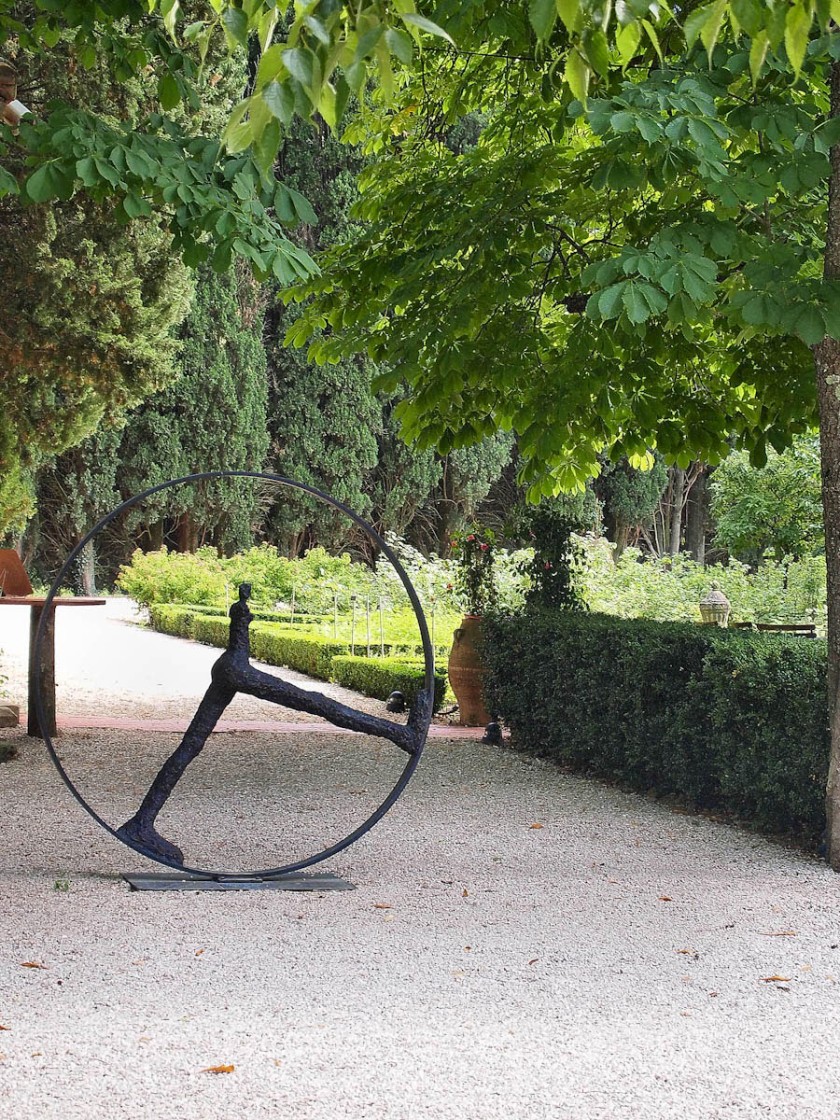 "It's breathing history and serenity…and then there's the food." Tancrède Barale, Managing Director of Hostellerie de l'Abbaye de la Celle and La Bastide de Moustiers
Long-time readers of The Modern Trobadors know that my stomping grounds center on the Luberon in Provence's département of the Vaucluse, with frequent ventures into the Bouche-de-Rhone département. Seldom do I find myself in any of the other four départements of Provence.
It's not that I don't like those areas—in fact, I love Saint-Tropez in the Var; Moustiers-Sainte-Marie in the Alpes-de-Haute-Provence; and Nice in the Alpes Maritimes département—it's just that I'm seldom drawn so strongly that I want to rest my head there or even drive over for lunch. Until this past trip, that is.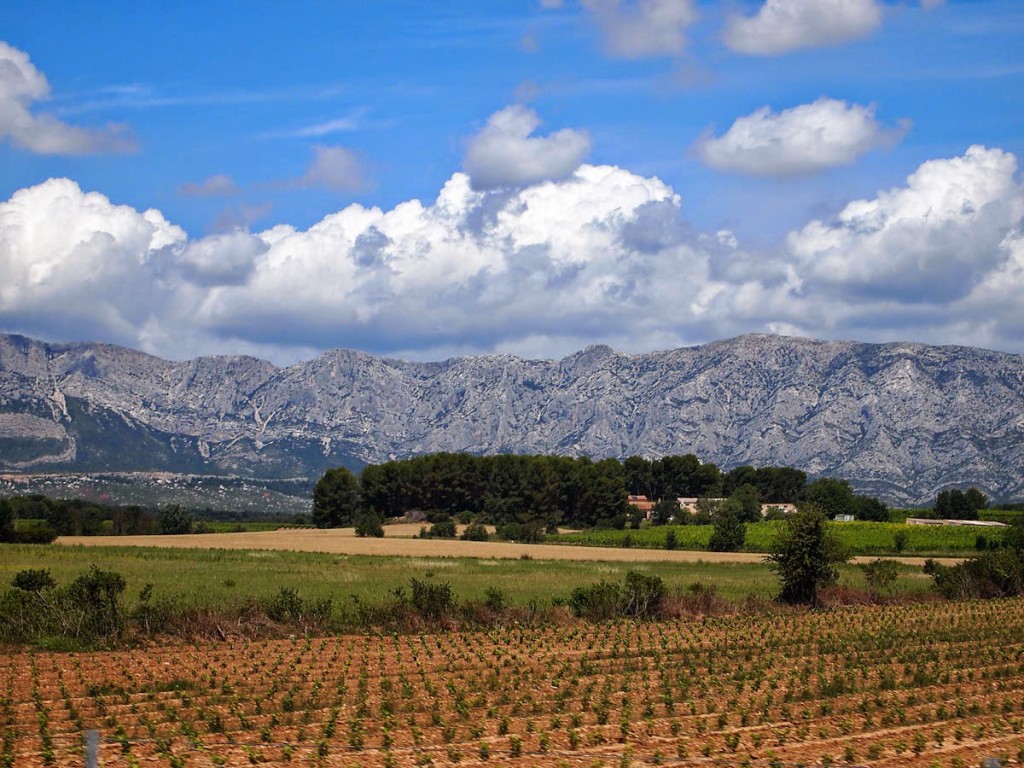 After all the years of listening to good friend Pamela O'Neill rave about the Var, the département in which she lives, arguing that it is more authentically Provence than the area I prefer—the one Peter Mayle inadvertently defined as Provence when he wrote about his year in the Luberon and called it A Year in Provence—I've discovered the Var.
I know exactly where I would like to return to rest my head again, where I would love to come to the table again for breakfast, lunch, and dinner, and where I yearn to luxuriate once more in the pleasures of such halcyon grounds—The
Hostellerie de l'Abbaye de la Celle
.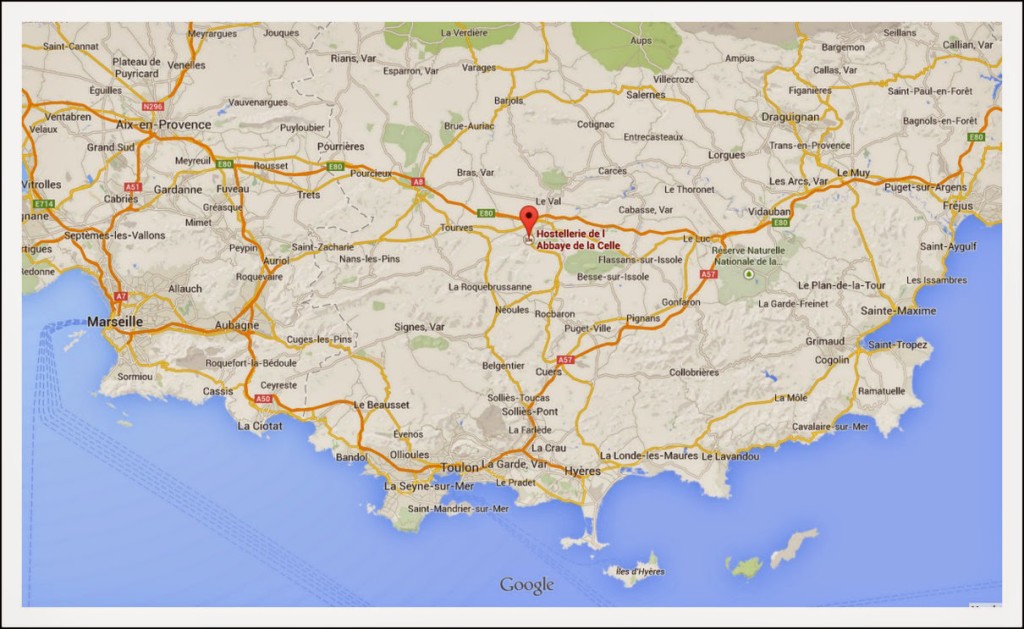 Located in the quiet village of La Celle in the heart of the Var, this boutique hotel is a great base for exploring the many attractions of the region but it is also a destination itself. The département of Var is internationally renowned for its dry, pale rosé—although it is home to some excellent reds and whites, too—and for its natural beauty—with its mountainous and forested terrain, it is referred to as La Provence Verte (Green Provence).
With its understatedly elegant inn, its Michelin-starred restaurant, and the ancient Benedictine abbey on one side and the Maison des Vins Coteaux Varois en Provence on the other, Hostellerie de l'Abbaye de la Celle beckons one to come for an overnight retreat or an afternoon respite. We opted for the former but would eagerly return for just an afternoon!
It was early July and we were finally en route to the Hostellerie de l'Abbaye after a whirlwind tour of wineries, markets, and restaurants. From Vacqueyras to La Motte, Pam and I had put in long days taking notes and photographs—and, okay, tasting wine and eating good food—for articles to appear in this blog and in a new blog, Provence WineZine (to be launched soon). It was an incredibly fun and productive three weeks, but we were tired.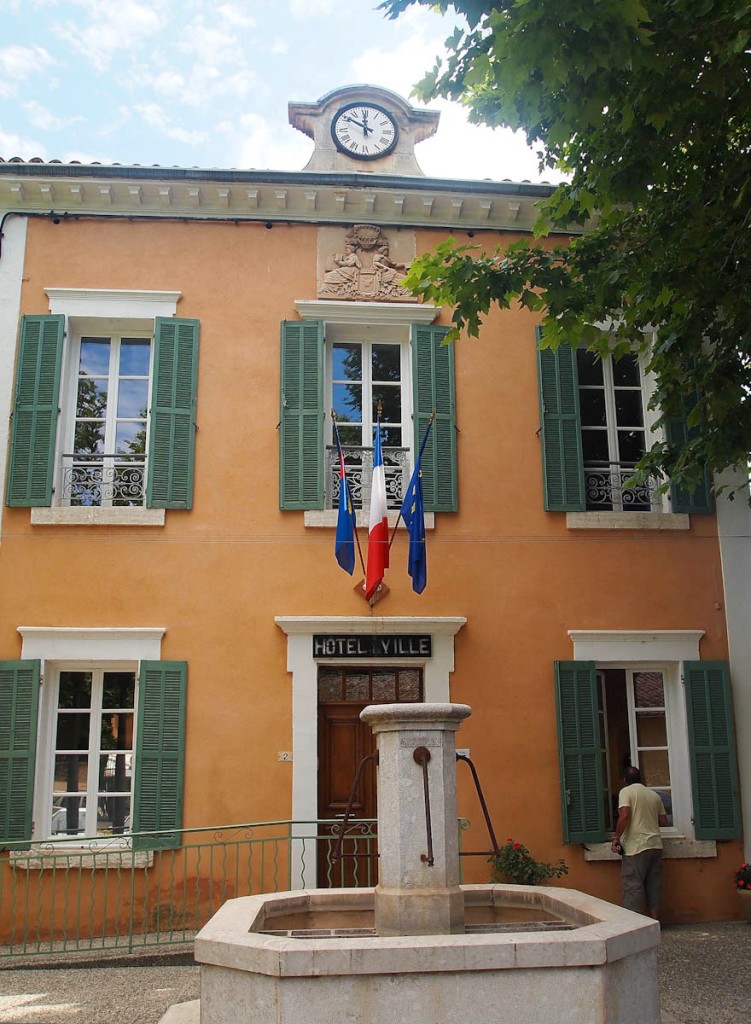 After passing through Brignoles, a medieval town that is now the area's largest center of commerce, we continued southwest and exited from the next roundabout, following signs for La Celle. The entrance to this small village of about 1000 inhabitants is a rather unremarkable block of contiguous tan-colored homes with protruding antennae and satellite dishes. However, after rounding the final corner, we came upon a lovely shaded Place that we later realized, especially after spotting the Hôtel de Ville, was the center of the village.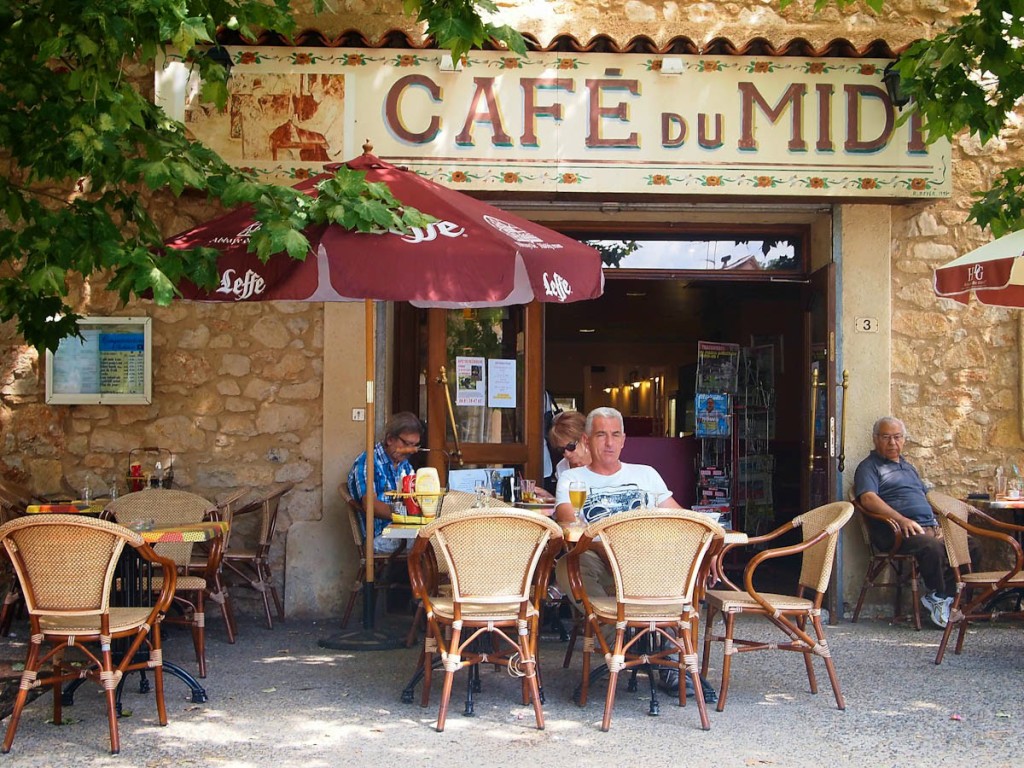 An attractive watering hole (that I suspect is home to many watchful locals) hugged one side of the Place but our eyes were drawn to the other side. There, a large beautifully painted sign—reminiscent of another much earlier time—suggested that the tranquil grounds of the Hostellerie de l'Abbaye de la Celle waited inside the old stone wall on which the sign was painted. We drove in through the wrought iron gates and knew immediately that we were going to relax. (Little did we know we would have so much fun!)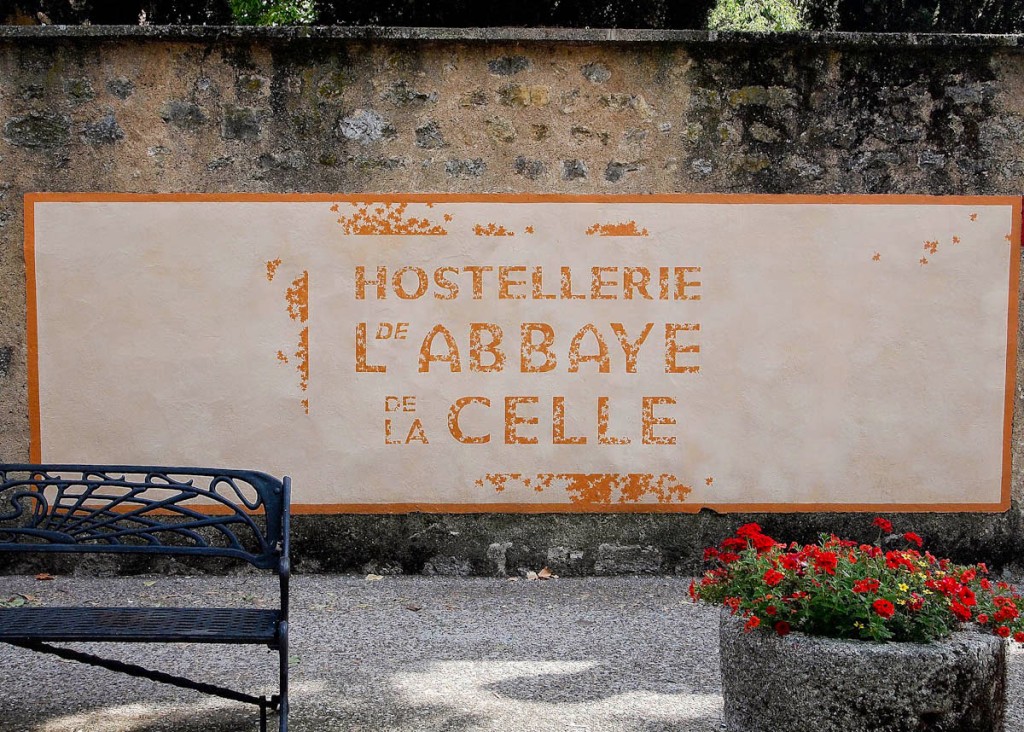 We were warmly greeted by a team of young men and women who wished to take our bags and park our car. As I looked at the odd assortment of baskets, boxes, and very heavy bags that we had amassed, I felt a little like the Clampetts pulling into the Hotel Bel-Air. But if the genial staff were nonplussed by what they found piled into the trunk and back seat, their manner belied those feelings—they responded as if they were about to transport a large set of matching Louis Vuitton bags.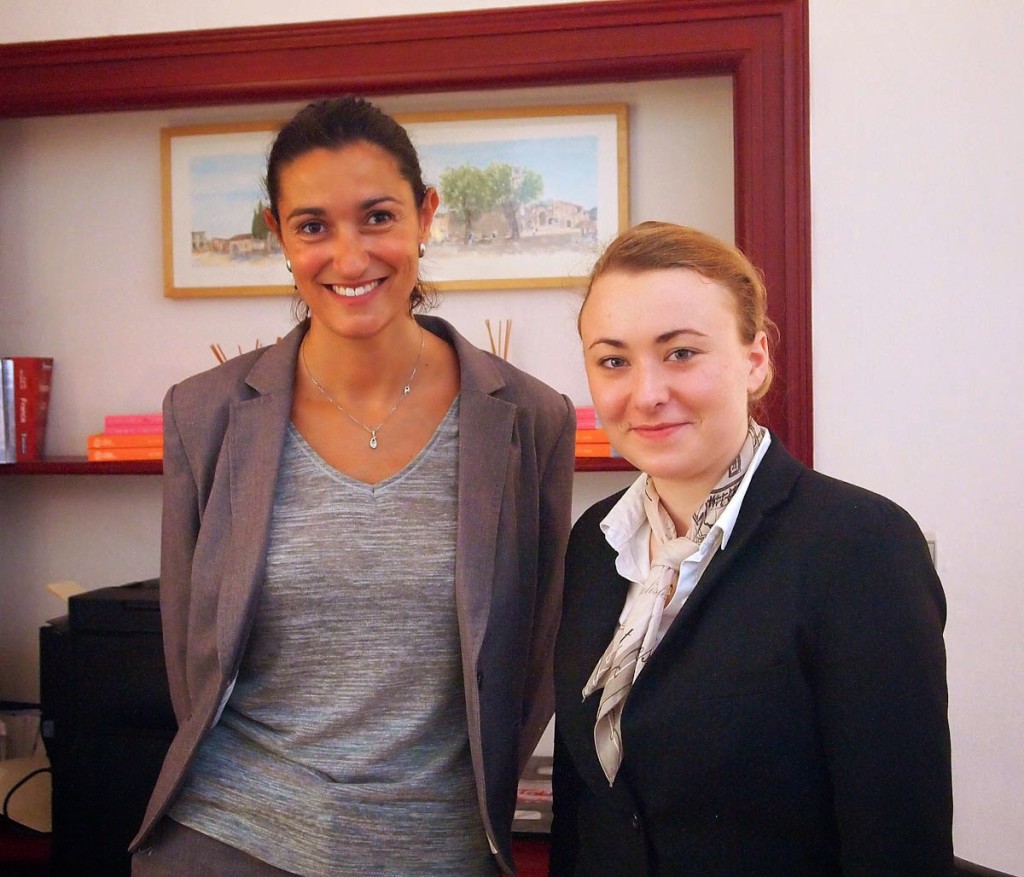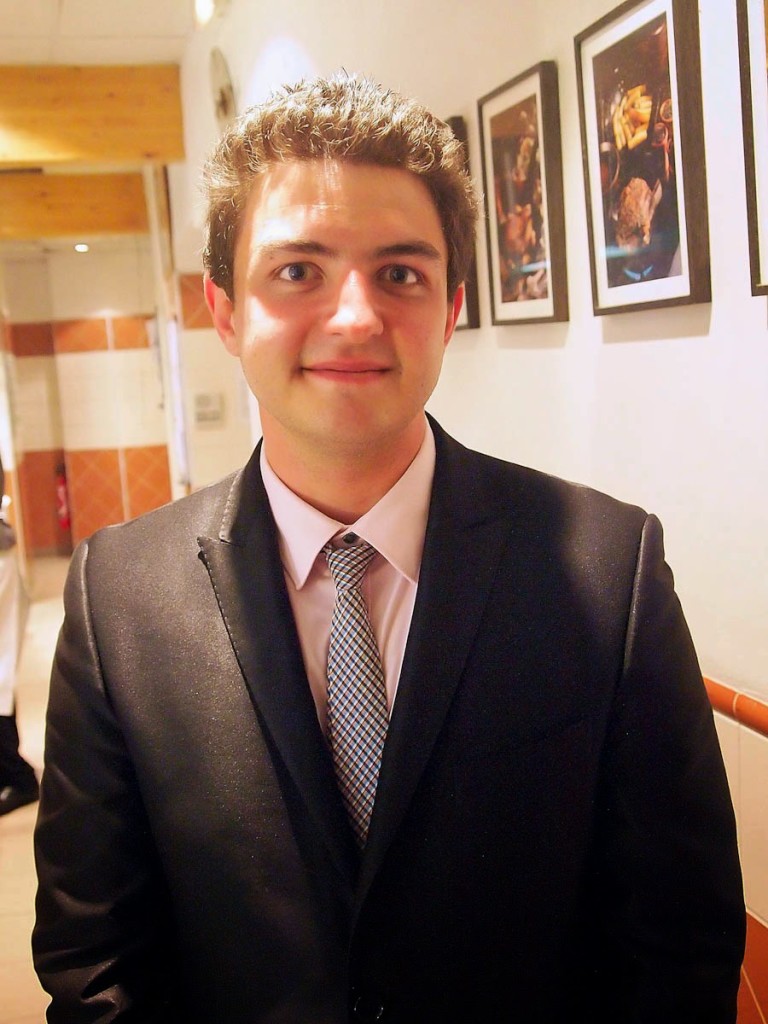 This affability was apparent in all of our interactions with the staff. Sophistication without airs seems to be a hallmark of Alain Ducasse properties; it was here in abundance. Without exception, from the reception desk to the kitchen, we would find that every person seemed to take genuine pleasure in assisting us and pride in being part of a team that seeks to please their customers.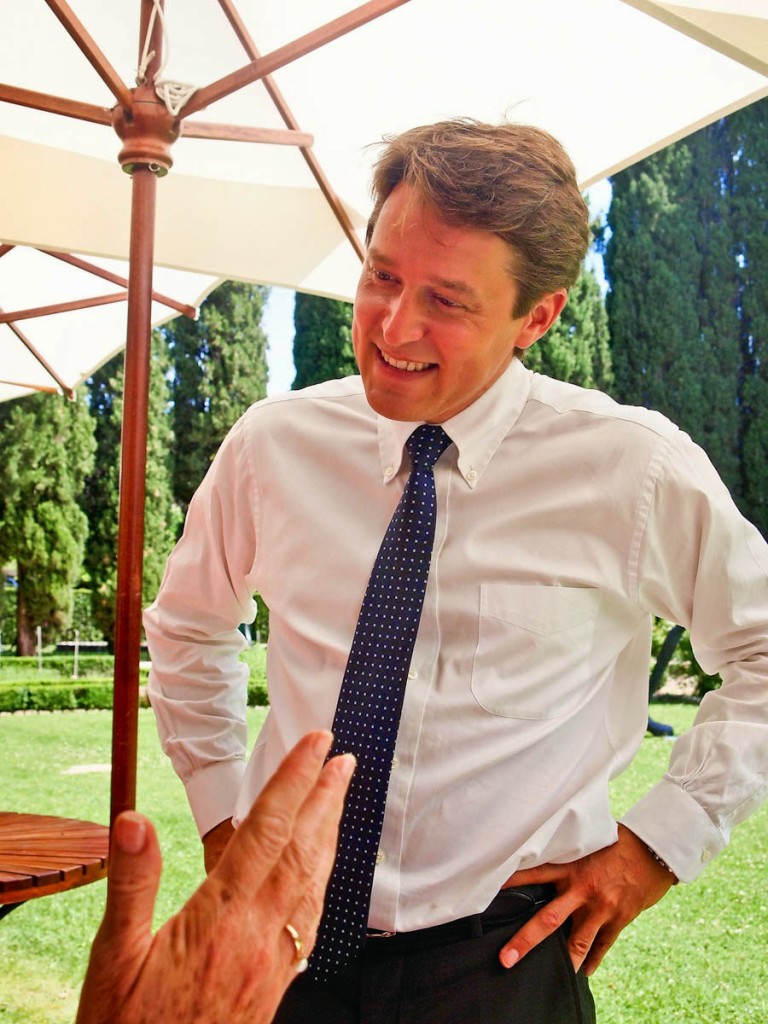 Tancrède Barale, Managing Director of this property as well as La Bastide de Moustiers, explained that outstanding service was at the heart of Alain Ducasse's goals for these two inns that, along with a third hotel in Tuscany, comprise his Châteaux & Hôtels Collection.
Déjeuner
It was the quintessential summer day in Provence—brilliant blue skies dotted with a few puffy white clouds and an intensely bright and warm sun—so we took our lunch on the terrace, under the welcome protection of a huge canvas umbrella. Overlooking the beautifully landscaped garden, bounded by a row of 100-year-old cypress trees in the rear and dotted with fountains fed by natural springs and larger-than-life sculptures by Nathalie Decoster in the foreground, I felt my weariness begin to evaporate.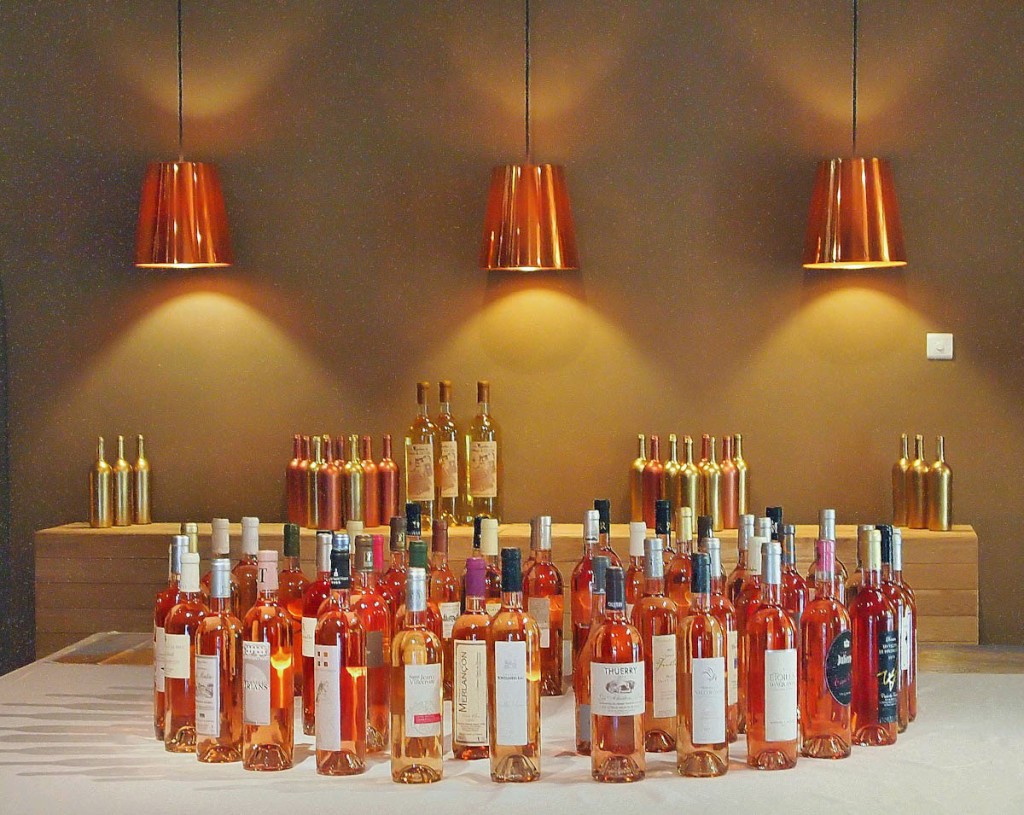 Of course, the Coteaux Varois en Provence rosé no doubt hastened the calming effect! We were in the center of this appellation, the third largest of the nine appellations that make up the Provence wine region, the world's largest producer of top quality rosé. Provence rosé, as most TMT readers know, is considered the "gold standard" of rosé.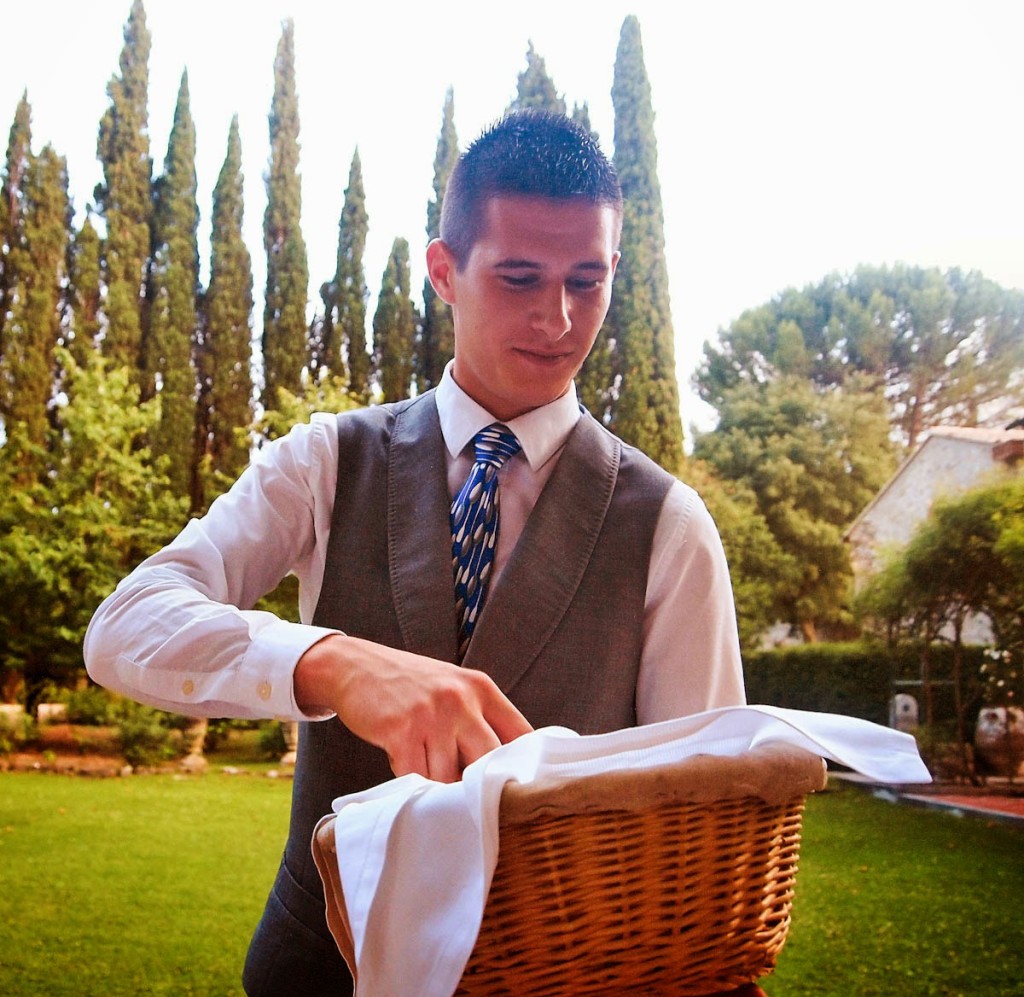 While we were looking over the menu, we were served some régalades, small appetizers to regale us while we wait. The full phrase on the menu is "Pour patienter, nos régalades…" which roughly translates to "while waiting, our regaling refreshments [are]". We were treated to crisp spears of zucchini and carrots, cherry tomatoes, thinly sliced toasts, and an elegant dip of anchovy paste with what we guess was crème frâiche and maybe a little mayonnaise.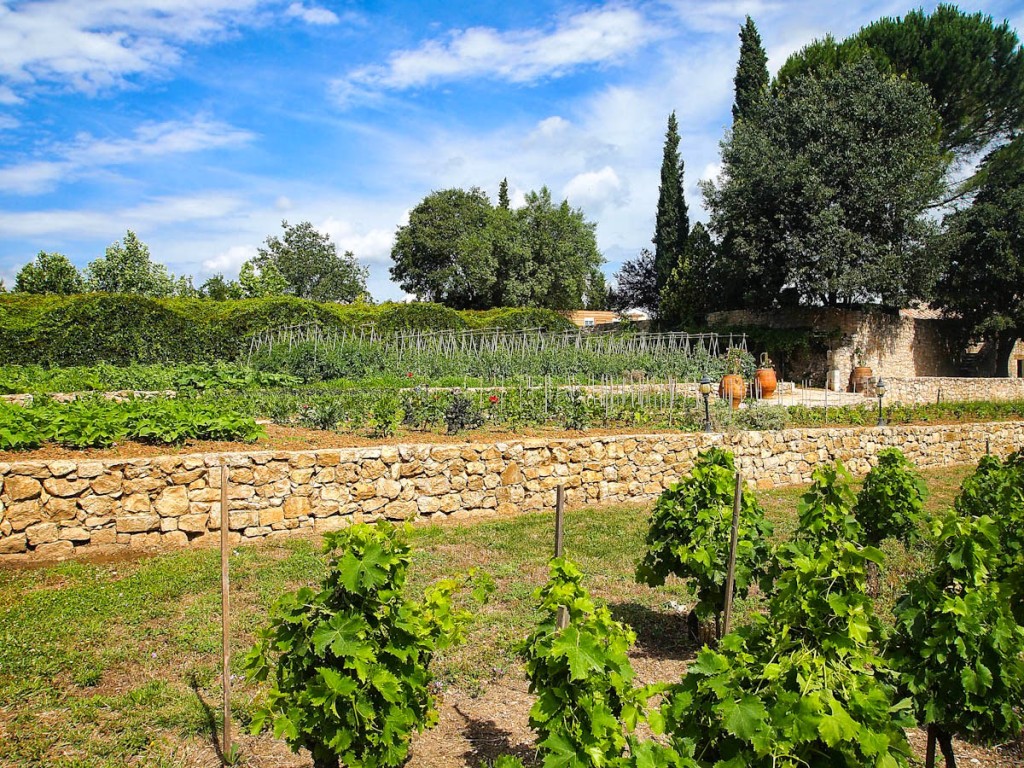 I suspect that the vegetables came directly from Chef Benoît Witz's garden. Witz, one of the original members of Ducasse's team at the three-starred Louis XV restaurant in Monaco where he honed his skills for nearly a decade, is passionate about his vegetables. He keeps a vegetable and herb plot on the grounds that is watered with spring water and weeded by hand and is happy to show his garden to interested guests. (Pam noted that there were fifteen different types of basil growing in his garden!) Utilizing local products is also critically important to this chef as evidenced, we would see later, by his emphasis on local cheeses (such as a delicious Brousse des Roves  made from unaged goat milk in a small village west of Marseille).
Rounding out the régalades were some very tasty parmesan bread sticks. Two small loaves of some of the best bread we had on this trip arrived next, accompanied by a very flavorful olive oil. We couldn't decide whether we preferred the olive bread or the baguette—so we kept on tasting each one to decide!
We were interested in a light lunch and, with the help of Barale, we settled on exactly what we wanted.*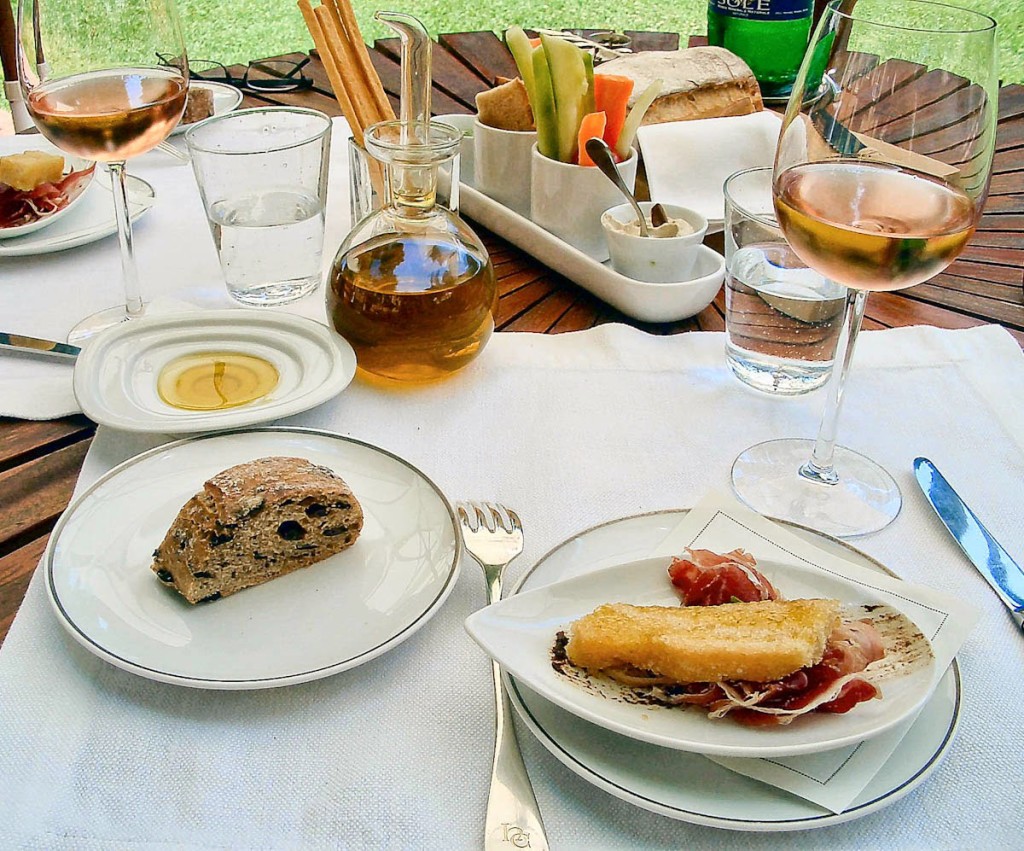 The next plate featured an amuse-bouche of scrumptious cured Spanish ham topped with a slice of grilled focaccia and served with a drizzle of a delicious savory sauce with a faint hint of sweetness.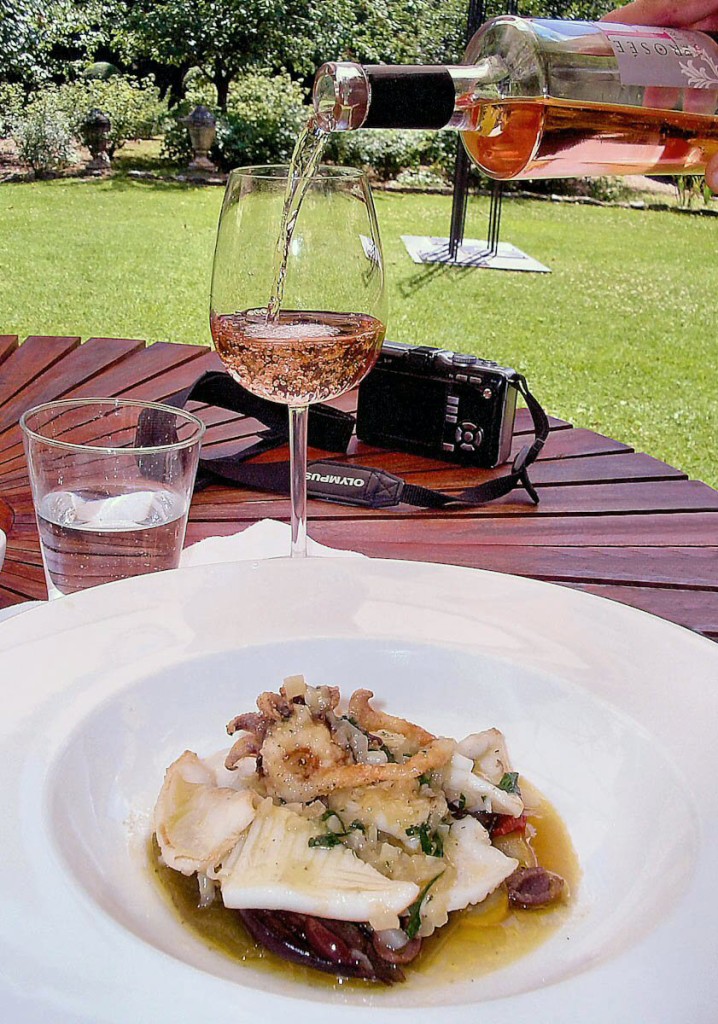 A Sauté de seiche, aux saveurs de Méditerranée was our main course. Roughly translated, this was a dish of "sautéed bobtail squid with Mediterranean flavors" that included a little lemon, olives, shallots, and herbs. Although my memory needs no refreshing about this course, I reviewed my notes which read: "Exquisite combination of tastes; the best squid I have ever had; exceptionally tender." I could have had a second helping!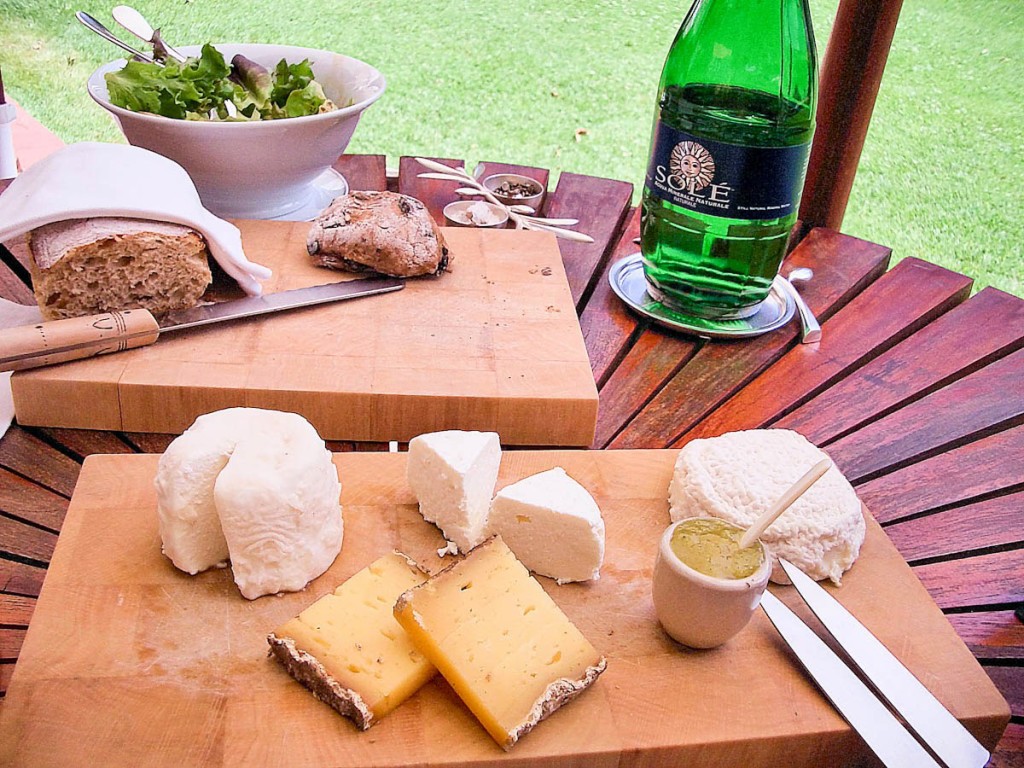 Our final course was a very simple green salad accompanied by a selection of local cheeses and delicious compote of zucchini and mint. I was particularly fond of a chèvre from nearby Rocbaron.
A tray of tiny sweets—mignardises—to accompany our espressi was the perfect way to end a fabulous lunch. The macarons filled with chocolate and passion fruit melted in my mouth, leaving delicious flavors that lingered long afterwards.
"Real ingredients, simple cooking, [and] authentic tastes," are the guiding principles of this executive chef's meals. "With those three basic elements, also dear to Alain Ducasse, I communicate the values of respect for the environment and preservation of nature," he elaborated on the Alain Ducasse website.
Chef Witz succeeded in realizing these principles in our lunch, convincing me that this was a restaurant I would drive a long distance to reach. The menu offered exactly the kind of fresh simple flavors I savor, the ambiance was perfect, and the service could not have been more to our liking.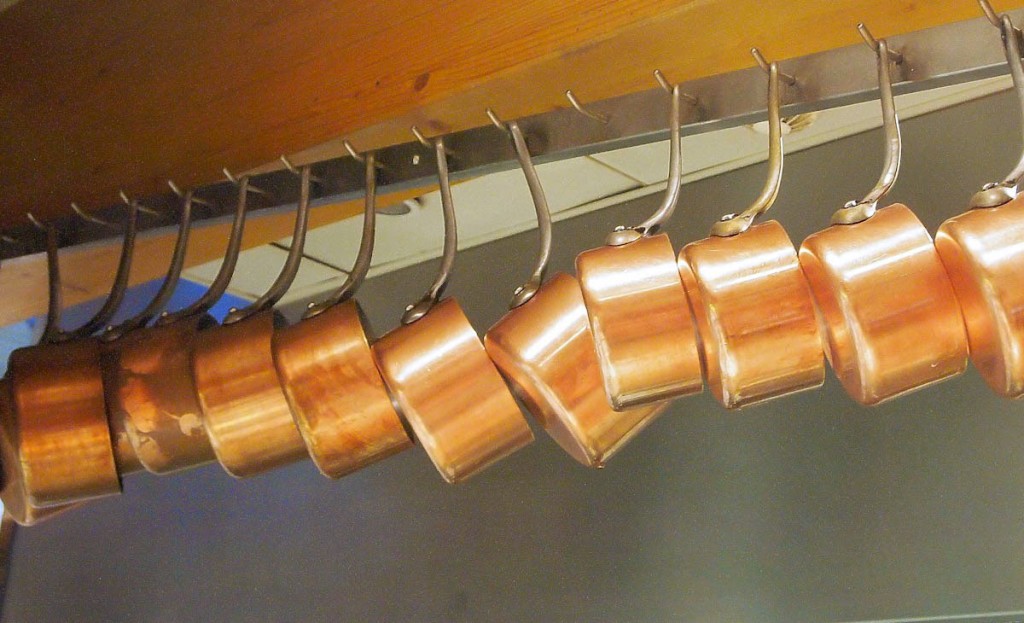 Whiling away the afternoon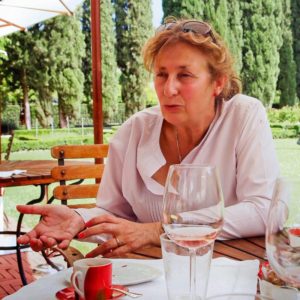 As I wrote above, the Hostellerie de l'Abbaye de la Celle is located in the center of the Provence wine region and in the heart of what has come to be known as Green Provence. It is a great base for visiting estates to taste wine and for actively exploring the natural beauty of the area. (Ask the hotel staff to assist you with these excursions–they'll even prepare a picnic for you!)
The Hostellerie de l'Abbaye de la Celle is also a destination itself.  We could have strolled around the grounds (and looked for the vineyard conservatory where 88 varieties of grapes are planted,or the five fountains, or the chef's garden, for example), taken a swim, or arranged a massage. There are tennis courts, a golf course, and a boules court not far away. For us,  reveling in the property's "history and serenity" was our goal for the afternoon.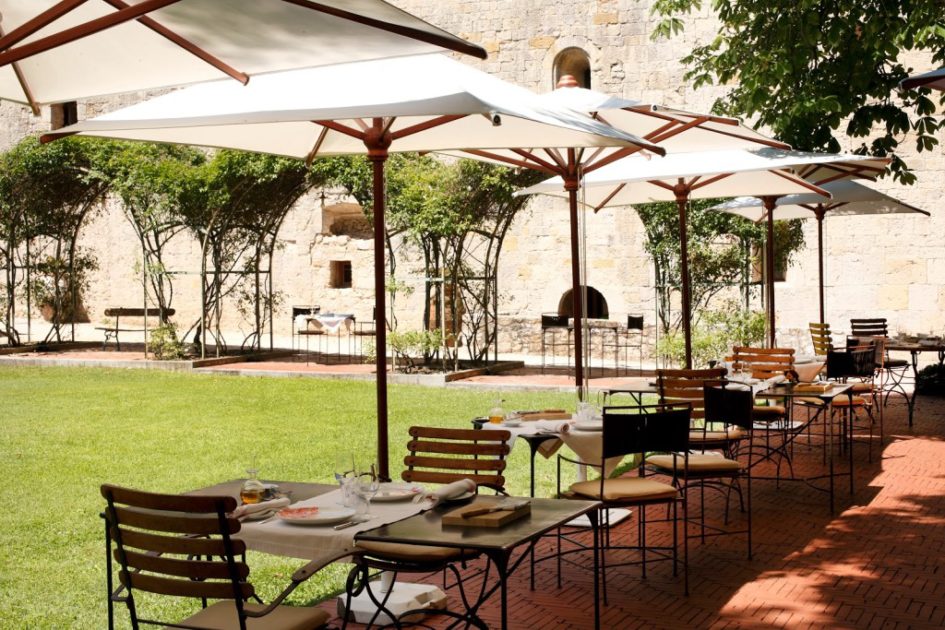 The adjacent  Benedictine Abbaye de la Celle, dating from the 11th-century, was our first stop. We were accompanied by the tour director of the abbey, Chantal Doerr, who was a wealth of interesting information from whom we learned a lot (in English).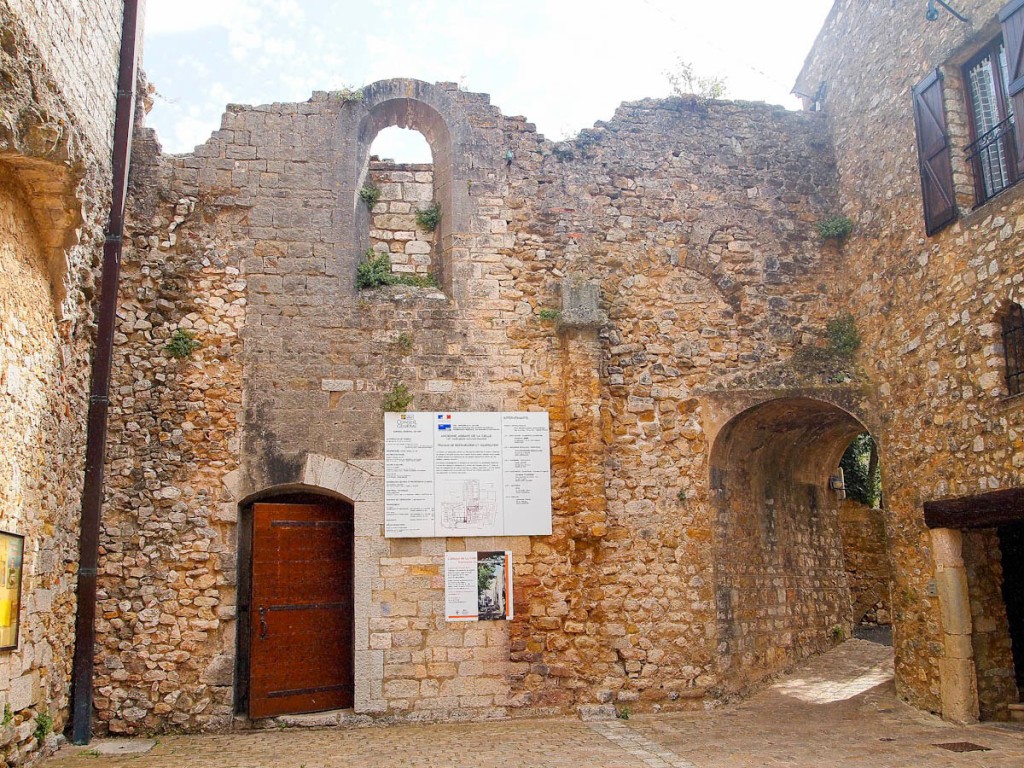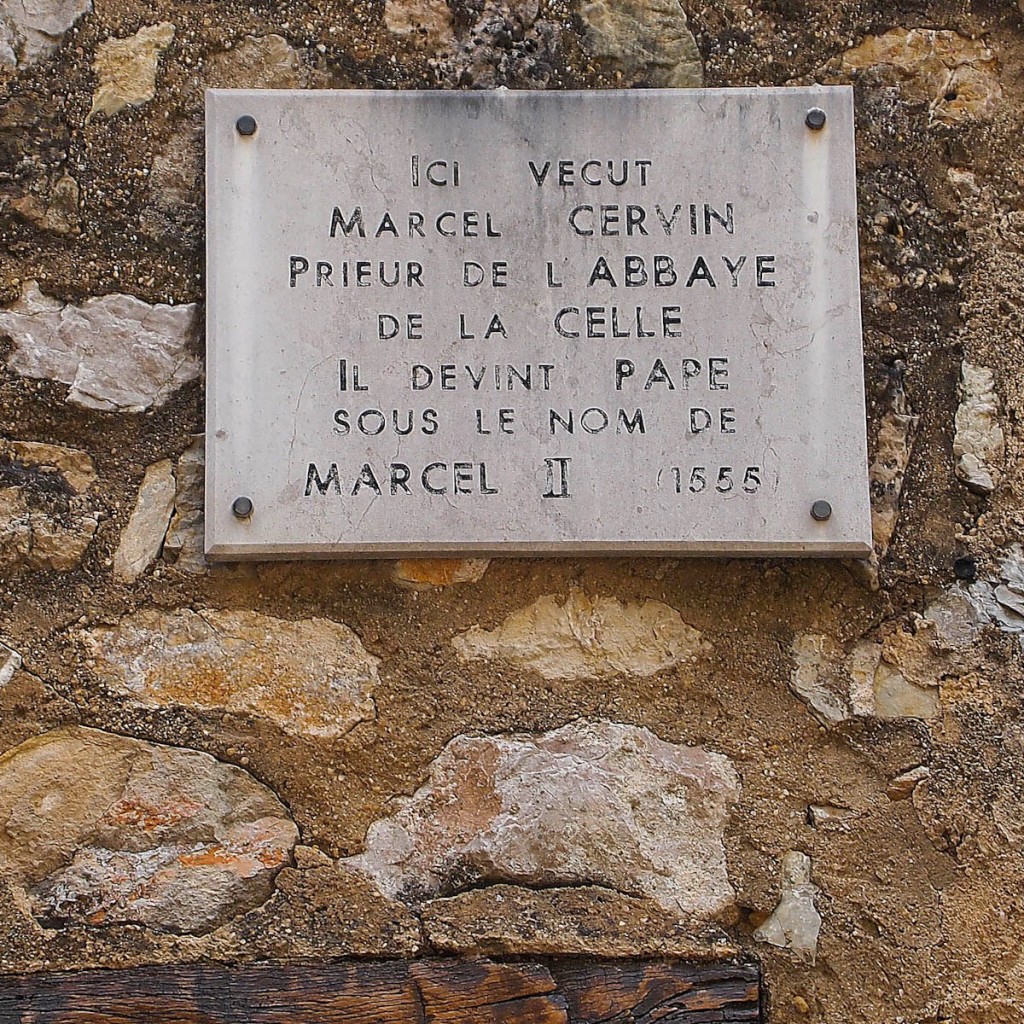 The abbey was a women's monastery with roots dating back to the 11th century when a monastery was first built in the same place,** also exclusively for nuns. Next to this women's monastery was one for men (because, of course, the nuns needed the monks to say mass and administer the sacraments). The original building was destroyed in the early 12th century and replaced with the current abbey.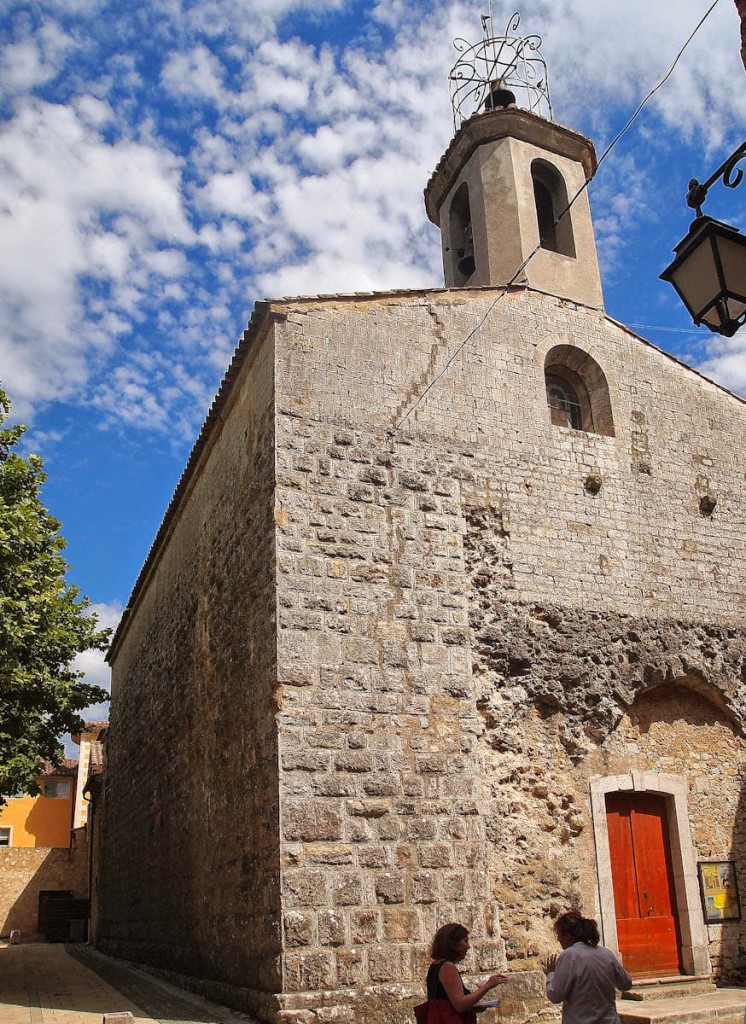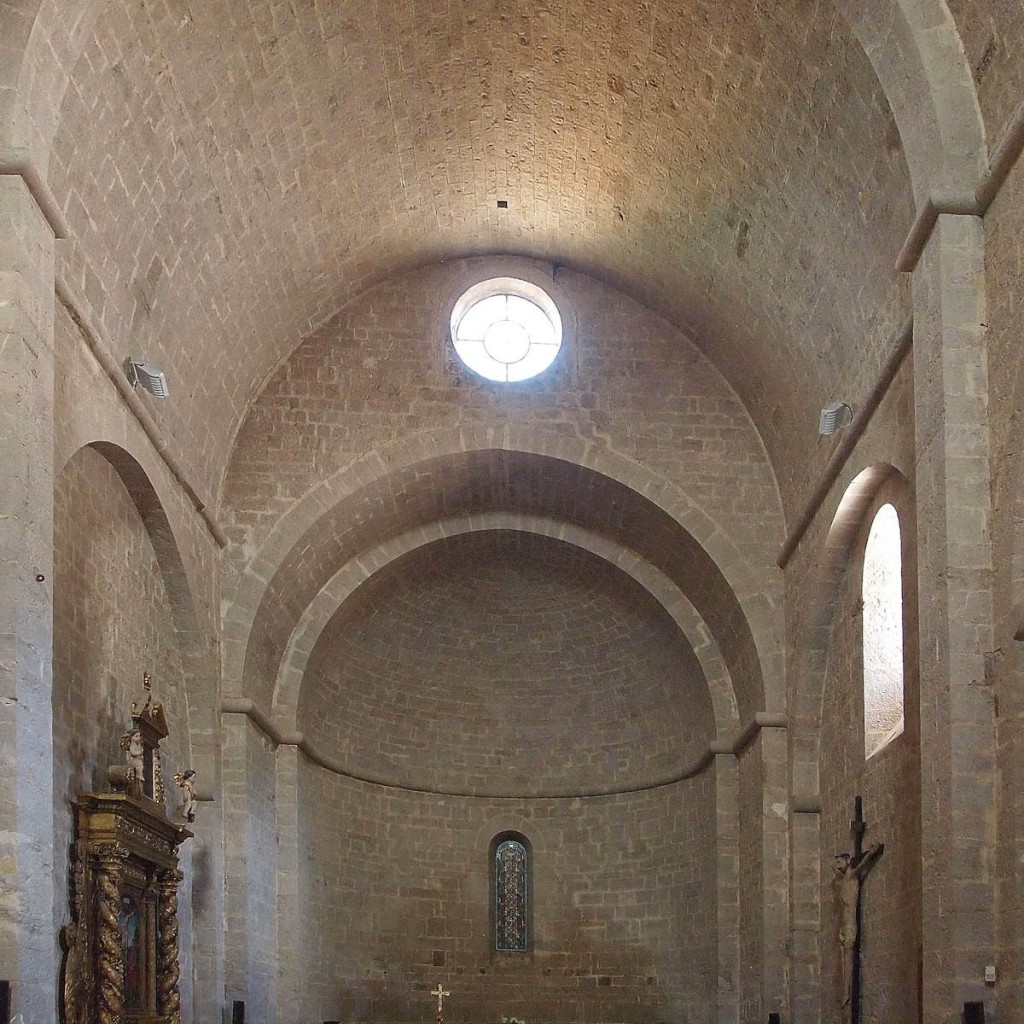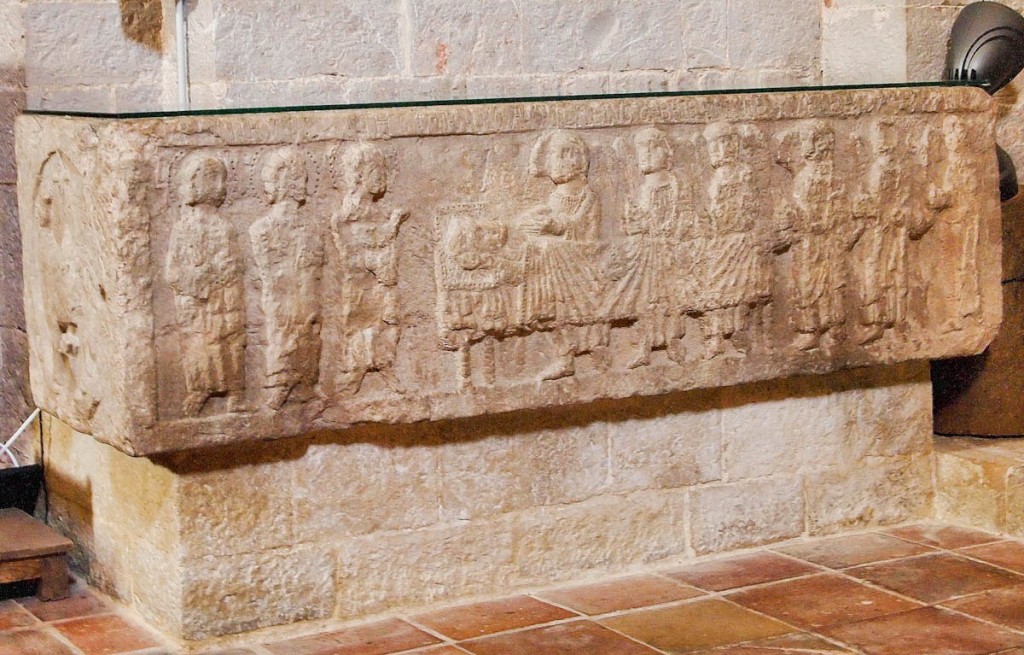 Around 1225, Garsende de Sabran, a powerful woman who was Countess of Provence and Countess of Forcalquier, came to live in the monastery. Her arrival propelled young women from other aristocratic families to join the monastery —some by choice and some at the persuasion of their families in order to avoid the large dowries entailed in marriages in the middle ages—and donations swelled. The monastery became quite famous during this time and by 1267, La Celle was home to 100 nuns.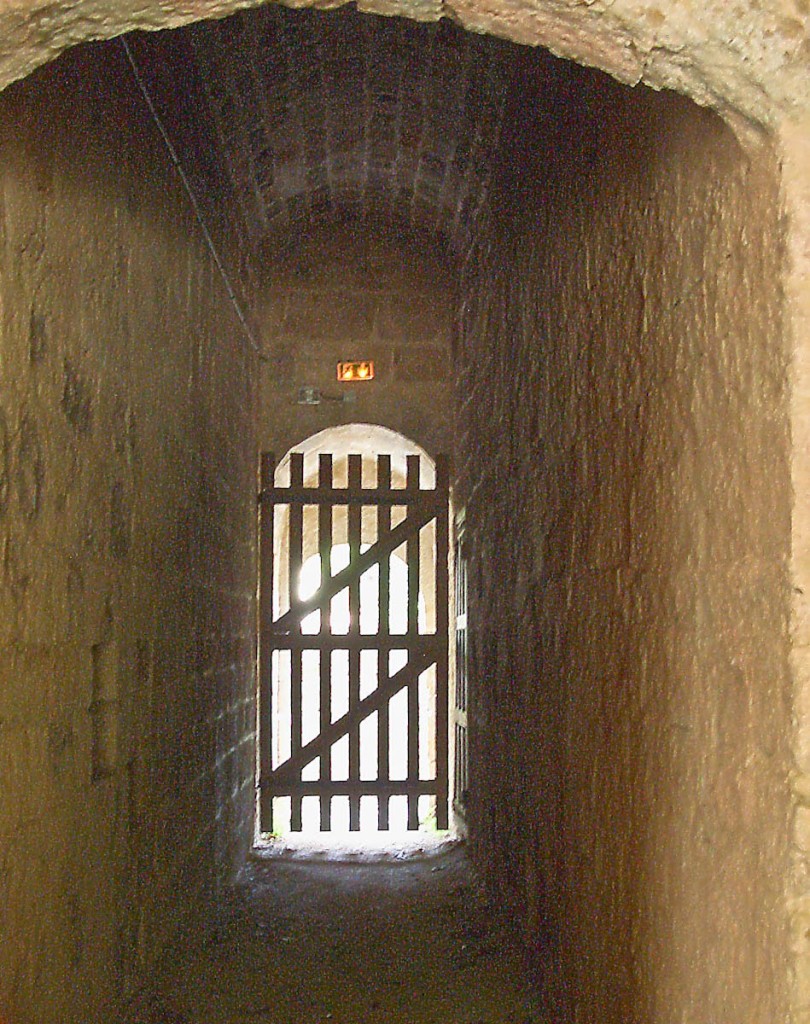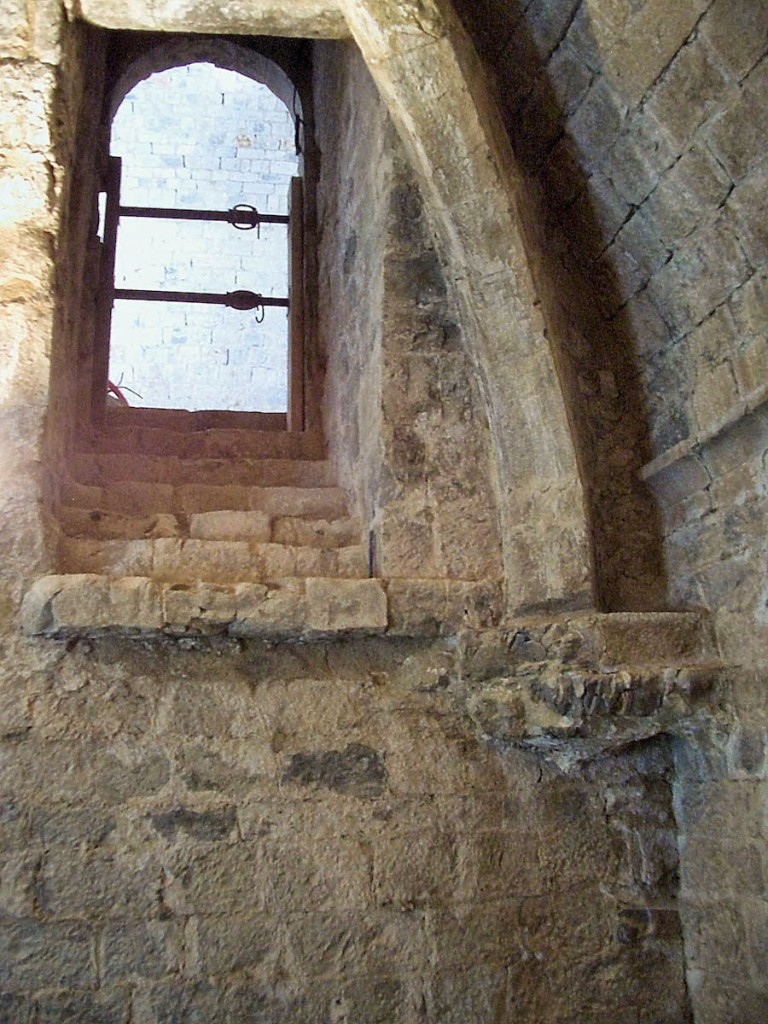 Apparently, fame turned to infamy for the monastery as the years passed–a small number of nuns were accused of grievously disobeying the Benedictine rules.  In 1660, the abbey was shut down, leaving around 24 nuns to fend for themselves. Although supported by the villagers, they could not sustain the buildings, which gradually deteriorated. A little over a hundred years later, during the Revolution, the building is sold to a private farmer and in 1816, the monastery's church is made the parish church of La Celle but condition of other parts of the property continue to decline. In 1886, the abbey is classified as a historic monument.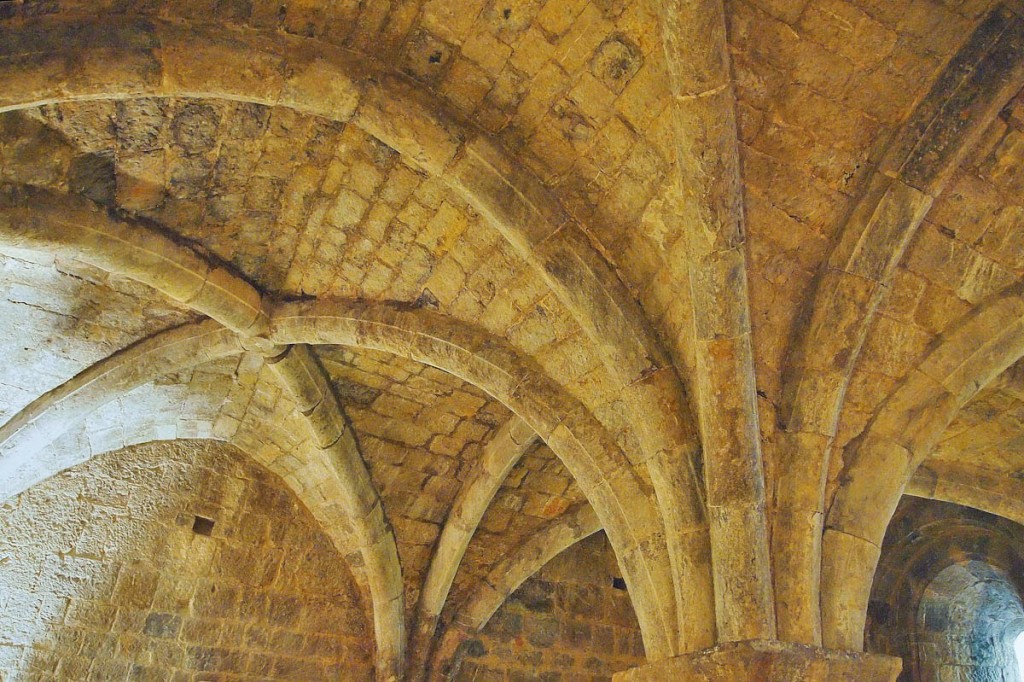 In 1938, Sylvia Fournier, who owned among other things, the Porquerolles Islands, purchased the property and before long, the Hostellerie is brought to life.  It must have been quite nice because General de Gaulle visited the property three times. Unfortunately, when Fournier dies in 1971, the hotel was not cared for until 1990 when the Conseil Général of the Var bought the entire complex—the Hostellerie, the abbey, and the building which now houses the Maison des Vins—and begins to restore it. In 1999, Alain Ducasse took over the Hostellerie and in 2011, he began renovations to bring it back to a boutique hotel.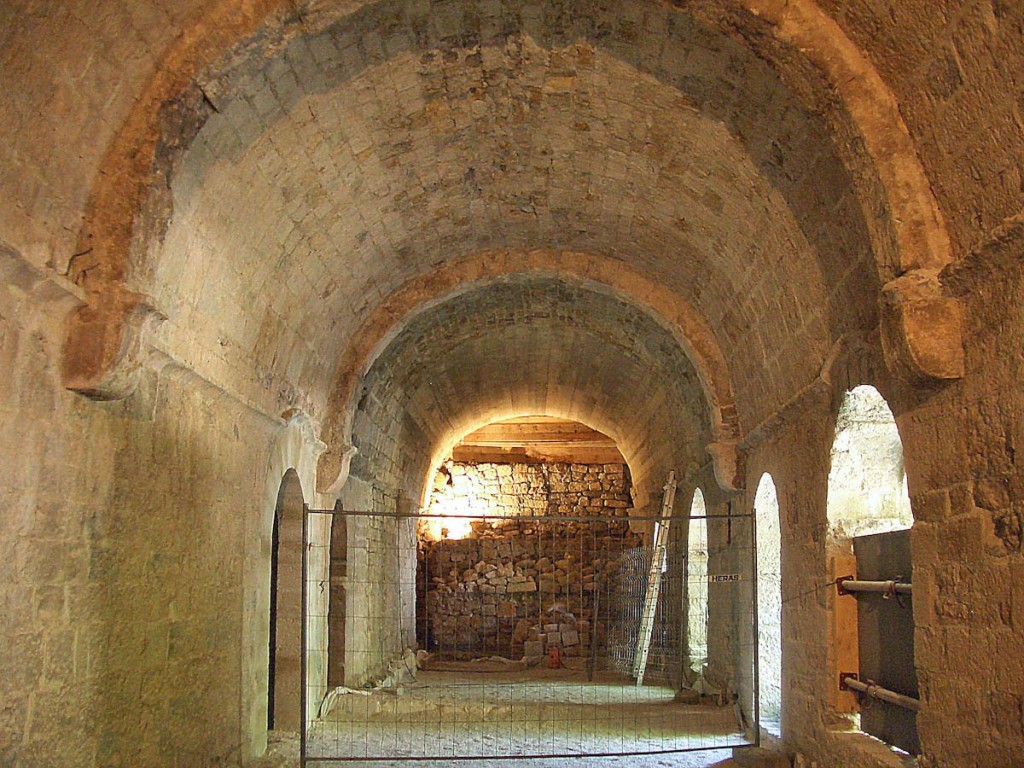 Maison des Vins
 
Our next stop was the Maison des Vins, located on the other side of the Hostellerie.  There, we met Philippe Breban, Director of Syndicat Coteaux Varois en Provence and the Maison des Vins, and Rachel Renault who served as a translator.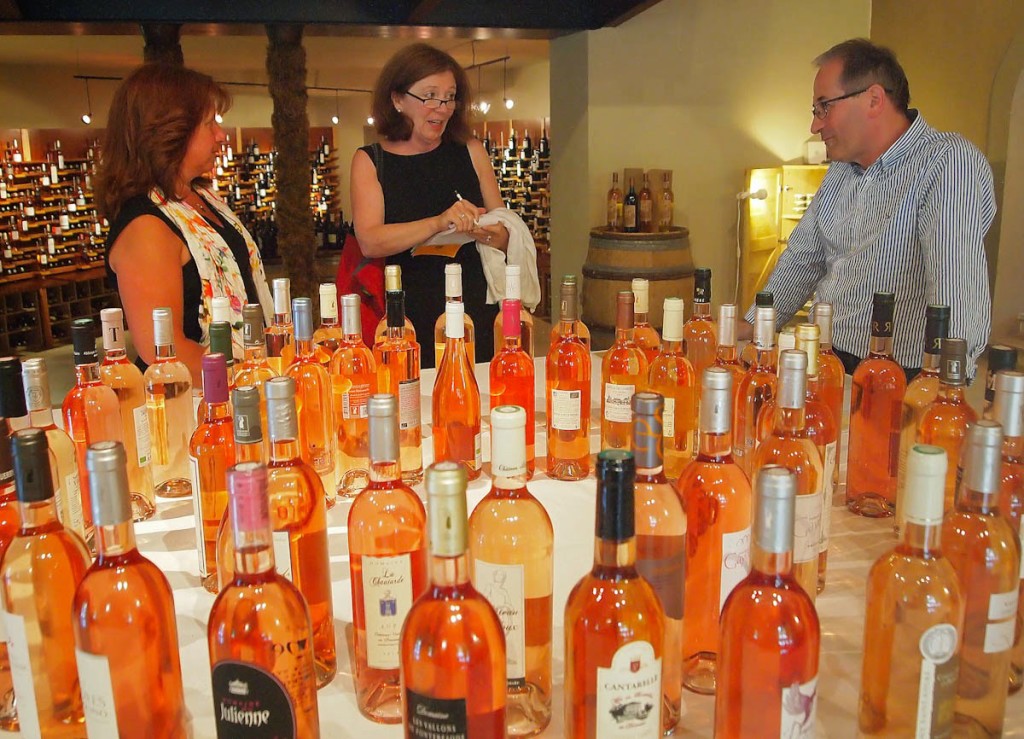 It was just over twenty years ago that the Coteaux Varois en Provence appellation was created and those winemakers joined together to create this Maison des Vins. Since then, growth has been tremendous, particularly for rosé. For example, in 1993, there were around 60,000 hectares of rosé and in 2013, there were 110,000 hectares devoted to grapes for rosé production.
The day that we visited, there were about 67 different rosés in stock, according to Breban, and there were still others coming in that had not been bottled yet. This is a great place to get an introduction to the local wines!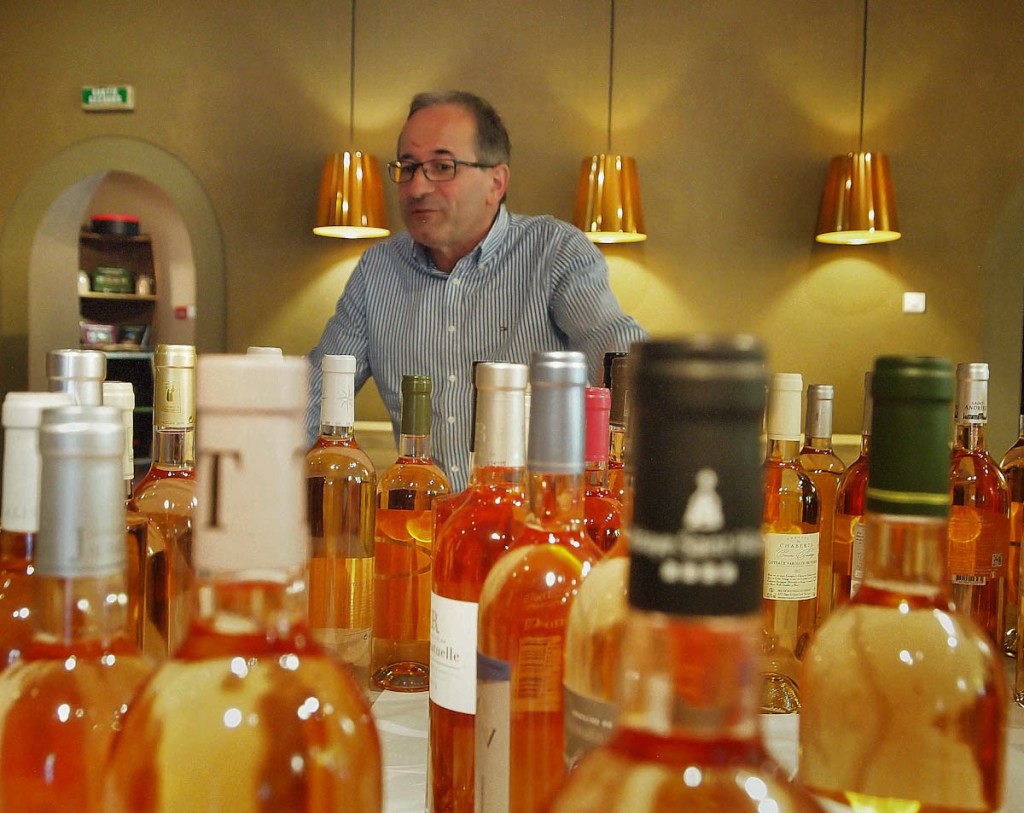 I asked Breban about his thoughts as to why the demand for rosé has increased so much.
The reasons are multi-faceted, he believes, and include factors related to viticulture and vinification such as planting grapes (to be used for rosé) that are better adapted to the soil and improved production technology (e.g., introducing pneumatic presses and procedures that enable better control of temperature) as well as socio-cultural factors such as rosé now more likely to be served year-round; rosé being served as an apéritif; more men and more young people drinking rosé; and tougher drunk driving laws encouraging people to switch from hard alcohol to wine.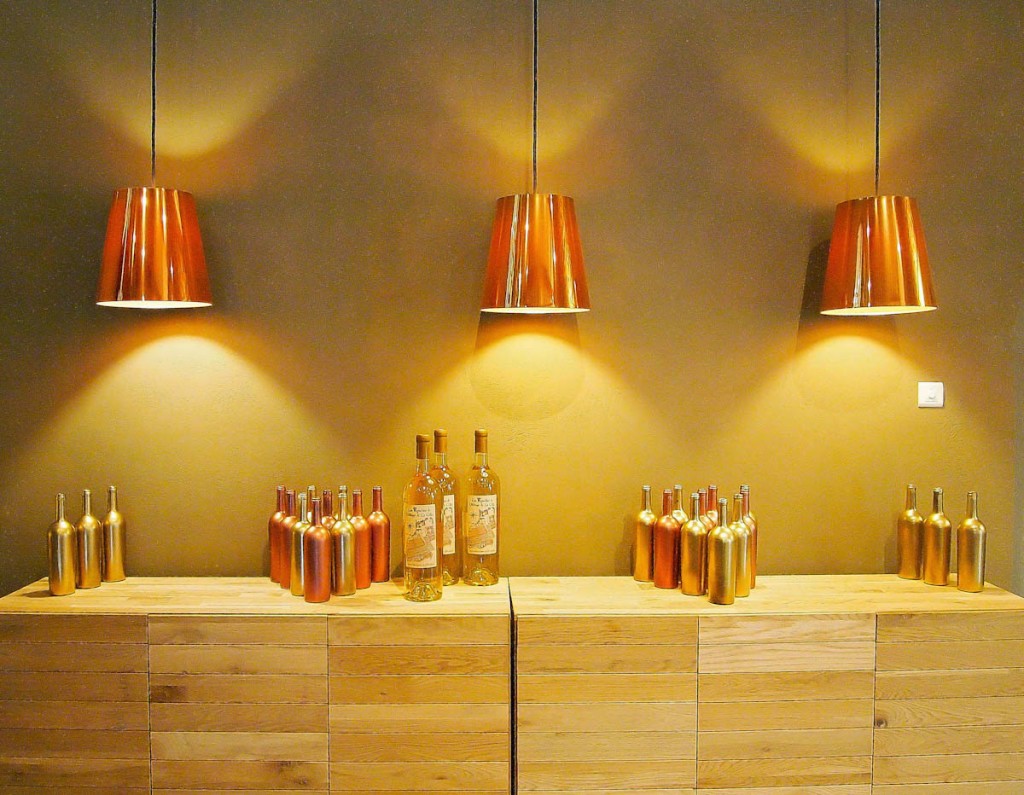 As for what trends Breban has observed in recent years, it would clearly be an increase in "bio" wines (those made from organically grown grapes). He said that about 20% of the land in Coteaux Varois is bio and one-third to one-half of production is bio. Some of the smaller estates, he said, are not technically bio because they have not yet completed the paperwork.
Finally, Breban reminded us that while the majority of production is rosé, there are some excellent reds and whites are overlooked.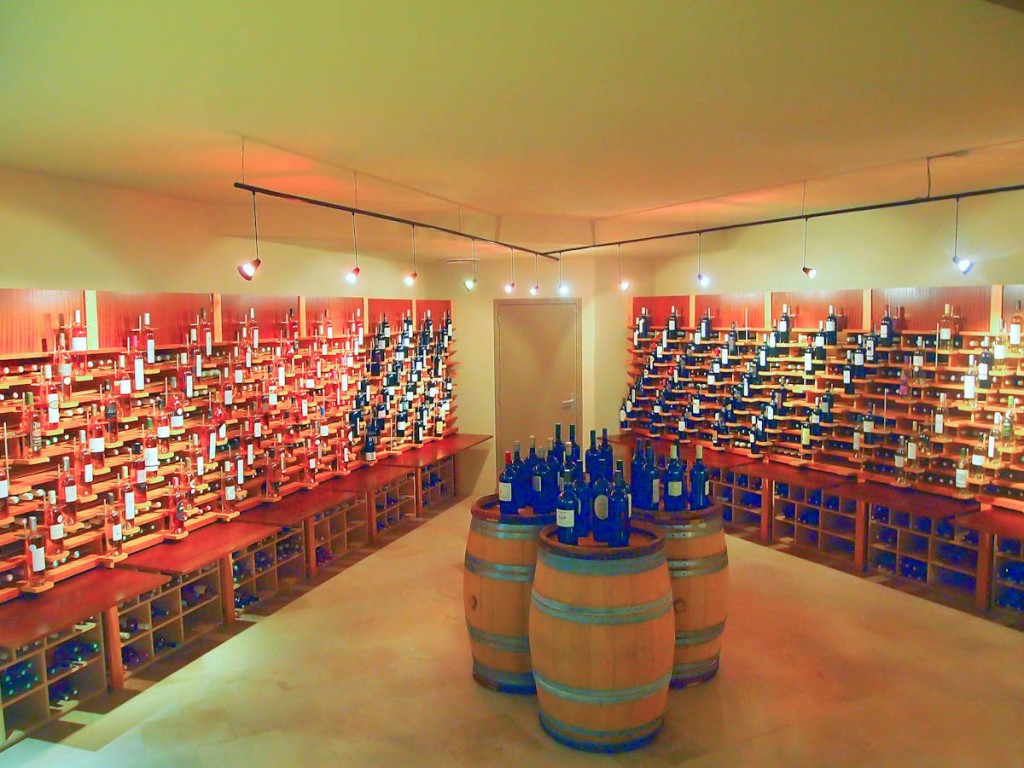 Vineyard tours. There are many wine estates in the area surround the Hostellerie. Hotel staff are happy to arrange visits and transportation for you.  They made arrangements for Pam and me to visit Château Margüi, a completely bio winery that produces all three colors of wine as well as olive oil. The  from this estate have been some of my favorites for several years, so I was thrilled to make this visit and meet the proprietor, Marie Baylet-Guillanton, and to taste her excellent whites and reds, too.
Green Provence
. We didn't have another sliver of time left in our 24 hours, but those of you who come to Hostellerie de l'Abbaye de la Celle with more time to spare should avail yourself of the services of the hotel to arrange guiding nature walks, horseback riding, kayaking, hiking, golf, tours of the nearby villages, and the like.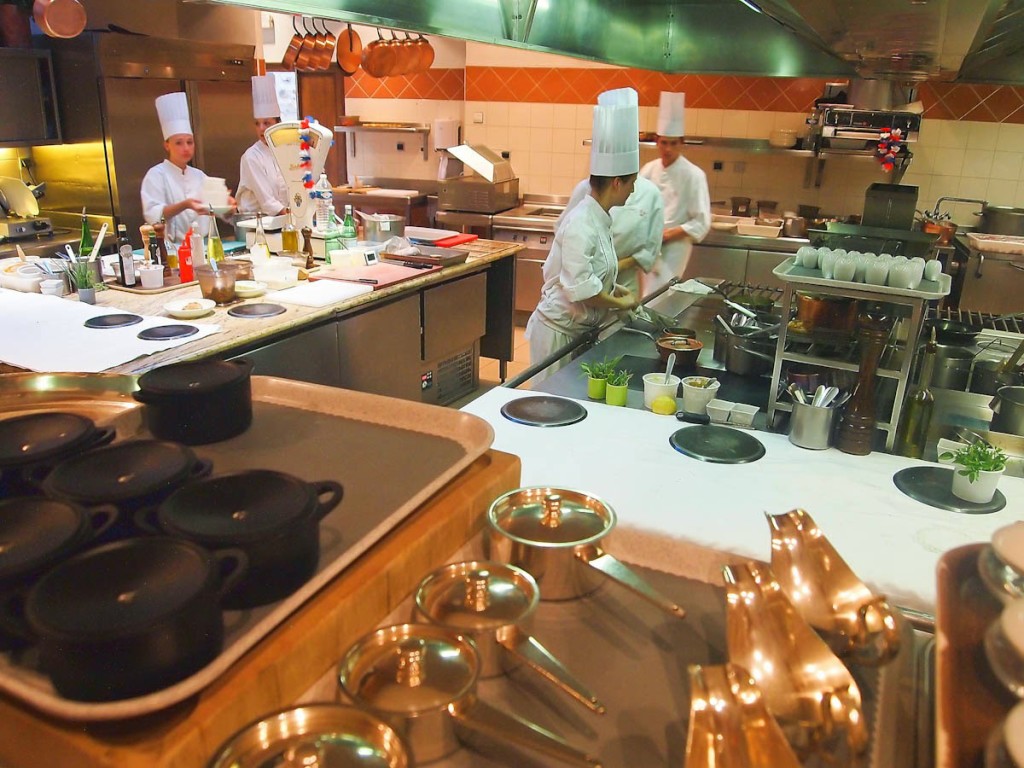 Our evening began with a trip to the kitchen, where guests are invited by the chef and his team to visit. On our visit, Sous Chef Nicolas Pierantoni was at the helm. The kitchen was spotless, orderly, and, for a busy kitchen, uncharacteristically quiet (although it was still early in the evening, I suppose). I asked someone if the quietness was typical; a little chuckle was the response. "No, not when the top chef is here," but even when the volume is loud, I was assured (with a big smile) that it was all very friendly.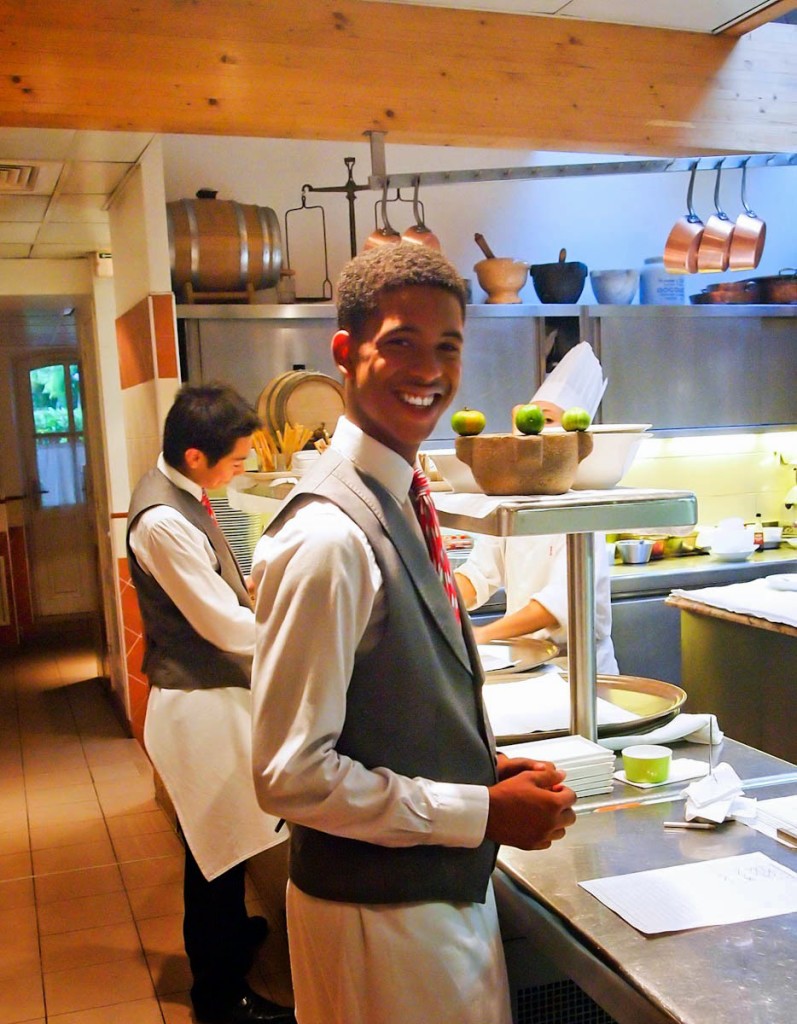 The pastry kitchen, under the tutelage of pastry chef Laurent Trocmé, was our next stop. There, we caught a glimpse of a few things to come tonight and one of my favorite treats for tomorrow's breakfast, pain au chocolat. One glance at a full tray of those buttery pastries filled with chocolate made me wonder if morning would come soon enough.  (You can see a photo of the tray of pains au chocolat on The Modern Trobadors FaceBook Page!)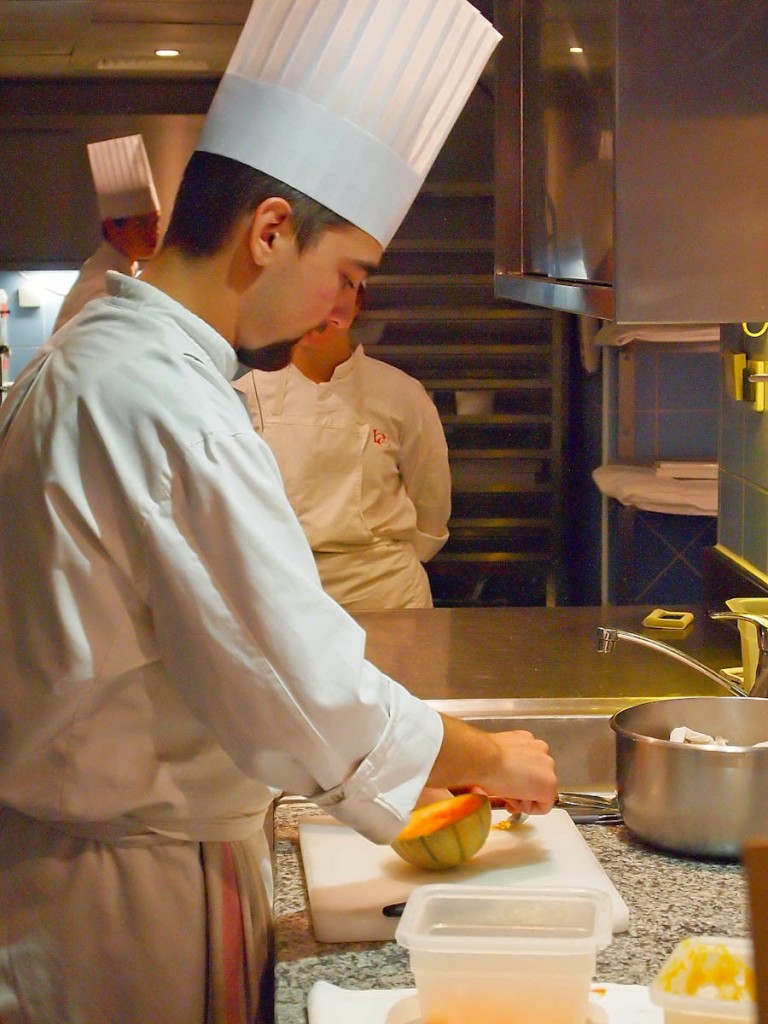 All this food made us hungry, so thankfully it was time to walk the few steps to the terrace for dinner.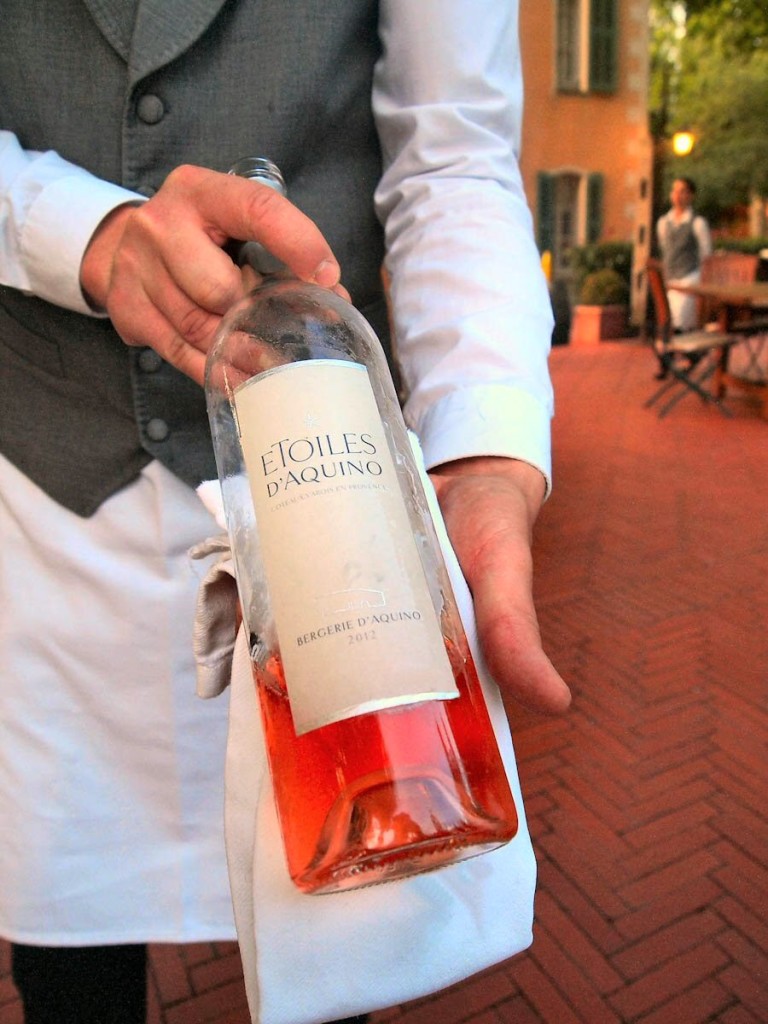 For dinner,*** we enjoyed an array of régalades similar to those we had at lunch followed by a small plate of thin strips of delicious marinated tuna, grilled and topped with a savory sauce, alongside grilled focaccia. It was just a few bites and, like a traditional amuse-bouche, meant to showcase the chef's gastronomic talents and whet the diner's appetite for the meal. Also referred to as an amuse–gueule, it is a "gift" from the chef and, although it has evolved from a "surprise" to an almost obligatory course in Michelin-starred restaurants, it was served as an unexpected treat and delighted us.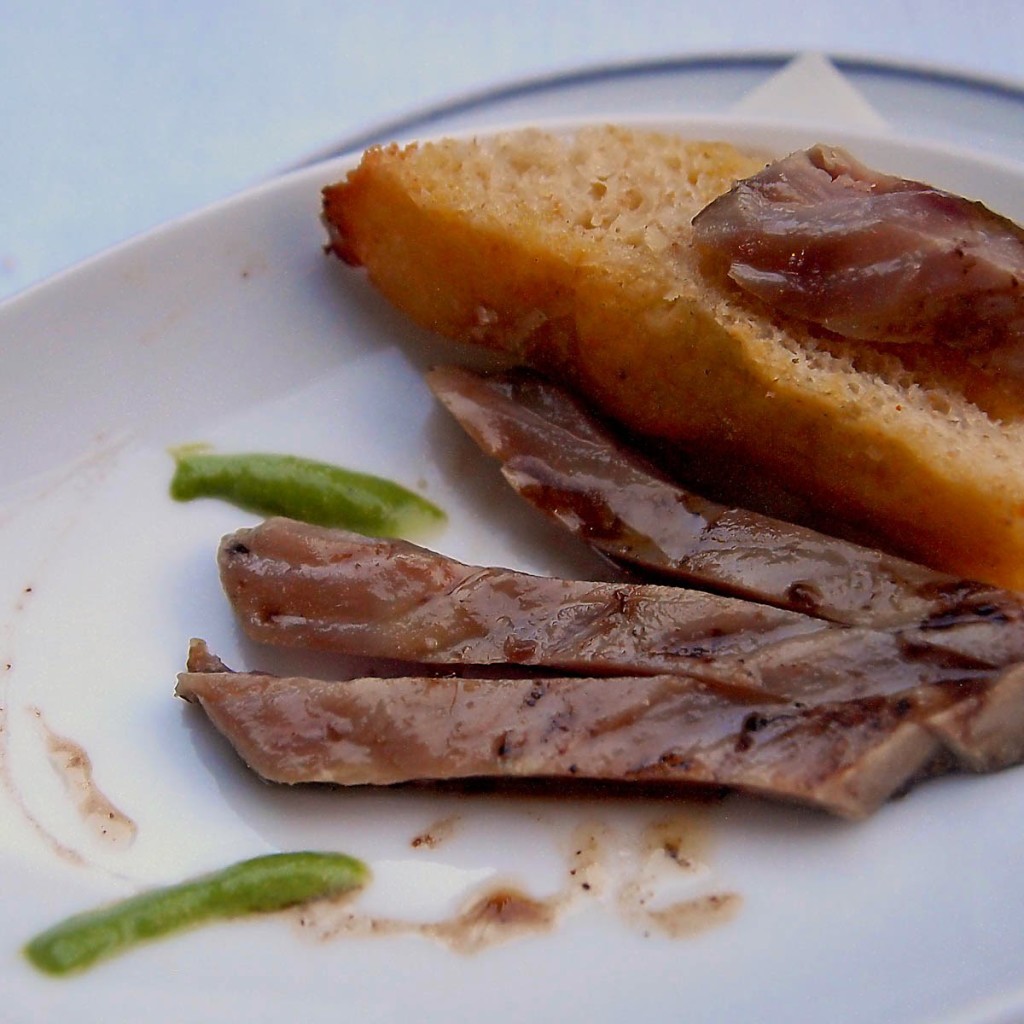 Our first course stole the culinary show (no easy feat on this menu!). It was a gorgeous stuffed baby eggplant. Apparently we were not the only folks so taken with the eggplant as we later met an English woman who ordered it four meals in a row and then visited the kitchen to observe the chef preparing it. She shared the details (at length) with us and sometime this summer I will endeavor to replicate it; but I can't imagine it will be anywhere near as sublime as the one I enjoyed that evening. A key ingredient was the chèvre I mentioned earlier, the Brousse des Roves.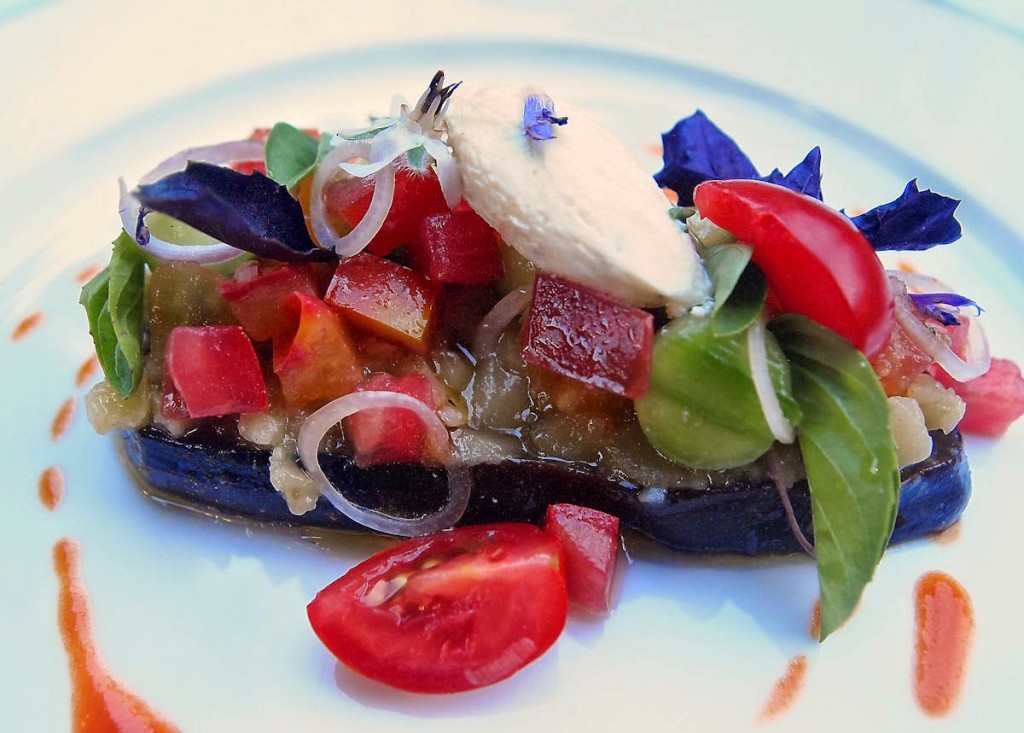 Lest the main courses get overshadowed by my obsession with the eggplant, let me continue on to report that my porchetta de lapereau (a porchetta of, yes, baby rabbit) accompanied by légumes du potager d'à côté (the chef's garden vegetables) and a fond de lapine (the cooking juices of said rabbit) was absolutely delicious. Pam's merlu de Méditerranée avec haricots cocos et poivrons (Mediterranean hake with coco beans and sweet bell peppers) was perfectly cooked with a little anchovy and rosemary and was also delicious.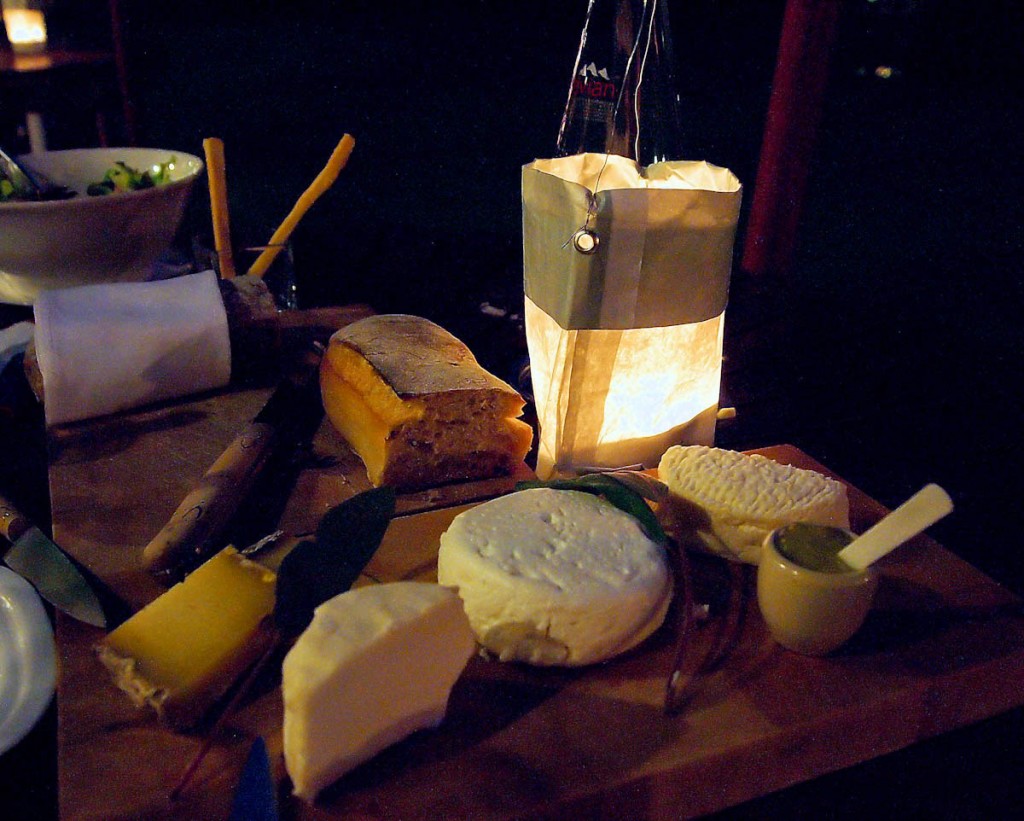 The main course was followed by a simple green salad and a tray of assorted local cheeses that were just as pleasing as those we enjoyed at lunch. Dessert was a divine Pêche Melba à notre façon (Peach Melba [prepared] our way). I might not ever have it prepared any other way than the chef's! The intensely flavorful peaches with perfect textures—no matter how tasty peaches are, in my book, they have to have a firm texture—were accompanied by individual servings of vanilla ice cream, whipped cream, and raspberry sauce, all of which created an explosion of tastes on our palates.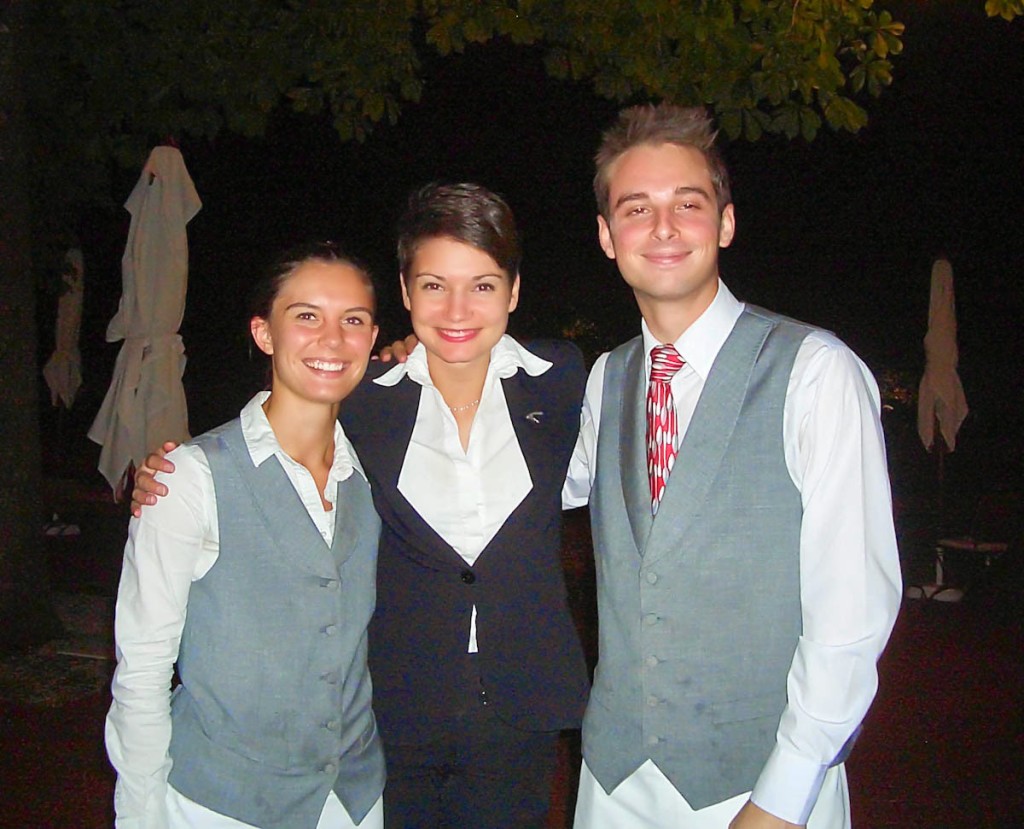 As if the Peach Melba was not enough, we spotted some luscious marshmallows in a jar on the table. Apparently, Chef Witz delights in surprising guests with such enchanting treats. We dutifully indulged!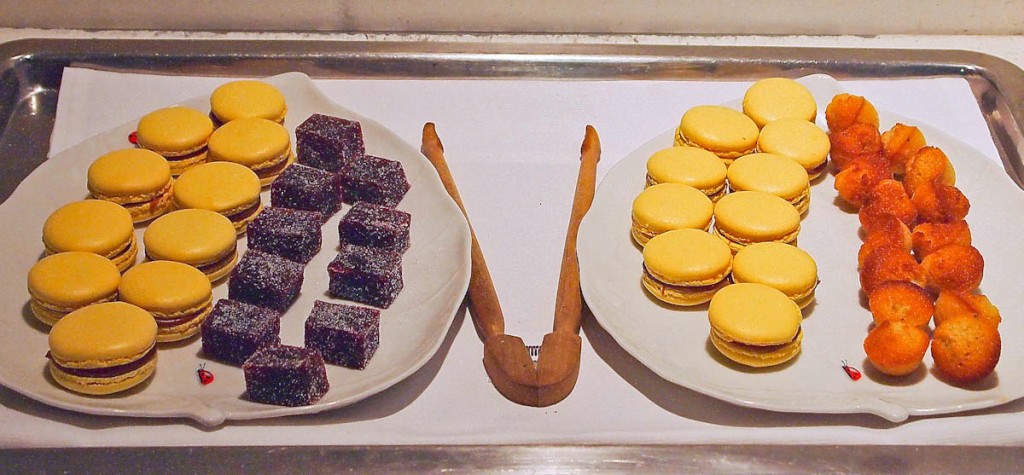 Finally, a tray of those irresistible mignardises—spied earlier in the pastry kitchen—came to our table, accompanied by coffee and tea, making for a perfect ending to a most memorable gastronomic experience.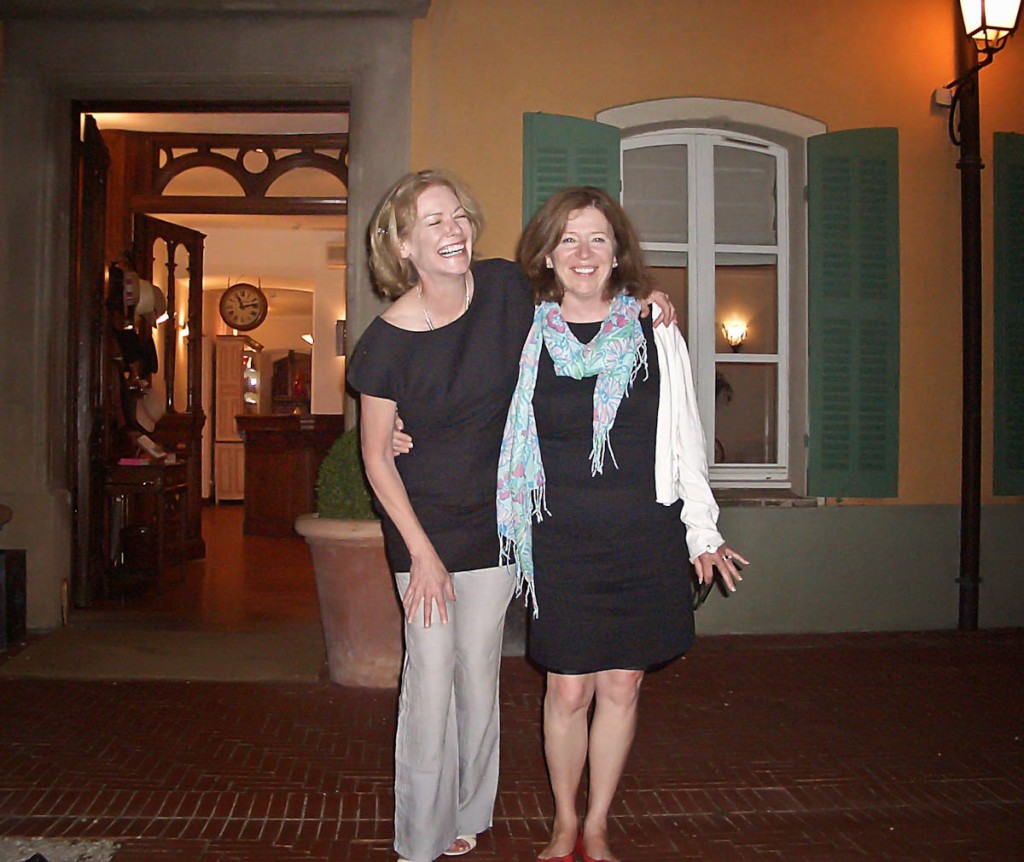 The Room: Sancie de Signes
Ten guestrooms, all recently renovated, comprise the accommodations at Hostellerie de l'Abbaye de la Celle, including suites, junior suites, rooms with gardens, and just plain rooms. We had one of those "just plain rooms," but I assure you that it was no ordinary hotel room. We felt like princesses in our plush room,
Sancie de Signes,
even though there are rooms—suites—
far more luxurious than ours.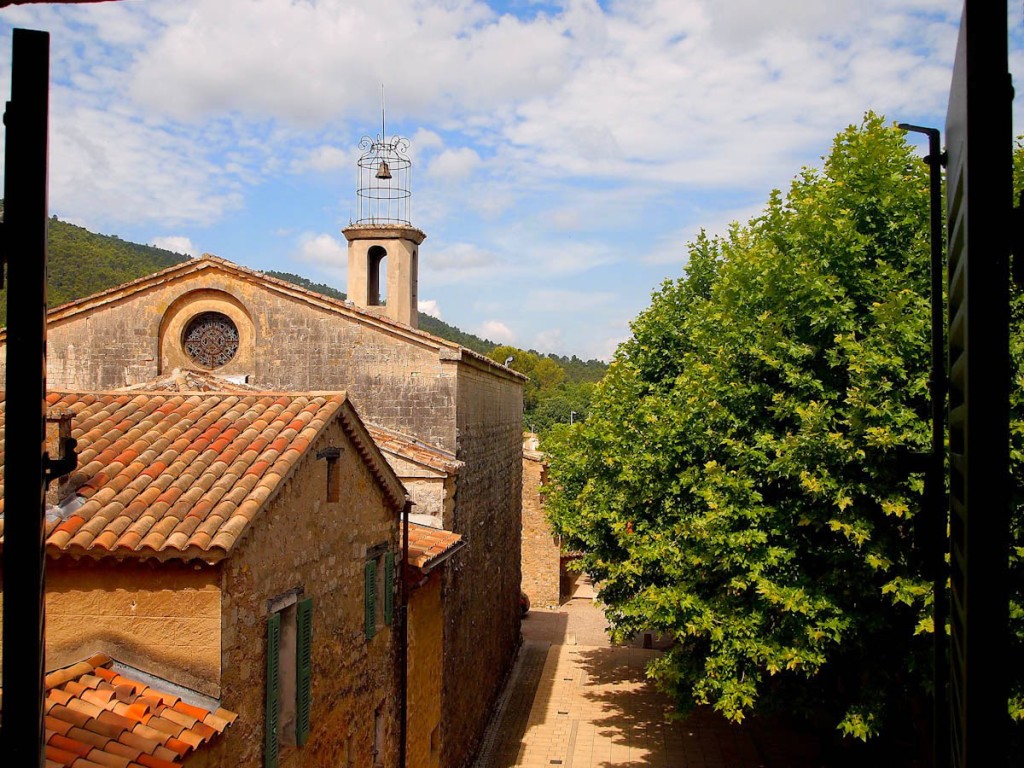 The beds were incredibly comfortable and the amenities plentiful. From a dock-station for our iPhone music to the double sinks surrounded by gorgeous Salernes yellow and orange tiles, we were made to feel very special. Then, we discovered the robes and slippers—okay, not so unusual in a hotel like this one—but the night shirts were very cool! We also enjoyed the croquants from Chef Witz's kitchen.
Petit Déjeuner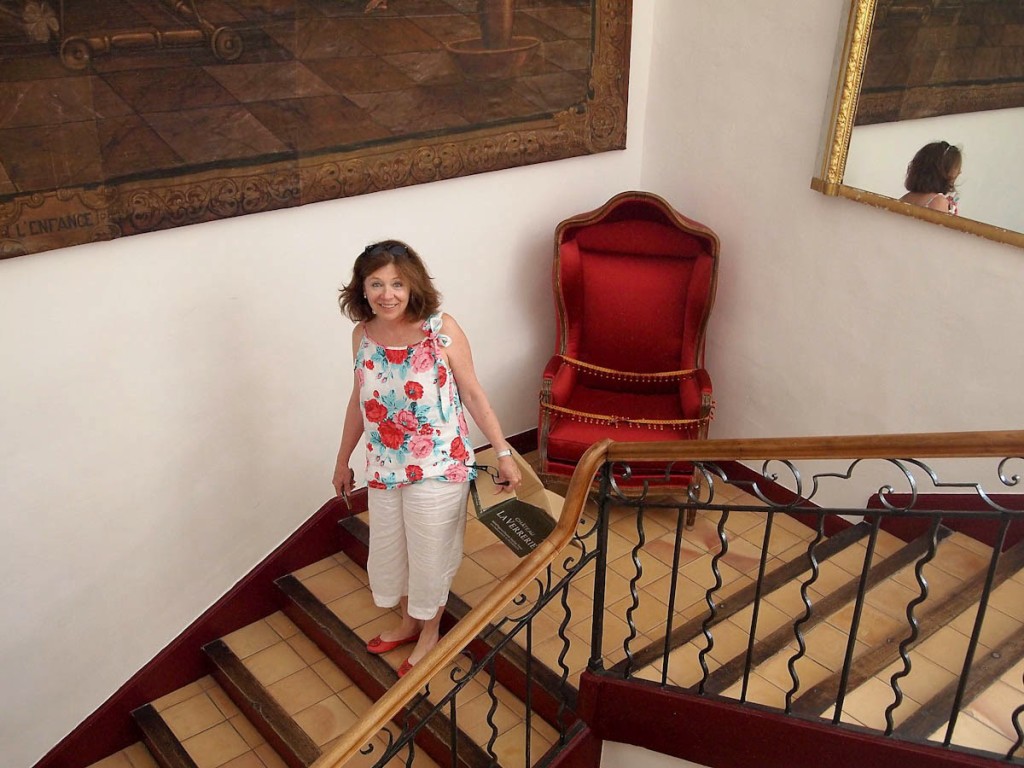 Oh, ho-hum, another gorgeous morning in Provence welcomed us to breakfast, along with the staff, and Tancrède Barale. Here we are on the terrace of Alaine Ducasse's Hostellerie de l'Abbaye de la Celle, awaiting our café au lait and freshly squeezed grapefruit juice, while a basket of pastries sits within reach. Does breakfast get any better?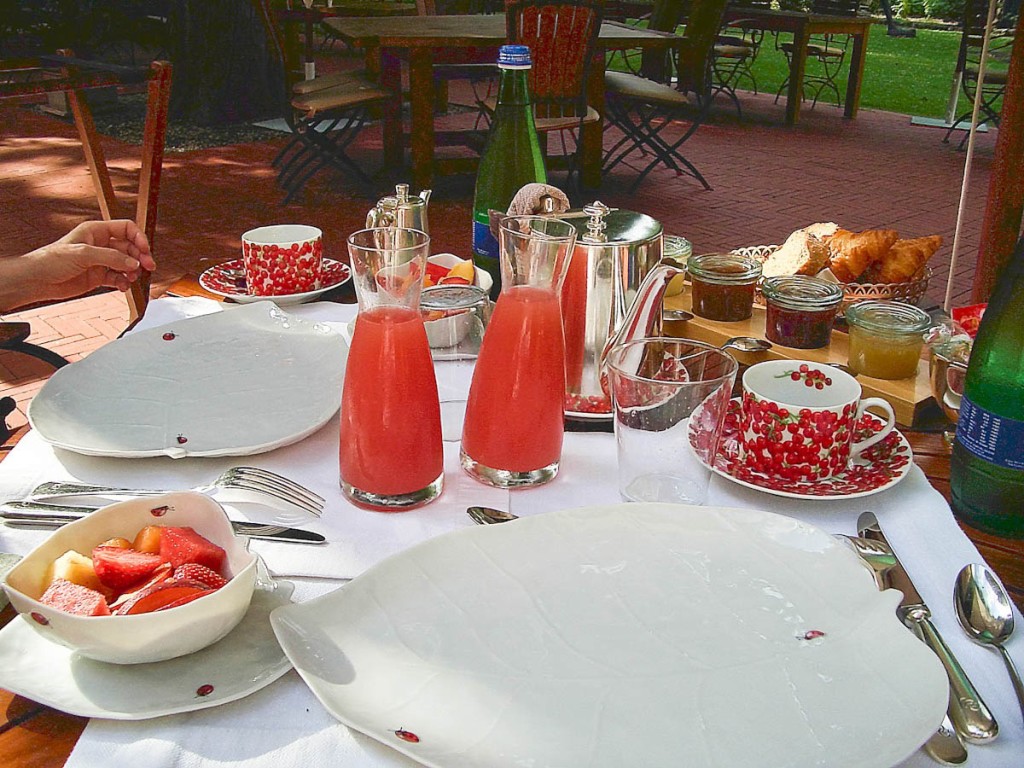 I had every intention of eating one pain au chocolat—the one that penetrated my dreams the night before, after I had seen the full tray of them waiting for breakfast—and then I would order an egg to go with the toasted baguette I knew would be somewhere on the table.  But that tempting basket was impossible to resist. The poached egg order never crossed my lips. Instead, I was amply satisfied with jams and honeys on the toasted baguette, the fresh strawberries, peaches, and melon in the bowl place in front of me, and, of course, the generous serving of pastries in the basket.
It was no ho-hum morning.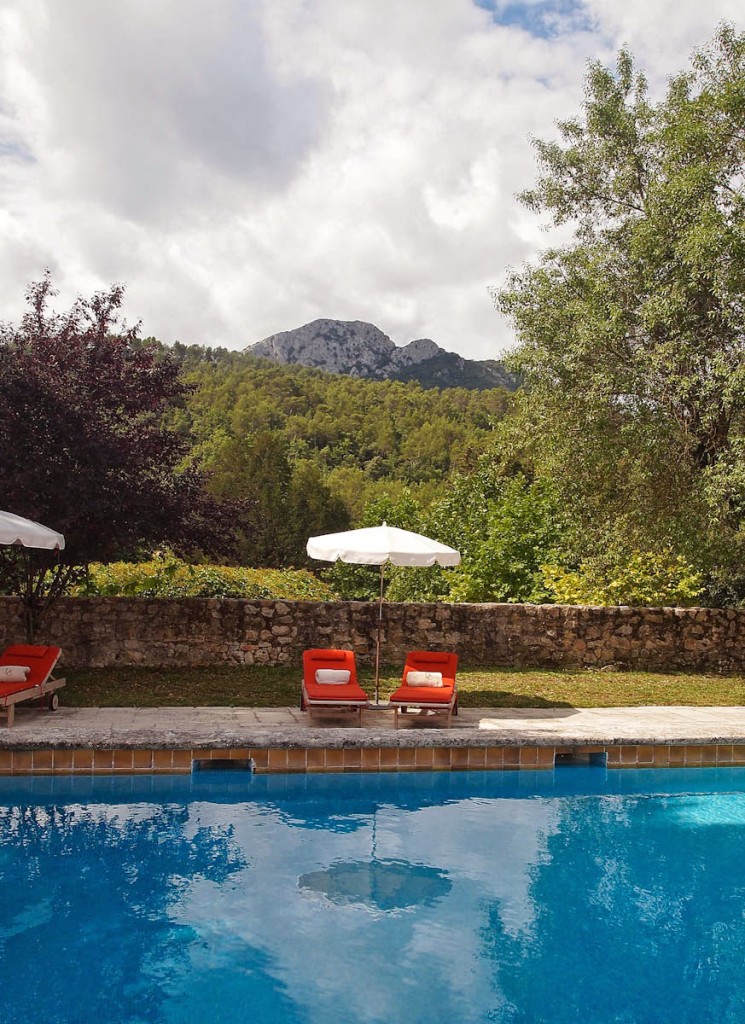 Exploring the Grounds
After breakfast, we spent some time exploring the lovely grounds. We looked at the vegetable and herb gardens, the source of many of the foods and flavors we had so enjoyed in the last nearly 24 hours.  We found the pool—in a gorgeous setting that, as Tancrède Barale had said, would make us feel like we were separate from the world.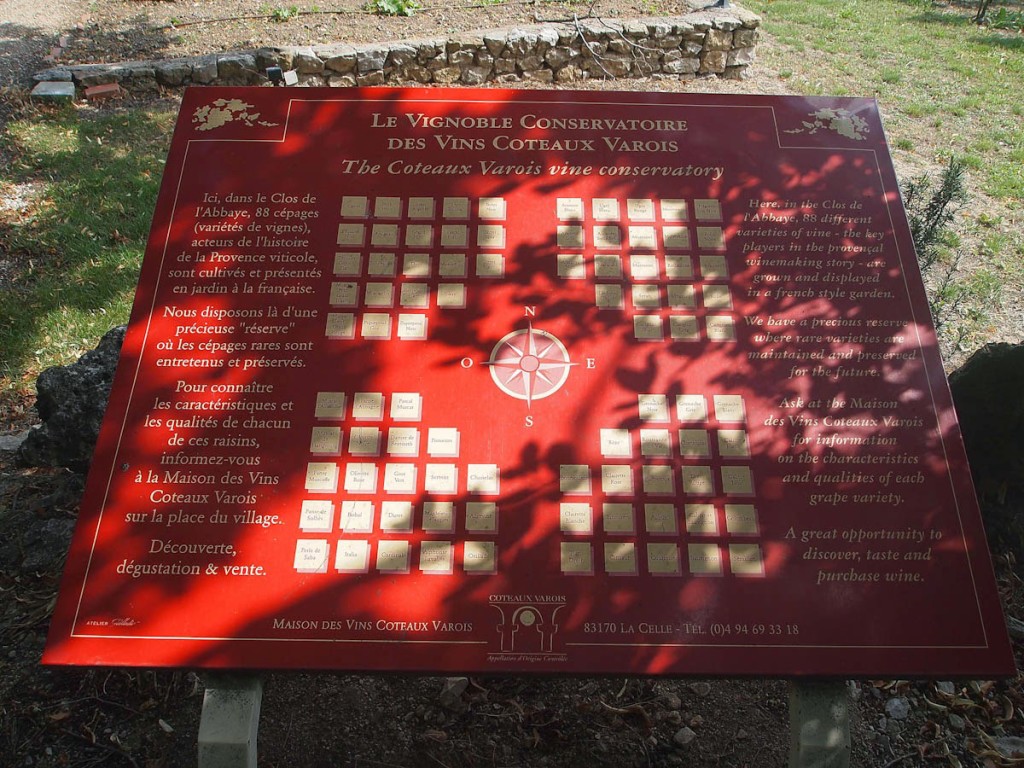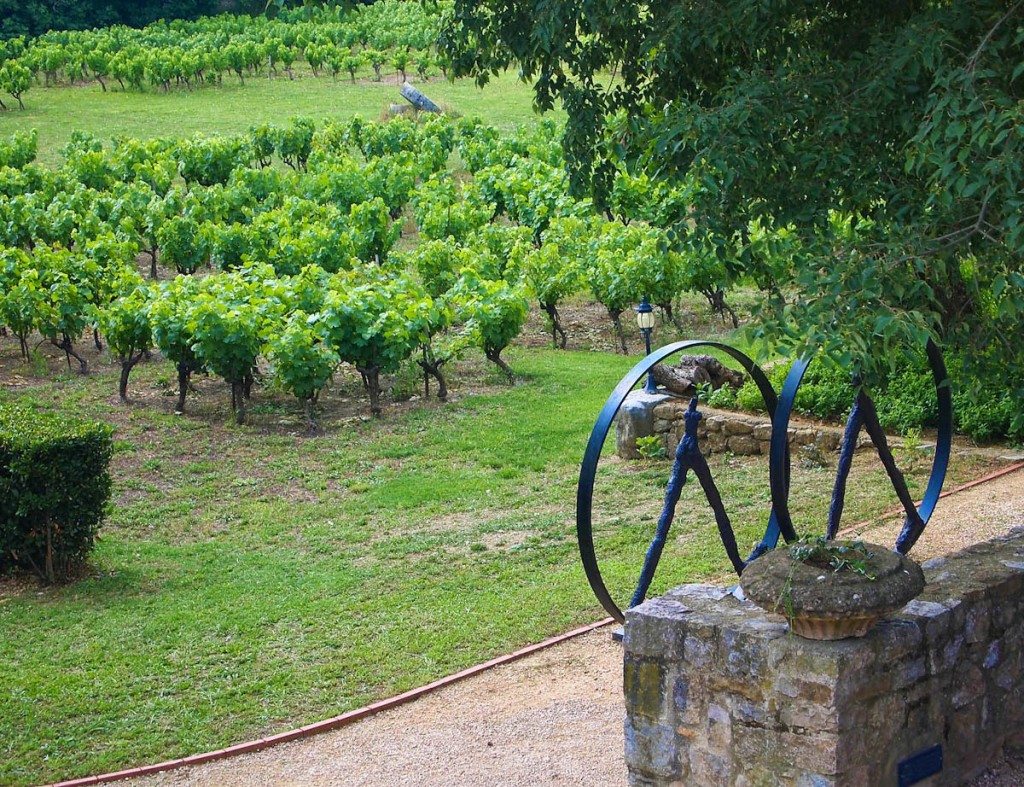 We were quite taken with the the conservatory of vineyards representing the 88 varieties of grapes considered "the key grapes in the Provence winemaking story." The orientation board shows where each grape variety is grown within the "French style garden" below the observation platform. Barale told us that the harvest is marked in a special way each year.  This year, Formula One driver Jules Bianchi, who hails from Provence, will join Alain Ducasse for the harvest.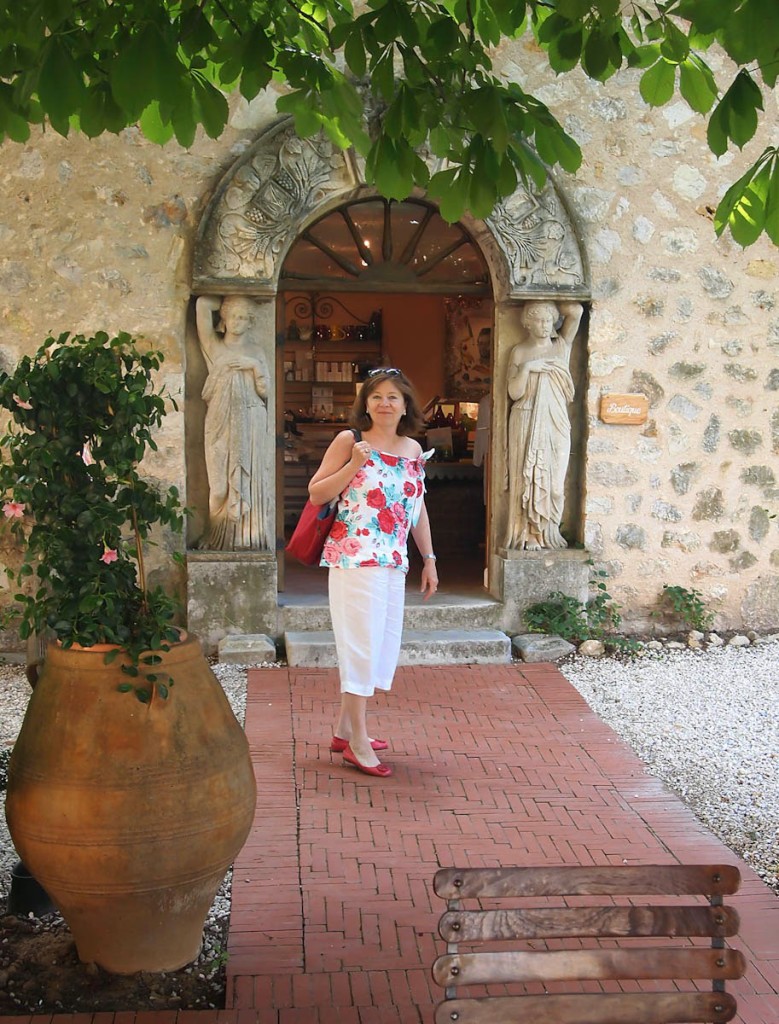 Finally, we visited the boutique, housed in an ancient chapel near the terrace.  There, I focused on the  culinary specialties like honey, risotto, pasta, and olive oil as well as cookbooks and those cool night shirts I mentioned earlier.  I bought a very large soft canvas bag—as if I needed a bigger bag—with loads of pockets.
Our Departure
It was time to pack up that bag—and all the others as well as our boxes and baskets—to return to Lourmarin.  I felt refreshed—and a lot less Clampett-like—after just 24 hours at Hostellerie de l'Abbaye de la Celle.  After lapping up the enormous amount of history, serenity, and good food and wine this destination has to offer—not to mention just plain fun—we have a wealth of memories.  It was "24 hours" that would keep on giving!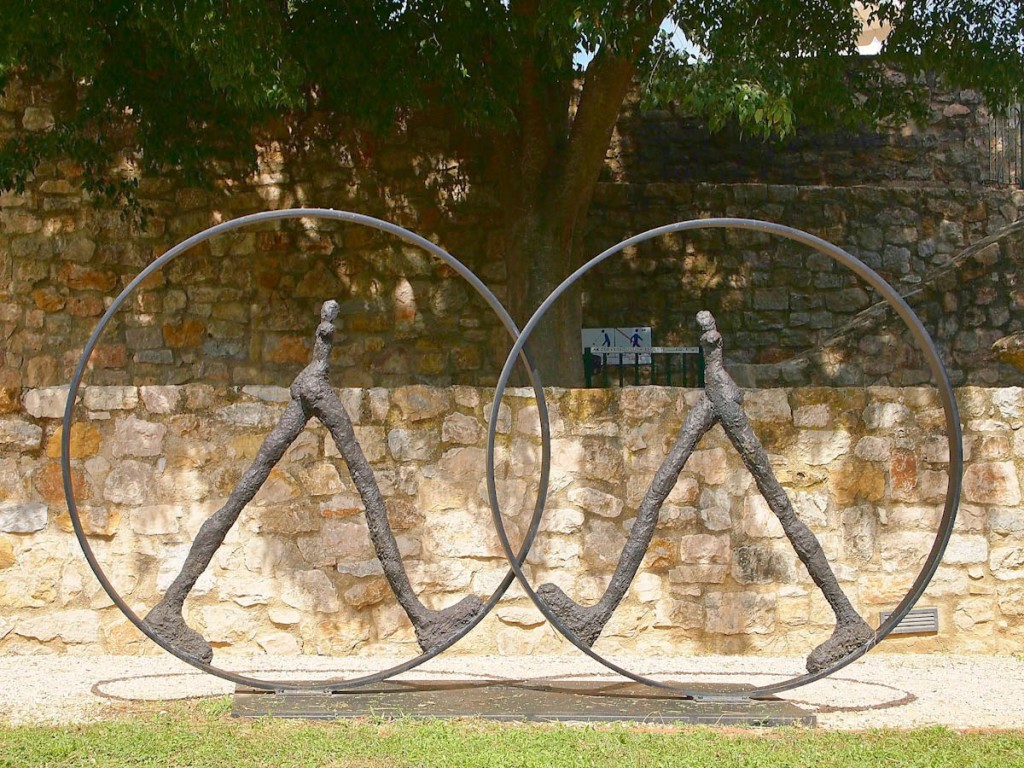 Notes:
*There are several Prix Fixe lunch possibilities (available Monday through Friday) that come from the "Menu du Marché" ("Menu from the Market"). The 38€ menu includes a first course (entrée) and a main course (plat) or a main course and a dessert. This menu, also referred to as a "business lunch," was created to appeal to those who may be in a hurry but still want to receive a perfect meal and service—this menu is usually exactly what I am usually looking for and seemed a remarkably modest price for a restaurant of this caliber. The 48€ menu includes the first course, main course, and dessert. There is also a 65€ menu that includes matching foods and wines with the first course and main course (accord mets & vins) followed by dessert. Finally, there are two other Prix Fixe menus:  Menu de Saison  and Menu de l'Abbaye (for 70€ and 95€, respectively).  À la carte is always an option.
**Like many parts of Provence, the Romans inhabited the area earlier and excavating some of the ruins of a Roman villa under the abbey are part of the current restoration project. The Hostellerie itself, formerly a priory, was built in the 18th century and is also said to stand atop part of the Roman villa and the swimming pool, about 100 yards from the hotel, is thought to rest atop other Roman ruins so plans are in place to move the pool in order to excavate that area.
*** For dinner, there are several Prix Fixe possibilities (for 70€ and 95€).  À la carte is always an option.
Full disclosure probably demands that I tell you that the costs associated with the hotel room were absorbed by the Comité Régional du Tourisme and the Comité Interprofessionnel des Vins de Provence (CIVP)  as part of a package I won at a wine tasting, "Provence in the City," hosted by Wines of Provence (Vins de Provence). I was, however, under no obligation to write about my experiences.  (Lunch and dinner were on my tab!)
Un gran merci to Pamela O'Neill for her photography and to both O'Neill and David Scott Allen for their editorial assistance.