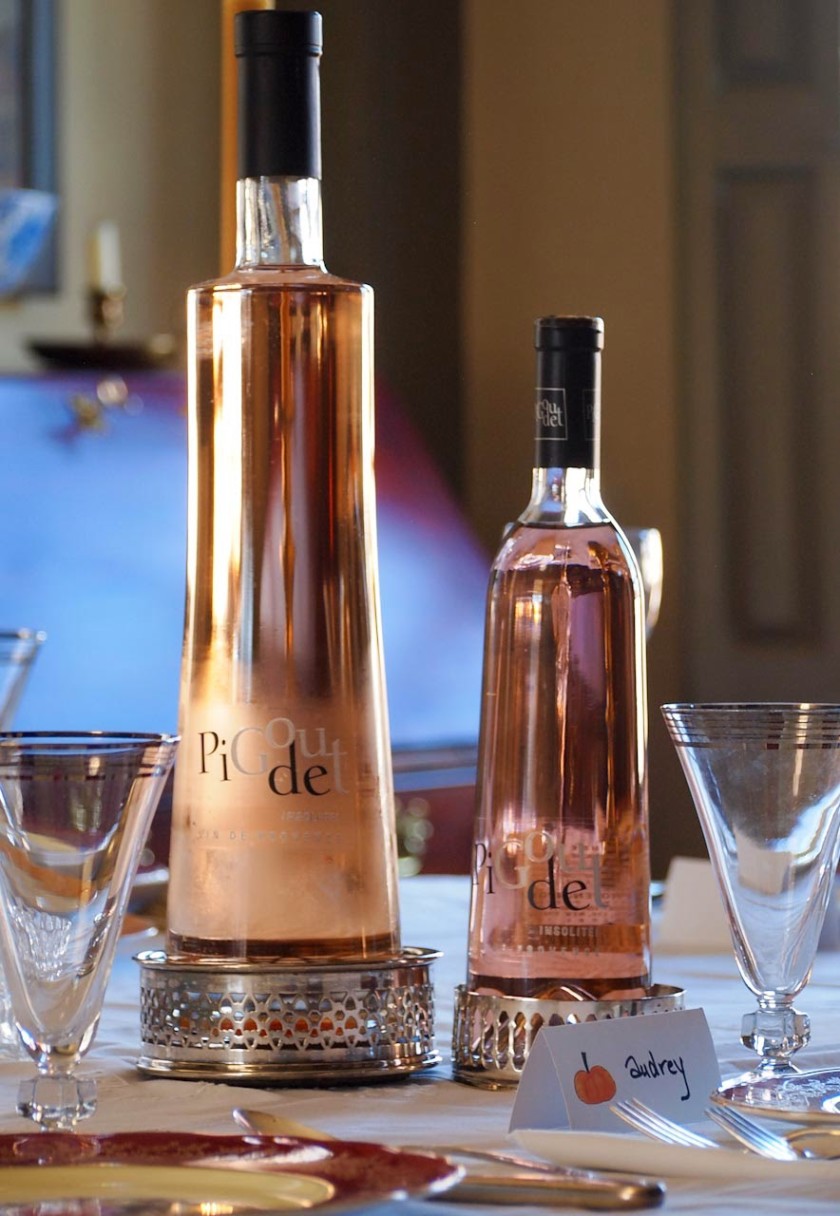 Rosé can be the perfect match for your turkey and its varied trimmings, especially when it comes from Provence, the birthplace of rosé. With hundreds of years of practice making this wine, it is not surprising that the best rosés in the world hail from this region. Light yet complex, nicely balanced fruit and acidity, Provence rosés are refreshing to one's palate and versatile enough to go with the myriad foods typically found on the traditional Thanksgiving table. (Keep a bottle chilled for the leftovers, too!)
I love Thanksgiving. I am one of those (obsessive) sorts who has a file bulging with Thanksgiving recipes and a stack of November issues of magazines—Gourmet, Food & Wine, Saveur, Cook's—dating as far back as 25 years, each with the past years' popular menus and learned advice for those above calling Butterball's Turkey Talk-Line. Still, I scour current magazines and my favorite online haunts for the latest ideas for stuffings, vegetables, salads, and so on—kale, quinoa, and anything without gluten still trending high, in case you didn't know. I spend a lot of time planning the menu. Today, by most accords, is America's favorite holiday.
What could be more inviting than gathering 'round the table, giving thanks, and diving into the sumptuous meal set before us? Considering the countless hours that went into putting that meal on the table, what could be more rewarding?
Leftovers.
I can hardly believe that I am…making this public confession, revealing this heretofore closely held secret as well as a rather irreverent side of my personality. But there you have it. When the guests leave, I can hardly wait to break up the Turkey's carcass, drop it into my biggest stock pot along with onions, leeks, carrots, celery, a few springs of thyme, parsley, and rosemary (tied together), peppercorns, and the obligatory bay leaf. Cover it all with cold water, light the fire, bring to a boil, and simmer. Three hours later, you have an intensely flavorful stock. In the meantime, I happily clear the tables and wash the dishes, while occasionally skimming the foam off of my gently simmering broth.
Turkey soup, turkey sandwiches on the left-over whole wheat Parker House rolls, along with my great grandmother's cranberry relish or Brian's plum sauce (passed down from Prince Albert, he claims), sautéed carrots with black Provençal olives (à la Patricia Wells), kale salad with a ginger dressing, green beans with slivers of almonds, and smashed potatoes with rutabaga. Then, the sweet potato pie (thanks again, Cloe) or will I have the dark rich gingerbread with whipped cream? I always feel that I can savor the tastes of the various dishes so much more clearly the next day.
I feel the same about the wine. Who can fully appreciate a wine when there is so much going on at the table—what with all the engaging conversations, passing this and that, and a table lit by candles, who can see, swirl, sip, swish, swallow and savor? Every year, I hope there is a little left in each bottle for a tipple or two while making the broth and doing the dishes in the light of my kitchen. Sometimes there is and sometimes there isn't. Rarely is there wine left to accompany my beloved leftovers. This year, however, I have ensured that the rosé I selected will also grace my table the next day.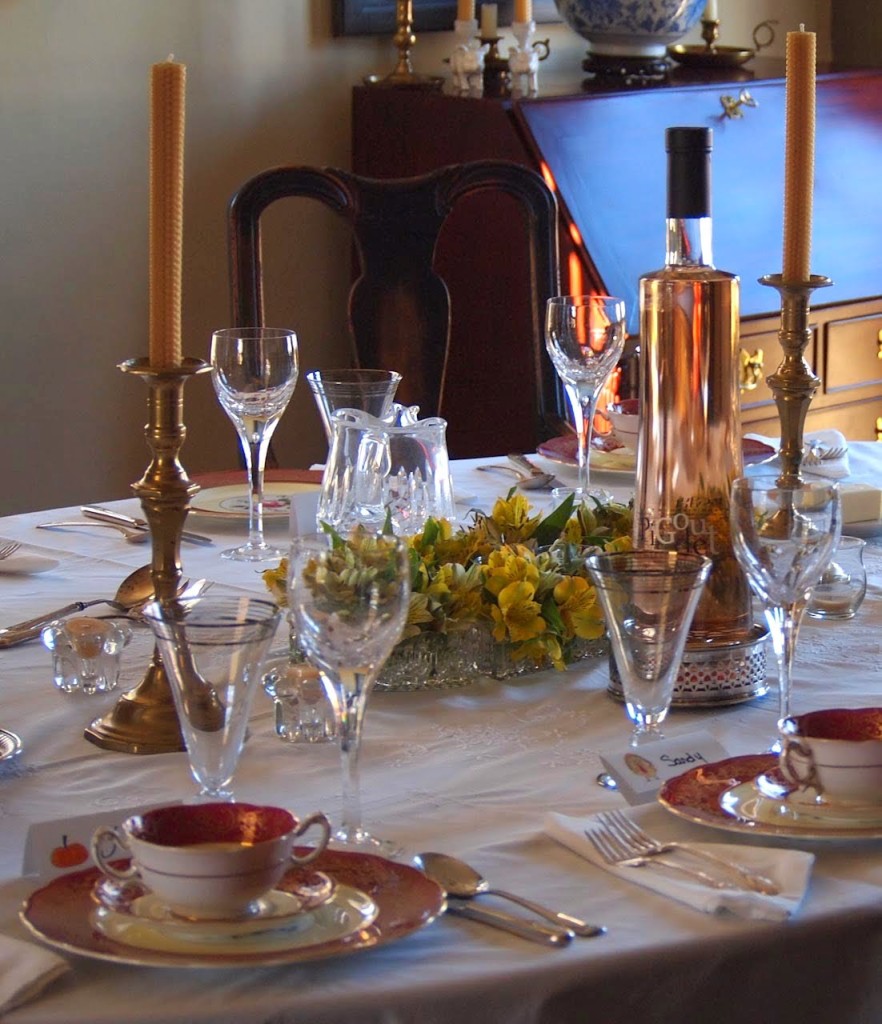 Château Pigoudet Insolite (2012) is the rosé we selected for our Thanksgiving this year. We were introduced to this lovely rosé—a blend of Cabernet Sauvignon, Grenache and Syrah—at the Rosé tasting sponsored by Provence Wine Council/Conseil Interprofessionnel des Vins de Provence (CIVP) in New York last March. (Please see my earlier post, entitled "Thirty Rosés to Taste: Provence Comes to New York City," on this tasting.)
I will write more about this estate in an upcoming post, so suffice to say here that I know neither we nor the guests will be disappointed with our rosé selection. This Coteaux d'Aix-en-Provence rosé's color is often referred to as a "pale salmon hue." My notes from last March tell me that the nose has hints of red fruits like strawberry; the slightly minerally taste brings to mind grapefruit and perhaps honey suckle but its fruit flavor is very nicely balanced with its acidity; and the finish is exceptionally pleasing. Its complexity and body, my notes suggest, would be a perfect match with our turkey and its accompaniments.  (Carmelized fennel soup and whole roasted cauliflower with whipped feta cheese are especially challenging!)
We have chilled two bottles: a 1.5 L bottle and a 750 ML bottle. It is so good that my husband is wondering which bottle will be on the Thanksgiving table and which will grace the leftovers.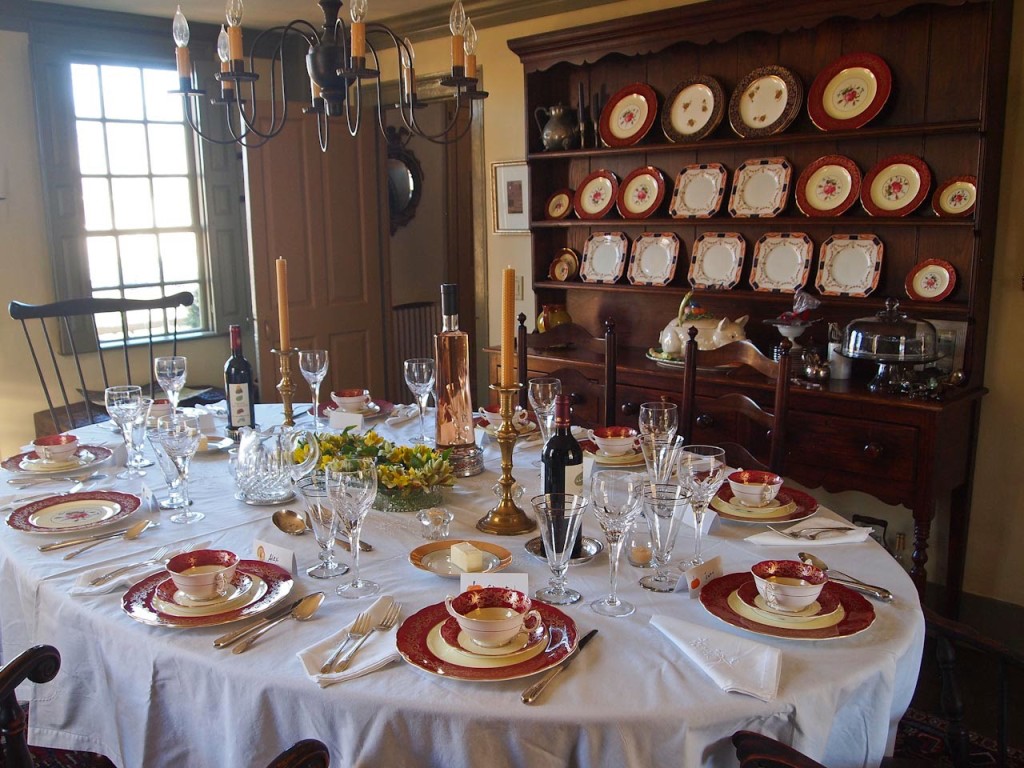 Our table is set, the dough is rising for the Parker House rolls, the turkey is spatchcocked, and the gigantic balloons are floating past New York's Macy's—I just saw a master chocolatier marionette looking over a Lindt chocolate factory and now Spiderman is bopping by. I can't wait for dinner and our Château Pigoudet Insolite rosé….I'm that much closer to turkey soup and leftovers and another taste of our rosé!
Happy Thanksgiving!