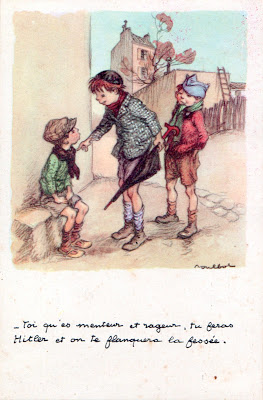 Part Two of Two Parts
This is the second of two posts inspired by Boston's Museum of Fine Arts exhibition entitled "The Postcard Age: Selections from the Leonard A. Lauder Collection," on view through April 14, 2013. Showcasing around 700 postcards from Mr. Lauder's massive collection—which he recently gifted to the MFA—it is an immensely interesting and fun exhibition. The first post, last week, entitled "Postcards from France: Provence and the Côte d'Azur," focused on the postcard craze that swept across the world around the turn of the 20th century and showed postcards from a friend's collection of images from the South of France. This post focuses more on what inspired Mr. Lauder and shows postcards from other regions.
Circa 1938 postcard: "You who is a liar and bad tempered,
you will be Hitler and we will give you a spanking!"
In 1940 when Leonard Lauder was just seven years old, he purchased his first postcard. It was the Empire State Building. Young Lauder, son of cosmetics mogul Estée Lauder and her husband Joseph, purchased five postcards of the very same image for five-cents, a sum requiring his entire allowance. Little did he know that this small purchase would be the start of something big: a life-long passion for this art medium and a collection of well over 100,000 postcards from around the world.

When postcards were introduced in 1869, one side was strictly designated as the "address" side (as seen above).  Although the "divided back" was introduced in 1902, many postcards were still written following the original guidelines (as exemplified by the postcard above, postmarked 1912).
Years earlier, in the very center of France in the Berry region, my French teacher's grandfather and his siblings were also collecting postcards. It was "The Postcard Age," a period of time spanning fifty years from 1890 to 1940, when billions and billions of postcards passed through postal systems around the world. Many people were collecting postcards.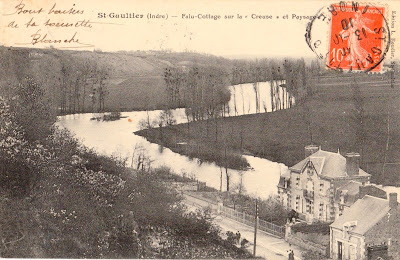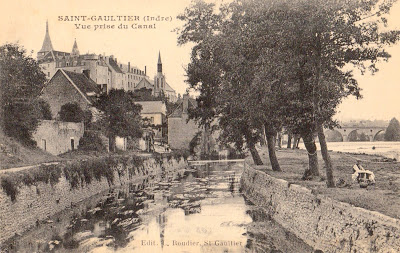 My French teacher grew up in St. Gaultier in Le Berry
My French teacher inherited a portion of this beautiful collection of primarily French postcards when her grandparents passed away. It appears that the collection began shortly after the turn of the century—or at least they began saving these cards then—and continued past the Second World War. From the mid-1930s until after WWII, her grandfather's sister probably played an important role in learning about new postcards because she ran the post office—and lived above it—in a tiny village in Le Berry (region).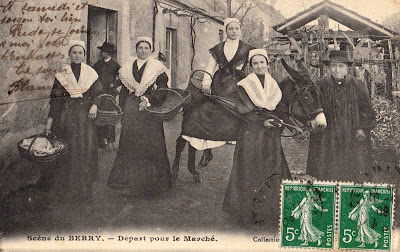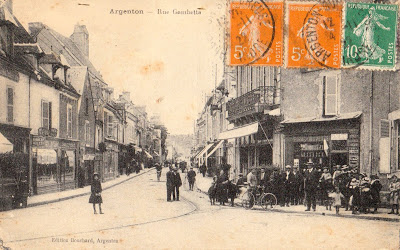 Postcards of  the region of Le Berry
I recently attended a talk at the MFA given by Benjamin Weiss, the Leonard A. Lauder Curator of Visual Culture and, with Lynda Klich, the organizer of the current exhibit. After seeing the exhibition of postcards—a vast array of tiny pieces of art that covered sports, fashion, the first world war, celebrities, industry, advertising, and news as well as the basic travel post card—it was fascinating to hear how Mr. Lauder collected his postcards.
He chose each one himself, Mr. Weiss said. "No collections were purchased", according to Mr. Weiss, even though he was offered significant collections over the years. He was also offered the original artwork from which postcards in his collection were produced and also declined those offers.
"No fun in that," Mr. Lauder is said to have explained to Mr. Weiss.
I found it fascinating that a man who—at the risk of sounding boorish, is a billionaire several times over and who, I learned, is widely known for his stellar collection of Cubist art and his many generous gifts of American art to the Whitney Museum—should be so enthralled by the lowly postcard.
Ah, but Mr. Lauder is said to have seen postcards as "'miniature masterpieces' that were very much museum-worthy," according to an October 2012 New Yorker piece.
And, according to Mr. Weiss, Mr. Lauder is intimately familiar with every piece of his collection. The curator went on to explain that when they were trying to organize the exhibit—which must have been a formidable challenge with all the postcards from which to choose—Mr. Lauder told the curators that they should consider the postcard with [and he went on to describe a card, one of over 100,000, in great detail]. According to The New Yorker interview with Mr. Lauder, his wife Evelyn (who died of cancer in 2011) referred to his postcard collection as his "mistress."
The postcards you see on today's post are, unless noted, from the collection of my French teacher's grandfather and his siblings. As I turn the pages of the large album of postcards they assembled over the years, their love for the humble postcard is also apparent. And like the Lauder collection, one sees beauty, humor, and history.
To see more French postcards from the past, click on the map below or watch the slideshow below the map. (The same images are shown in both places). See last week's post for more images of postcards from France, from Provence and Côte d'Azur. Enjoy!