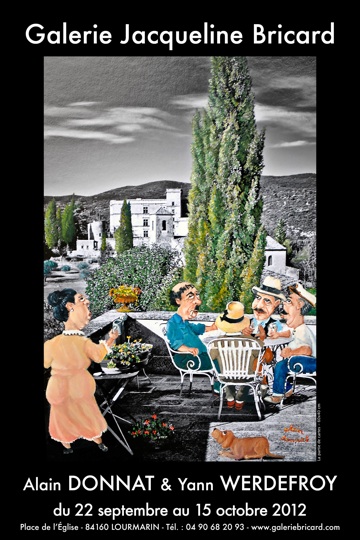 If you have not yet received your invitation to the wedding of the year—Brad and Angelina, of course, who are rumored to be tying the knot in their French country home, Château Miraval, near Brignoles—and you still plan to be in Provence in September, drop by Jacqueline Bricard's La Galerie d'Art Naïf in Lourmarin. On September 22—this date is for sure—Madame Bricard will open her gallery and welcome naïf painter Alain Donnat and photographer Yann Werdefroy who have teamed up to produce some of the most original artwork to be seen in some time.
George Clooney won't be there and Madame Bricard will not be serving Château Miraval's rosé called "Pink Floyd"—the wine so named because Pink Floyd recorded part of their album "The Wall" in the famous recording studio on the château grounds that, in the 1970s, welcomed many rock stars—but luminaries from Lourmarin and the naïf art world will be there. And you should, too!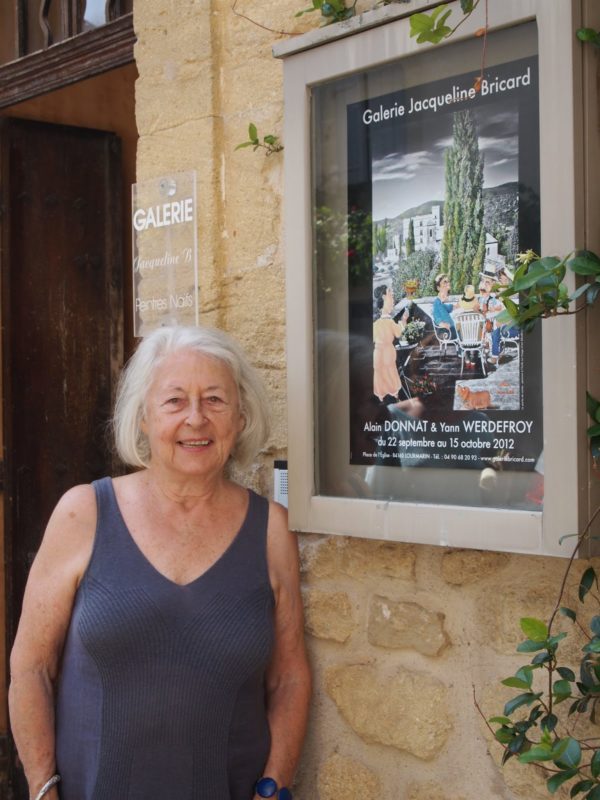 Naïf art is that which takes inspiration from the soul. The artists who produce this style of work are generally self-taught or at least not academically trained. Their work is therefore free from any prescribed convention. Their work is usually characterized by…
very bright and bold colors, distortions in perspective and size, and a seemingly childlike or simplistic style (although a closer examination reveals that the work is neither although it certainly appeals to the child in each of us!).
I fell in love with Donnat's work when I attended the opening reception of Madame Bricard's huge naïf exhibition last October. Entitled
"Naïfs Européens: Salon d' Autonmne 2011,"
it represented the work of 65 artists from 17 different countries, including Brazil (as a
"pays invité"
or invited country). Because Madame Bricard's charming gallery could not possibly accommodate the 300 or so paintings that comprised that exhibit, the works were exhibited in
Le Château Vieux
,
La Bibliothèque
, and in many of the local shops. It was extraordinary array of work that brought thousands of visitors to the village.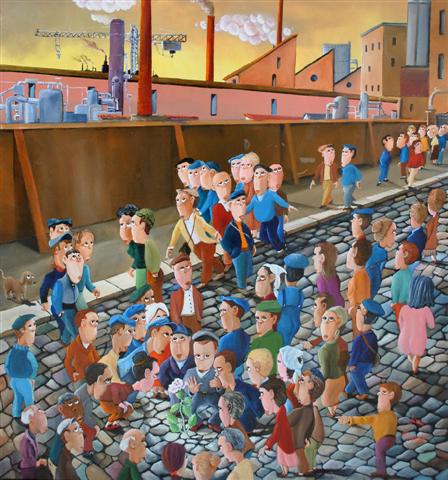 Donnat's "Factory," a 92 x 73 cm. (36.2 x 28.7 in.) canvas hung in the château. It depicts a crowd of factory workers—quintessentially Donnat people, I later realized, with disproportionally large heads and protruding soulful eyes—who seem captivated by the beauty of a lone pink flower that made its way up through the cobblestones of the road that runs alongside the industrial area. The scene reminded me of a theme seen in Monet's early Impressionist work that honed in on the contrast between the impending industrial age and the aesthetic qualities of his beloved France (the best example of this probably being his "Gare Saint-Lazare" series). In Donnat's painting, the industrial revolution has come to dominate the lives of his figures—the black smoke of the huge trains has come to obscure the beautiful and sacred cathedrals of late 19thcentury Paris—but even the tiniest evidence of natural beauty easily captures their attention. I was not the only one lost in thought as I stood in front of this compelling painting.
Donnat, French, was born in Neustadt, Germany in 1947. He began painting late in life after a serious accident led him to leave the business world in the mid-1980s and focus on his real passion, Naïf painting. It was Madame Bricard who first recognized his immense talent and provided support and encouragement.
Donnat and photographer Yann Werdefroy just recently met and teamed up to produce the artwork that is the focus of this exhibition entitled "Le Binôme." The work is part photograph, part painting, creating fanciful scenes of the beach and Lourmarin. I suspect the beach is Île de Ré, an island off the west coast of France where Werdefroy lives and where the two artists did a lot of their collaboration.
Werdefroy, French, was born in 1974. He is both a photographer and a freelance writer who has also worked in broadcast journalism.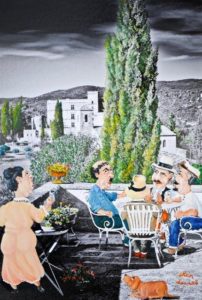 The contrast of the black and white photographic backdrops of realism with the colorful expressive figures that Donnat is known for result in art that, like much of naïf art, can't help but make the viewer smile. I particularly like "La Partie de Cartes," a scene from Madame Bricard's balcony (where I interviewed her last year). The whimsical card players that inhabit her table and chairs, against the back drop of Lourmarin's Renaissance château, are just charming. The "Olives, Oliviers, Olivades" work is also lovely: with olive trees that seem to escape the photograph, the characters are clearly celebrating their harvest as Lourmarin's early 19th century Protestant church stands tall in the background. Donnat's characters that inhabit "Negresco" seem even smaller in the presence of Nice's iconic turn-of-the-century hotel, another of my favorite pieces.
Who needs an invitation to Brad and Angelina's wedding? Pick up a bottle of Château Miraval's Pink Floyd while in Provence—I am told it is very good but since Brad's announcement that he will be pouring it at the wedding, it is pretty scarce stateside—and head to Madame Bricard's gallery.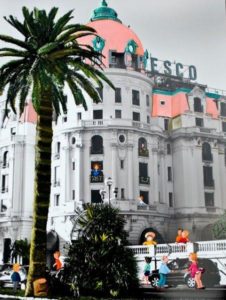 With lavender season over, the grapes having been harvested, and with the news of a French magazine publishing photos of a topless Duchess of Cambridge while sunbathing in a private château (in the Luberon!), just keep your shirt on and go straight to Lourmarin!
Le Binôme opens on September 22 and runs through the 15thof October, 2012. Check the gallery website for hours/days open. Galerie Jacqueline Bricard is located on Place de l'Église in our favorite village, Lourmarin.
We stopped by to visit Madame Bricard in August–she is very excited to welcome her long-time friend, Alain Donnat, and Yann Werdefroy on September 22. You should be there, too!
______________
Galerie Jacqueline Bricard