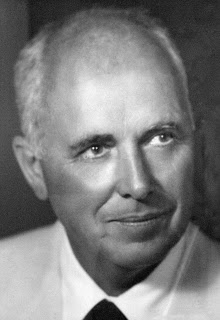 Do you ever wonder why you are drawn to France? If you are reading this, I suspect that France tugs at your heart strings, as it does mine. Do you know why?
I trace my affection for France to my grandfather, Grampi, whose birthday we are celebrating today. Born in 1906 in Uxbridge, Ontario, he would have been 106 years old. He died in 1997 and I miss him terribly. To mark his birthday, we are drinking Old Fashioneds in his honor, followed by a dinner of lamb shanks, pilaf, green beans, and a bottle of French wine. This was one of his favorite dinners.
Old Fashioneds have made a come-back in recent years—due to the popularity of Mad Men—but this was always my grandfather's drink. We grandchildren (and, later, his great grandchildren) all knew how to make them long before we came of age.
Grampi was always the bartender, a role I am certain he did not relish because, as you well know if you drink Old Fashioneds, they disappear quickly. The bartender is always busy, especially if you use the standard Old Fashioned glass, as Grampi preferred, rather than the double Old Fashioned size. He might growl a little and was known to mutter something…
like "For Christ's sake," or "Death, where is thy sting?" but he always acquiesced and made our drinks.
He would line up the empty glasses, in alphabetical order, add the bitters and a little cherry juice—rather than sugar—followed by a jigger and a half or so of brandy—rather than whiskey—and then add the ice, lemon rind, and cherry.
"San Francisco style?" he would ask, meaning "no water, let the ice melt?" "Another cherry?"
We all knew he made the best ones. We were lucky to have studied under a master. But, our good fortune extended way beyond the fine art of Old Fashioned making.
We have France in our blood. Grampi descended from French nobility. His roots—and, by birth, mine—can be traced back to the patrician de Broglie family. A family whose members distinguished themselves in the wars of King Louis XIV and King Louis XV, who were princes and diplomats, writers and scientists.
My grandfather loved France. I always remember him studying his French phrases and long lists of verb conjugations. When he died, I inherited his French books and his hand written notes for his first trips to France. I keep them nearby and feel like my grandfather is nearby, too.
My grandfather had many jobs after he and my grandmother emigrated from Canada to the United States when they were 18 and 15 years old, respectively, although by the time I came along, Grampi was firmly ensconced in the wine supply import business. He imported corks, a job that took him to Europe frequently.
I was lucky enough to go with my grandfather and grandmother on one of those trips. At the risk of sounding hyperbolical, the trip changed my life. My family traveled a lot—Mexico, through the southwest states on our way to Mexico from California, up and down the west coast, into Canada, and back east to New York—but I had never been to Europe.
We began in Lisbon, the colorful capital of Portugal, drove along the coast to Faro in the Algarve Region, and dipped into the Andalusia Region of Spain, areas steeped in beauty as well as "cork trees," and I was enthralled with every moment (well, maybe not with the baked octopus I was served for lunch with one of my grandfather's clients).
But, it was our next stop that captured my heart: Paris. My grandfather kissed the ground when we landed, a heartfelt gesture that probably embarrassed the teenager in me but it wasn't long before I understood his deep love for this country.
We stayed in a small hotel, Hôtel Duminy—it is still there in the same spot on rue du Mont Thabor—where I slept in a brass bed and was served chocolate croissants and tea in my room. That alone would have been enough to enchant me, but I came to love so much more. While my grandfather worked, my grandmother and I toured in the City of Lights. From the Musée du Louvre to Sacré-Cœur, from cafés to the Casino de Paris, we saw it all. I remember crossing the Seine with my grandmother one particularly beautiful day—brilliant sky, crisp air, Bateaux Mouches passing under us, and a perfect view of the Ile de la Cité —and my grandmother said, "It's a glorious day." In my teenage mind, I undoubtedly thought her term of endearment was, well, goofy, but like my grandfather's kiss to the French terre, I get it now.
How fortunate I was to see my grandparents' beloved France—my grandfather's ancestral land—through their eyes.
My grandparents changed our airline tickets to train tickets for the last leg of our trip, from Paris to London. As we sat in the dining car at the tables draped in white linen and set with fine china, crystal and silver, we could hear corks popping, one right after the other, as dozens of wine bottles were opened and poured. My grandfather said that that was his favorite sound.
We will open our bottle of 2005 Château Crémade soon and toast to you, Grampi. He loved his red wine, too. Although as he grew older, it caused him to sneeze and he took to adding water to his wine and eventually stopped drinking it. It saddened me to see this, but I took comfort in knowing that he lived a rich life and enriched the lives of so many others along the way.
If you are lucky enough to travel to France with your grandfather and grandmother, then wherever you go for the rest of your life, it stays with you.
Bonne anniversaire, Grampi, et à votre santé! Merci pour tout.