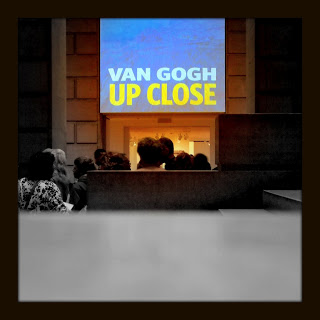 Befittingly, perhaps, we arrived in Philadelphia to find frigid temperatures and falling snow, just as van Gogh had found in Arles when he arrived from Paris 124 years ago on February 20th. It took van Gogh only three days before he and his easel were en plein air, painting one of two pieces aptly entitled Landscape with Snow (1888).
For us, once inside the stunning exhibition of over 40 of van Gogh's paintings, most of which were painted in the South of France, our fingers quickly thawed and our hearts were warmed. We reveled in the beauty of Van Gogh Up Close, an impressive collection of landscapes and still lifes that the artist painted during his intensely passionate and productive French period. Many of the scenes were rendered just a short drive from our stomping grounds in Lourmarin.
The show spans the last four years of his life, from his arrival in Paris from Antwerp in 1886 to his death in Auver-sur-Oise in 1890, and, as such, has some of van Gogh's most beautiful and well-known works such as Sunflowers (1889) and Iris (1889). It also has some lesser-known pieces from small museums and private collections that contributed immensely to our appreciation of this period; I'm thinking of the lovely View of Vessenots near Auvers (1890) from Museo Thyssen-Bornemisza in Madrid, the gorgeous Wheat Field with Sheaves (1888) from Honolulu Academy of Arts, and the intriguing Park of the Asylum at Saint-Rémy (1889) from a private collection.
Wheat Field with Sheaves (1888)
The most luscious of the collection, in my opinion and that of my husband, is Almond Blossoms (1890). This is a captivating piece, in part, because it is a large canvas upon which the artist has painted—up close—just a portion of an…
almond tree in glorious bloom and then painstakingly filled in the background with a brilliant blue. "Bleu céleste," he called it: heavenly blue. His love of Japanese art is clearly apparent here.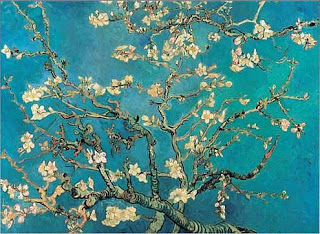 Almond Blossoms (1890)
It is also a piece that can't help but move the viewer who knows that van Gogh had just emerged from one of his dark periods; still the asylum in St. Rémy, van Gogh was grappling with the new expectations of him that a recent very favorable review of his art had engendered and his fears that his newborn nephew, Vincent, would share his madness as well as his name. Almond Blossoms was painted for his namesake but also with the hope that a painting of nature's beauty would please his mother and that she would forgive him that Theo named his son, Vincent.
One of the most haunting pieces is Undergrowth with Two Figures (1890) from the Cincinnati Art Museum. A couple is immersed in what looks like dark woods, but the ground is covered in flowers. It is unclear whether they are coming or going or are apparitions the viewer shares with the artist.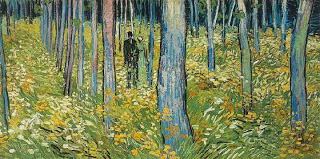 Undergrowth with Two Figures (1890)
We had never seen either of these paintings, both of which, alone, were well worth the trip to Philadelphia.
Because the asylum of St-Paul-de-Mausole in St.-Rémy-de-Provence is so familiar to me—both its grounds and the history of van Gogh's stay there—I am always drawn to the work he produced in that venue. I thoroughly enjoyed the series of wheat fields painted from his window in the asylum. Rain (1889), part of the permanent collection of the Philadelphia Museum of Art, is one I had never seen. I found it particularly sad and wondered if he wished he was out in the field rather than confined to an asylum. Other paintings of views from the same window are more uplifting as are the paintings of other wheat fields.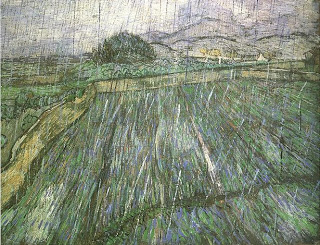 Rain (1889)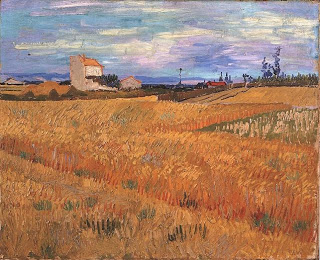 Wheatfield (1888)
My husband and I spent a long time in each of the galleries of this exhibition and thoroughly enjoyed the paintings included in this show. What a real treat to be able to see so much of this brilliant artist's work. But, I have to confess that we were confused by the theme of the exhibition as were other visitors with whom we talked. We were enthralled by the art—even though landscapes and still lifes are not as intrinsically moving as portraits, especially his self portraits—but we just didn't get the "up close" part.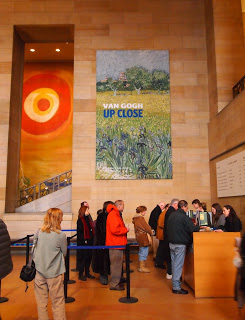 I had read the material on the Museum's website which says:
Radically altering and often outright abandoning traditional painting techniques, van Gogh created still lifes and landscapes unlike anything that had ever been seen before. He experimented with depth of field and focus. He used shifting perspectives and brought familiar objects "up close" into the foreground. And he produced some of the most original works of his career; works that dramatically altered the course of modern painting. Through some 40 masterpieces borrowed from collections around the world, Van Gogh Up Close is the first exhibition to explore the reasons and means by which this impassioned artist made such unusual changes to his painting style in the final years of his life.
Thus—call me crazy–we had expected an exhibit that illustrated "such unusual changes to his painting style in the final years of his life" and an exploration of "the reasons and means by which" van Gogh made these changes.
What we found, upon arrival, was an exhibition that purported to focus on "a fascinating new perspective on Vincent van Gogh's representation of nature." The "up close" part of the title for the exhibition refers to the artist's "close-up representations of nature [that] began to appear more prominently during 1887, the artist's second year in Paris…."
"About a quarter of Van Gogh's paintings from around 1887 to the end of his life in July 1890 belong to [themes of nature]," according to the book that accompanies the exhibition (p. 7).
Okay, so the show will focus on close ups in nature, but the show consisted of very few close ups. One of the highlights of this apparent theme is in the first room: the exquisite close up of withering sunflowers. Look for Butterflies and Poppies (1890), Ears of Wheat (1890) and Giant Peacock Moth (1889), but don't look for too many more, especially any illustrate radical changes in style.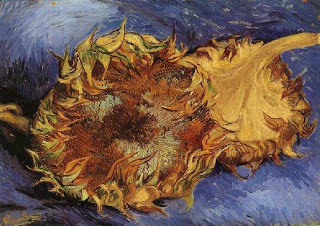 Sunflowers (1887)
Maybe I am too literal. But, even in a show confined to paintings of nature and unusual changes in his painting style, I would have had expected more discussion of the bright colors he embraced once in France (especially after Paris), the changes in his brush strokes, the inherent movement in so many of his paintings, and more about the shifts of focus and perspective that defined so much of his work in the South of France. The latter point is definitely covered but it seems secondary to the curators' contention that it was van Gogh's focus on nature that was such a profound change. Even their point that his close-ups of nature were revolutionary was not as up close as it should have been to the typical visitor.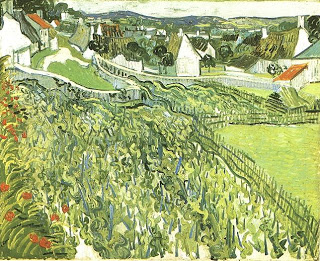 Vineyards with View of Auvers (1890)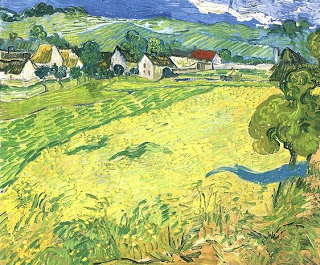 Views of Vessenots at Auvers (1890)
I had the feeling the whole time we were in the exhibition that it was a marvelous collection of paintings in search of a theme. To me, the title, Van Gogh Up Close, in conjunction with the museum's description of the show, suggests a theme and collection different than what we saw. To me, a more apt title might be Van Gogh: A Shift of Focus.
The curators, Cornelia Homburg, Joseph J. Rishel, Jennifer A. Thompson and Anabelle Kienle, undoubtedly know far more than I will ever know about art or van Gogh. So, it is with all due respect that I say that I left with the feeling that I had just seen a really good movie—one definitely filled with wonderful cinema photography—but that I was glad I had read the book first….otherwise I wouldn't have gotten it.
The inclusion of a room devoted to the Japanese prints that influenced many French painters in the 19th century (including most definitely van Gogh) and another room of the photographs from that time period, the likes of which van Gogh probably saw but adamantly denied being the source of any inspiration, needed to be more directly tied to the pieces in the exhibition. Japanese art was a subject of many of van Gogh's letters describing his influences and, as is well-known, was ostensible motivation for moving south. That such photographs were influential may be a stretch, as the curators acknowledged or at least alluded to; van Gogh is widely thought to have distained photography.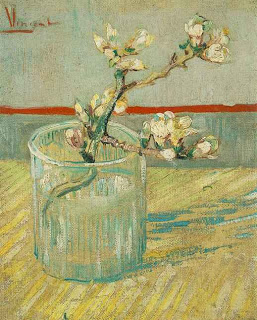 Almond Branch in a Glass (1888) – not in exhibit
And, there were other very significant sources of influence that received only a cursory mention—other European artists, the artist's psychiatric issues (which rendered him captive within the walls of the asylum thereby making close ups of nature a likely subject as the hospital's garden begged to be painted), and, as Jonathan Lopez, in The Wall Street Journal, persuasively argues, the
"perspective screen,"
a device created by German painter Albrecht Dürer that is said to have greatly influenced van Gogh's use of perspective seemed conspicuous by its absence.
The other aspect of the exhibition that drove me crazy, likely because I look at van Gogh from the perspective of a person first, is that the pieces were arranged within each section without regard to chronology, a factor that further contributed to the feeling that I was glad I had read the book first.
On the subject of books, the one that accompanies the show is a treasure-trove of art and information that promotes the curator's view that it was van Gogh's close up view of nature that set him apart from other contemporary artists and propelled his work into the future. For those visitors who really want to understand the goal of the exhibition, it is worth buying…ahead of time.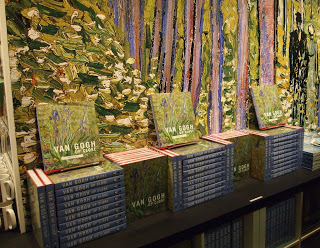 The Museum Gift Shop featuring the book of the exhibit
As I stood in line, $28.50 ticket in hand, I thought of how sad it is that van Gogh never even had an inkling of how widespread and long-lasting his influence as an artist would be. He, who bridged the gap between Impressionism and Expressionism, had to borrow the equivalent of our tickets to be able to paint.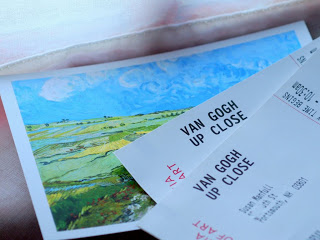 My humble opinion aside, it is a stunning exhibition of nearly four dozen paintings, some of which you have undoubtedly never seen. Go. Enjoy, an immensely worthy goal in and of itself. But, if you want to appreciate the underlying art history, read a little ahead of time or at least poke around on the internet to see van Gogh's work that proceeded this period in France.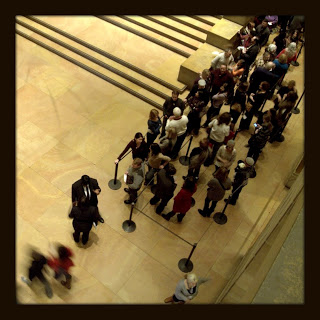 __________________
Van Gogh Up Close is currently installed at the Philadelphia Museum of Art, through May 6, 2012. The exhibition will travel to the National Gallery of Canada, Ottawa and run from May 25 through September 3, 2012.
Recommended reading:
Van Gogh Up Close edited by Cornelia Homburg
Van Gogh The Life by Steven Naifeh and Gregory White Smith
The Essential Vincent van Gogh by Ingrid Schaffner
Van Gogh in Arles by Alfred Nemeczek
The Letters of Vincent van Gogh selected and edited by Ronald d Leeuw
Stranger on the Earth: Vincent van Gogh by Albert J Lubin
Portrait of Dr. Gachet: The Story of a van Gogh Masterpiece by Cynthia Saltzman
For children:
Visiting Vincent van Gogh by Caroline Breunesse
Camille and the Sunflowers by Laurence Anholt