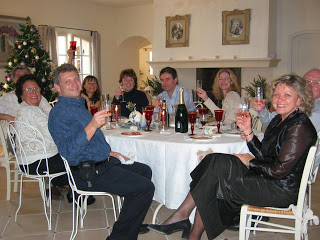 As I write this week's post, 2011 is about to roll into 2012 and I am reflecting on all the wonderful times I have had around the table this year and in years past.   Adam Gopnik's book does this to you.  I highly recommend "The Table Comes First: Family, France, and the Meaning of Food." I might add that I "listened" to much of the book, which I particularly enjoyed because Mr. Gopnik narrates the audio book himself.  Until you can get your hands on the book, I leave you with some of my favorite quotes from "The Table Comes First" at the end of this post.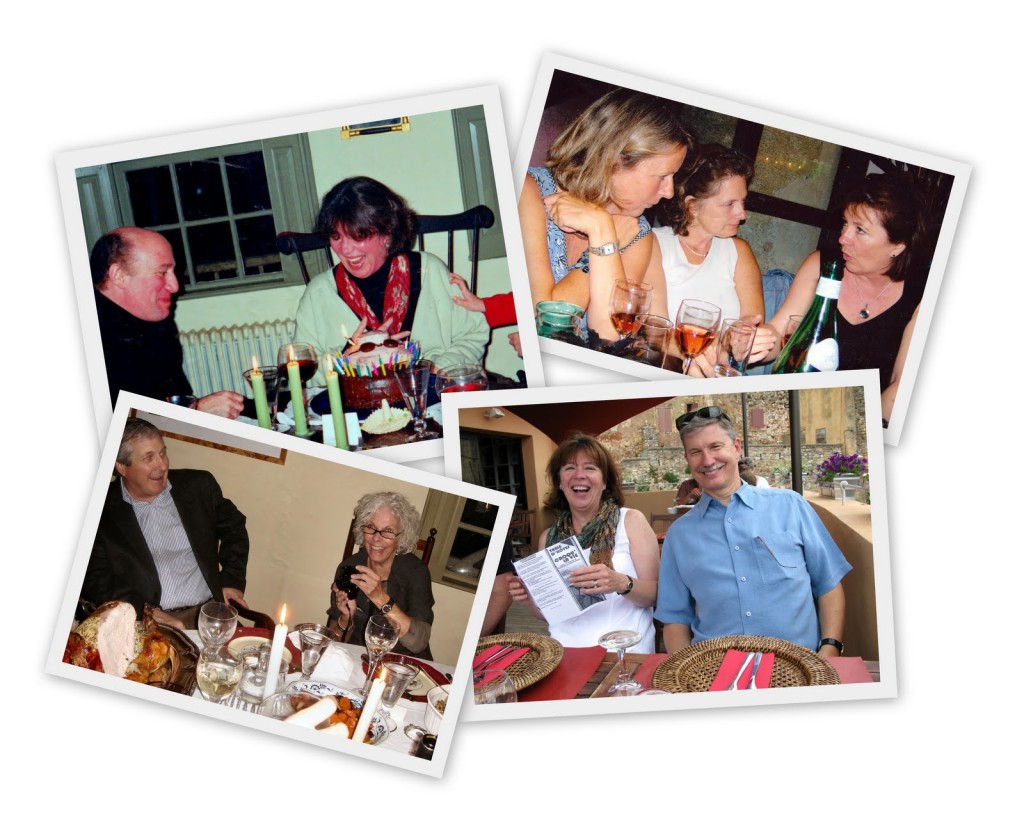 Although the book is in large part about the food on the table, it really centers on what happens around the table." The table, according to Mr. Gopnik, is the scene of celebration and solemnity, negotiations and debate, beginnings and endings.   Mr. Gopnik's story starts in 18th century Paris, where modern tastes and restaurants began—and where he and his family lived for years—and takes us on a journey through other parts of the world and back to Paris.  For me, he took me through scenes of my own life, so much of it spent at the table, including many tables in France.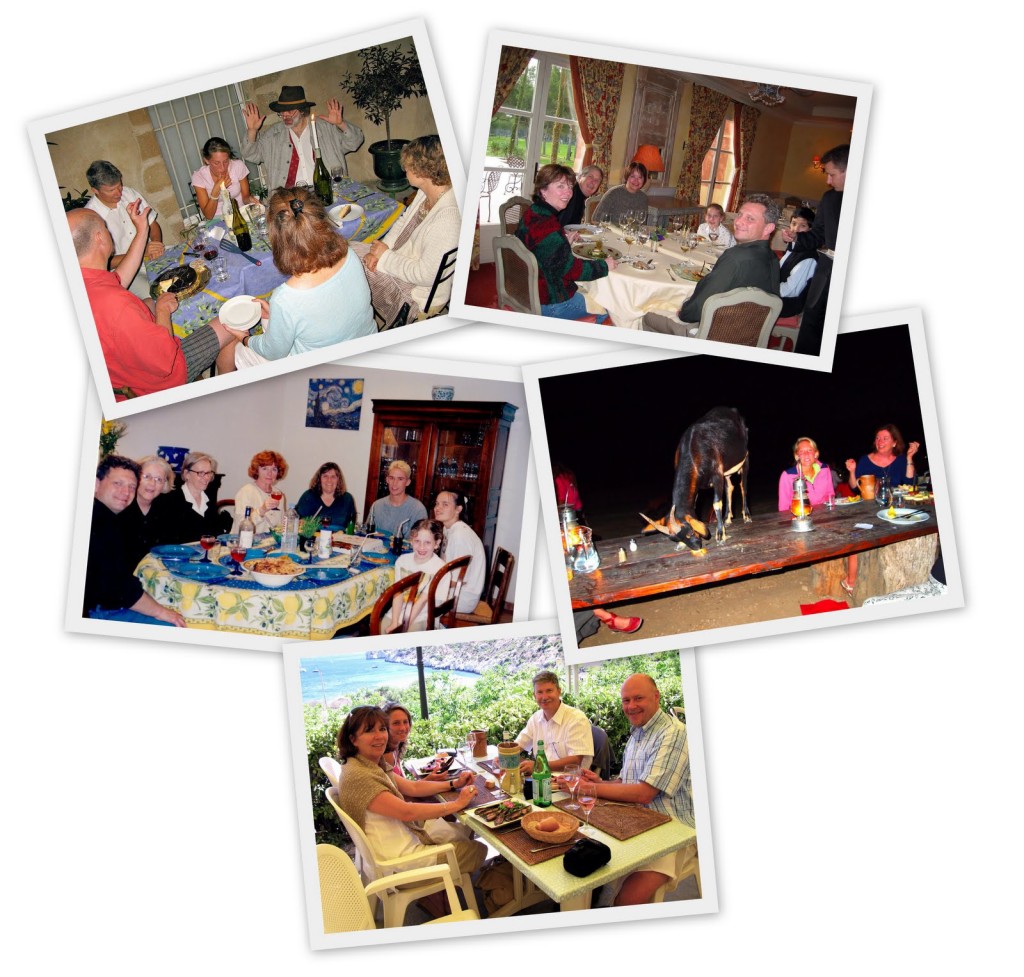 The book was an ambitious project.  To cover so much—the meaning of food, the pleasure of food, the politics of food, the current status of French food, the origin of the word "restaurant,"  history of restaurants and recipe books, and the importance of "the table" while weaving in tasty morsels about French wine, Robert Parker's very American rating system of French wines, food writers, philosophers, new food movements, and even a few recipes—would be daunting to anyone but Mr. Gopnik, who pulled it off brilliantly. The end product is trademark Gopnik: simultaneously erudite and seductive.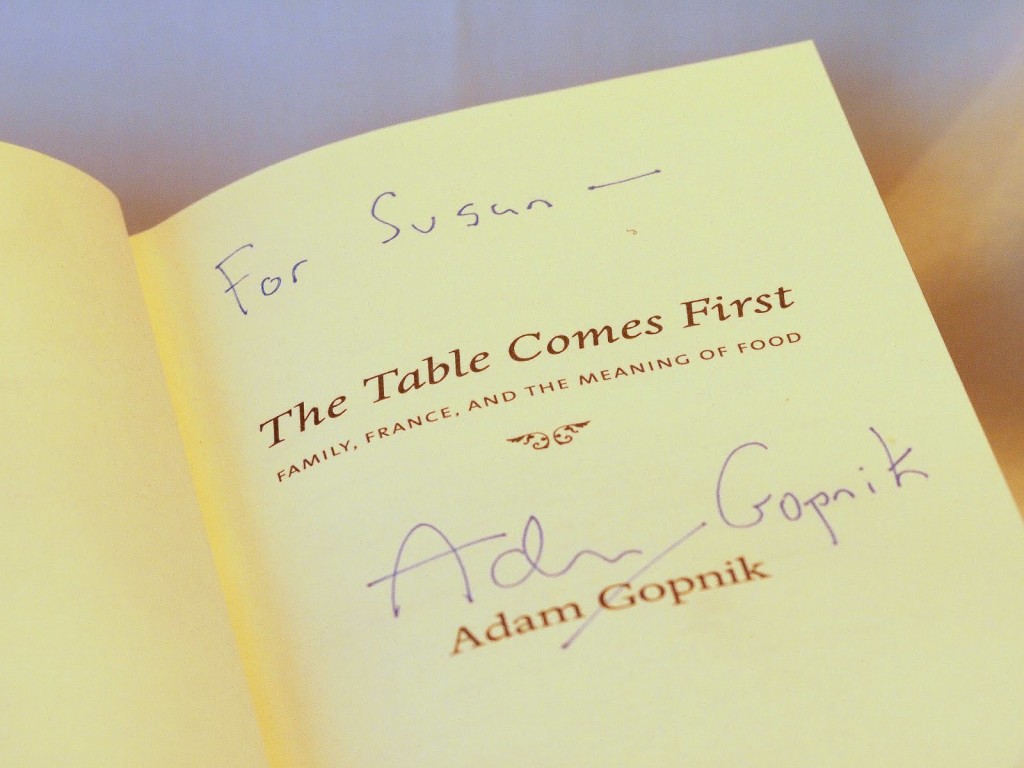 I had the pleasure of listening to Mr. Gopnik talk about his new book a few weeks ago at a very small gathering in The Music Hall Loft in Portsmouth, New Hampshire. Towny and I, accompanied by friends and fellow Francophiles George and Lee-Ann McQuilken, began the evening, naturally, at the table, in a nearby restaurant, and ended it with a promise to meet for dinner again soon.
Mr. Gopnik's talk was filled with the same passion for food and for France that is so evident throughout his book.  Having written about food for 25 years and having lived in Paris for many of those years, Mr. Gopnik explained that the book was the natural outcome of material he had collected and questions he had entertained for years.  His biggest struggle was how to organize it all until he came across a letter written by a young man awaiting execution by the Nazis in 1942.  This man, who took the name Jacques Decour, wrote to his parents in the last hours of his life about, of all things, his favorite meals! And it was a menu, left in his apartment from a small inn near Versailles, that he asked his parents to make sure that his girlfriend's parents received.
"Why do we care so much about food?" Mr. Gopnik muses…"Food represented for [Decour] the continuity of living, and what gave form to life.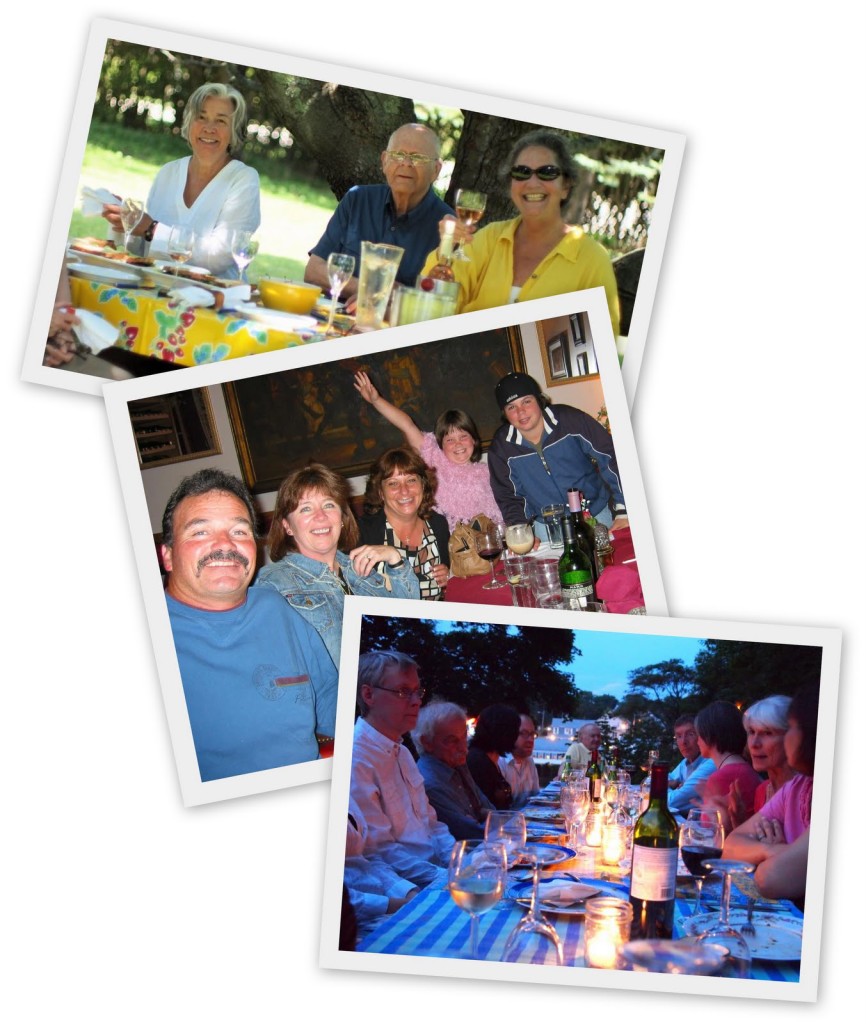 Certainly, there are exceptions—there are people who report that they eat to live and with no particular interest of what goes on around the table.  I don't know any of these people but I am told they exist, which prompted me to ask Mr. Gopnik if he thought some hands-on learning about the importance of food and the table was necessary in order to "care so much about food".
For the French, I think, the importance of food and the table is instilled early on.  In striking contrast to the average elementary school in the States where tasteless food is slopped on a tray, expected to be eaten in twelve minutes, and often in requisite silence, the average elementary school in France serves a tasty meal and encourages conversation.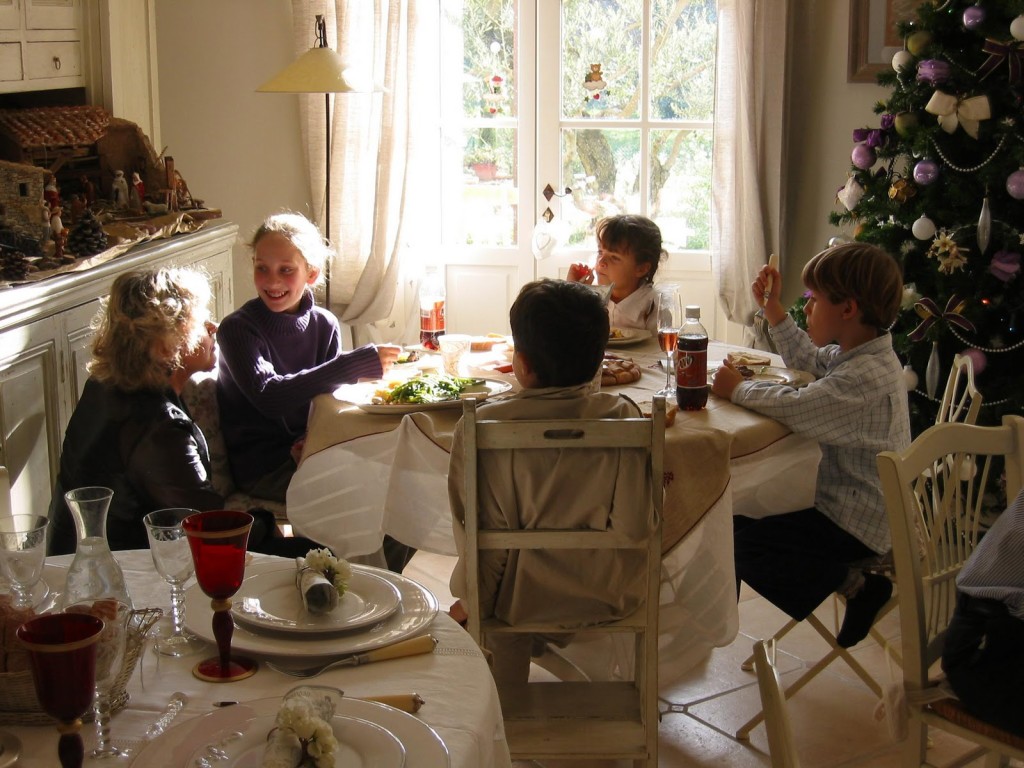 When we lived in France, our daughter and her classmates at the local elementary school in Lourmarin had nearly two hours for her three-course lunch (menus posted every week), students sat around a table, and they talked…and teachers, who ate with the students, drank wine! (Then they played!)
(People who know me know that the typical American school meal and lunchroom experience infuriates me…and don't get me started on parents who hand their kids a video game to entertain themselves at the family table! I am worried that we are producing generations of children who not only don't appreciate good food but don't know how to hold a fork or carry on a conversation! Code words, like NTT won't be necessary, Mark, because no one's talking! But, this is a subject for another post!)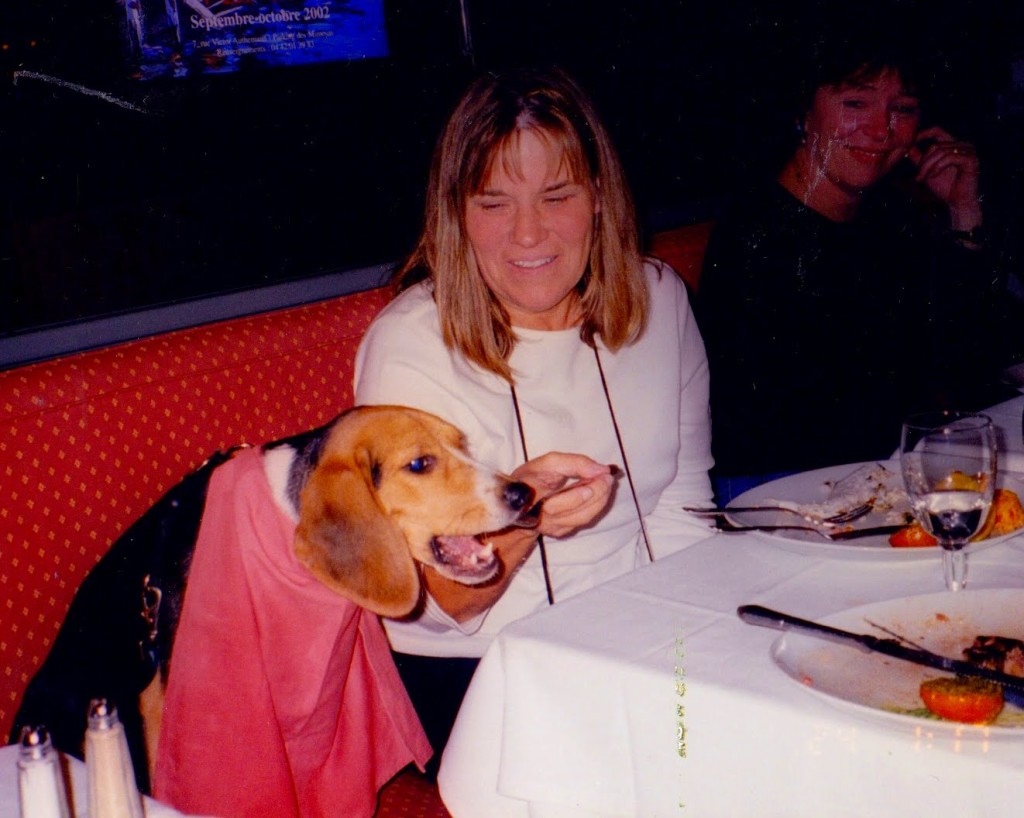 In his book, Mr. Gopnik writes that, for the French, caring about food is "a sign of civilization."  In his response to my question, he agreed that what happens around the table early on is important, but pointed that there is a movement in France now (I assume he is referring to the Le Fooding, which he writes about in his book) for whom, in my words, too much time is spent languishing over food at the French table. One could argue, though, that the very fact that there is a movement about food—even if it strives to change France's relationship to food and the table—underscores importance of food and the table in that culture.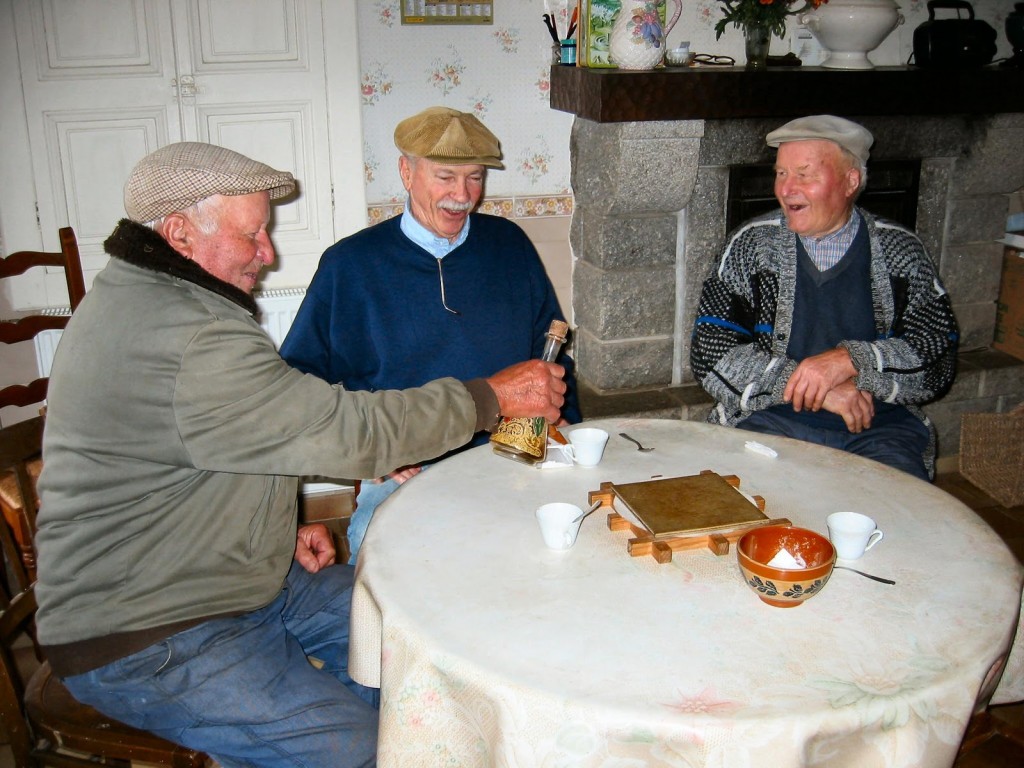 The book will surely provide fodder for conversation around your table and, perhaps, as it did for me, make you think about your own relationship with food and the table.
 Although I grew up in the era of TV dinners and TV trays, what I remember most about food in my house are the dinners around the table.  Often it was just my brother and me, seated at our relatively large dining room table, because my mother would wait for my father who frequently worked late.  My mother was—and still is—a wonderful cook but she happily (I think) made food that pleased her kids (for which we were immensely grateful) and saved her diverse repertoire of culinary skills for company. On those special occasions, we were treated to (or at least exposed to) lavish feasts of Armenian food, Mexican food, lots of barbequed food, and beautiful roasts.  Desserts were her show stoppers.  My father also enjoyed cooking—strange things, I thought at the time, like beerocks—but also breads and wonderful sticky buns.  I suppose that I recognized how much a part of him these few signature dishes were because, one time when I was particularly mad at him, I told him that I hated his sticky buns.

There was indeed a lot that went on around our table, not always pleasant but usually fun and guaranteedto be filled with laughs when my beloved grandparents were there.  They are gone now and I had to smile when I read Mr. Gopnik's homage to loved ones we wish were still coming to dinner.
I always get impatient, despairing, when people say that the dead are alive in spirit, or are alive in us.  They aren't.  The best I can do is to think that they are sleeping off their jet lag in the next bedroom, like furious children giving in at last, but they don't want to be in that room.  They're angry as hell, because they want to be sitting right here at this table with the rest of us and the best we can do is to have the grace to be furious on their behalf. (p. 286)
I'll make Old Fashioneds for you, MG and Grampi, and for all my family and friends I wish could join us for dinner tonight, our first Sunday dinner in 2012!
We will be serving Mr. Gopnik's lamb—it is excellent and do add the harissa and Towny recommends a little grated lemon rind, too—with  couscous, green beans, a beet salad with chêvre, and homemade whole wheat Parker House rolls.  And, oh yes, the dessert will be a pear cake with eucalyptus honey and ricotta whipped cream (ask David at
Cocoa &Lavender
).  We will start with oysters and a lovely champagne.  7:00 p.m., at the house.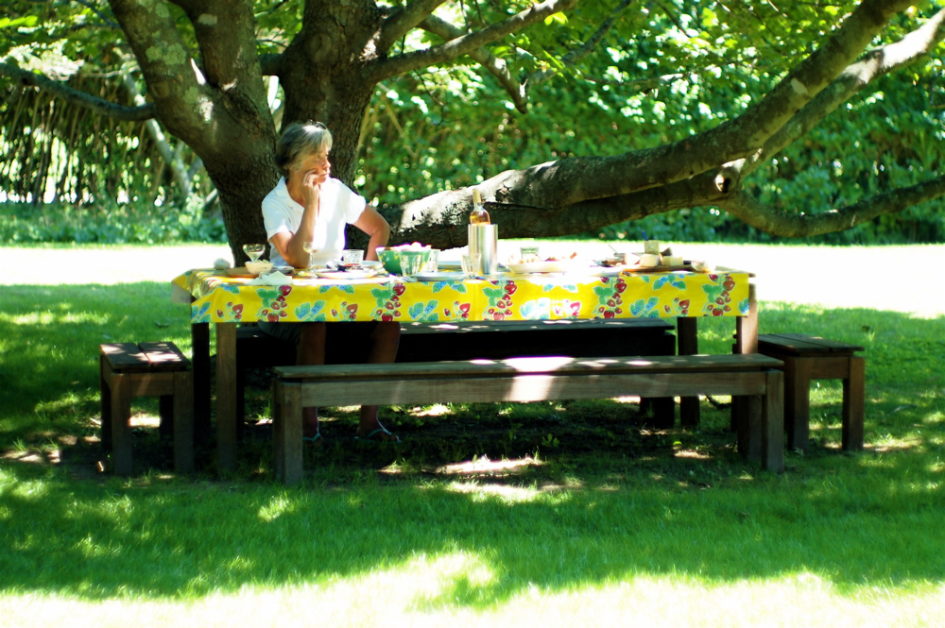 The point of eating is to slow down life long enough to promote what Brillat-Savarin called, with simple charm, good cheer. It doesn't just take time, but makes time—carves out evenings, memories. That's what Darwin meant when he said that we recall good dinners as happy days, wrapped like flies in a spider's web by the silk of memory.  (p.271)
Civilization is mostly the story of how seeds, meats, and ways to cook them travel from place to place. (p. 8)
That Provence could have contributed to the [inception of restaurants in Paris between 1780 and 1830], achieved by métissage, strange mixing, shows you how sedate a world the Palais restaurants were shaking up.  That braised beef with poached vegetables, still the best of company dishes, should ever have been considered "à la mode," much less exotic!  (pp.27-28)
A modern meal is a drama unfolding between the Opening Drink and the Concluding Coffee, with the several acts passing between the libations. (p.31)
Brillat-Savarin's ideal eater was not the gourmet—the fussbudget with a napkin—but the gourmand, the greedy guy with a date. "Gourmand," though a word everyone knows, is a hard word to translate.  Literally a glutton—but "glutton" in English has overtones of loutishness that the French word doesn't have.  To be gourmand is not just to be greedy for whatever it is they put in front of you but alive with appetite for the special thing you want. To be a gourmand is not to be a gourmet; you're not finicky.  But it is to want the good things in life.  (pp. 40-41)
Home, Robert Frost wrote, is the place where, when you have to go there, they have to take you in. A restaurant is a place where, when you go there, they not only have to take you in but have to act as though they were glad to see you.  In cities of strangers, this pretense can be very dear.  (p. 53)
When we buy Thomas Keller's French Laundry Cookbook—though I will admit that his short ribs are a steady thing—on the whole we grasp not only that you can't do it, but that there is something gauche in even trying.  (p. 59)
Taste begins at the door, and ends in our dreams.  (p. 113)
Remarkably, nowhere in wine writing, including Parker's, would a Martian learn that the first reason people drink wine is to get drunk. (p. 188)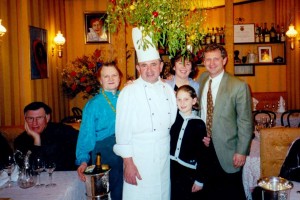 Yet though I would still rather eat in Paris than anywhere else in the world—eating, once again, is a social act before it is a purely sensory one; it calls on our moral taste more than our measuring tongue, and my own moral taste still leads me back inexorably to the wit and intelligence of French civilization—I recognize that the rebirth has not happened, that the crisis [in French food] I identified, only half-playfully, a decade or more ago is more entrenched now than it was then, and that fewer and fewer people who care about cooking now think of France as first among all others. (pp. 225-226)
The gods sat down to dinner twice a day, even though they would live forever if they never ate again. (p. 284)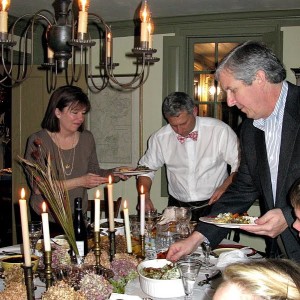 Cooking is the faith that raw ingredients can be conjured into a nightly miracle.  (p. 285)
And we pray, too, that [our friends] will have finished cooking before we arrive, so that the horrible hour in the kitchen, as they fuss and mix, is one that we are spared.  Even with a glass of wine in hand, it is hard to watch another cook—and when they have the food still in plastic wrap…it's too much.  (p. 85)
"I don't understand how a young couple can begin life by buying a sofa or a television," [British chef Fergus Henderson] said indignantly to me.  "Don't they know the table comes first?" (p. 8)