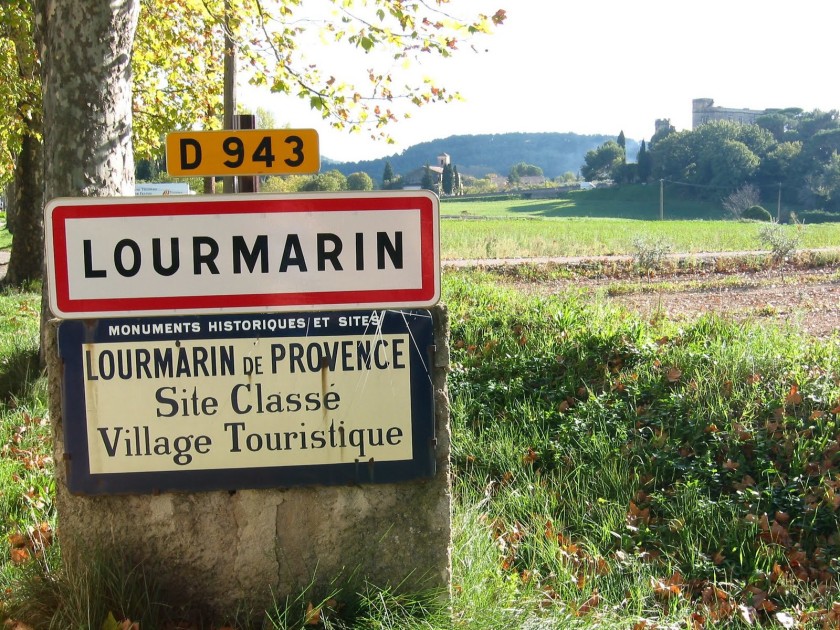 Sometimes I wonder what draws people to Lourmarin. I have visited many villages now, some completely devoid of appeal—even in Provence, such villages do exist—and others with loads of appeal—things tourist books like to mention such as breathtaking views, perfectly manicured window boxes, picturesque squares, streets lined with high-end boutiques, a river running through the center of town, or a perched locale—but, when I return to Lourmarin, a humble village whose charm does not gush out all over but rather seeps, gently, into your heart, I smile broadly and oh-so happily. For generations, its draw has been immensely strong for many people.
Lourmarin's appeal was the subject of discussion with my friend Pam last week. Upon our return to Lourmarin, after touring other villages in the Vaucluse on behalf of a friend considering the purchase of a home nearby, Pam said, "Let's pretend that we've just arrived in Lourmarin…what would we say?…why do we like it so much?"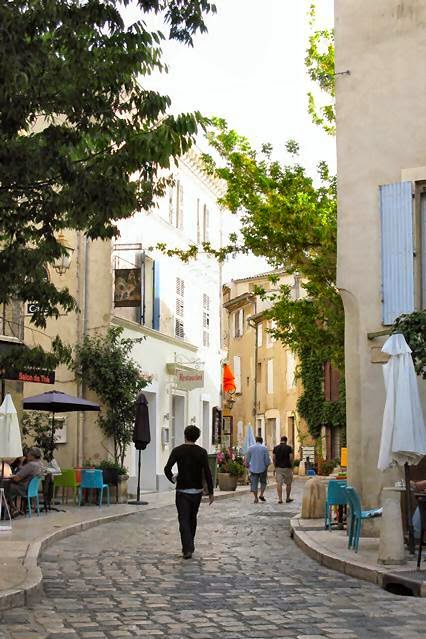 We drove through the center of town, bumping along the cobblestone-lined rue Henri de Savornin–which really resembles a lane more than the main drag that it is—and passed la Boulangerie Patisserie Riquier (with a line out the door), several galleries (including le atelier galerie Gerard Isirdi), dozens and dozens of café tables lining both sides of the road, and Super-Taf II (someday I will devote a full post to this store and its proprietor!).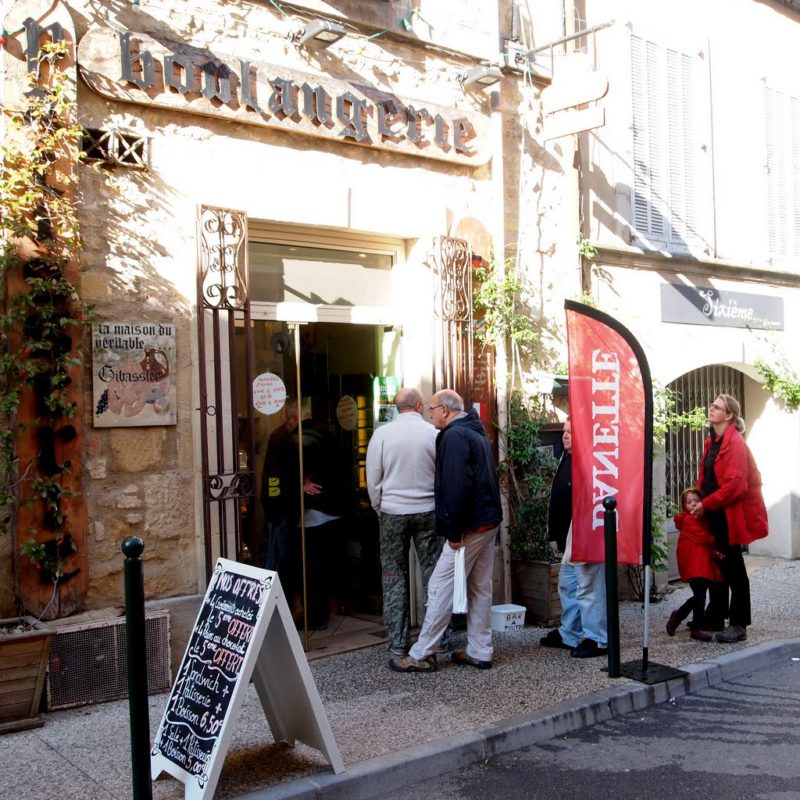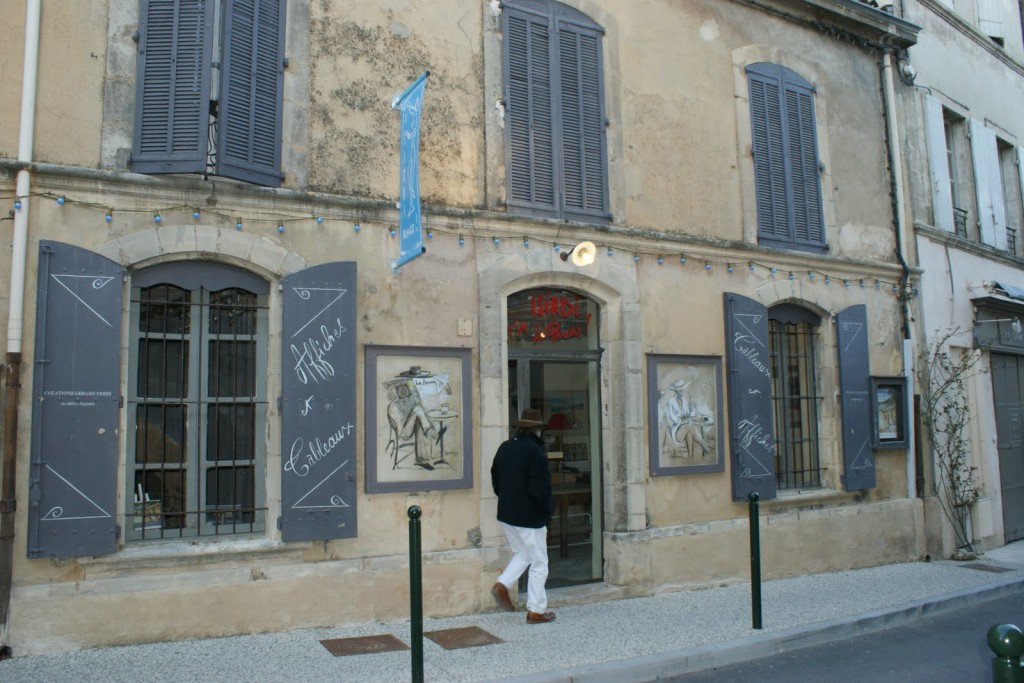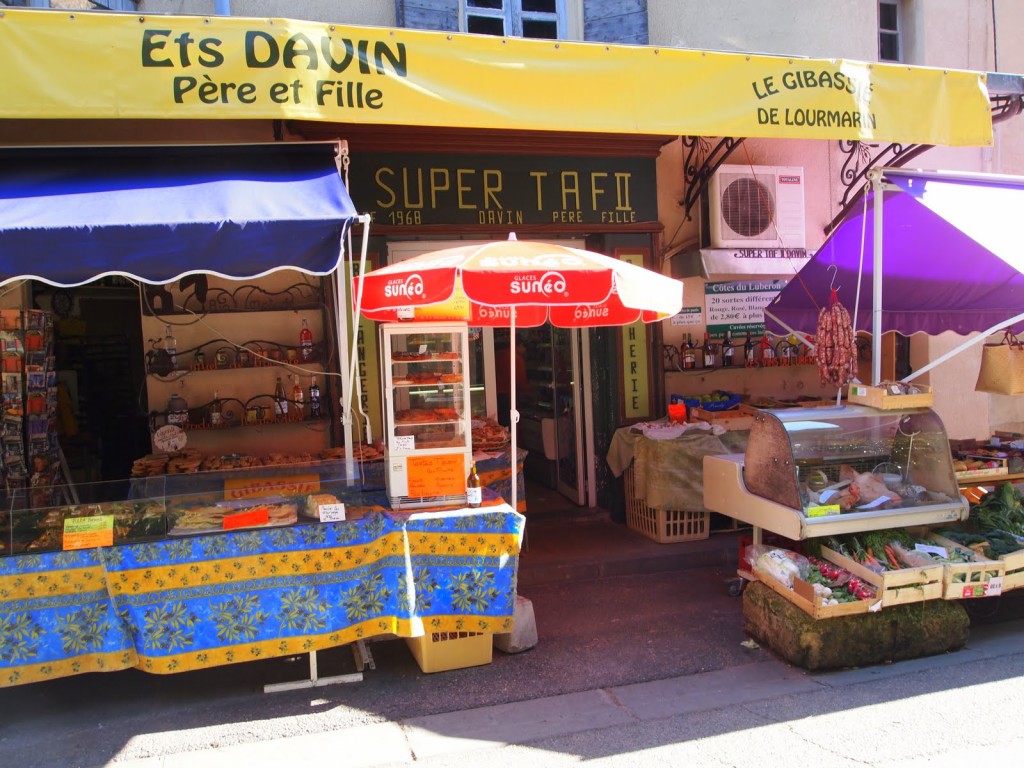 People were laughing, hands were embracing one another, and bises were exchanging between friends. There was an instantly recognizable joie de vivre that was missing in many of the other villages we had recently visited, many of which had the attractive physical characteristics I mentioned above but not the soul that emanates from this village.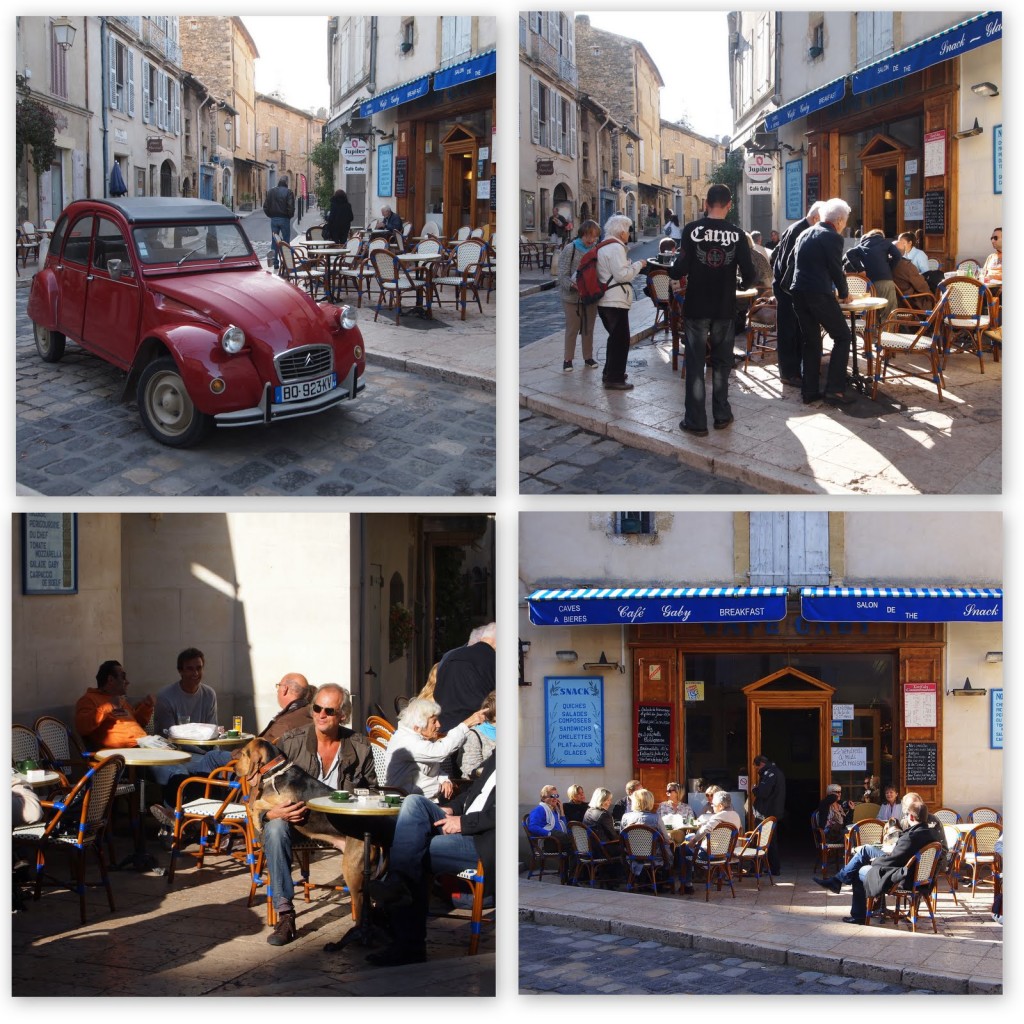 We rounded the corner and saw the plane trees that line one side of the road. All was quiet; but that would change the next day when market vendors line the road and the Lourmarinouis would turn out in droves to buy their produce, olives, spices, honeys, fish, meats, breads, cheeses, and the like.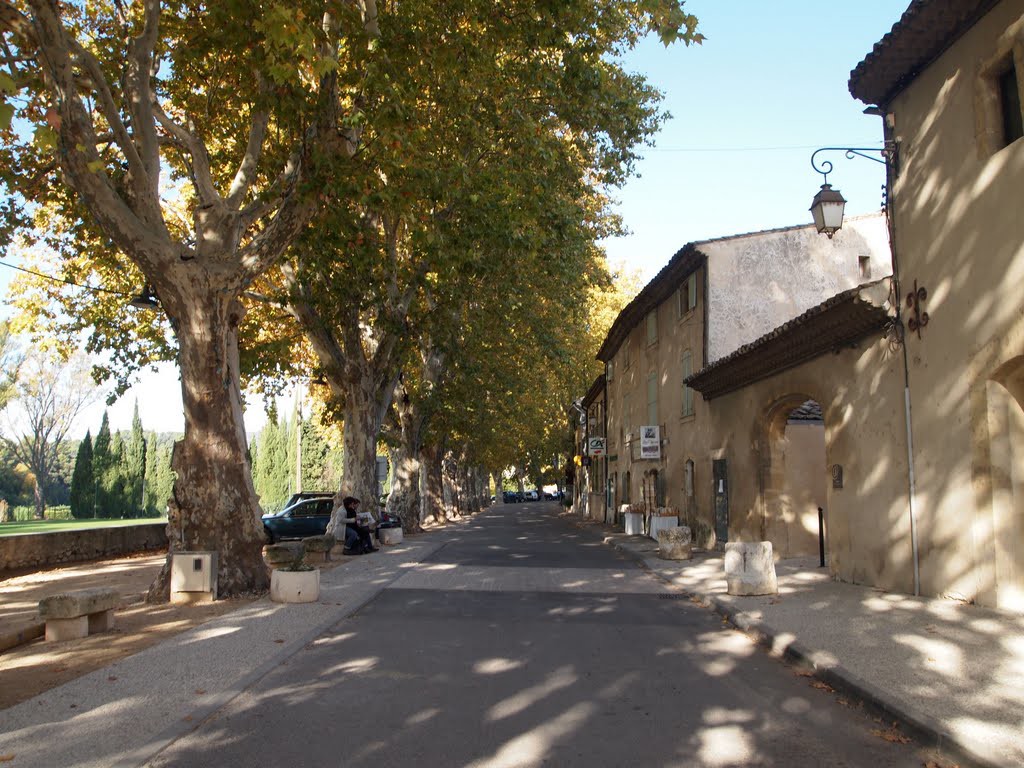 The sun was starting its descent, casting a lovely light on the 15th century Château, which stands sentinel on the edge of the village. The verdant green pasture rolled down to the tiny stream that separates that field from the brightly lit soccer field, where my daughter has played many soccer games. Three donkeys were walking slowly from the rear of the château to the road where we parked our car. The lovely early 19th century Protestant church stands nearby. It was a storybook sight.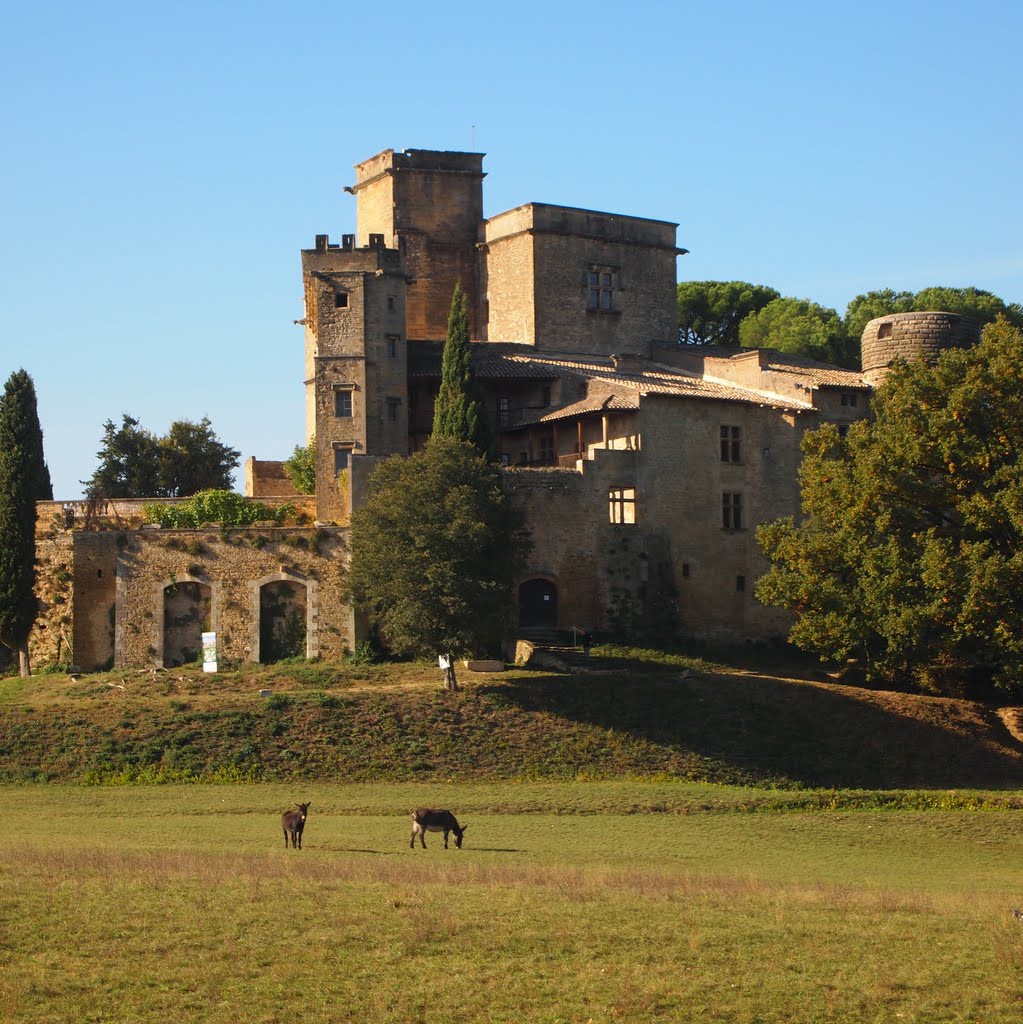 "Do we buy our wine for dinner from Les Caves du Château?" (How many châteaux can boast that a fabulous selection of wine is sold from a cave beneath the property?)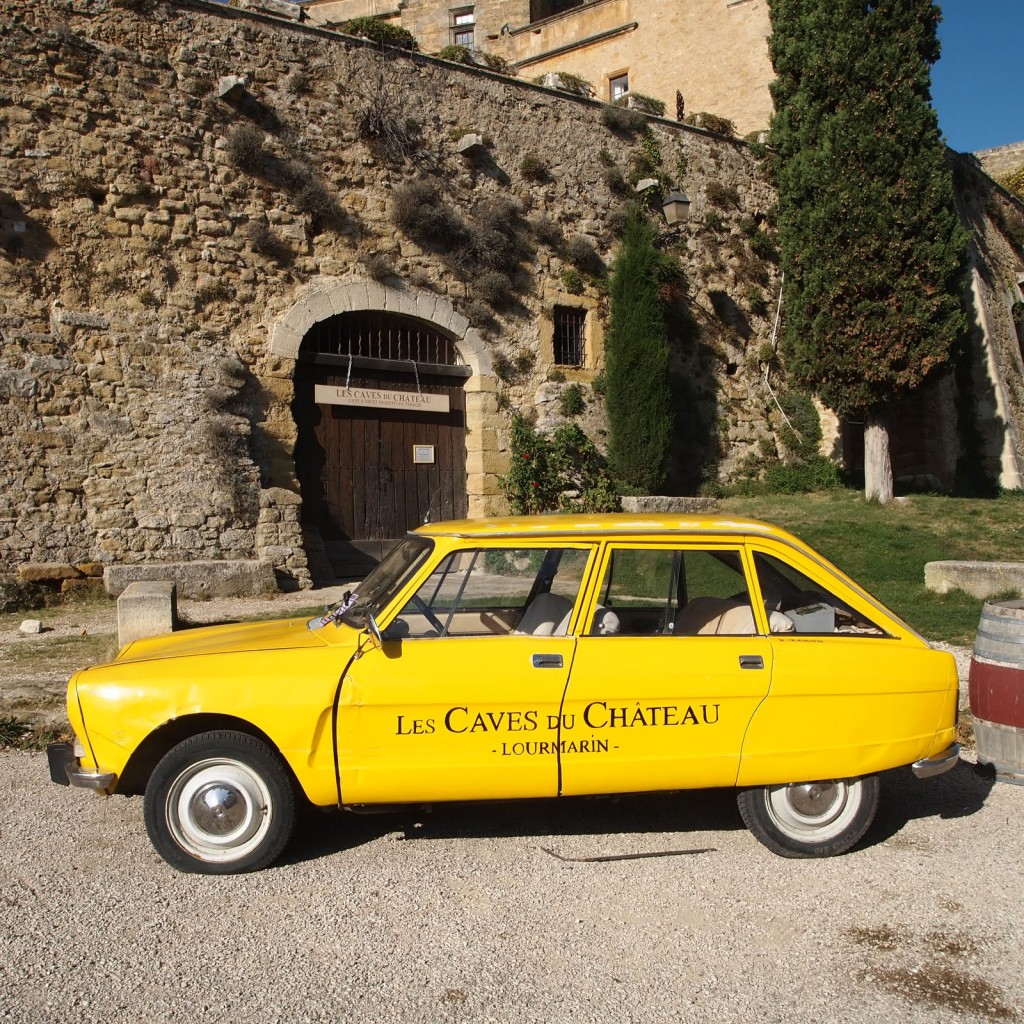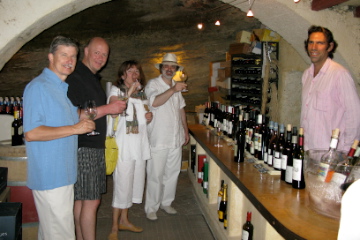 "Nah." We opted for La Maison d'Ingrid to buy our wine because I wanted to buy some honey, too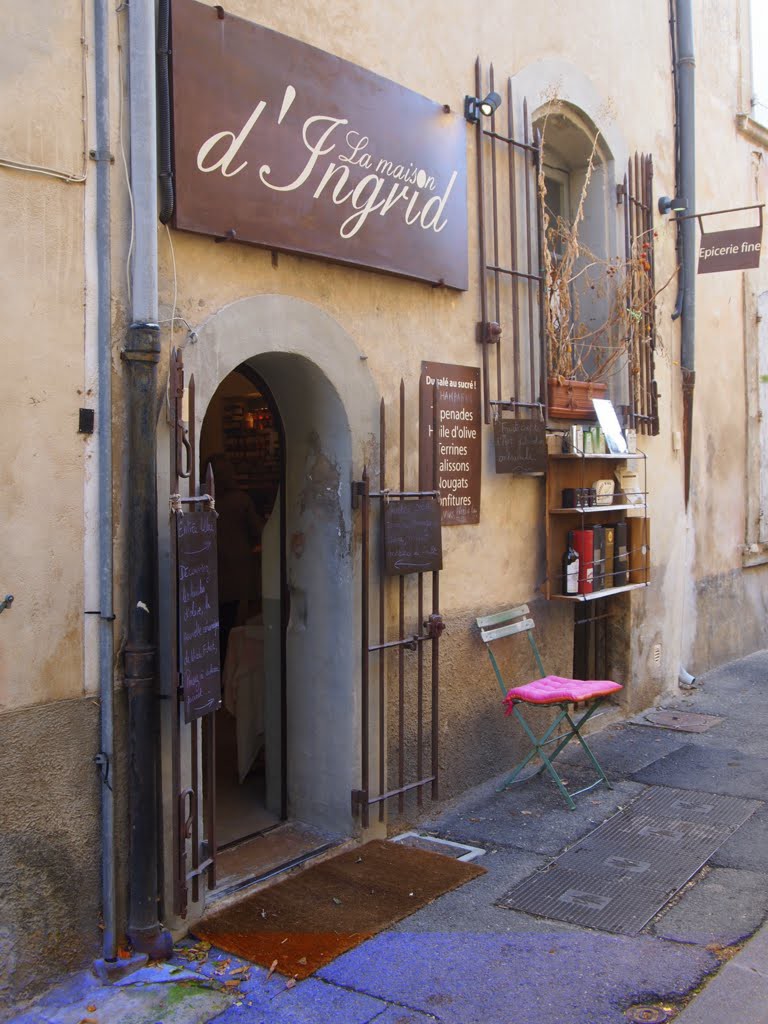 We placed our order for our pizza—the best in the Luberon—from Le Pan Garni, on the newly created place du Temple. We will pick it up later.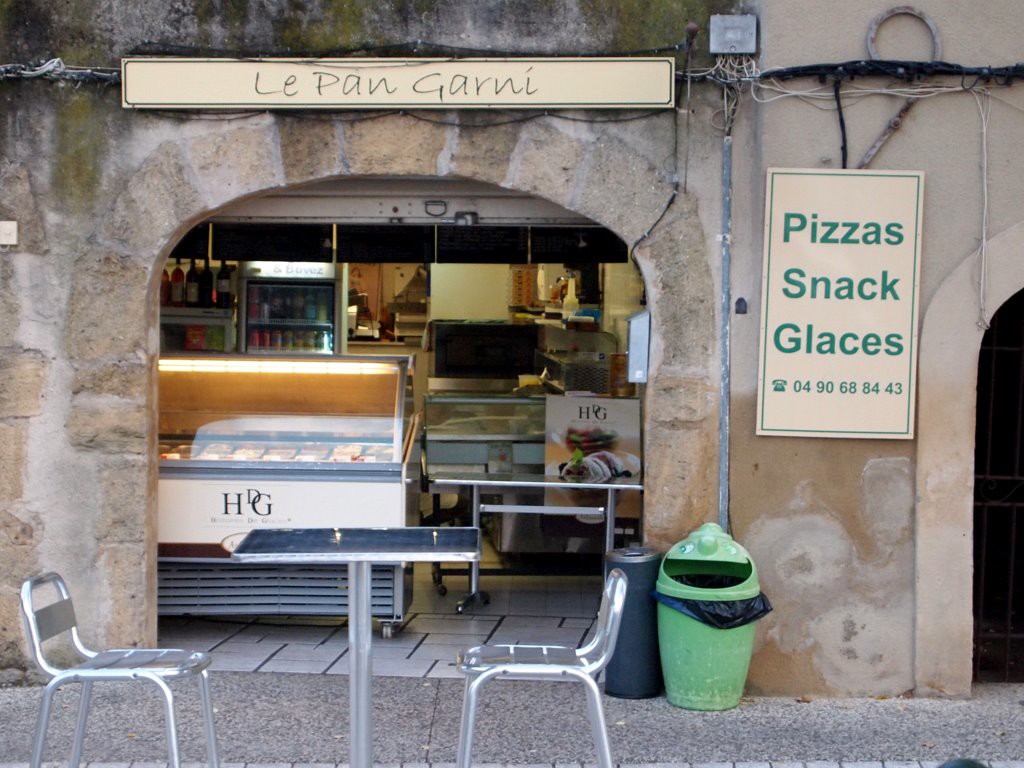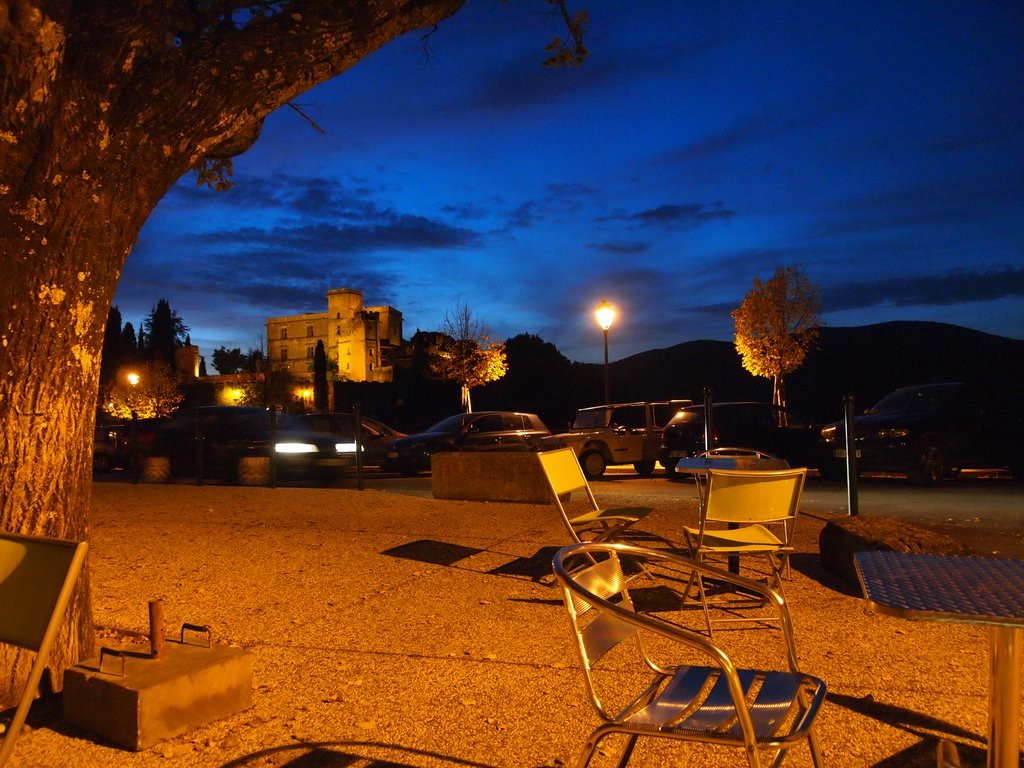 We walked toward the center of town. We passed many people along the way, a few cats and a few untethered dogs. Pretty doorways delighted us, small stores and galleries beckoned us, but we headed to Café Gaby where Pam and I had a rendezvous scheduled and where, comme d'habitude, we were warmly welcomed by the waiters. Pam, who lives in a small village in the Var, said, "I always feel at home in Lourmarin."
Lourmarin makes you feel that way. I hear it over and over from people I know and people I don't know. For our family, from the moment we set foot in this tiny village of just around 1000 people, over a dozen years ago, we have felt welcomed and have felt drawn back, again and again, over the years. I still can't put my finger on exactly "why.
The current Mayor of Lourmarin, Blaise Diagne, in a recent interview, said that "Lourmarinois have been welcoming since the Gallo-Roman times.
Blaise, as Lourmarin's Mayor is known by most people, pointed out that even after the many religious wars, although there were horrible massacres on both sides, Lourmarin was always quick to accept the differences among its people.
Blaise was initially introduced to Lourmarin, as a child, during his summer holidays. His mother, originally from Briançon in the Hautes-Alpes department of Provence, owned a farm in the village. Blaise's parents met when his father, from Senegal, arrived in the South of France as part of the French troops during World War II.
In 1987, Blaise made Lourmarin his home when he moved from Paris to his family summer home. Shortly after his arrival, he was encouraged to join the conseil municipal by the mayor at that time, Mayor Barthélémy (namesake for Lourmarin's new expansive Place where the Tabac, the Bibliothèque, and the Cave de Lourmarin (the local wine cooperative), among other shops and cafés, are now located).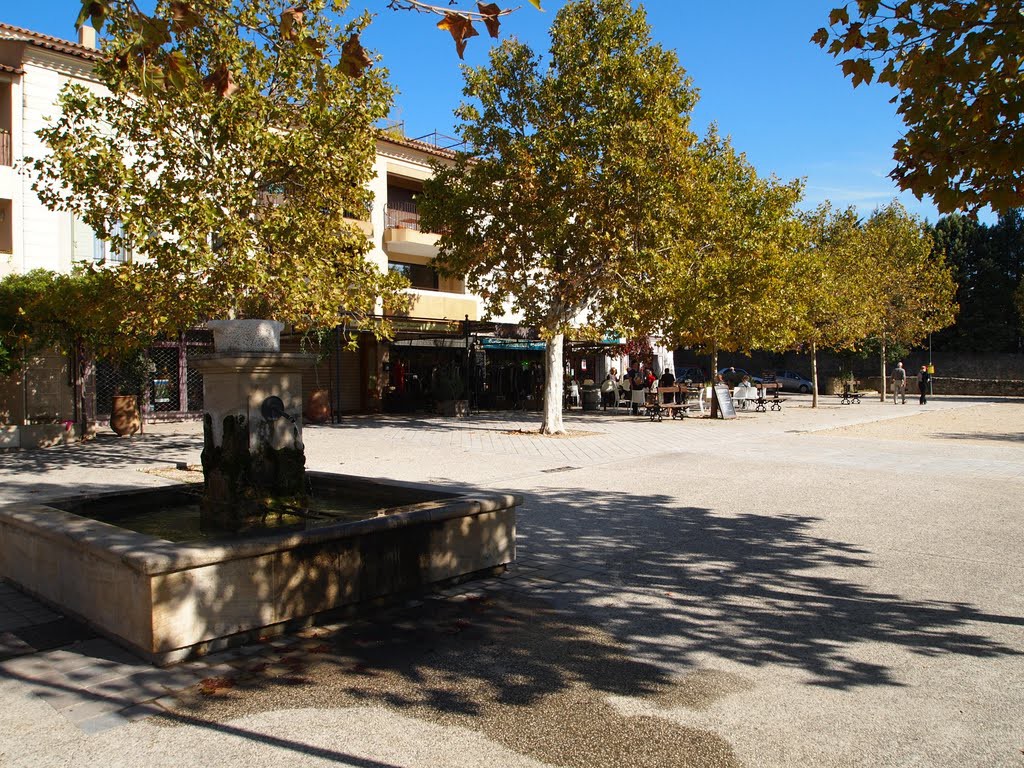 In 1989, Blaise joined the conseil, arguably following the footsteps of his grandfather of the same name who was the first African deputy in the French National Assembly, back in the early 1900s. Blaise worked with Mayor Barthélémy for 12 years, at which time the Mayor encouraged him to run for his mayoral seat. Blaise did run, he explained, not because he intended to pursue a political career, but because "Lourmarin was the center of my interests." The rest is history.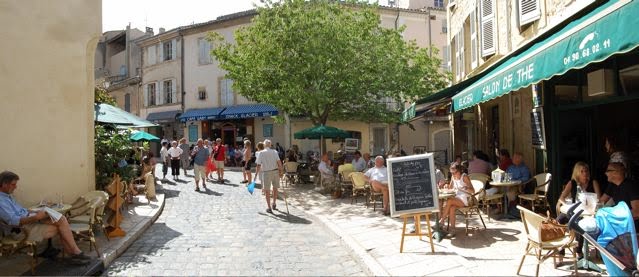 As Mayor, Blaise has been particularly motivated to "create a future for the youngsters of Lourmarin." He believes that the future is dependent on young people and strives to give them the education they need and to encourage them to respect others and to be courteous."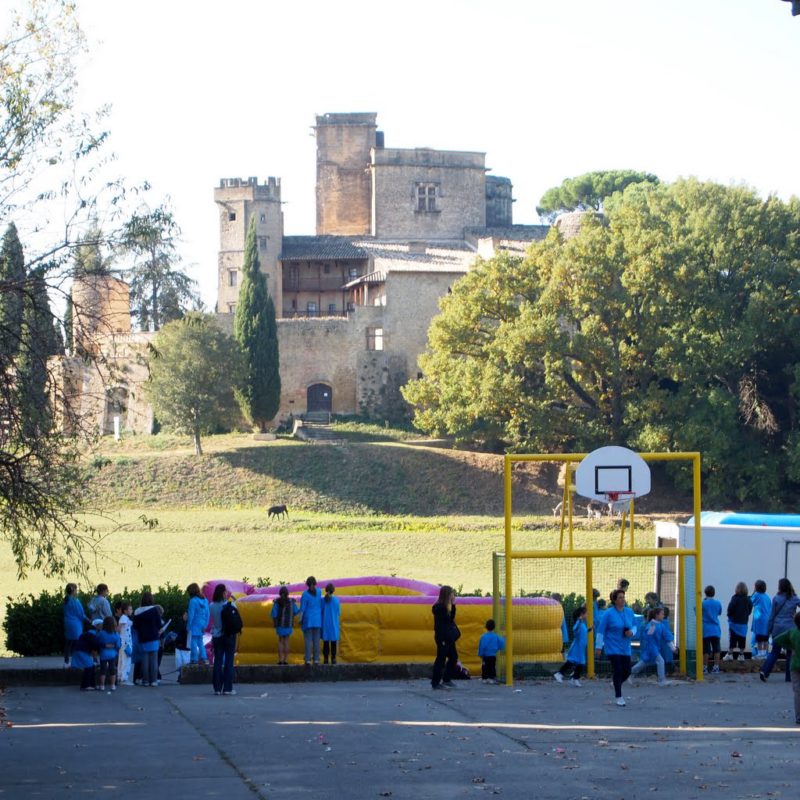 "People have always had to work together to make things work out [in Lourmarin]," Blaise said. "The land around Lourmarin is not the most fertile; so people who worked that land had to rely on each other to make things work."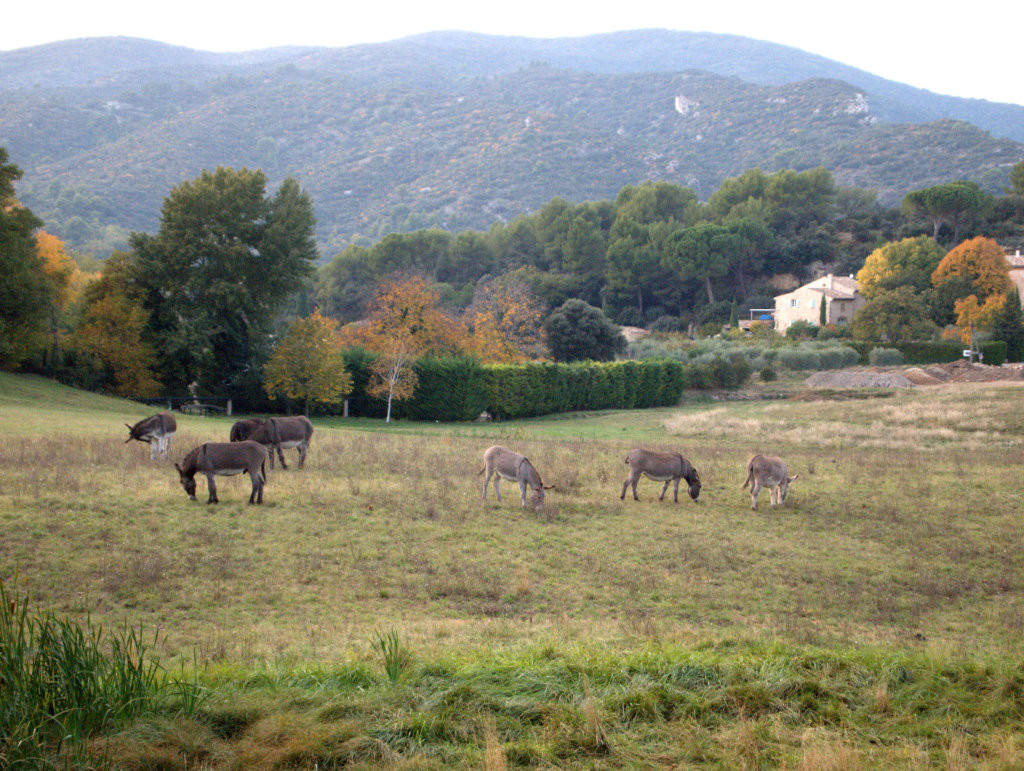 Mutual respect, working together, and a healthy enjoyment of life are part of this man's philosophy of life. His actions are demonstrative of this philosophy: We frequently see him, hammer in hand, assembling a stage for the annual village fête; strolling through the market, greeting everyone; or chatting with a resident, papers spread across the table, at one of the local cafes. (In fact, he was late to this interview because he was moving a bookcase to the second floor of the school!)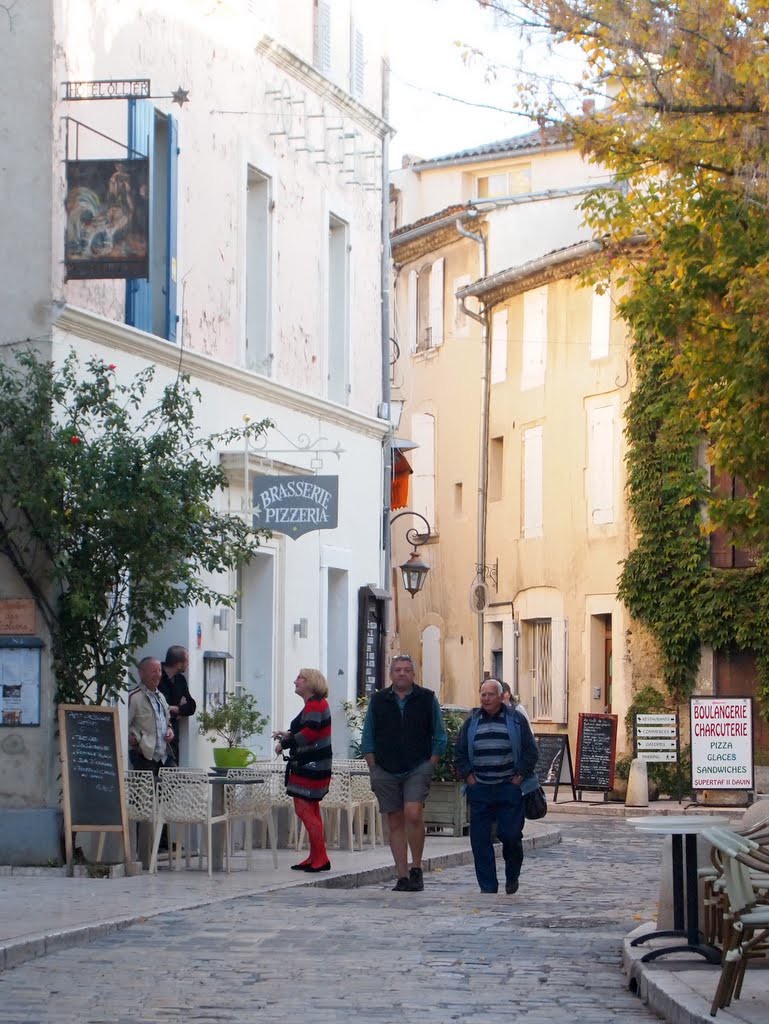 Although Blaise describes himself as an "atypical mayor," with his background, his approach to his mayoral role is not surprising. He worked in factories in Paris for ten years and became very involved in associations (unions). In these roles, Blaise feels that he learned the importance of having respect for others and accepting diversity in people. This background set the stage for his desire to reinforce Lourmarin's openness, to instill a respect for others, and to encourage diversity—ethnic, cultural, and societal—in the village.
Lourmarin has not been immune to the effects of the current depressed global economy. Tourism has declined.
"Tourism is important to our economy because it supports the local community," Blaise said. "But, we do not set out to change the village to attract more tourists….We want people to come because they like to be in our village and because they feel welcomed."
When asked about the recent closure of Le Moulin, Blaise replied that "We would certainly prefer to have a gastronomic restaurant instead of an empty building," and added that, "We can only hope that another fine restaurant chooses to install itself in its place."
When asked what his greatest achievement as mayor is, Mayor Diagne said, "I do not have any single great achievement." He went on, "For me, the greatest achievement is having a village that functions well every day." Upon reflection, he added, "It is the daily life of the village that is important, that people are enjoying the daily life."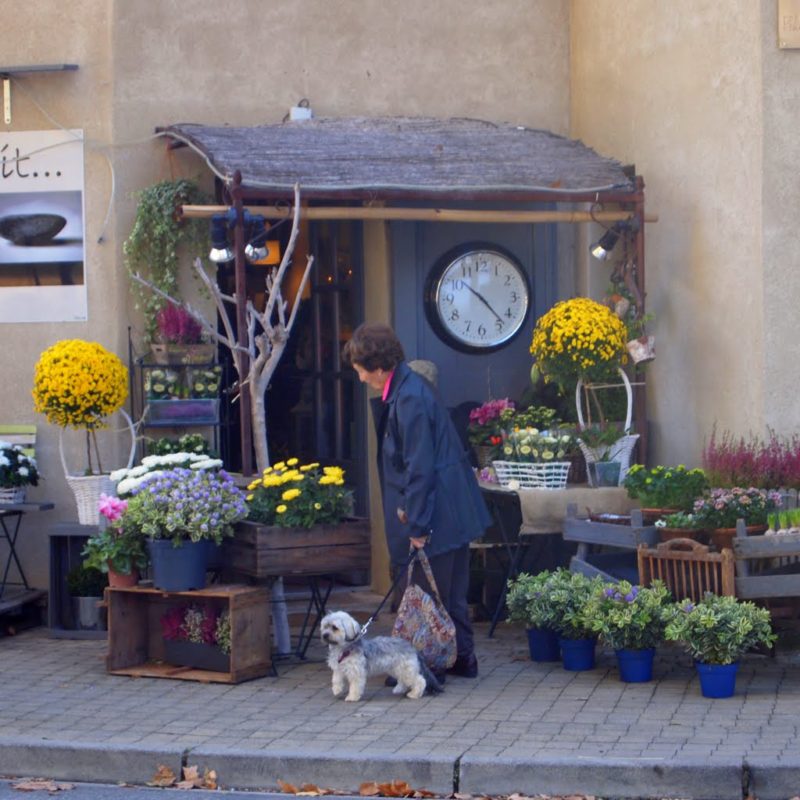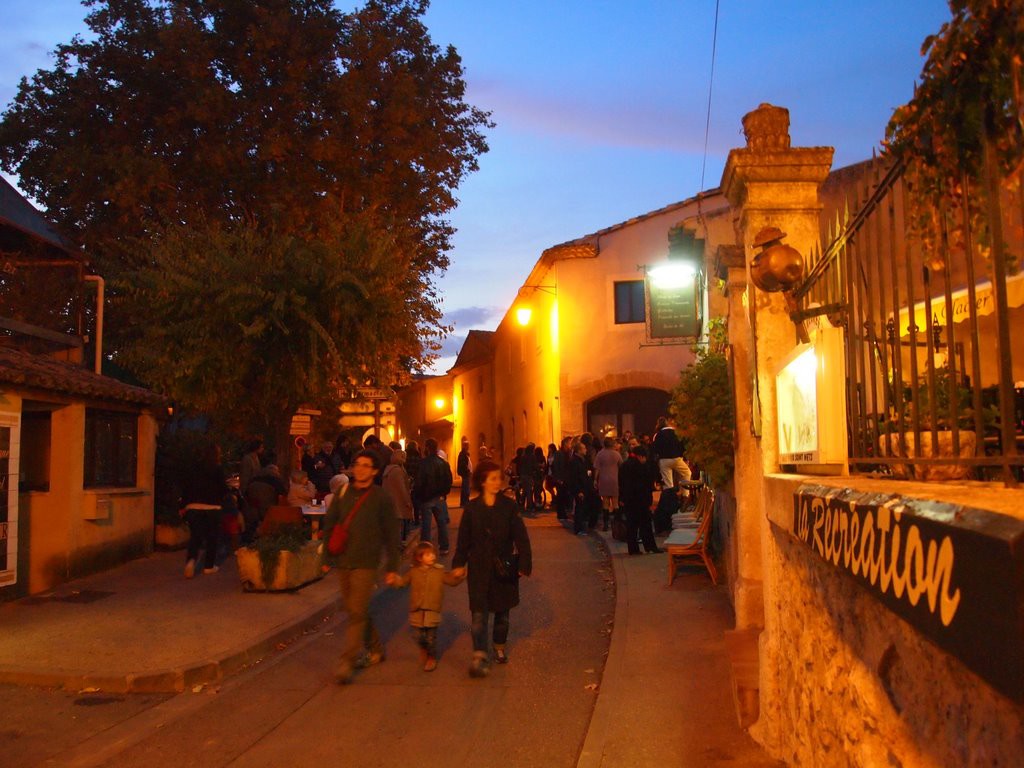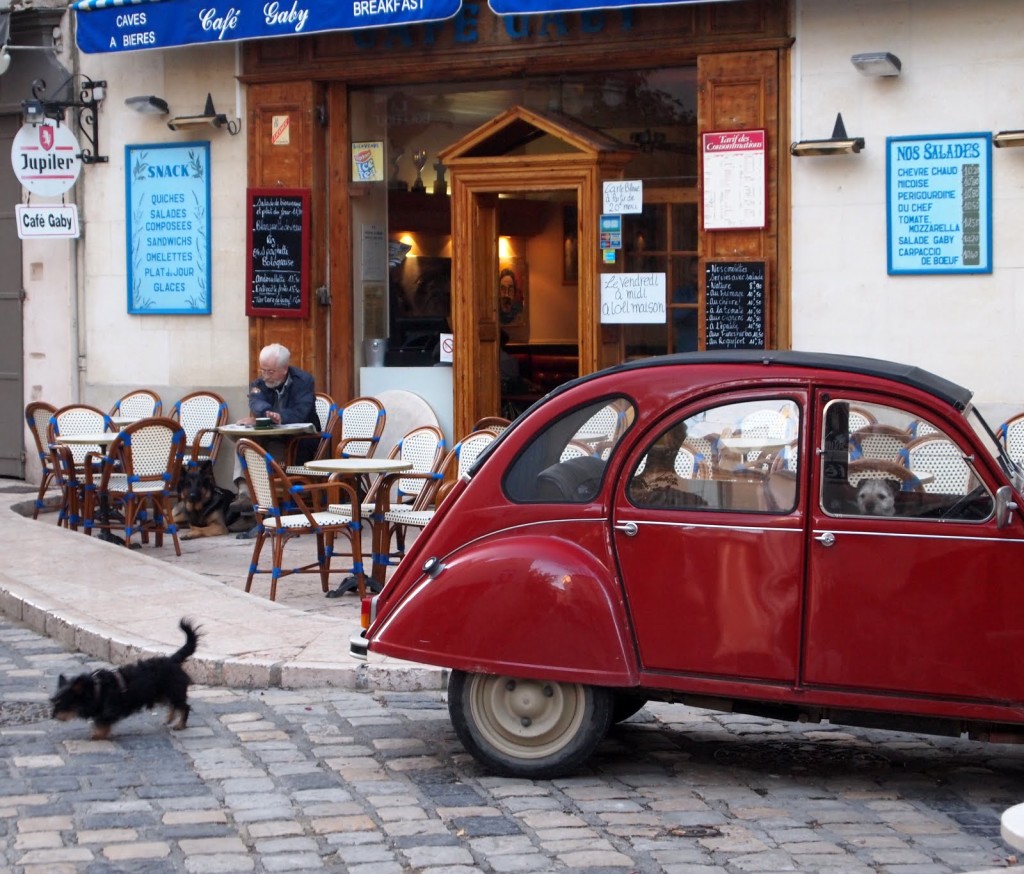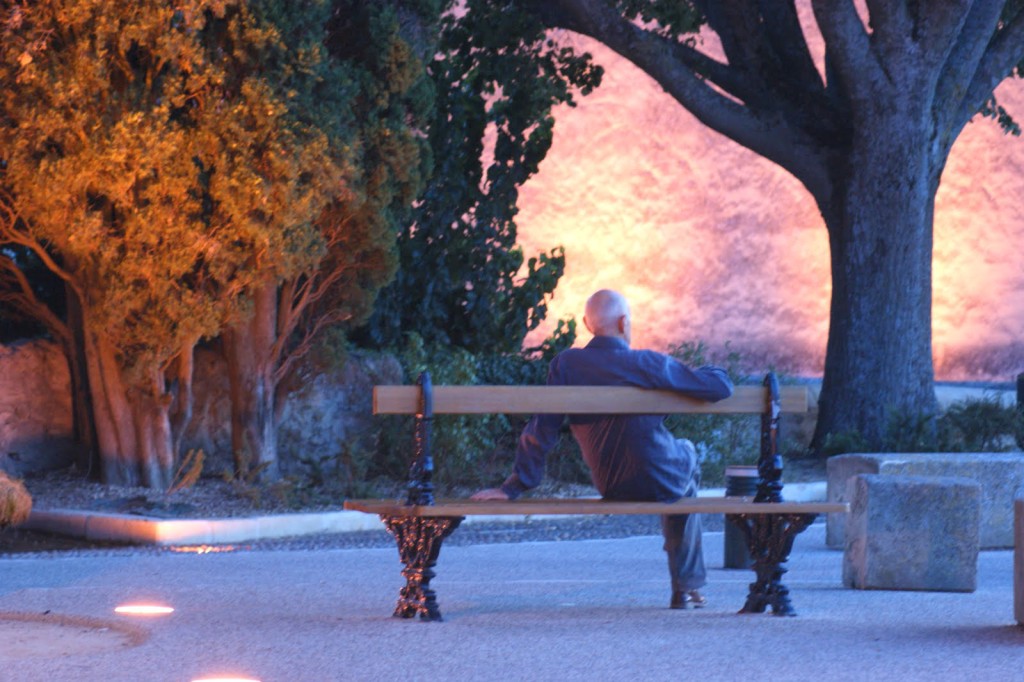 Mayor Diagne relayed the story of a recent interaction with a young boy to illustrate what gives him a sense of gratification. This boy, who was known to be a "bit mischievous," found a wallet, which he asked Blaise to return to its owner. When Blaise returned the wallet, the owner asked him to pass on a 10 euro reward to the boy.
"When I gave the reward money to the boy, he was very happy and ran off," Blaise said, "But, he stopped and ran back to me and said 'could you please tell the man thank you.'"
"This is a story that gives me the greatest satisfaction and is a great achievement," Blaise said, and smiled.
The previous Mayor of Lourmarin held that office for 36 years. When asked if he would like to stay in office as long, Blaise replied, "[that] at a certain point, the village needs new blood and new ideas." He will move on "when it makes sense."
From our vantage point, we hope that it makes sense for him to sit at the helm for at least little while longer. Albert Camus, Henri Bosco, Peter Mayle, and many other less famous visitors to this alluring village have felt very welcome. We don't know exactly why, but can say with certainty that Mayor Blaise has been successful in continuing the tradition of making Lourmarin an "open village" that "welcomes all."