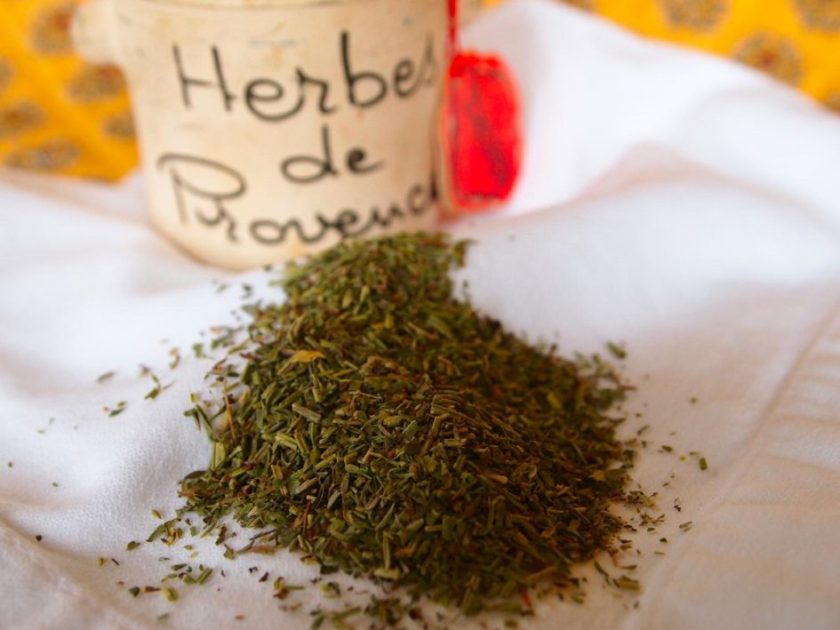 "What are Herbes de Provence?" I was asked.
Lori, who has had the unenviable task of cleaning chez Manfull for nearly twenty years, raised the bag of herbs to her nose again, waved it back and forth, and inhaled deeply. The small bag of fragrant herbs that we had just purchased a few days earlier from the Lourmarin market reminded Lori that she really wanted to know which herbs defined herbes de Provence. She also wondered why she had never heard of them until we gave her a similar bag about ten years ago and why she had never seen them in the States until recently when, as she put it, "jars of these herbs started popping up everywhere."
Lori's questions started a conversation that led us to discover not only which herbs may comprise the mixture, but also that the vast majority of people don't know which herbs comprise this now famous – at least among the culinary cognoscenti – mixture of herbs. We also learned that it was the spice companies that came up with "Herbes de Provence." The chefs who have defined Provençal cuisine, based on what's been coming out of this region's home kitchens for years and years, had been and still appear to be content just to add the individual herbs and record the two, three, or four different spices in their recipes – as has been done for generations.  (More on this later.)
While I don't like to mess with culinary tradition, it is nice to have one bag of a mixture of many herbs from which a quick pinch may be stolen for my roasted tomato or a little more for my roasted chicken. The little jars of "Italian Seasoning" are convenient is this way, too, but they probably never raised any questions because, I suppose, most of us are so familiar with which herbs typically go into Italian dishes.
So, what are herbes de Provence?  A blend of dried herbs that, in various combinations, have been traditionally used in Provençal cooking.
What are the herbs in herbes de Provence? Thyme seems to be the obligatory herb and the one that usually dominates the mixture. After that, one usually finds rosemary, summer savory, marjoram, fennel, oregano, and basil. Sage and serpolet (a wild thyme) are sometimes found in the mixture as are tarragon, mint, bay leaf, and chervil. Orange zest is less frequently found and lavender, while not traditionally included in French blends, is often included those marketed to tourists.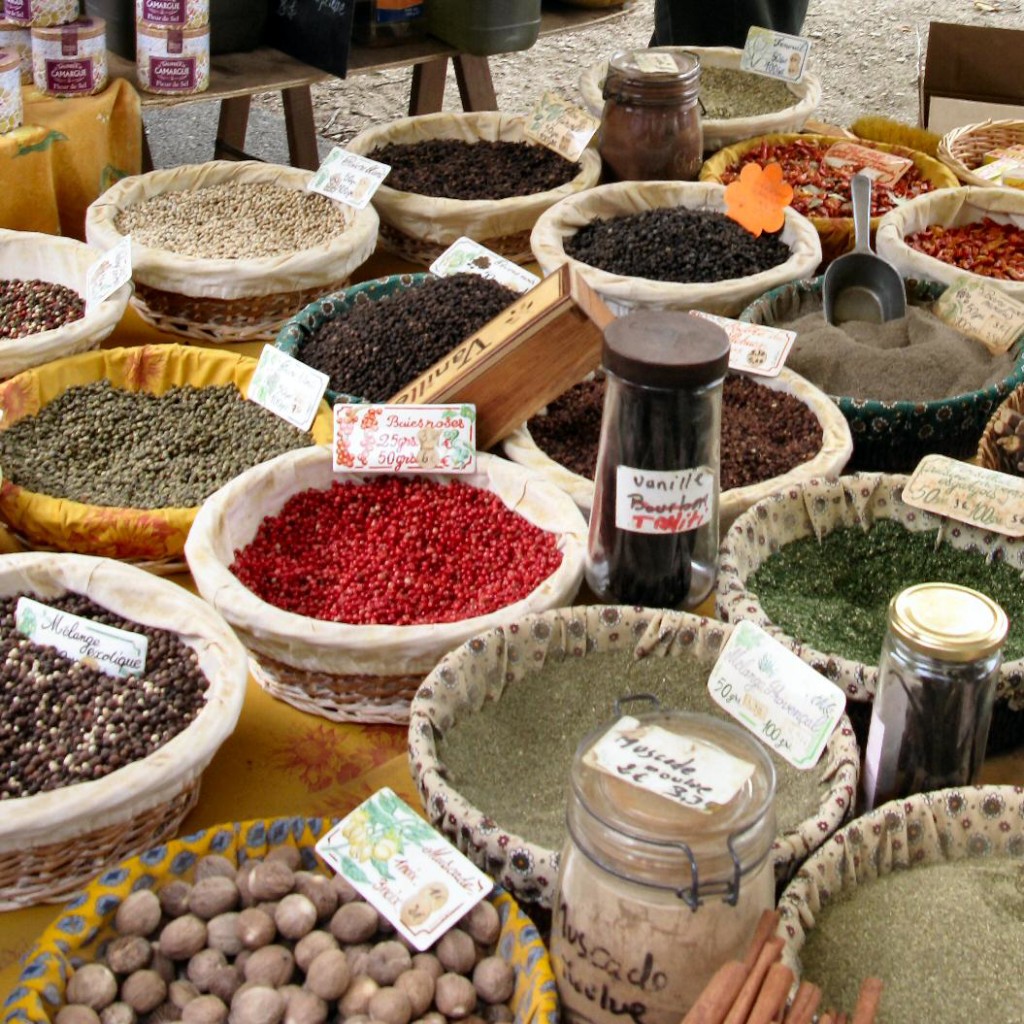 A Google search reveals many recipes for making your own herbes de Provence. Pick and choose your favorite herbs!
Herbes de Provence are a terrific addition to grilled vegetables, chicken, fish, meats, soups and stews. We especially like to add these herbs to olives, roasted chicken, lamb dishes, roasted potatoes and potatoes dauphinois (just a very tiny pinch to the latter), and anything with tomatoes in it. I also like to add them to my omelets although, traditionally, it is fines herbes – fresh finely chopped chervil, tarragon, chives, and parsley – that are added to this classic French dish.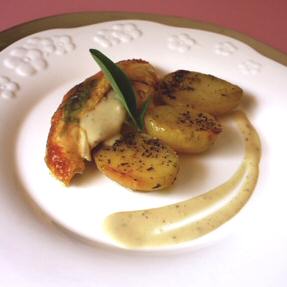 And to Lori's last question about the birth of herbes de Provence: as best I can tell, blends of these herbs were first marketed by spice companies in the 1970s. Ducros, a French wholesaler of spices since subsumed by McCormick & Company, was among the first to do so. Now, these blends are widely available everywhere from large grocery stores to the tables in tiny village markets and they come in the familiar slim glass jars, traditional terracotta jars, and bags of all sizes.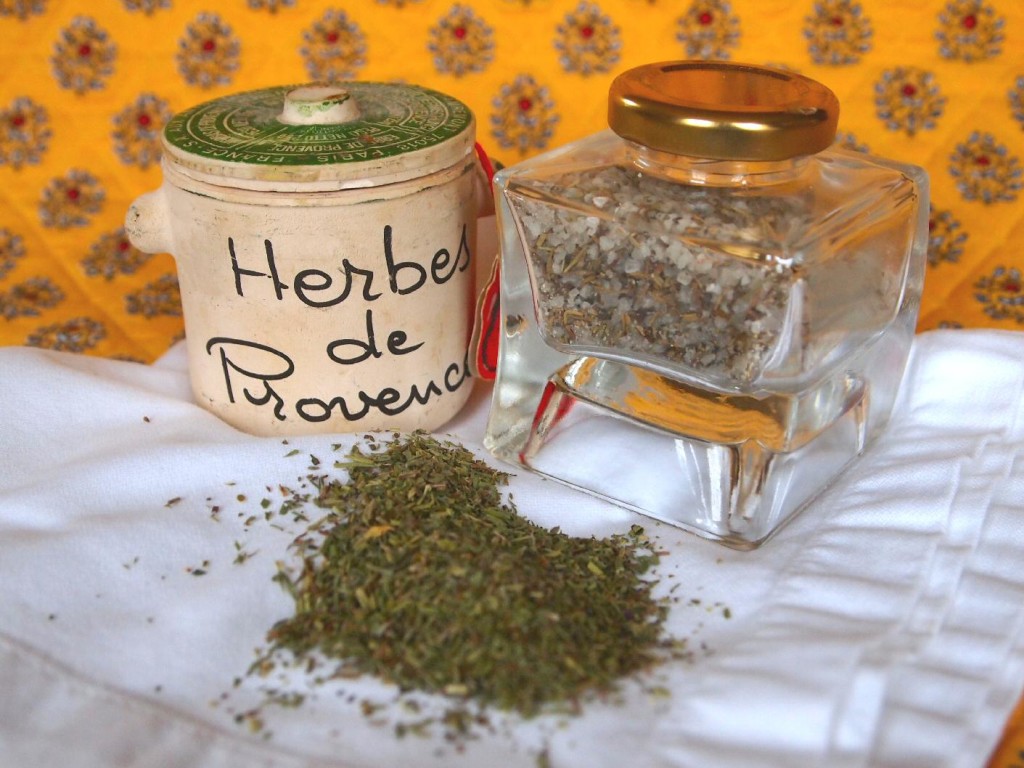 Prior to the 1970s introduction of Herbes de Provence, which spices were usually included in traditional Provençal dishes, I wondered.  I consulted a few of my older cookbooks to see. Thyme was the most common herb, followed by rosemary and basil. A wonderful source that was a sheer pleasure to explore was "Bouquet de France: An Epicurean Tour of the French Provinces," a rather large book that once graced the shelves of my husband's father, Melvin Manfull, a former ambassador and avid cook who reportedly "spent the best years of his life in Paris." Based on a series of articles in Gourmet Magazine in the early 1950s, this book covers French cuisine with two chapters devoted to Provence. The only Provençal recipe that included more than two herbs was one for that highly celebrated dish, said to be made properly only in Marseille: la bouillabaisse. The herbs are thyme, rosemary, fennel, and parsley. I love herbes de Provence, but I don't think I will use them for this famous dish!
And, today, is the little jar of Herbes de Provence showing up in the kitchens of the region's top chefs? Well, not in their recipes, at least.  I consulted my collection of current cookbooks devoted to Provençal cuisine by some of the best chefs in the area: Édouard Loubet, one of the youngest chefs to receive the coveted Michellin star (and later a second one) while at the Moulin de Lourmarin (he is now the owner/chef at the Bastide de Capelongue in neighboring Bonnieux); Reine Sammut, long-time owner of the renowned Auberge La Fenière in Lourmarin, recipient of one Michelin star, the highest possible rating from Gault & Millau, and twice voted the Best Chef in France; Patricia Wells, known for her highly respected cookbooks, cooking classes at her farmhouse in nearby Vaison-de-la-Romaine, and regular reviews of restaurants in the International Herald Tribune; and Éric  Sapet, the hottest culinary star in the area and recent recipeint of a Michelin star who is creating all the culinary buzz for the wonderful food coming out of his kitchen in la Petite Maison de Cucuron.  Conclusion:  they are not reaching into Herbes of Provence. Not surprisingly, they are quite selective in their use of herbs (from Provence or elsewhere).  Ah well, I still love my little bag of fragrant herbs!